日本文化舉世聞名,「卡哇伊」可愛文化是其中之一。。如果你喜歡收化集可愛的毛絨玩具,那麼日本毛絨玩具是你的好選擇。
日本的毛絨玩具,又名Plushy, stuffed animals 或 soft toys,一直深受小孩的歡迎,甚至成年人也在瘋狂購買。從人氣的動漫人物到可愛的動物系列,日本毛絨玩具製造商熟練地將創作帶入生活。本文將介紹7家最優秀的日本毛絨玩具製造商,看看你喜歡的是否榜上有名。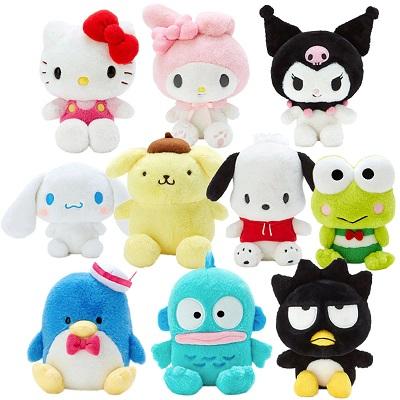 If you know iconic characters like Hello Kitty and Gudetama, you are already familiar with some of Sanrio's best works. Sanrio was founded in 1960 and has gone through many changes over the years. It was first a silk company, and then it became a rubber sandals company in 1962. When the founder discovered that his products increased sales when he added a cute character, he moved to creating memorable characters and selling their merchandise.
Sanrio has a small gift, big smile philosophy, and that's exactly how their products are viewed. With characters like My Melody, Hello Kitty, and Cinnamoroll, it's easy to say that their plushies are adorable and would bring a massive smile to people's faces. You not only get their regular character design, but there are also cool limited versions available, like Hello Kitty Octopus and Hello Kitty Green Dragon.
如果您了解 Hello Kitty 和蛋黃哥等標誌性角色,那麼您也已經熟悉了三麗鷗的一些最佳作品。 三麗鷗成立於 1960 年,多年來經歷了許多變化。 它最初是一家絲綢公司,然後在 1962 年成為一家橡膠涼鞋公司。當創始人發現他的產品在添加可愛的角色後銷量會增加時,他開始創造令人難忘的角色並銷售他們的商品。
三麗鷗有著小禮物、大微笑的理念,而這也正是人們對他們產品的看法。 對於像 My Melody、Hello Kitty 和 Cinnamoroll 這樣的角色,很容易說他們的毛絨玩具很可愛,會給人們帶來燦爛的笑容。 你不僅可以得到他們的常規角色設計,還有很酷的限量版,比如 Hello Kitty 章魚和 Hello Kitty 綠龍。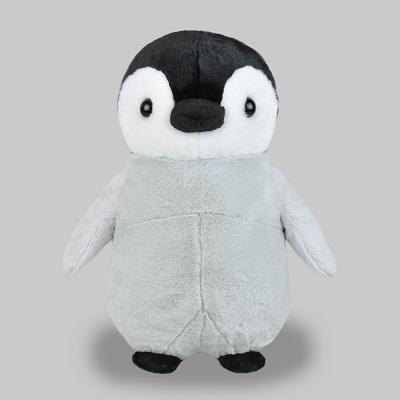 Amuse Co., Ltd. is one of the most renowned plushie makers in Japan. The company was created in 1990 and was strongly influenced by the Japanese Kawaii culture. Since then, they have created characters like FuwaFuwa Harry, Samurai Mouse, Rosie Bunny, and Nekokkapuri.
With a wide range of plushies, including animal collections, Amuse has built a strong following among plushie lovers. Their plushies are super soft and huggable, with vibrant colors, and unique designs. Whether you're looking for an adorable animal plushie or a kawaii character, Amuse offers a delightful selection that appeals to people of all ages.
AMUSE Co., Ltd.是日本最著名的毛絨玩具製造商之一。 該公司創建於1990年,深受日本卡哇伊文化的影響。 從那時起,他們創造了 FuwaFuwa Harry、Samurai Mouse、Rosie Bunny 和 Nekokkapuri 等角色。
Amuse 擁有包括動物系列在內的各種毛絨玩具,在毛絨玩具愛好者中贏得了大批追隨者。 他們的毛絨玩具超級柔軟、令人抱抱,色彩鮮豔,設計獨特。 無論您是在尋找可愛的動物毛絨玩具還是卡哇伊角色,Amuse 都能提供吸引各個年齡段人士的令人愉悅的選擇。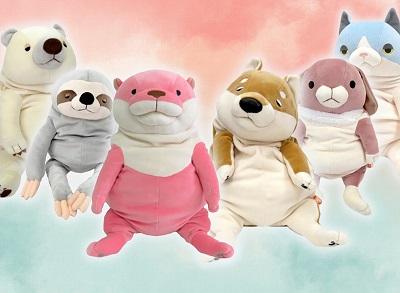 Shinada Global was founded in 1997, and its main goal is to bring children "feelings of the sense of warmth." The company sells plush toys of different animals and original characters that are super soft and huggable. Cat lovers are especially going to love Shinada Global because there are many cat characters like Mame- Nyanko, Mochi Neko, Nagomi Neko, and Omusubi Neko.
There are other cute animal characters like Mochi-Hari - a stuffed hedgehog, Mochi-Buta - a stuffed pig and Mochi-Kuma - a stuffed bear. These plushies come in super large size and tiny keychain sizes, so there's something for everyone.
Shinada Global成立於1997年,其主要目標是給孩子們帶來"溫暖的感覺"。 該公司銷售不同動物和原創角色的毛絨玩具,這些玩具超級柔軟,令人想擁抱。 愛貓人士尤其會喜歡 Shinada Global,因為這裡有很多貓角色,如 Mame-Nyanko、Mochi Neko、Nagomi Neko 和 Omusubi Neko。
還有其他可愛的動物角色,例如 Mochi-Hari - 毛絨刺猬、Mochi-Buta - 毛絨豬和 Mochi-Kuma - 毛絨熊。 這些毛絨玩具有超大尺寸和小鑰匙扣尺寸,所以總有適合每個人的東西。
If you've seen anime or movie plush toys, they're probably from Bandai. This company was created in 1950 and focused on metal toys like action figures and small cars. It wasn't until 1963, when the company produced action figures of a popular character called Astro Boy that it started becoming popular.
The company realized the potential of making merchandise related to video games, movies, and anime, so their business strategy changed to character action figures and stuffed toys which was a hit with customers. Now, you can get My Neighbor Totoro, Demon Slayer, Jujitsu Kaisen, and Naruto character plushies from Bandai.
如果您看過動漫或電影毛絨玩具,它們可能來自萬代。 該公司成立於 1950 年,專注於生產人偶和小型汽車等金屬玩具。 直到 1963 年,該公司生產了一個受歡迎的角色阿童木的動作玩偶,才開始流行起來。
該公司意識到製作與視頻遊戲、電影和動漫相關的商品的潛力,因此他們的業務策略轉向角色動作玩偶和毛絨玩具,這些產品深受顧客歡迎。 現在,您可以從 Bandai 獲得《龍貓》、《鬼滅之刃》、《柔術快線》和《火影忍者》角色毛絨玩具。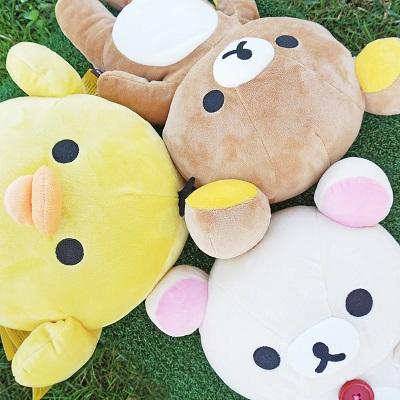 San-X Co., Ltd. is a Japanese company famous for its cute and quirky characters, such as Rilakkuma, Sumikko Gurashi, and Mamegoma. Just like Sanrio, they deal in creating merchandise surrounding these characters. Even though they are not as popular as Sanrio characters, San-X is a close second. In 2019, a stop motion Netflix made a series featuring Rilakkuma and it was widely popular.
Their plushies are crafted with attention to detail, making them highly sought after by collectors. San-X plushies have charming expressions, high-quality fabrics, and extra fluffiness in different sizes. With their imaginative designs and irresistible charm, San-X plushies have become a must-have in Japanese plush toys.
San-X Co., Ltd. 是一家日本公司,以其可愛而古怪的角色而聞名,例如鬆弛熊、小橘子和豆豆。 就像三麗鷗一樣,他們圍繞這些角色創作商品。 儘管 San-X 不像 Sanrio 卡通人物那麼受歡迎,但它緊隨其後。 2019年,Netflix製作了一部以鬆弛熊為主角的定格動畫劇集,廣受歡迎。
他們的毛絨玩具製作精良,注重細節,深受收藏家的追捧。 San-X 毛絨玩具擁有迷人的表情、高品質的面料和不同尺寸的額外蓬鬆度。 San-X毛絨玩具憑藉其富有想像力的設計和令人難以抗拒的魅力,成為日本毛絨玩具中的必備品。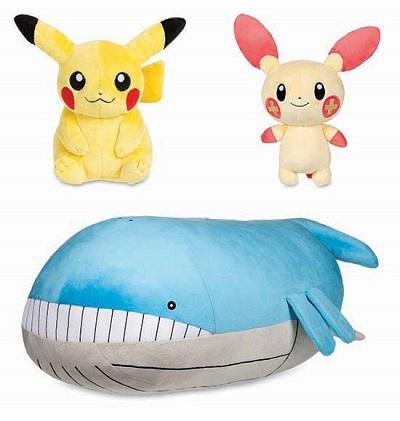 Pokémon as an animated series is extremely popular; however, its fame skyrocketed with the Pokémon Go game. That is why having a Pokémon plushie at this time is a necessity. Pokémon Center is the official merchandise retailer for the Pokémon franchise, so if you're getting it from anywhere else, the quality will be different.
With an extensive range of plushies featuring iconic characters like Pikachu, Eevee, and Charmander, they cater to Pokémon fans of all ages. Pokémon Center plushies are different because they are crafted with excellent attention to detail. I mean, the size of the plushie match the actual Pokémon dimension, so you get a realistic plushie. Also, they offer themed varieties like Statue of Liberty Pikachu for American fans and other cool variations.
寶可夢作為動畫系列非常受歡迎; 然而,隨著《Pokémon Go》遊戲的推出,它的名氣直線上升。 這就是為什麼這個時候擁有一個神奇寶貝毛絨玩具是有必要的。 神奇寶貝中心是神奇寶貝系列的官方商品零售商,因此如果您從其他地方購買,質量會有所不同。
它們擁有各種以皮卡丘、伊布和小火龍等標誌性角色為特色的毛絨玩具,可滿足所有年齡段的神奇寶貝粉絲的需求。 神奇寶貝中心的毛絨玩具與眾不同,因為它們的製作非常注重細節。 我的意思是,毛絨玩具的尺寸與實際的神奇寶貝尺寸相匹配,因此您會得到一個逼真的毛絨玩具。 此外,他們還為美國粉絲提供自由女神像皮卡丘等主題品種和其他很酷的變體。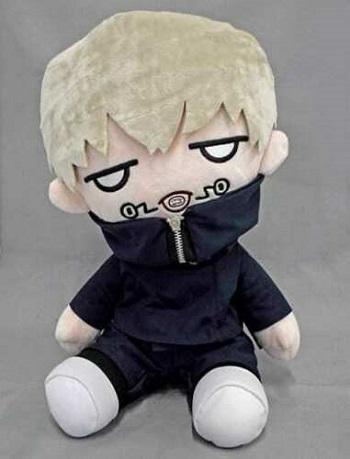 Taito Corporation is a Japanese company known for its arcade games and prize machines. They have also ventured into plushie production, offering a diverse range of character plushies and crane game prizes. Taito plush often has a distinctive, chibi-like style and is known for its high-quality materials. From famous anime and game franchises to original designs, Taito plush is cherished by collectors and fans alike.
Taito Corporation 是一家以街機遊戲和獎品機而聞名的日本公司。 他們還涉足毛絨玩俱生產,提供各種角色毛絨玩具和娃娃機遊戲獎品。 Taito 毛絨通常具有獨特的赤壁風格,並以其高品質材料而聞名。 從著名的動漫和遊戲系列到原創設計,Taito 毛絨玩具深受收藏家和粉絲的喜愛。
當談到日本的毛絨玩具製造商時,這些公司所表現出的對細節的關注、精湛的工藝和無可否認的可愛程度確實是非常出色的。 他們對品質的執著以及通過毛絨玩具將心愛的角色栩栩如生的能力鞏固了他們作為日本最好的毛絨玩具製造商的地位。 所以,準備好擁抱你最喜歡的毛絨玩具吧。
您是否一直想購買一些高品質的日本毛絨玩具? 您很幸運,ZenPlus 現在經銷 Shinada Global Plushies。 您可以前往我們的 ZenPop 商店購買可愛的文具商品。
When it comes to Japanese plushie makers, the attention to detail, craftsmanship, and undeniable cuteness exhibited by these companies are truly exceptional. Their dedication to quality and the ability to bring beloved characters to life through plush toys have solidified their positions as some of the best Japanese plushie makers. So, get ready to cuddle up with your favorite plushie.
Have you been looking to buy some high-quality Japanese Plushies? Lucky for you, ZenPlus now distributes Shinada Global Plushies. You can check out our ZenPop store for kawaii stationery goods.