Please refer to this blog post and our FAQs for our latest updates and shipping information. ZenPop's team is working diligently to answer any questions or concerns you may have, so please do not hesitate to contact us at any time.
Thank you for your support and understanding during this time.

At a Glance:
ZenExpress free shipping to the US
Tracking included in all shipping methods
Shipping fees are now calculated based on pack type and shipping method automatically by the system.
Some shipping methods are still free. Some shipping methods,will require a fee.
See where we're shipping for delivery time and various shipping methods.
NEW: AmazonPay now allows you to pay and input your delivery information through your Amazon Account
Where are we currently shipping?
We're currently shipping via the following shipping methods: ZenExpress, Japan Post Airmail, FedEx, DHL, UPS, EMS and ECMS
At this time, we are able to ship to nearly 120 countries. When inputting your address upon checkout, you'll see the list of available shipping methods for your destination. If no shipping methods appear, it is possible that shipping is currently not available for your destination.
You can now also simple checkout using your Amazon Account with AmazonPay and all the information that you've saved there!

How long does shipping take?
Delivery estimate chart after warehouse pickup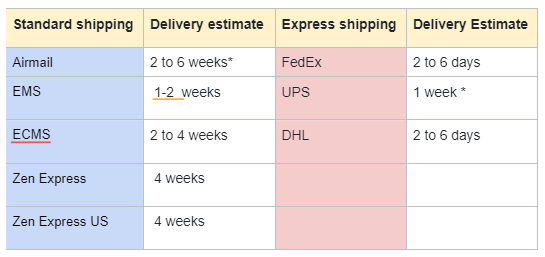 Country specific information:
Shipping to the USA
All ZenPop packs (Ramen, Snack, Stationery, Anime, Limited) can be shipped to the US via ZenExpress USA or DHL express courier.
ZenExpress offers special free shipping for our US customers. The packages are shipped from our warehouse once a week and delivered within 4 weeks.
After customs clearance, the delivery process is handled by US logistic operators. Occasionally, there might be additional delays caused by customs checks, local delivery schedules.
Occasionally there might be some delays caused by unforeseen circumstances such as flight schedules or longer than expected customs inspections.
Please note that meat containing shipments, such as ramen noodles, can be subject to random parcel checks by the US Department of Agriculture.
Shipping to the Uk
Standard shipping to the Uk is available via ZenExpress Standard, Japan Post Registered and Ems. Snack boxes can be shipped via EMS. Other express couriers like FedEx or UPS can ship stationery packs for additional fees.
Shipping to Australia
Standard shipping to Australia includes Japan Post, ZenExpress and EMS. Available express courier options like UPS, DHL and FedEx might have some limitations for packs including food items.

Shipping to Canada
Standard shipping to Canada includes ZenExpress and EMS. Available express courier options UPS, DHL and FedEx might have some limitations for packs including food items.
Shipping to Europe and Tax information:
Regarding the changes of imports to the EU and additional VAT charges, ZenPop registered with the IOSS in September 2021. All VAT charges are included at the checkout page. There will be no further taxes or processing charges to pay at the reception of a pack.
In the event that a tax is applicable, it is usually the final mile delivery service, and the postman him or herself that will make the payment request on behalf of your country's customs.
The fee has to be paid in full for the package to be deliverable. Please be aware that different postal services charge different service fees to cover the tax collection process on behalf of your country's customers.
In case of express couriers, like DHL, you may get an e-mail notice from them asking you to pay online before they clear the pack at customs and deliver it to you.
※Import tax and VAT tax on purchases are 2 distinct taxes.
The registration with the IOSS is only applicable to the VAT tax, and therefore, in some situations, EU customs may require you to pay an import tax which is the customer's responsibility to pay.
Shipping method related information:
Shipping with DHL
From December 2021, DHL is available again for certain packs to be shipped to certain countries.
Import tax and handling fee may be charged when delivering via DHL (for example in Peru, France, Germany as well as other countries). As per our terms of use, the purchaser is responsible for any fees, taxes, or other losses that may arise from importing goods into their country. Find out more on our FAQs.

Shipping with Airmail
Japan Post Airmail service is available to a specific number of countries. Delivery time is estimated to be 3- 6 weeks. We are partnering with numerous local postals services in each country who take care of the final delivery. Occasionally there are some delays caused by flight schedules of postal services, or longer than expected customs inspections. Please check the delivery policies in your shipping country as they might be additional influences on the local holiday schedules and delivery points.

Shipping with ZenExpress
ZenExpress is our proprietary shipping service, available to a selected number of countries since November 2021. ZenExpress shipments all come with tracking, and take on average 4 weeks to be delivered. We are currently working on expanding our ZenExpress shipping network to more countries.
Shipping with ZenExpressUSA
ZenExpress is our proprietary shipping service, available to the US only.
At this moment, the shipping with ZenExpressUSA is free. ZenExpress shipments all come with tracking, and take on average 4 weeks to be delivered.
Tracking Related Information:
How to check the tracking updates
After shipping your package, you will be granted a tracking number to follow at every step of the delivery journey. The standard shipping process is: Your package is shipped from our warehouse where the package goes to the airport KIX (arrival at outward office of exchange), it gets shipped abroad (dispatch from outward office of exchange), the postal service in the destination country picks up the parcel and makes the delivery (final delivery).
There might be a period with no tracking updates, which can range from a few days to sometimes a little over a week. This usually happens when the box is at a transit station.
Reasons for the lack of updates can be: the pack is being investigated by customs, postal services are having a higher number than usual of parcels to handle, lack of flight to your destination, and more.
We recommend that you check the tracking updates regularly for the next update on your package. Once it arrives at the next transit station, the parcel should be registered and the tracking should be updated automatically.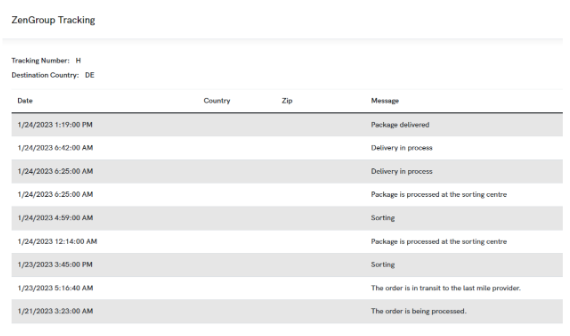 Where do I find my package tracking number?
All our shipping methods include tracking numbers. You will receive the tracking number on the shipping notification email once your pack has shipped from the warehouse.
On the ZenPop dashboard you can easily check the tracking number and detail in Profile → Shipments.
※Sometimes there might be occasional disruptions in the tracking service for Japan Post & ZenExpress.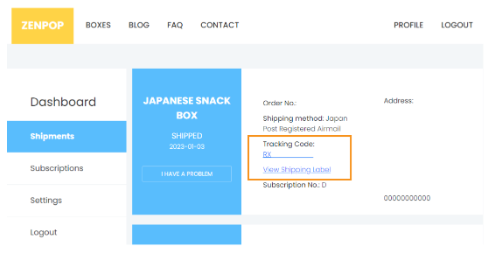 There is no update on my tracking, what is happening?
Occasionally, some packs will see a lack of updates on the tracking information page. Several reasons could be behind it:
The pack is currently undergoing an inspection, for example at your country's customs office, during which no updates are made.
Your pack is currently being processed by a third party agent that has no access to the tracking update system of the courier (unfortunately, this happens regularly).
A technical issue in the tracking system is preventing tracking information from being displayed properly.
Your box was forgotten on a shelf by postal services and is not moving.
The above-mentioned reasons are the most common for a lack of updates. Read further to find out what you can do about it.
There is no update on my tracking, what should I do?
If you do not see any update on your tracking information for more than 10 days, please send us a message: [email protected]. We are happy to assist you during our business hours from Monday to Friday 9 AM to 6 PM (JST).
We'll look into this for you and contact the shipping company for more information.
You're not shipping to my country, what can I do?
We're very sorry that we're unable to ship to your country at this time. Until recently, ZenPop shipped to 96 countries, and we hope to resume normal shipping as soon as possible.
If you are an Active or Recurring subscriber:
If you have packs left in your plan, your subscription is on hold, and we will start shipping the current packs to you when we resume.
If your plan is set to auto-renew (2nd of the month), you'll be charged, but you won't get shipped a pack until shipping resumes.
Please turn off your auto-renewal if you don't want to be charged and have your subscription put on hold.
We can cancel your order and refund any unshipped packs. Please contact us.

Useful Links:
Standard shipments via Japan Post, EMS and ZenExpress partner with various postal services. Here are some of the most used postal services for you to help you with your shipments:
U.S Postal Service:
USPS.com
USPS Tracking web site
Phone number: 1-800-344-7779 (Monday - Friday 8 AM - 8:30 PM ET, Saturday 8 AM - 6 PM ET)
Facebook - Twitter
U.K Post Office:
EVRI
https://www.evri.com/
Help Center
0330 808 5456
RoyalMail.com
www.parcelforce.com
Post Office Tracking
Phone number: 03457 740 740 (Monday to Friday, 8am-6pm, Saturday 8am-1pm and Sunday 9am-2pm)
French Post:
La Poste, https://www.laposte.fr/outils/track-a-parcel
Colisprive, https://www.colisprive.fr/
Canada Post:
canadapost.ca
Canada Post Tracking
Phone number: 1-866-607-6301 (Monday to Friday, 7 a.m. – 11 p.m. ET, Saturday and Sunday, 9 a.m. – 9 p.m. ET)
Facebook - Twitter
Australia Post:
auspost.com.au
Australia Post Tracking
Phone number: 13 POST (13 7678) (8am–6pm, Monday–Friday (except national public holidays)
Facebook - Twitter
Tracking packages from any carrier
Tracking platform for over 170+ postal carriers for registered mail, parcel, ems https://parcelsapp.com/en
Good practices/Tips
Enter your shipping address and the email carefully, as you will receive the order summary & shipping notification there.
Use your home address and not an office address for shipping.
Please choose Zen Express US shipping for P.O. box and APO address
Check your country's customs duties and restrictions in advance.
Kindly check your tracking progress to avoid the box is being returned to us.
Are there Alternative Ordering Options?
We sincerely apologize to our international friends, to whom we are unable to ship to at this time. We hope to resume normal shipping as soon as possible.
In the meantime, most of our current ZenPop Packs are available on sister sites ZenMarket and ZenPlus. As shipping is offered separately on ZenPlus, there may be an acceptable shipping option for you.
Find out more about ordering your ZenPop Pack on ZenMarket.