Do People Celebrate Christmas in Japan? The short answer is, yes. However, it might not be exactly the same as what you think when you think about Christmas.
You may wonder if this western tradition is popular in Japan, and rightfully so. Japan is a country where the majority of people identify with Buddhism, Shintoism, or both. Why is the Christian tradition of Christmas present here?
History of Christmas in Japan
To understand how Christmas made landfall in Japan, we have to go back in time a few centuries. To be more precise, we want to first look at the 16th century and the arrival of a saint on the shores of Japan.
1549: St. Francis Xavier makes it to Japan, and with him, Christianity.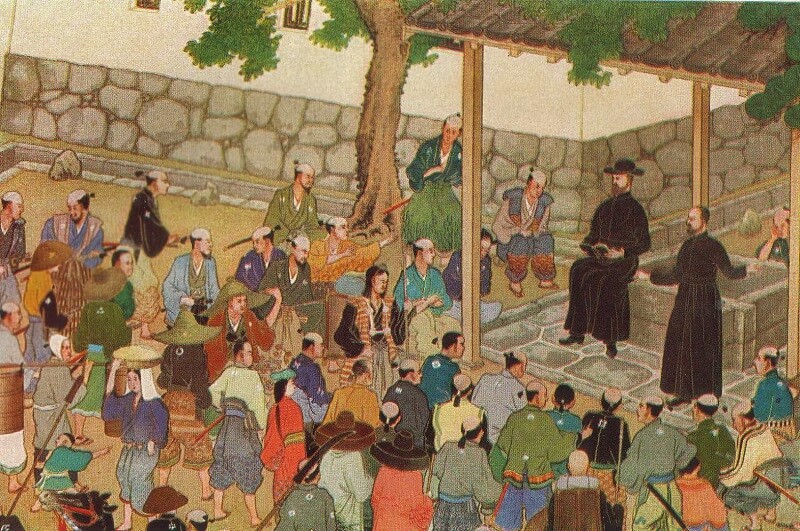 Arrival of the Jesuits in Japan
He arrived in Kagoshima, on Kyushu, and was here as part of a Jesuit missionary with hopes to convert the Japanese population. Around this time, it is believed that the first Christmas celebrations were held in Japan.
1614: Christianity is banned, Christmas is canceled.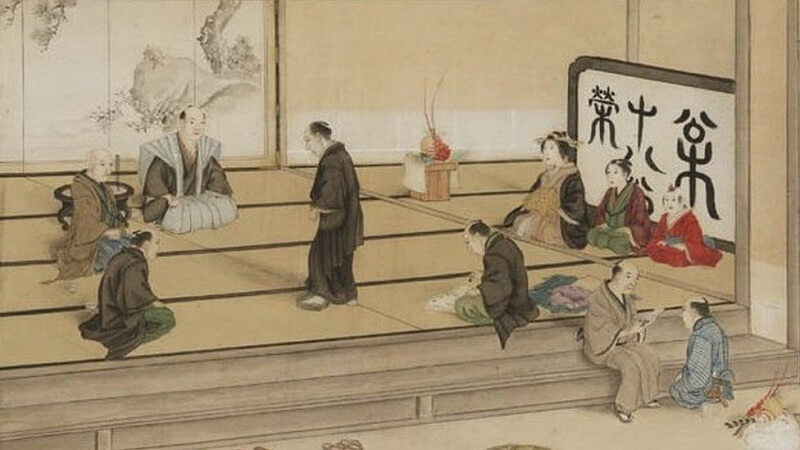 Christians have to renounce their faith
The Japanese warlords are not happy with Christianity, and the shogun of the time, Tokugawa Ieyasu decides to ban the religion completely. People who continued to follow the path of Christianity were badly persecuted. The excellent movie Silence, based on the book of the same name by Shūsaku Endō retraces this very well. At that time, few people continued to celebrate Christmas in secret, these people were called Kakure Kirishitan.
1871: Japan re-opens its doors to the world, and Christianity comes back.
It took the fall of the Tokugawa regime and the Meiji revolution for Japan to open up again to the world. This period is called the Meiji Restoration, from 1868. This led to more religious freedom, and the return of Christian practices in Japan, with Christmas in December.
1939-1945: WWII gives a bad image to western Christmas
During World War II, cultural symbols from the west, and more specifically America were badly seen by the Japanese population, and Christmas lost in popularity.
Post-war period: The boom of Christmas in Japan
Japan being rebuilt under American influence led to a boom of Christmas celebrations across Japan. Christmas, although a traditionally Christian celebration, is more seen as secular in Japan, and not associated with religion. This is the period where the now traditional Japanese Christmas cake emerged.
1974: "Kentucky for Christmas!" – KFC becomes the holiday meal of Japanese people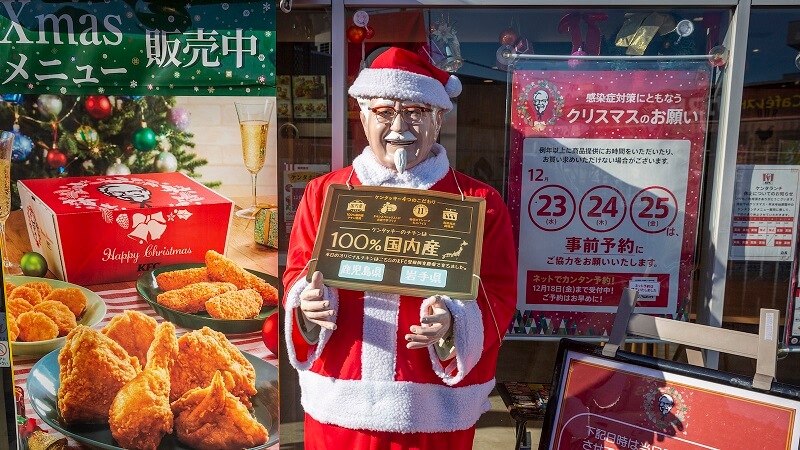 Who would have thought, that a fast food chain from the USA would become the go-to meal of an entire nation for Christmas? This is the result of an ingenious marketing campaign from KFC with a special slogan developed for the season: Kentucky for Christmas. Until today, Japanese people tend to go for fried chicken for Christmas!
Today: Illuminations, markets and Christmas cheer abound
You'll be hard-pressed to avoid the Christmas season in Japan nowadays. Decoration-donning stores, elaborate light-ups, German-style Christmas markets—and of course Colonel Santa—can be found at every turn.

What is Christmas Like in Japan?
Now that we have the history out of the way, what is Christmas actually like today in Japan?
Japanese Christmas: A Holiday for Lovers?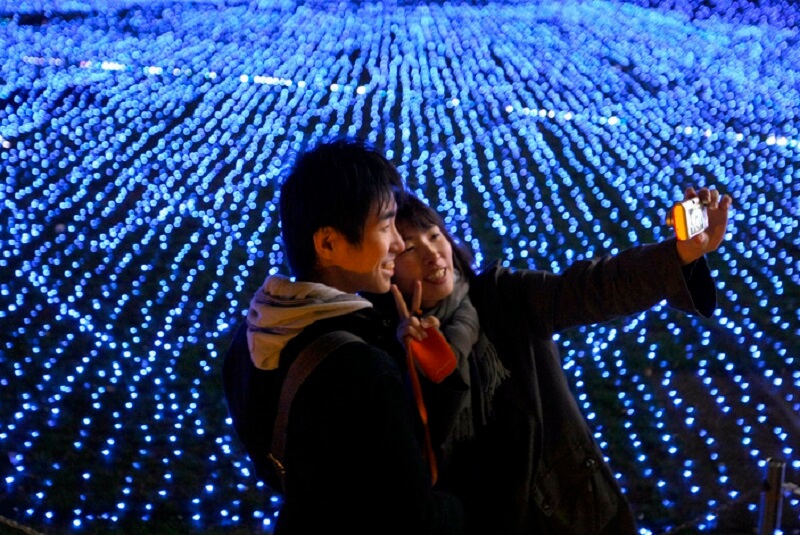 In the West, Christmas is often associated with family. Family members that haven't seen each other for a long time gather together, share a meal, catch-up and cozy up during the cold winter nights. For Christians, it's about the birth of Christ, and celebrating this event together.
In Japan, however, the event is more secular, and the holiday is thought as a holiday for lovers, not families. The New Year's holiday is the one that is spent with family, whereas Christmas is a time for your partners.
If you're in Japan for Christmas, you'll see a lot of couples out and about enjoying the Christmas lights or some Christmas shopping followed by a romantic date.
Christmas in Japan is about Illuminations and Decorations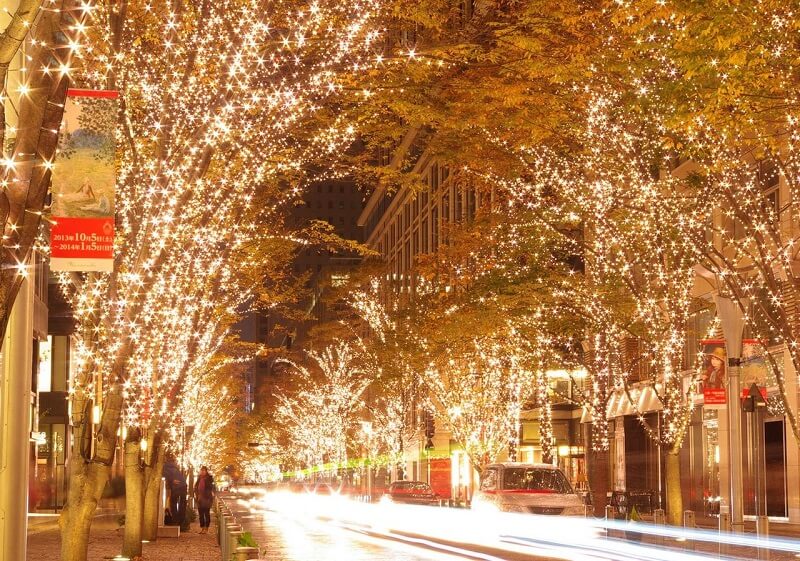 The day after Halloween, winter illuminations are set up throughout Japan's major cities. The lights might not be directly linked to Christmas, but they have become a tradition of the holiday season.
Main avenues will have their trees covered with beautiful lights, major shopping malls or popular stores will decorate their windows with some Christmas decorations and you may also find some large-scale projections in some areas!
These illuminations are perfect for couples to take an evening stroll and enjoy the eerie atmosphere.
Do Japanese gift Christmas presents?
Yes, Japanese kids do receive some presents. Although the image of Santa Claus may be different, and he might be more modest here in Japan, the concept still exists.
Most Japanese kids will receive a small gift on Christmas Eve, although it might be common to receive something on the New Year's instead.
What is a Japanese Christmas dinner?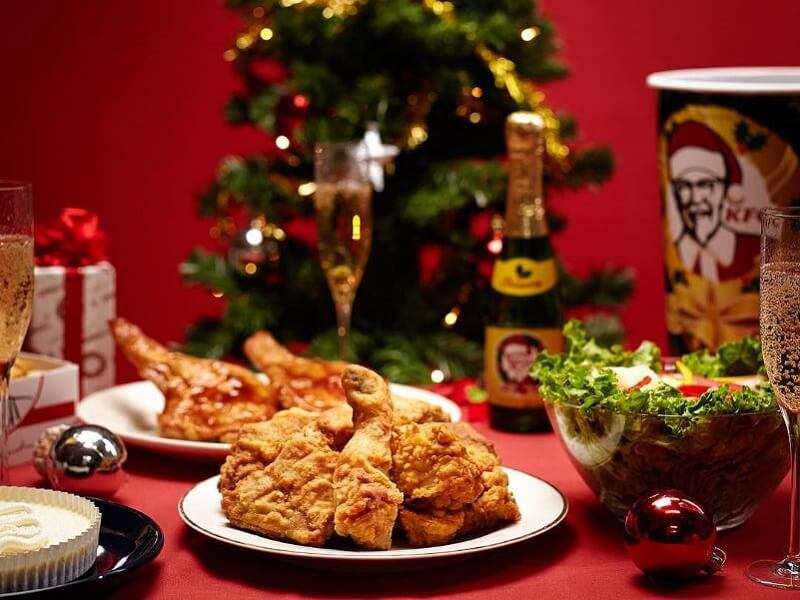 As mentioned previously, KFC and its brilliant marketing campaign have become the go-to meal for Japanese people on Christmas Eve.
Deep-fried chicken is the meal of choice for many, and you have to book yours in advance. Reservations start from early November, and KFC orders as well as konbini fried chicken sell out fast!
Rest assured, on Christmas Eve you may be able to get some fried chicken from a supermarket bento as a last minute emergency!
Japanese Christmas Cakes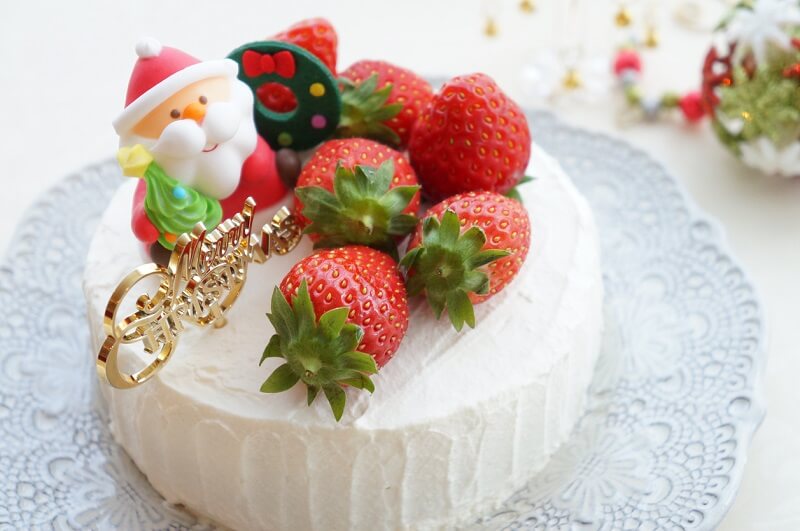 After the chicken come the sweets! The classic Christmas cake (クリスマスケーキ) is just as popular as KFC.
Now you may wonder what kind of cake is this? Well, it's a sponge cake with strawberries. You may be able to compare it with a strawberry shortcake.
This traditional cake dates back to 1922. The famous Fujiya confectionery started marketing the cream-covered cakes with a simple slogan "Let's eat cake on Christmas" (クリスマスにケーキを食べましょう).
How To Celebrate Christmas In Japan?
So now you know about the major Christmas traditions in Japan. Are you ready to prepare your own Japanese Christmas this year?
This is a quick check-list of things you'll need:
Order your fried chicken ahead of time
Make sure you stop by the bakery to ask for a strawberry shortcake
Visit one of the many European-style Christmas markets in the country
Find a date for Christmas Eve or Christmas day
Talk a walk along the winter illuminations
Experience the Disney Christmas Parade
Where to spend Christmas in Japan?
If you don't have time to travel across Japan for the Christmas season, there are a few highlights that you might want to attend, or make the centerpiece of your stay!
Let's start with the obvious:
Christmas in Japan for the city-dwellers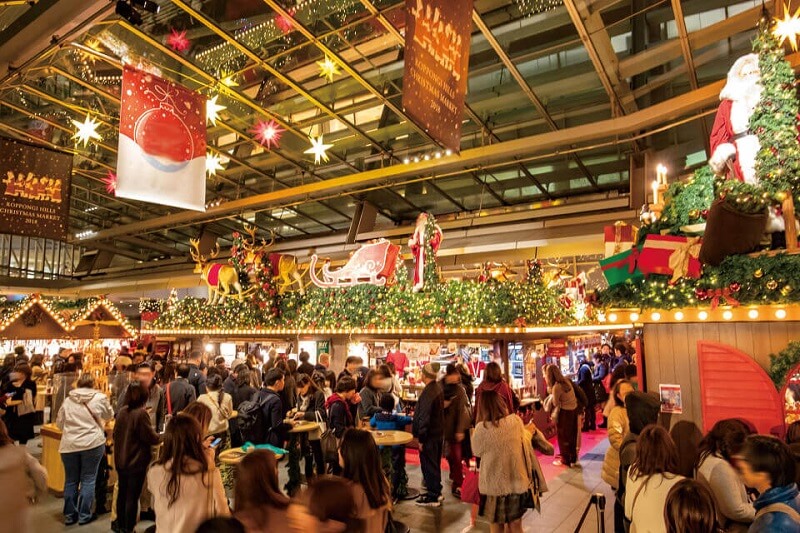 Japan's capital is unique in many ways, and spending Christmas there is a wonderful experience. In the weeks leading up to Christmas Eve, the city bustles with beautiful illuminations, and you'll find a few German-style markets in some neighborhood with some of the most classic German winter treats.
You may also want to head west to Osaka, where you'll find a lot of beautiful illuminations in Namba parks and down the Midosuji avenue.
Christmas in Japan for the theme-park lovers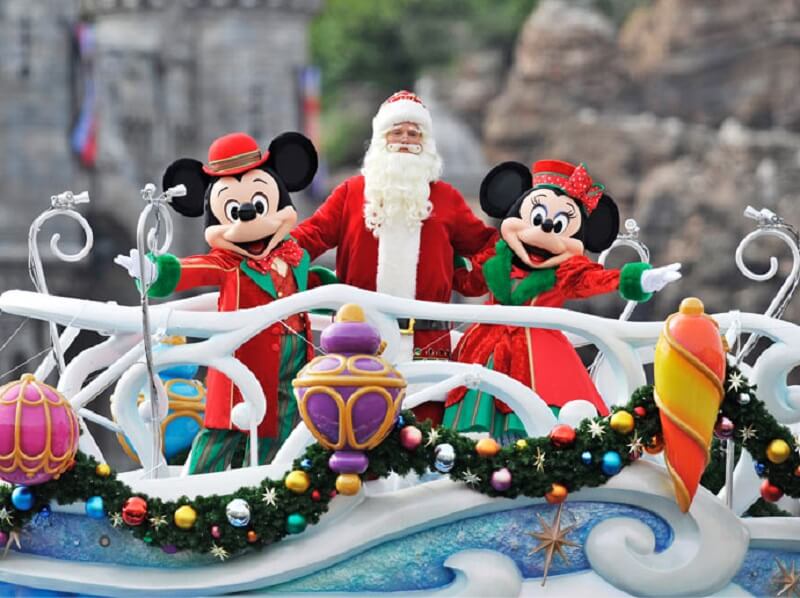 That's the place to be for a romantic date on Christmas Day or Eve. You might want to book your tickets ahead of time if you don't want to miss the magnificent Christmas Parade. Tokyo has two Disneyland parks, and they are some of the biggest theme parks in Japan. For the holidays, the decorations are overhauled, and it becomes a mesmerizing winter wonderland!
Christmas in Japan for the outdoor lovers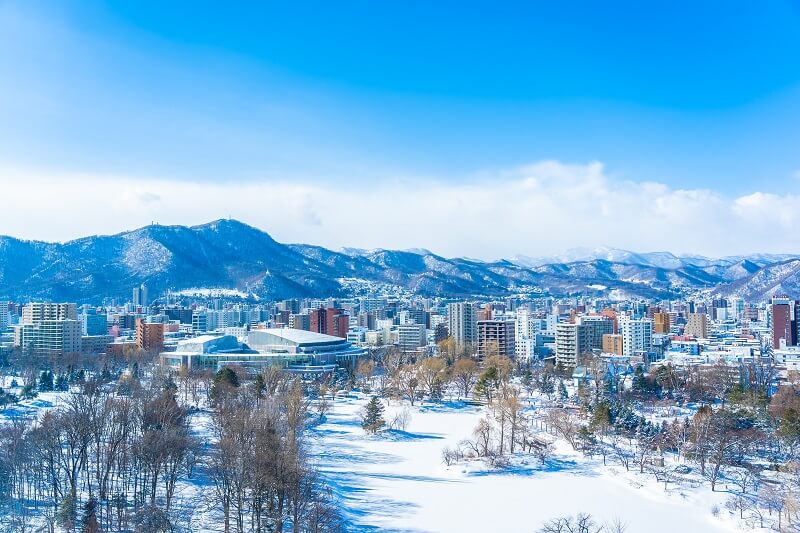 If you're up in the north of Japan, you'll be able to enjoy some of the best slopes the country has to offer. Brace yourself for the cold, though, because temperatures will head south of 0, which guarantees a white Christmas nearly every year.
The mountains of Hokkaido offer a lot of skiing opportunities, and for people who enjoy racing downhill or relaxing in a cozy ski resort, you'll find everything you want.
On your way to your resort, you may want to stop by Hokkaido's largest city, Sapporo, which celebrates Christmas too, and you can expect Christmas markets and plenty of lights and illuminations.
Alternatively, you may want to stay in the Japanese alps, such as in Nagano prefecture, closer to Tokyo, with just as much fun and snow.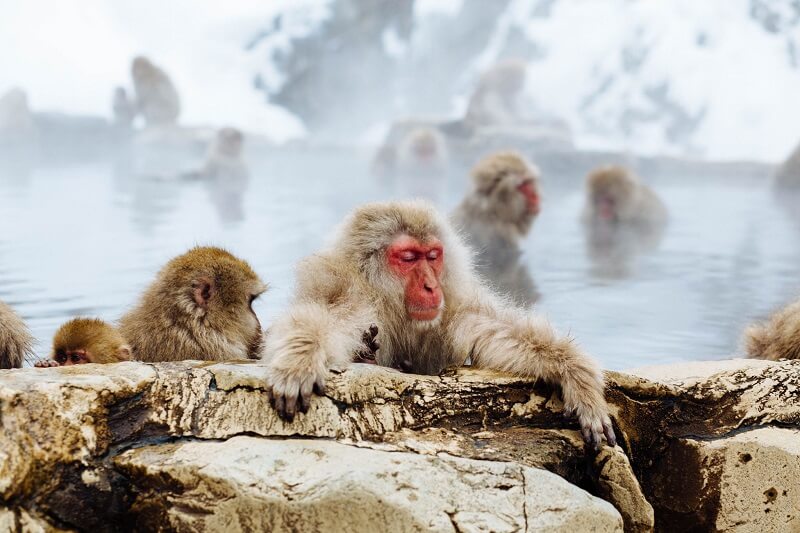 Have you seen the images of monkeys taking a bath in steamy water surrounded by snow? There are good chances that these photos were taken at Jigokudani Monkey Park, which is one of the most iconic attractions in Japan. Located in Yamanouchi, this is the most famous snow monkey park, where the primates have their local hot springs.
Don't worry, there are plenty of other hotsprnigs, onsen, that you can use in the surroundings!
Christmas in Japan for those who like romantic walks
Christmas Markets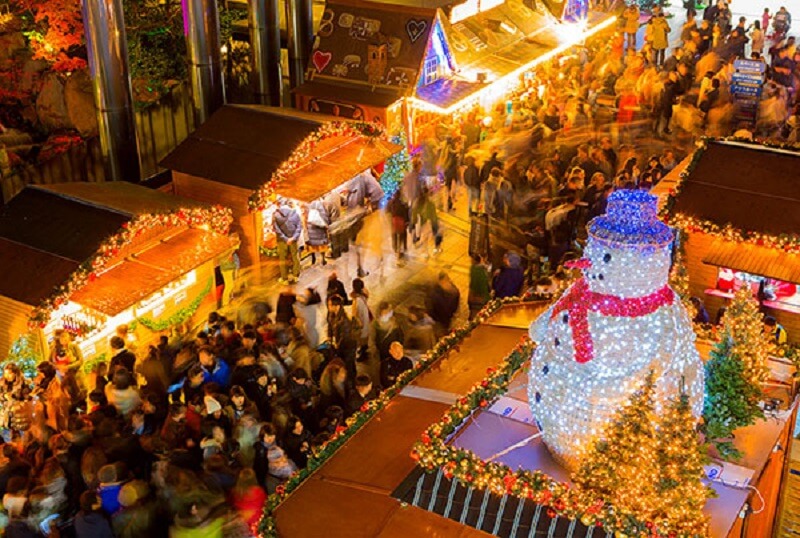 Christmas markets are becoming more popular every year, and the German Embassy has a lot to do with this. They've been advertising traditional German Christmas culture and set up markets in some majors cities like Tokyo, Osaka and Kyoto. Now, even smaller towns have a market to experience throughout December.
It might be of a surprise to you that Japan follows such traditions, but over the years, more and more foreign customs have been adopted. Of course, they all come with a local twist.
Tokyo is the city with the most places to visit for Christmas markets, and you'll find several German-themed markets in the capital. You can look out for gingerbread houses, lots of German bratwursts and other German currywurst, as well as plenty of hot mulled wine to keep away the chill.
Christmas Lights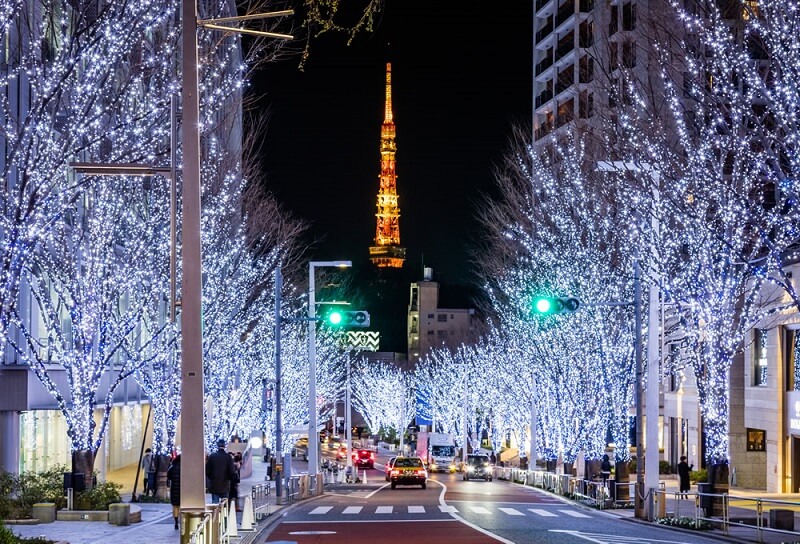 We've talked about it before: Christmas lights. Don't miss out on some pretty illuminations on trees, avenues and some major shopping malls. Perfect to brighten up some dark winter days.
Entire streets are illuminated brightly in shades of blue, gold, red, and many more colors, while there are beautiful festivals dedicated to illuminations and light shows.
The most magnificent light shows and illuminations are found in Tokyo and Osaka, where they combine perfectly with the Christmas markets.

So now you know everything about Christmas in Japan. It's not the first destination we think of to spend the holidays, but it can be a wonderful place to spend this time of the year, so don't hesitate to come and say hello to Osaka!