Springtime in Japan is magical! Experience the beauty of sakura (cherry blossom) season for yourself with ZenPop's Japanese subscription boxes!
Choose from: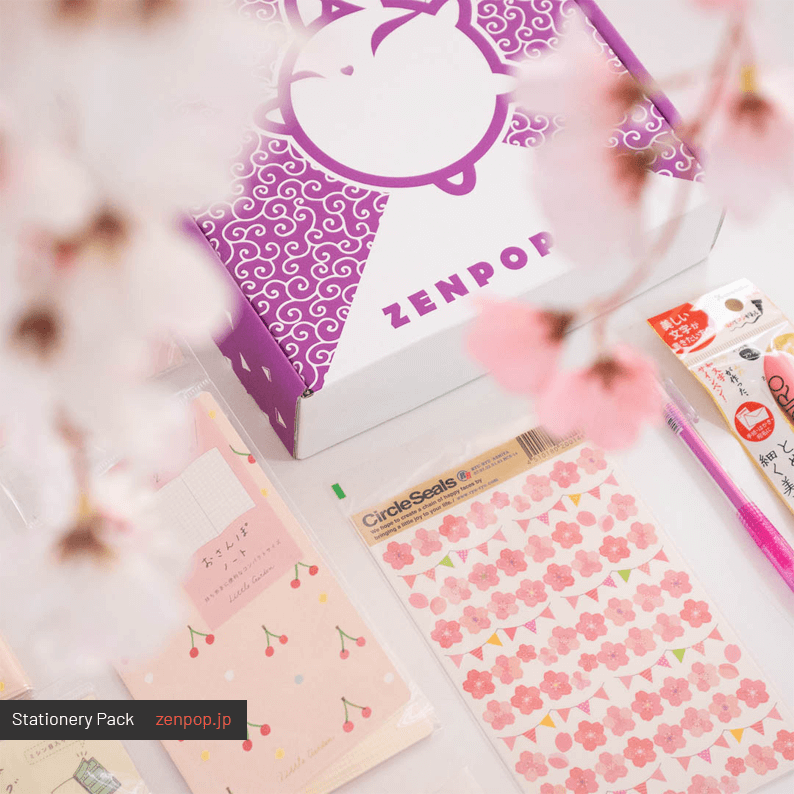 Our highly-anticipated Sakura Pack returns to celebrate the arrival of the new season and Japan's beautiful cherry blossoms. Sakura is a very special flower in Japan and brings joy to millions of people when it blooms. Experience the captivating sakura season for yourself this month with our Sakura Pack!
Your Sakura Stationery Pack includes:
Kuretake Zig Letter Pen COCOIRO
Ballsign Lamé Pen
Frixion Erasable Flower Stamp
Gilded Sakura Washi Tape
Colorful Flower Memo
Sakura Stickers
Sakura Postcard
Sakura Washi Tape
Little Garden Case*
Little Garden Notebook*
Little Garden Masking Stickers*
*The Little Garden Series products are from local and bespoke stationery brand, Ryu Ryu. Find out more about this cute company.
10 beautiful stationery products are included in your ZenPop Japanese Stationery subscription box.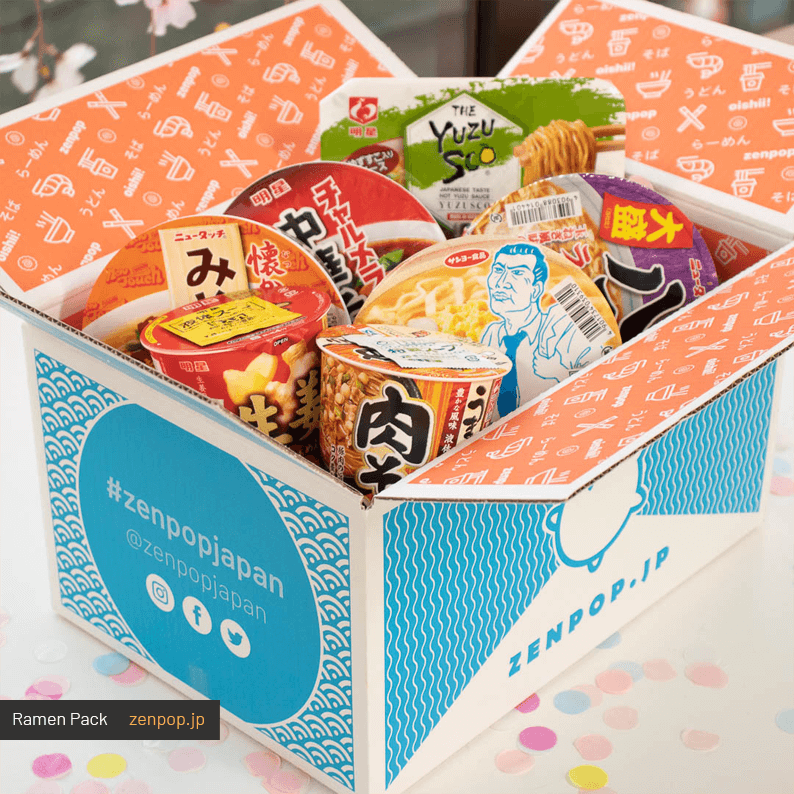 Start the new season with a whole lotta flavor! It's time to say "Sayonara" to heavy winter foods and "Konnichiwa" to the fresh, light and bold flavors of spring! We're delivering you the classic Japanese noodle dishes you know and love, but each with a punchy twist to ignite your appetite! Itadakimasu!
Your New Flavors Japanese Ramen Pack includes:
Yuzu Chicken Shio Mazesoba
Ginger Shoyu Ramen
Kansai-Style Kombu Dashi Udon
Hachioji Shoyu Ramen
Shoyu Kai-Dashi Chuka Soba
Niku Soba
Natsukashi No Miso Ramen
7 fresh and new full-sized Japanese noodle bowls are included in your ZenPop Japanese Ramen subscription box.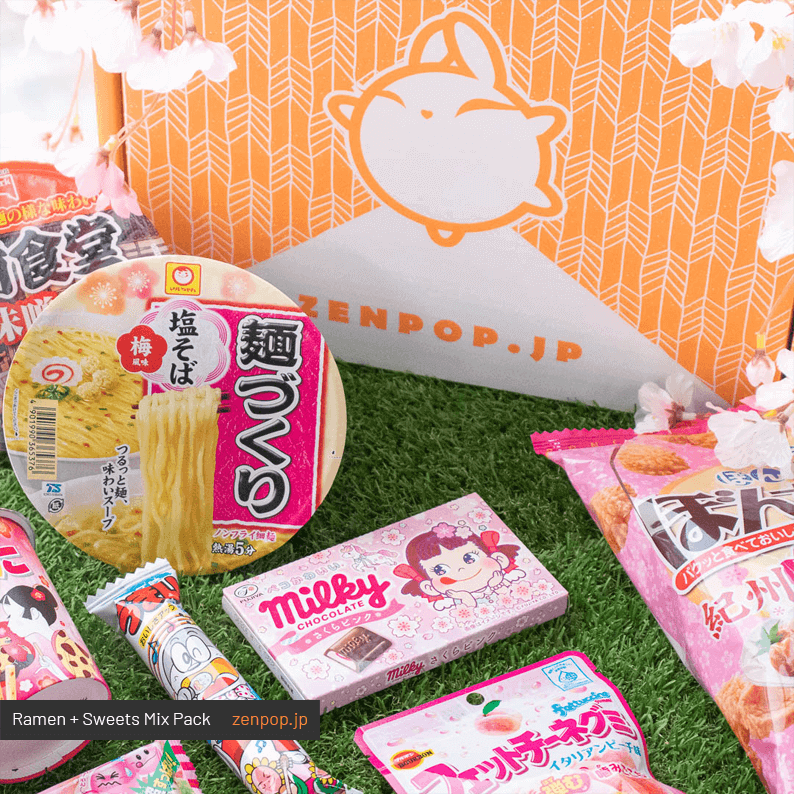 Japanese Ramen + Sweets Subscription Box | February's theme: Midnight Snacks
Before the sakura (cherry) trees bloom, the beautiful plum blossoms do! Ume (plum) is a huge part of Japanese culture, both for its sweet-smelling blossoms and as a delicious food. Welcome the new season with the sweet, salty and sour flavor of pickled plum - your taste buds will thank you later!
Your Spring Picnic Ramen + Sweets Mix Pack includes:
Maruchan's Ume Shio Soba Ramen (New Release)
Ekimae Shokudo Miso Ramen
Calbee's Sour Plum Jagariko (Limited Edition)
Milky's Pink Sakura Chocolate (New Release)
BonchiAge Kishu Ume
Fettuccine Gummy Italian Peach
Cheese Umaibo
Peach Gum Sour Surprise
2 full sized noodle dishes plus 6 sweet and savory snacks are included in your ZenPop Ramen + Sweets Mix subscription box.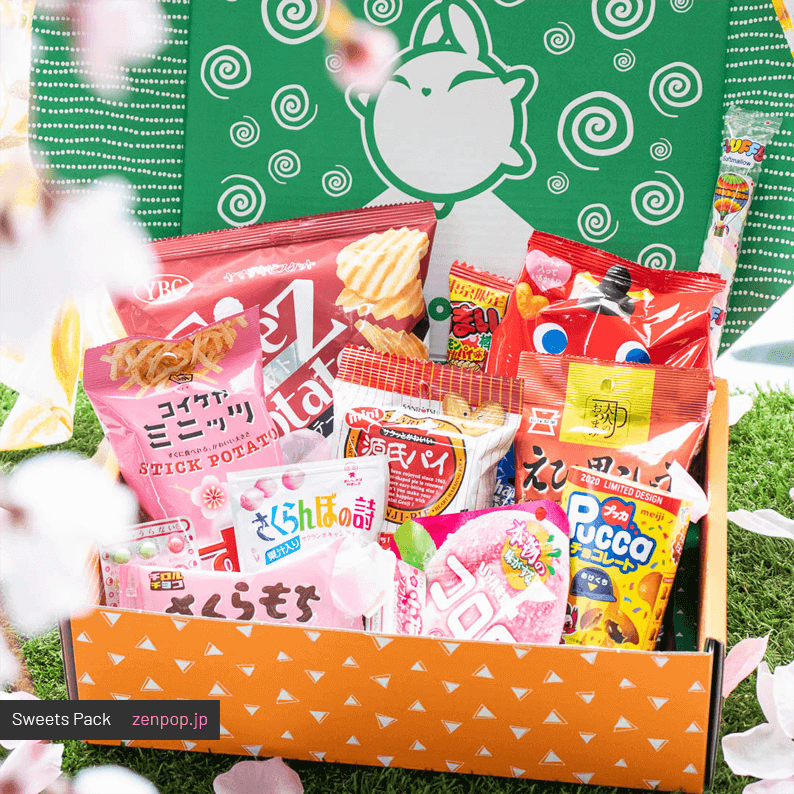 The plum and cherry trees have started to bloom...spring is here! Gather your friends and celebrate with a hanami (cherry blossom viewing) party beneath the blossoms. Bring-your-own picnic rug and paper plates and we'll provide the perfect picnic basket, bursting with sweet and savory treats!
Your Hanami Party Japanese Sweets Pack includes:
Tirol's Sakuramochi Choco
Tohato's Hinamatsuri Caramel Corn
Koikeya's Plum Stick Chips
Cororo's Peach Gummies
Lotte's Koume Soft Candy
Cherry Chews
Puchi Choco
Red Tongue Gum
Cherry Mochi
Fluffy Softmallow
Umaibo Cinnamon Apple Pie
Garlic Steal Potato Friez
Pucca Chocolate
Mini Genji Pie
Shrimp Black Pepper Otsumami
15 different sweet and savory Japanese snacks are included in your ZenPop Sweets subscription box.
Follow us #zenpopjapan