Ohanami (花見, "flower viewing") is a magical time of year in Japan - first ume (plum) blossoms flower across Japan, followed closely by sakura (cherry) blossoms. 🌸🌼
The blossoms are loved by people all across the world and each year millions travel to Japan to view the flowers.
You can even track the arrival on the flowers with cherry blossom forecast apps and maps (like this one!), as it can quickly change depending on the temperature or weather conditions. This year, the blossoms are forecast to arrive in Tokyo on the 23 March and in Osaka on the 25 March.
In Japan, we enjoy the season with Ohanami picnics, with friends, family and colleagues, beneath the cherry blossoms at iconic picnic spots across Japan.
Our current packs celebrate spring, including our Strawberry Picnic Sweets Pack, Hanami Party Ramen + Sweets Mix Pack and Sakura Stationery Pack.
And without further ado, here are our top spots for Ohanami picnics in the Kansai area...
1.Yoshino Mountain(吉野山), Nara
When? Early to Mid-April
Mt. Yoshino is well known as one of the best places for Ohanami. The mountain is said to be covered in more than 30,000 cherry blossom trees, making it look like a sea of pink when they are flowering. Mt. Yoshino is a UNESCO World Heritage site, so you can also walk and visit historical sites, including Yoshino Mikumari Shrine, Kinpu Shrine, Kinpusen-ji Temple and Yoshimizu Shrine.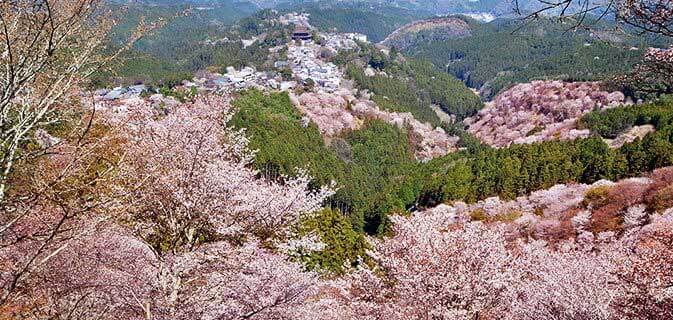 2.Osaka Castle Park (大阪城公園), Osaka
When? Early to Mid-April
Osaka Castle Park is one of the most iconic sites in Japan and also one of the best places for cherry blossom viewing in Osaka! Enjoy your sakura viewing sakura, while you have a BBQ picnic or sample local snacks from the various food stands. Osaka Castle is very popular with tourists, families, and office workers (as there are many business offices nearby), so make sure you arrive early and mark your seat with a picnic rug!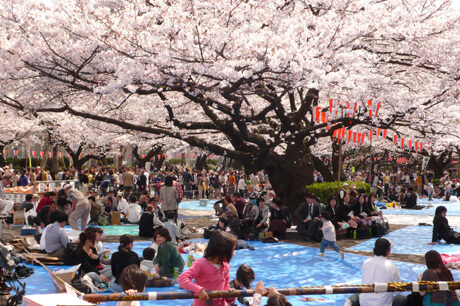 3.Ninna-ji Temple (仁和寺), Kyoto
When? Mid-April
Ninna-ji Temple is a Buddhist temple in north-east Kyoto. The temple is especially famous for its omuro sakura trees, which are not other shorter than other types of sakura trees, but also bloom the latest in the whole of Kyoto. Ninna-ji temple is not so popular as Kinkaku-ji temple or Kiyomizu-temple, but if you have chance to travel to Kyoto in Spring, it is well worth a visit to Ninna-ji!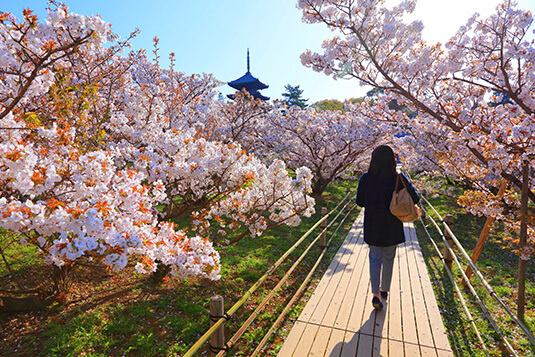 4.Osaka Mint Bureau: Sakura Pathway (大阪造幣局: 桜の通り抜け), Osaka
When? Mid-April
The Osaka Mint Bureau opens to the public for one week in the middle of April every year, so you can enjoy their beautiful pathway lined with over 350 sakura trees and 134 different varieties. This custom began in 1883 by the order of ENDO who was the former-Bureau Chief. This pathway is open till 9pm during this period. Enjoying cherry blossoms in the evening has a very different atmosphere, compared to the day time. It's fantastic!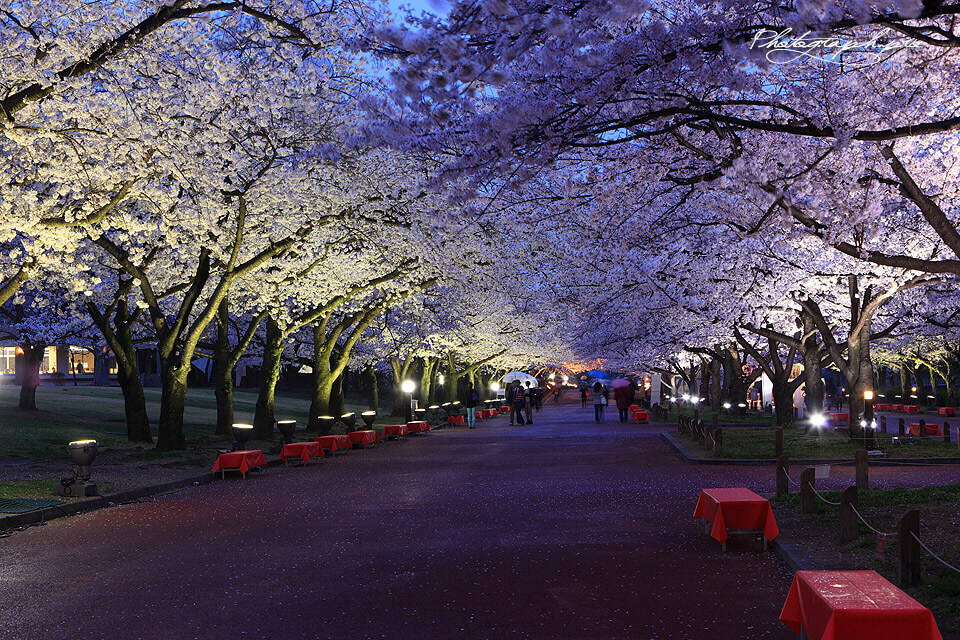 Once you've picked your spot, all that's left to do is pack the perfect Ohanami picnic! Don't forget the essentials, like:
Picnic rug to mark your spot
Garbage bag to take all your rubbish home with you
Reusable or recyclable cups, plates and hashi (chopsticks)
Delicious sakura-themed snacks and sweets (or make it easy for yourself - just bring a ZenPop pack of Japanese goodies!)
Where is your favorite spring picnic spot? Share with us on Facebook or Instagram.