The Japanese are known for many good behaviors, one of which is the art of gift-giving. Gift-giving spreads love, hope, happiness, and strengthens bonds. The art of giving food and snacks as gifts to show love and care among the Japanese is very common.
Would you like to gift a foreign friend delicious Japanese snacks? Do you want to apologize, are you in love, grateful, or have a sick loved one and don't know what to get among all the yummy snacks you see around?
Well, try out Japanese snacks. We have assembled a list of the top ten Japanese snacks to gift people. You can also order our special snacks packages at ZenPop, where you get to have the best of snacks delivered to your loved ones. So without further ado, here's the top 10 of Japanese snacks you can easily gift!
1. Japanese Kit Kats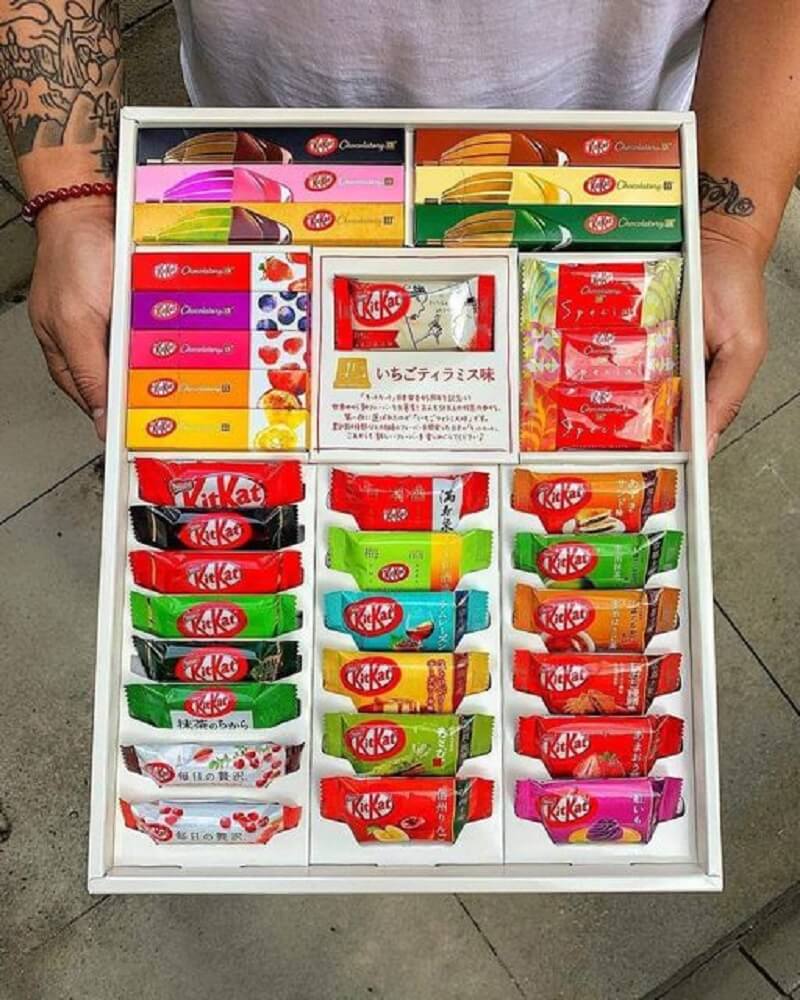 You might be wondering why Kit Kats are so special to be gifted. Well, there are over 300 flavors of Japanese Kit Kat and if that's not a fun gift, I don't know what is. You can express your support for a friend going for an exam or an interview by offering them a Kit Kat as a good luck charm. "Kit Kats" sounds similar to a popular Japanese phrase, "Kitto Katsu!" which translates to "You'll surely win!".
Japanese Kit Kats are available in so many flavors, so your good luck pack will look pretty interesting. The most popular flavor is green tea but there are weird flavors too like wasabi, hot chilli pepper, brandy, and orange, pumpkin pie and cinnamon cookie flavor. It's impossible to run out of yummy Kit Kat flavors, so knock yourself out.
2. Japanese Potato Chips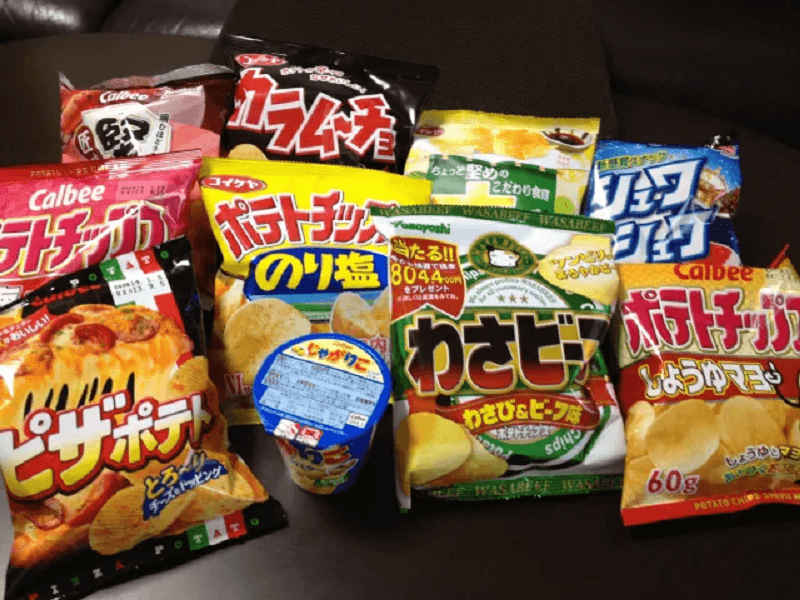 For potato chip lovers, there's almost no better place to buy them than Japan. One popular chip brand in Japan is Calbee, and they produce chips in different flavors. I'm talking plum, soy sauce, butter, and even pizza flavor. It is pocket-friendly and lightweight, and wrapping up a whole lot of flavors of Japanese potato chips will definitely be a great gift. These cool chips will easily convey your thoughts to whoever you wish to convey them to.
3. Wasanbon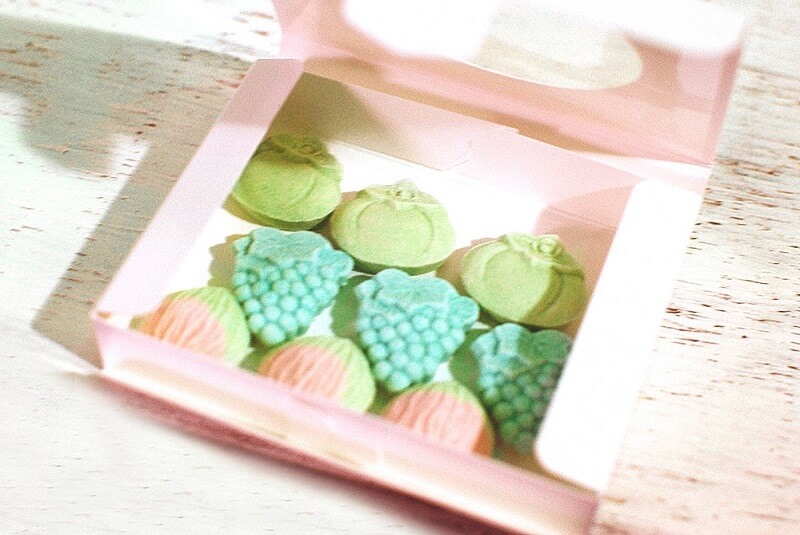 This is high-quality hardened sugar candy. Wasanbon is colorful and comes in the shapes of flowers and fruits. The pastel colors used in making it also gives a playful look. Overall, it has a striking sweetness but its longevity is what makes it an awesome gift because it can be delivered between countries. This can be bought as a souvenir, or even be gifted to express feelings of love to special people — you can buy heart-shaped Wasanbon for this wink wink. You've just got to love the beauty and taste of Wasanbon.
4. Pocky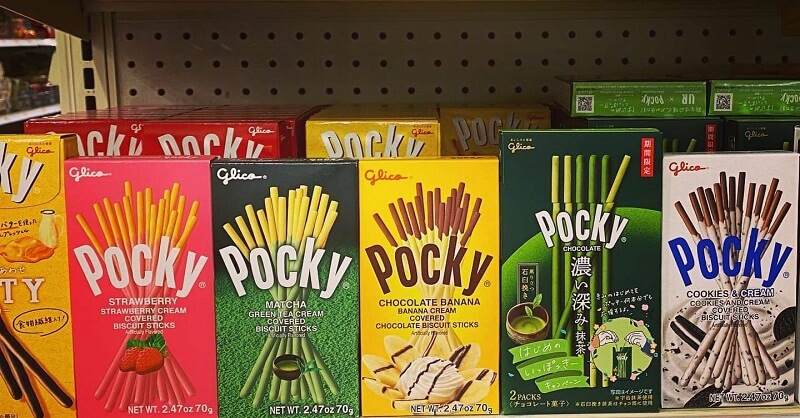 Pocky is a popular Japanese stick candy. It's basically slim biscuits slathered in chocolate save for a few inches at the end for grabbing to avoid getting your hands sticky. Pocky's popularity has made it outside the shores of Japan because it also has a signature large array of flavors. Some of the unique flavors include, the chocolate flavor being a classic, strawberry, banana, and almond crush. Because it comes in a box package, it is very easy to wrap Pocky without hinting at what the gift is. You can buy Pocky for your friends at school or even your siblings. Most of the snacks already mentioned can be gotten from our ZenPop monthly pack. Check it out!

5. Yokan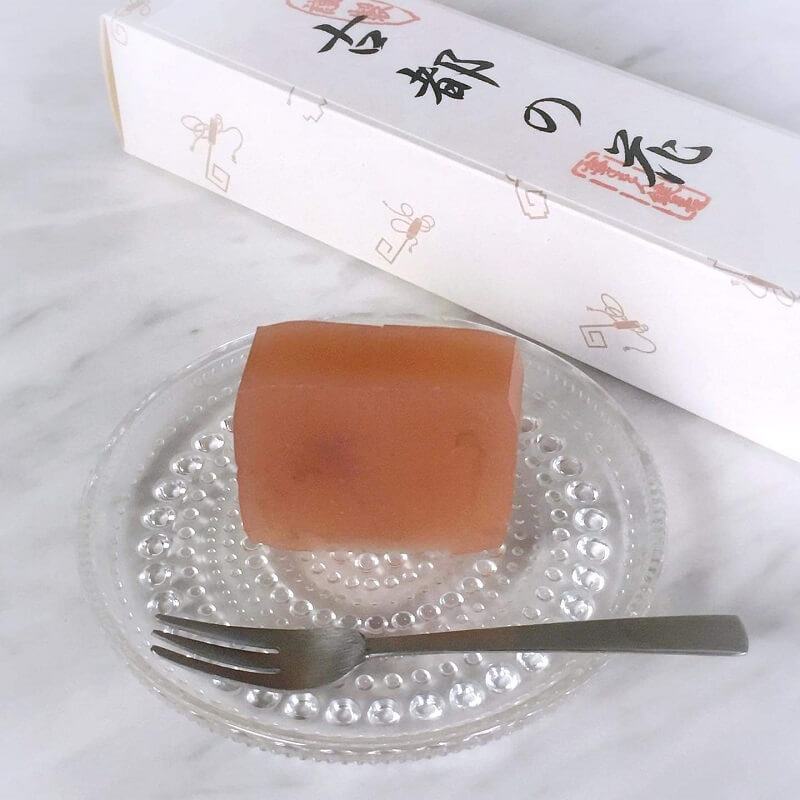 Yokan is a traditional Japanese confectionery made from a mixture of beans and sugar boiled to a hardened paste. It has a sweet taste with a jelly-like texture. Yokan is an old Japanese snack and it's simply delightful. It can be gifted as a "cheer up" gift. Yokan is easy to make, so you can do it yourself or buy it, wrap it up, add a sweet note and deliver it to your friend. Don't forget to order some green tea to go with. It is the most common style of eating Yokan, and it tastes great together.
Fun fact! There are 2 types of gifts in Japan: Omiyage are souvenirs brought back from a trip while Temiyage are the simple thank you gifts given when you visit a friend. You can learn more about Yokan in our dedicated article!
6. Tokyo Banana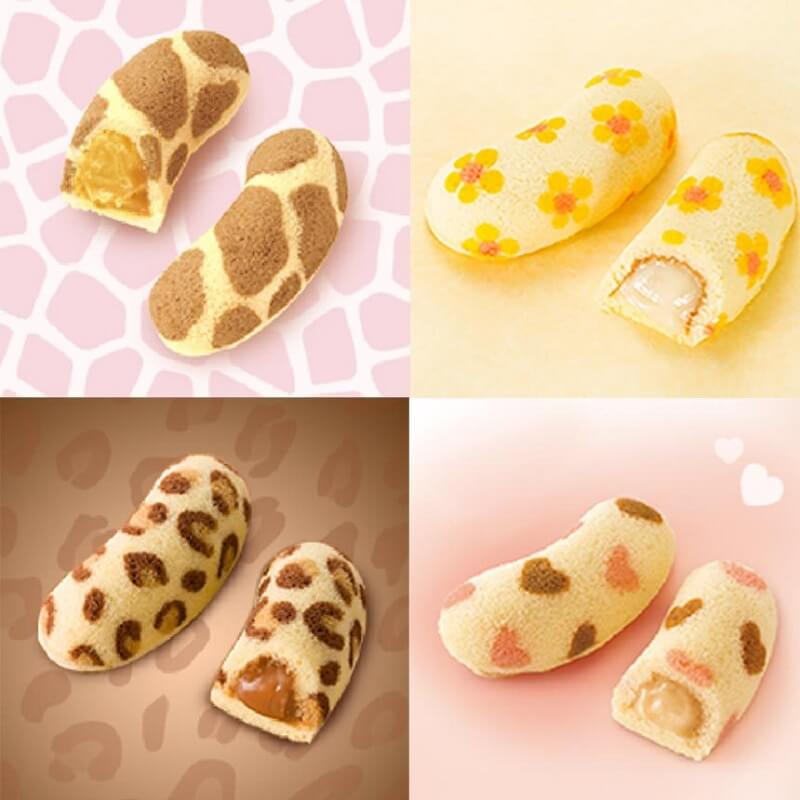 Tokyo banana is a very popular souvenir that is loved by tourists in Japan. It is sold in a lot of airports, and it can be found in stores across Tokyo, Japan. It consists of a banana-shaped sponge cake with banana-flavored custard as the filling. Let's face it, the taste is amazing, especially when the flavor of cake and custard mixes, it hits your taste buds instantly. Tokyo banana also comes in varieties of flavors and their cute patterns imitate animal print. Get that sweet and unique person of yours some Tokyo Banana to show them what they mean to you.
7. Dorayaki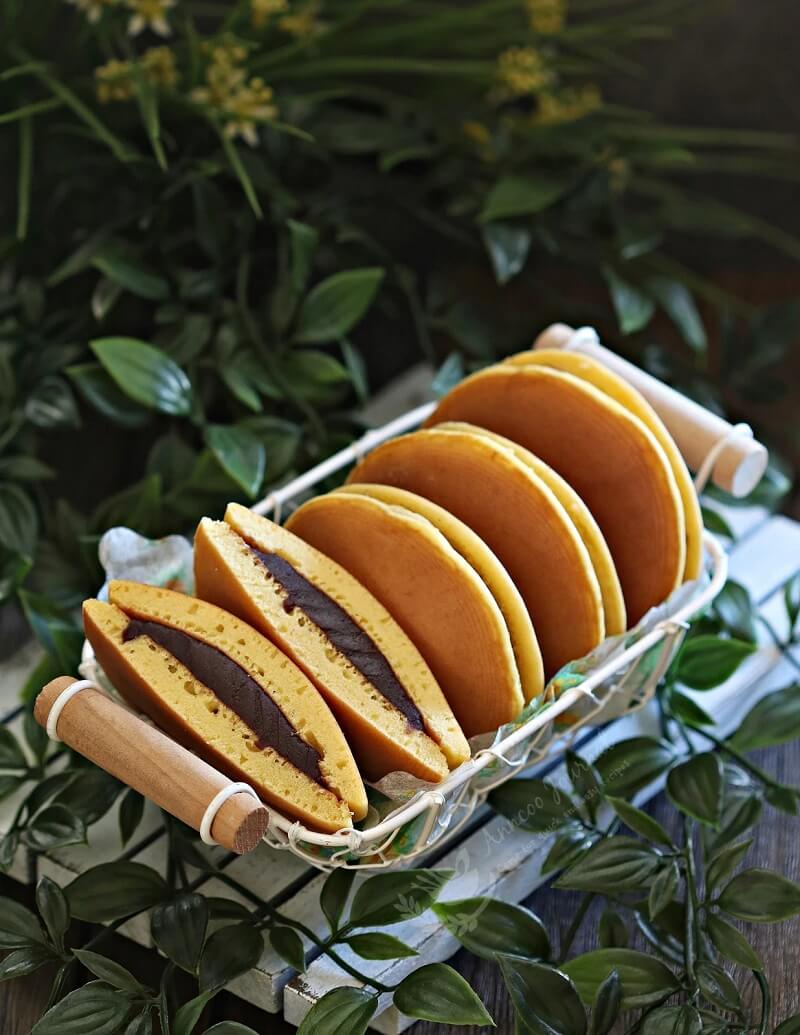 Do you have a loved one sandwiched in a difficult situation? Then get them Dorayaki, a Japanese confectionery where red bean paste is sandwiched between very fluffy small pancakes. You can get the varieties of flavors to let them know they will come out of the difficult situation with a sweet outcome. Different flavors and different textures can be packaged for better passage of your message. Learn more about Dorayaki here.
8. Rice Crackers
It doesn't get more Japanese than Senbei. These rice are super crunchy, and come in many unique, crispy, and high-quality flavors. There are a lot of convenient stores selling rice crackers so it's easy to get your hands on, some even sell homemade ones. We also offer Senbei in our monthly ZenPop packages, so you can taste them for yourself. You could gift your best buds the taste of sweet and crispy rolled into one. Even though the most popular is Senbei, there are other types of rice crackers like himemaru rice crackers and Kaki no Tane rice crackers. Each rice cracker has its array of sweet and crispy flavors. There is a lot more to learn about Senbei, and you can find some useful information here!
9. Konpeito Sugar Candy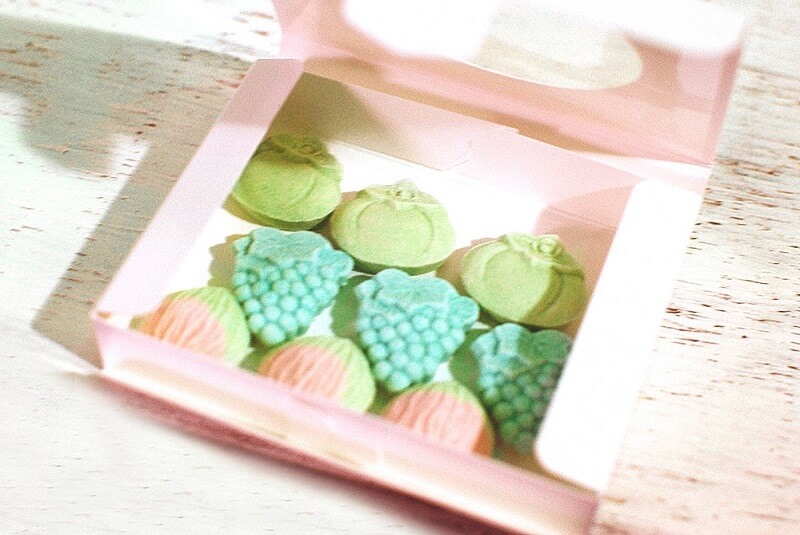 An array of colors and an explosion of sweetness. Konpeito sugar candies are star-shaped rock candy. They are tiny and colorful and can be your go-to midnight snack. You can gift this to yourself to snack on while indulging in late-night movie time or when lost in the wondrous fantasy lands that can only be found in books. Konpeito sugar candies are pretty on the eyes and a pleasure to the taste buds. Find our more about Konpeito here!
10. Karinto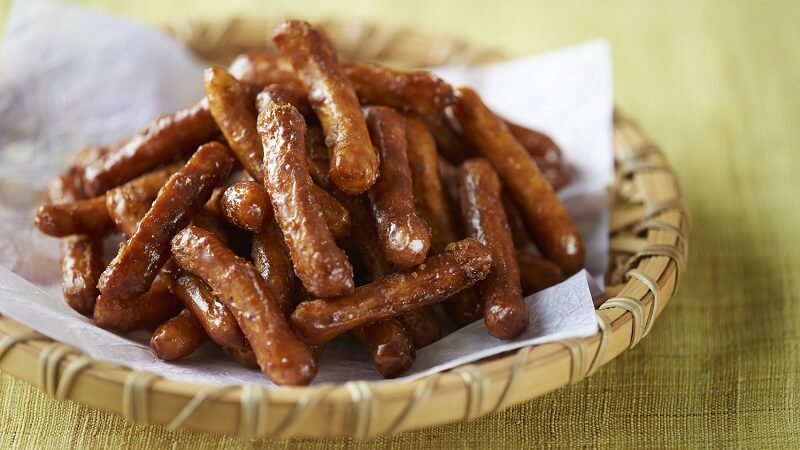 This is a classic Japanese snack made from fried dough that has been rolled around in brown sugar, then dried. This can be gifted to family members to be enjoyed at an informal family gathering with tea or coffee as both the young and the old enjoy Karinto. The Karinto snack is very sweet and crispy.
Gifts are so important because they bring people together and convey strong emotions. Try giving your friends some yummy snacks today to make them feel loved by shopping with ZenPop!