In line with the conclusion of our ramen guides focusing on the different companies that make the instant ramen experience so accessible, we'd like to share with you one of the biggest companies with some of the best instant ramen available on the market.
You might be familiar with the name Sapporo Ichiban, for their many readily available flavors of instant noodles. This is a brand of instant noodles made by Sanyo Foods, who had humble beginnings in Japan before eventually expanding all over the world, including a US-based headquarters in California. Sapporo Ichiban instant noodles are popular not just in Japan, but also in the United States, Hong Kong, Mexico, and Canada.
From delicious tonkotsu ramen to other products such as yakisoba and kitsune udon, Sapporo Ichiban has a lot to offer with an extensive range both domestically (in Japan) and internationally. Let's take a look at the wonderful world of Sanyo Foods.
Humble Beginnings: Fuji Seimen Inc.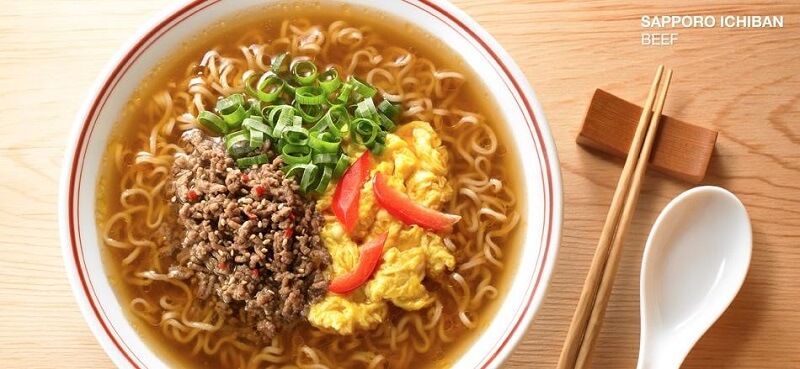 Sanyo Foods initially started as a noodle factory, called "Fuji Seimen Inc." Previously, Fumio and Takeshi Ida, who founded the company, ran an alcohol distribution business. When this business expanded, they decided to sell dried noodles, which eventually became what we currently know as Sanyo Foods.
Eventually, Sanyo Foods Co. Ltd started manufacturing both dry noodles for regular meals, as well as instant noodles for immediate consumption. The very first instant ramen they sold was a chicken ramen called Piyopiyo Ramen, which was advertised on TV commercials all over Japan in 1963, marking Sanyo Foods as one of the oldest instant noodles manufacturers. They also created the first salt-flavored local ramen, sometime after their main factory was completed in Gunma, Japan.
In 1966, Sanyo Foods started selling the original Sapporo Ichiban flavor. They also established their Kansai factory in Osaka. Shortly afterwards, other flavors of the Sapporo Ichiban line came into existence, including the Sapporo Ichiban Miso Ramen and Sapporo Ichiban Shio Ramen. The famous Sapporo Ichiban brand of noodles literally means "Sapporo's Number One [ramen/noodle]," and was coined by president Takeshi Ida after tasting the local ramen at Sapporo, which he was particularly impressed by.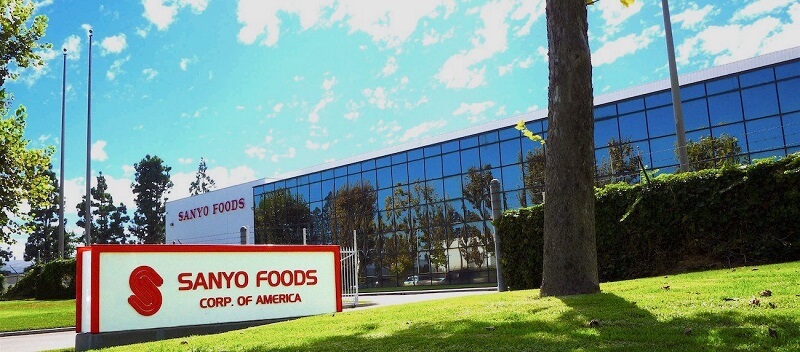 It was in the late 1970s that Sanyo Foods established an American section to their company, Sanyo Foods Corp of America, in Garden Grove, California. Later on after this, they would add on to the Sapporo Ichiban line by establishing Sapporo Ichiban Donburi in 3 different flavors.
Although the old headquarters used to be in Gunma Prefecture, the company eventually moved their research and development as well as their main branch to Minato-ku, in Tokyo.
Iconic Instant Noodles
Sapporo Ichiban products sometimes differ in variety depending on the region, however the instant noodles are extremely popular all over the world. As an established brand, Sapporo Ichiban ramen is synonymous with great tasting instant noodles, and no matter where you are in the world, the quality remains the same, giving you a premium taste at an affordable price.
Here are some of the most popular products in the Sapporo Ichiban line:
Sapporo Ichiban Original Flavor
The original Sapporo Ichiban ramen had a mild soy sauce flavor, and debuted in Japan in 1966. These are often found not only in single servings, but also in value packs, as they happen to know you will be craving the taste of their ramen more and more. The shoyu ramen is light, but is enhanced greatly by the included seasoning packets, giving the ramen a deeper, more umami flavor that isn't overloaded with salt.
The noodles are also much better quality than other instant ramen, holding their "bite" quite well even while the ramen is cooking. Instead of softening up almost immediately and becoming squishy, the noodles still hold their shape and integrity, making the ramen experience feel a lot closer to restaurant quality.

Sapporo Ichiban Tonkotsu Flavor
One of the more popular regular flavors that Sapporo Ichiban carries is the Tonkotsu flavor. The milky white broth is usually made of pork, but Sapporo Ichiban's version actually uses a white chicken broth base. While not the extensively porky flavor of other tonkotsu ramen, the chicken broth itself is very homey and creamy, and pairs well with any other toppings that you may add.
The package also comes with a big serving of noodles that have the same premium quality as other Sapporo Ichiban products. While a single packet is definitely enough for one person, we can't help but want to go in and grab another serving, as the flavor of Sapporo Ichiban's tonkotsu ramen is insanely addictive, and probably one of the best instant tonkotsu ramen.
Sapporo Ichiban x Masaharu Morimoto
You might recognize the name Masaharu Morimoto from his restaurants, Morimoto Asia, which are popular all over the world… or you might recognize him from his role on the competitive cooking show, Iron Chef. A genius chef with humble beginnings learning how to make sushi in his hometown of Hiroshima, Japan, Morimoto is hailed as one of the masters of modern Japanese cuisine, and excels not only in his recipes of traditional Japanese foods, but also fusion foods and other cuisines. (He also has rather legendary knife skills!)
Sanyo Foods collaborated with Masaharu Morimoto in order to make their Momosan ramen, which comes in Tokyo Chicken and Tonkotsu broth flavors. Sanyo Foods says that this is an exclusive recipe from the Michelin Star chef, and the taste of the individual products doesn't lie. Unlike their other instant noodles, these noodles aren't fried, which gives them a different kind of taste. Due to the non-frying method, of course, each individual packet only has a shelf life of 3 months, but the noodles that you get are much fresher and closer to restaurant ramen.
The Tokyo Chicken ramen uses a shoyu-based broth and is also packed full of flavor, in spite of not having very many seasoning packets (just a liquid and powdered soup base) or any additional toppings. The tonkotsu ramen is a shio-tonkotsu blend, which results in a light colored broth. Their website also suggests that you add toppings to it, such as an egg, meat, or vegetables of your choice. The broth is nice and thick, which captures well the flavor of tonkotsu ramen.
What kinds of Sapporo Ichiban ramen are your favorite? Why not see what other instant noodle companies have to offer by trying out Zenpop's Ramen pack? It offers 7 full size instant noodles, some which are seasonal and others that are limited edition, so that you can experience the flavors of Japan right from your home.