Here we are, the Hanami season is upon us! We hope that you're all well and safe. Despite the beautiful cherry blossoms blooming, we won't be able to have our traditional hanami party by the Osaka castle park this year. However, that doesn't mean we cannot celebrate the venue of another magnificent spring, and welcome back the warmth it brings to us.
The key to a succesful Home Hanami Party is to prepare the right food, cool the drinks, and gather with a few close family members of friends in front of a Sakura viewing.
So that you can celebrate too, we've prepared everything you need for your own home #virtualhanami party! Starting with our beautifully curated Sakura Themed Boxes, here are a handful of things you can do to make yourself feel a little more like you were in Japan, until you can board your next flight to visit us.
1. Prepare Your Skewers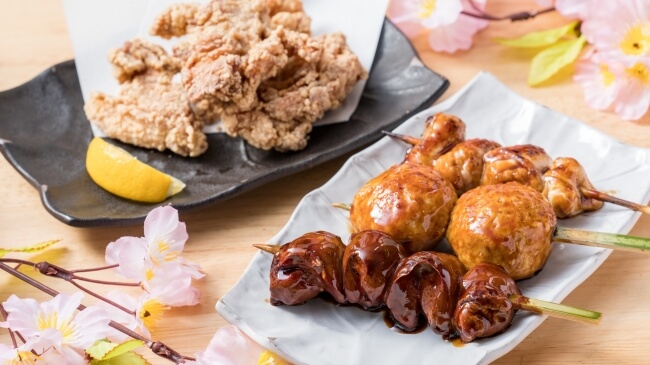 That's right, there is nothing better than yakitori to enjoy the cherry blossoms. For those of you who don't know, it simply means grilled chicken. In Japan, every piece of the chicken can be used, from lean breast to innards. Traditionally, the chicken will be cut into small bite-sized pieces, marinated, and assembled on a skewer with some leek, or covered with cheese for example.
It's all in the marinade if you ask me. Some people like it simple, and will only use salt, shio, but we like ours with tare, which is the yakitori sauce! You can easily prepare it yourself by mixing soy sauce, sake, and either a little bit of sugar, or even honey to add some sweetness.
The sauce should be brushed on the yakitori when it's nearly done. Wait for both sides to be browning, use the sauce, and finish them off nicely!
Pro tip: Before placing your chicken on the skewers, soak those in water for about 20 minutes to avoid them burning.
2. Get the Right Drinks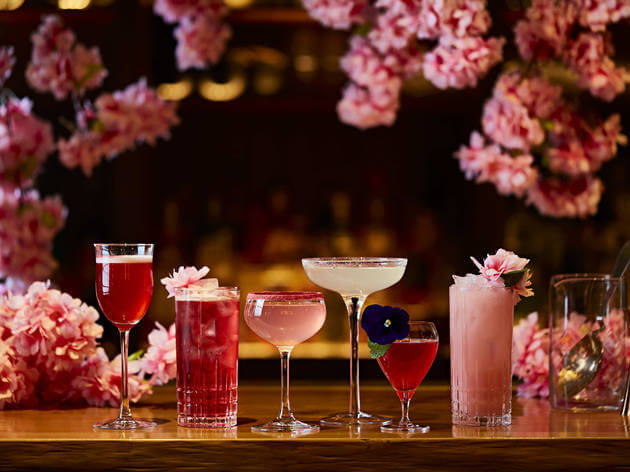 The sun is out, the flowers are blooming, all that's missing is some sparkle! Whether you like a fresh beer, chu-hi, umeshu, tea or a soft drink, make sure it's ice cold to really feel the refreshment of that very first sip. Savor it.
There is no one perfect drink for a Hanami party, but keep them cold!
3. Set up the Snacks

Senbei, Hi-Chew, Chocoballs, Potato Chips, Umaibo, you can't go wrong here. Follow your gut. If you can't decide what to get, just check our Taste of Hanami Sweets Pack, or Go Green Ramen Mix Pack, and let us do the preparation for you! We've got some Uji Matcha Latte Picola, Koikeya Strong Ume chips, Sakuma Drops, Chery Mochi - you name it, we serve it!
4. Get Your TV Ready
Check out the Japan Weather Channel or ANN news for some of the best digital views of this year's Hanami season. The hashtag #virtualhanami is what you need to follow to keep track of the most beautiful photos on social media! Watch out for some youtubers like Her Atlas, guaranteed to prepare a beautiful video for you to enjoy the blooming online!
Also, make sure to check out the Sakura Drone Project. The company Drone Entertainment is planning to launch various drones in the air, flying over the most beautiful Sakura spots Japan has to offer, and deliver them straight in 4K to your TV!
5. Enjoy
In the end, there are no strict rules to Hanami. Even less to a virtual one. It's all about enjoying the experience and getting an appreciation for the ephemeral passage of those beautiful cherry blossoms. Gather a few friends, or family members, and make yourself comfortable at home for the 2021 Hanami season.
I'll leave you with this, our Sakura Themed boxes, just in time for this year's cherry blossoms. Whether you're looking for snacks, or cute stationery, our boxes got it all! And check out some of our latest updates on Instagram!