Valentines Day is just around the corner. In Japan it is also called "white day", and traditionaly, girls will offer chocolate to the boys they like!
One month later, it will be the boy's turn to return the favor.
However, we don't differentiate! We've got snacks and ramen for everyone in ZenPop's brand new subscription boxes:
March's Packs are already shipping! Get yours while they are still available.
Stationery - Sweets & Treats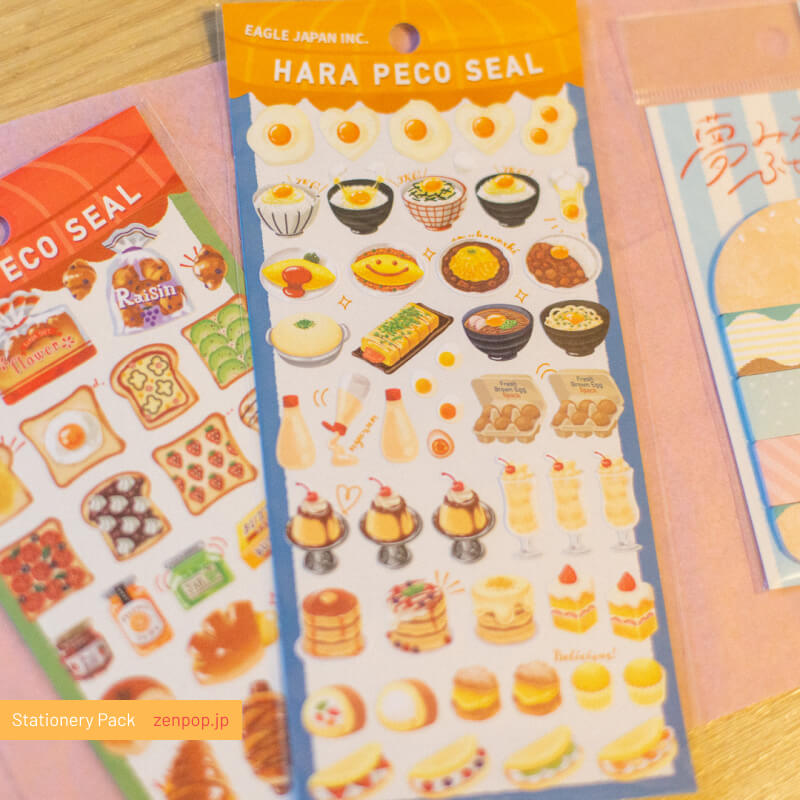 Whether you're a food lover or not, we think you'll enjoy this month's pack full of kawaii motifs of Japan's most delicious dishes! From sushi to souffle pancakes, you'll never go hungry in Japan! There is even a unique Japanese word, kuchi sabishii, which literally means "lonely mouth". We love this expression, as it captures the sense of wanting a snack, even when you're not particularly hungry! So dig into this tasty selection of stationery goodies and add a Japanese flavor to your page.
Your Sweets & Treats Stationery Pack includes:
Ninipie Dual Highlighter + Needle Tip
ZenPop x RyuRyu Original: 2021 Agenda
Sushi Washi Tape
Hara Peco Food Stickers
Oyatsu Snacks Roller Eraser
PLUS 5 more amazing stationery products from Japan!
Ramen - Noodle Lover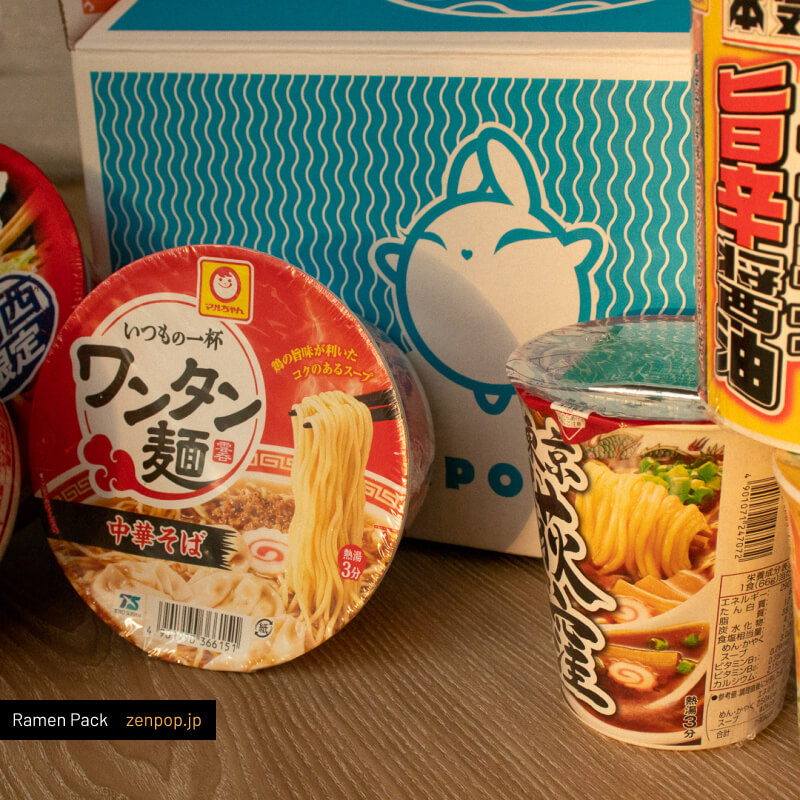 Did you know there's an ode to ramen hidden on your ramen box packaging? If you find it, share it with us #zenpopjapan. It's true that here at ZenPop, we're all hopeless ramen-tics. There's just so much to love about ramen - it smells great, is instantly satisfying and there's new flavors every month, so you'll never get bored. 😉 We'll leave you to get better acquainted with this month's Ramen Pack now…
Your Noodle Lover Ramen Pack includes:
Tsuruhashi Fugetsu Yakisoba
QTTA Miso Cream Onion
Spicy Stamina Shoyu Ramen
PLUS 4 more tasty instant ramen to discover.
Ramen + Sweets Mix - From Japan With Love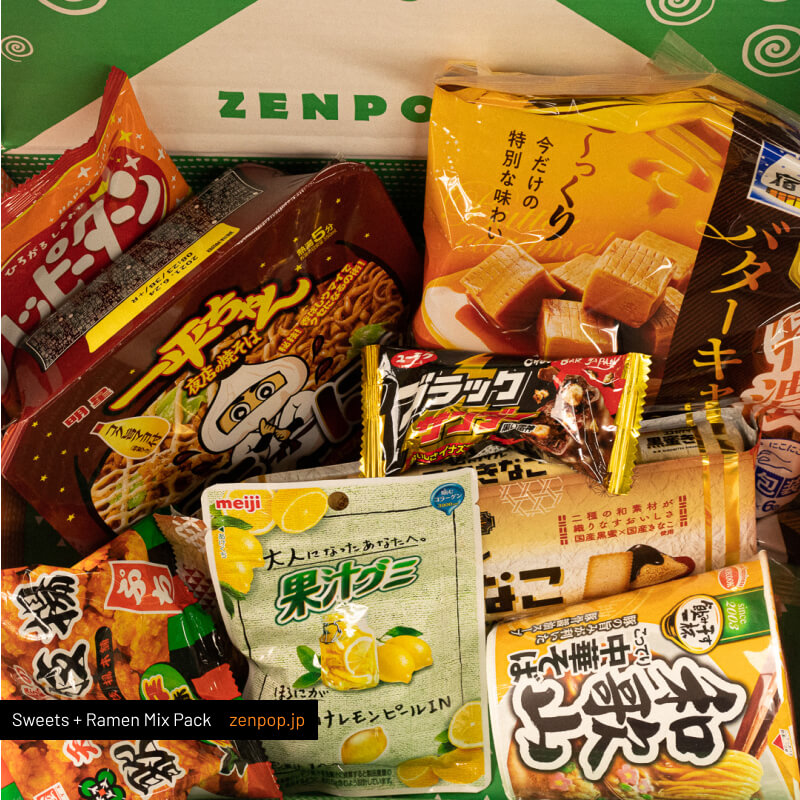 With Valentine's Day just around the corner, it's the perfect time to receive a box of love (plus ramen and snacks!) from Japan. This month's Mix Pack features special Japanese flavors, as well as products inspired by some of our favorite places, including Wakayama and Okinawa!
Your From Japan with Love Ramen + Sweets Mix Pack includes:
Rich Chuka Soba
Tamari X Garlic Yakisoba
Butter Caramel Sweet Rice Cracker
Kuromitsu Kinako Coconut Sable
PLUS 4 more ramen, snacks and candy!
Sweets - Milk & Cookies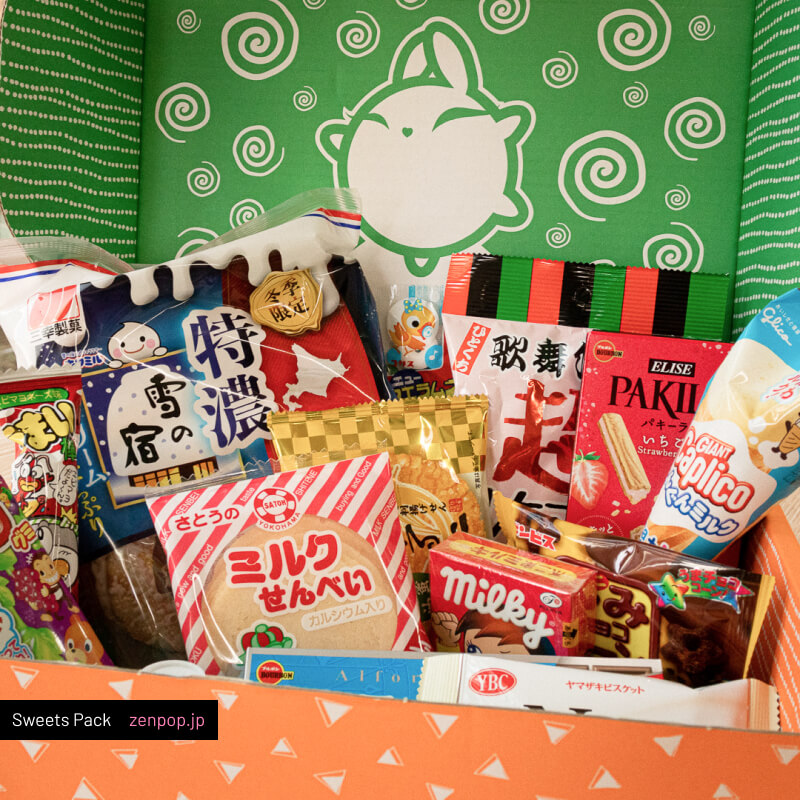 Who doesn't love milk and cookies? It's the ultimate comfort food for that guaranteed warm & toasty feeling. You bring the milk and we'll bring a delicious selection of sweet and savory cookies and senbei.
Your Milk & Cookies Sweets Pack includes
Extra Rich Milk Sweet Senbei
Alfort Rich Milk Cookies
Giant Caplico Milk
KabukiAge Rice Cracker - Mentai Mayo
PLUS 11 more delicious treats!
Follow us #zenpopjapan