Japan has so many famous characters from anime, video games, as well as popular mascots made by companies like Sanrio and San-X.
Just like you, we love Japan's cute characters and love to include them in ZenPop's subscriptions boxes from time to time for you.
One of our favourite Sanrio characters is Gudetama and that's why you'll find him hiding in 50 of our Ramen Packs this month!
Find out how you can get your hands on our top 5 cute Gudetama character goods thanks to our friends at ZenPlus - a one-stop-shop for everything and anything from Japan!
Who is Gudetama?
Gudetama is Japan's most famous cartoon egg produced by the company, Sanrio - the same company responsible for other popular characters such as Aggretsuko, Hello Kitty, My Melody, Little Twin Stars, Cinnamoroll and many more.
His name comes from the onomatopoeia gude gude, which is usually used to indicate laziness, and the Japanese word for egg, tamago. Putting these together, Gudetama's name roughly translates to 'lazy egg.'
Why We Love Gudetama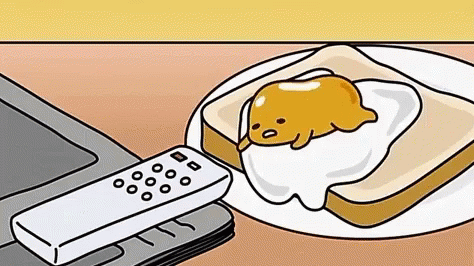 Personality wise, Gudetama is droopy and sleepy, and of course, very very lazy.
The egg often feels tired about most things, and lacks the energy to even get up or move throughout the day. We've all been there...some days all we can do is keep pressing snooze on our alarm!

Which Gudetama are you today? Source: Gudetama (Twitter)
Since many people were attracted by Gudetama's cute design and the humor in his lazy nature, Gudetama quickly became one of Sanrio's most popular characters.
Our 5 Favorite Gudetama Character Goods
1. Gudetama Tamagochi
Do you remember playing with Tamagotchi as a kid? We loved those little pixel pets that we took care of until they grew up into an 'adult'.
In December of 2017, a variant of the Tamagotchi Nano was released to feature Gudetama!
You can take care of him, feed him, play mini-games, and also see what different egg dishes he might possibly turn into.
The way you interact with him influences what he will 'evolve' into and what egg dishes he might become. All of them feature Gudetama's signature lazy face as well!
*You can purchase the slip-on cover on ZenPlus and the tamagotchi on ZenMarket (via Amazon).
2. Gudetama Piggy Bank
Why not upgrade your money-saving method (especially for all those coins that pile up) into something kawaii?
This Gudetama piggy bank not only features Gudetama's face, but also has the lazy egg hiding inside!
When you place a coin on top of the designated slot, you can hear Gudetama speaking, as if he's noticed that you've offered money for him to keep. Slowly, his little egg face will peek out and take the coin you've offered into the bank with him, keeping your money safe and secure.
3. Gudetama Instax
We're big fans of Fujifilm's Instax Instant Cameras. They're great for capturing memories, making instant photos with friends to keep in journals, scrapbooks or bullet journal spreads.
For the Instax Mini 8 and Instax Mini 9, Fujifilm collaborated with Sanrio to release a special edition Gudetama Instax!
Not only does the camera have cute designs featuring the lazy egg and a light yellow and white color scheme to match, but you can also buy special film packs that feature Gudetama designs on the borders of your instant photos.
4. Gudetama Edible Stickers
Source: Tabe-art
What if you wanted to turn your favourite dishes into Gudetama?
These cute stickers let you do just that: add a little bit of Gudetama himself to your meals. They feature many of his facial expressions as well as other signature poses like Gudetama lying down, sitting in his cracked eggshell, or with his silly butt exposed.
The best part about these is that they're edible! You don't have to sacrifice any of the flavor, or worry about not being able to consume your perfect lazy egg.
This month, 50 lucky ZenPop Ramen Pack subscribers will receive these cute Gudetama edible food art stickers as a bonus gift! All subscribers (existing and new) are eligible to win.
5. Gudetama Kakitama (Egg Drop) Soup
Of course, being an egg, Gudetama is popular across lots of different food products.
One of our favorites is Kakitama - a Japanese-style egg drop soup - with miso and tofu. Made by Marusan-Ai, a famous miso manufacturer, all you have to do is add boiling water.
We think even Gudetama could motivate himself to do this simple cooking method!
Brands often collaborate with this cute Sanrio character. Nissin Foods, which makes Top Ramen and Cup Noodles, unveiled earlier this year a limited-edition Gudetama-themed packaging of select Top Ramen flavors, including Chicken and vegetarian Soy Sauce.
Do you have a favorite Sanrio character?
Follow #zenpopjapan
This blog was written by Sam: Sam is a university student interested in everything in otaku culture, from video games to anime. Growing up, she spent several hours in front of the TV watching mahou shoujo shows, and now binges entire seasons of anime within in a few hours. She loves to attend conventions in cosplay and always stops to take pictures of stray cats.