The Japanese are so adept at making everything convenient—and that includes erasers. The country's manufacturers deliberately choose materials and come up with designs that are suitable for the needs of both students and professionals.
When you use a regular rubber eraser, you're bound to encounter certain inconveniences. But with certain types of Japanese erasers, these problems are eliminated. For example, if you're an artist and you need something precise to erase a small part of your drawing, there are Japanese erasers that will cater to this specific need.
Japanese culture places great importance on attention to detail and craftsmanship. So it's no wonder why the erasers are often meticulously designed and crafted to provide the best possible experience.
So if you want to discover the most convenient erasers for schoolwork, artwork, and other professional work, take a look at these types of Japanese erasers:
Kokuyo 5-Function Eraser (Mirikeshi)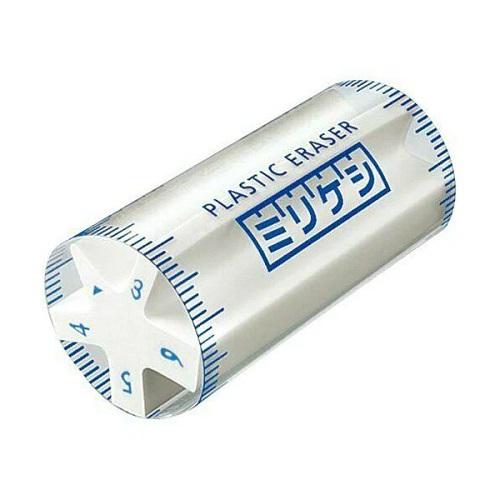 If versatility is your priority, the 5-function eraser is an ideal choice. As the name suggests, it features five edges of different sizes. So what can you do with a 5-function eraser? You can use the precise edge for erasing those small bits. The other sides are specifically designed for lined notebooks.
Typical erasers tend to erase even the notes above or below the area you only intend to remove. It's a great tool for students as it only erases one line of a notebook. Its Japanese name, mirikeshi, is from the word millimeter. This is because the sizes of the edges are 1 mm, 3 mm, 4 mm, 5 mm, and 6 mm. Once the edges become blunt, all you need to do is to slice the erase with a knife to make a new edge.
The 5-function eraser is the product of Kokuyo, a Japanese manufacturer of stationery and lifestyle products. Its brilliant design was engineered by Yuju Baba, who innovated the company's kadokeshi eraser.
Kokuyo 28-Corner Eraser (Kadokeshi)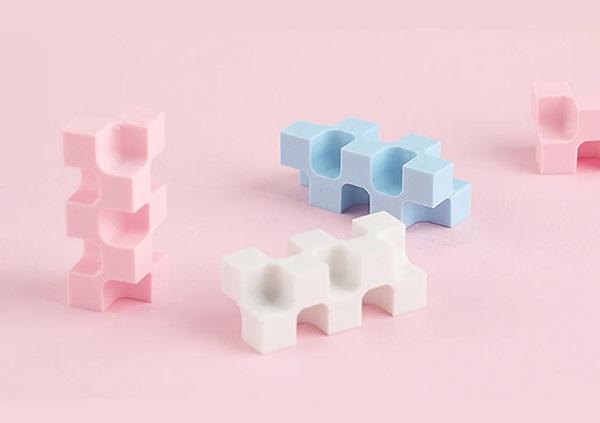 Japanese stationery manufacturers are so good at eliminating the problems caused by blunt erasers. The kadokeshi eraser is yet another simple tool that features an innovative design. Its 28 corners will allow you to have plenty of opportunity to erase precisely.
Kadokeshi is another product of Kokuyo and was created by Hideo Kanbara. The simple yet functional eraser became part of the "Humble Masterpieces" exhibition in 2004 by The Museum of Modern Art (MoMA) in New York.
Nakabayashi Logical Eraser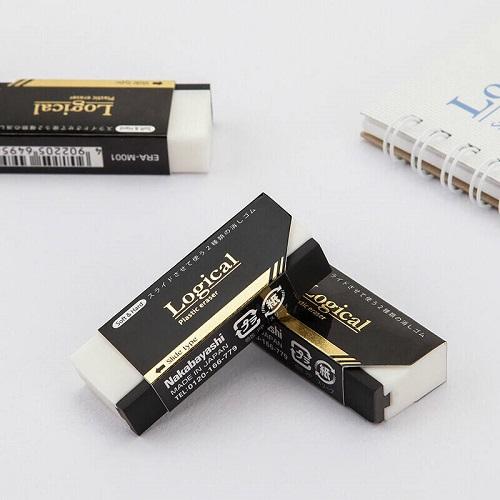 You get two erasers in one with the Nakabayashi Logical eraser. A dovetail joint connects the two erasers. The large piece is a soft, white eraser that's ideal for big areas without the need to apply too much pressure. You can efficiently use this part by sliding the black eraser backward.
The small part, the black eraser, is harder so that the user can erase small areas precisely. If you need to use it, just slide this bottom eraser forward.
Both parts are made of a special polymer that gathers up all the eraser bits into little piles that are easy to clean up.

Seed Anatas Eraser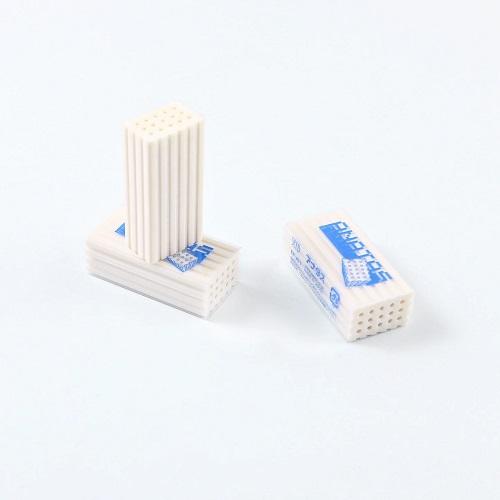 The Anatas Eraser by Japanese stationery company Seed (a firm that has been producing erasers for more than a century). This is yet another eraser perfect for people who don't like erasers that end up getting blunt after many uses. It features 15 holes (hence the name ana, or 穴 in kanji, which means hole) and 20 grooves to maintain its preciseness
The Anatas Eraser comes in two colors: white and black.
Sun-Star Polygon Zigzag Eraser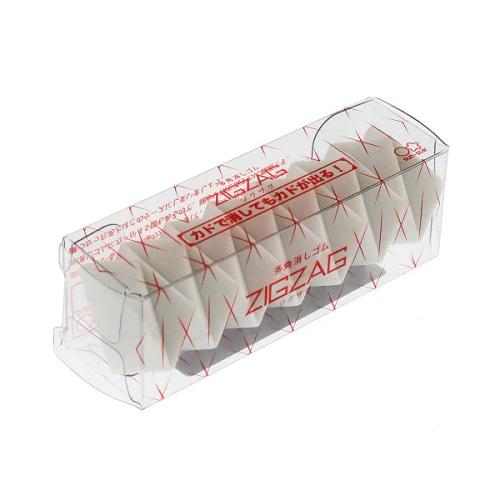 Erasers come in different shapes and sizes and the zigzag eraser from Sun-Star is just as impressive as the other uniquely shaped ones on this list. Its design will remind you of the tessellations used in origami.
This Sun-Star eraser has 45 edges. Once you've fully used an edge, you can erase it with another edge. In other words, you will never have to deal with a blunt shape.
Knock Eraser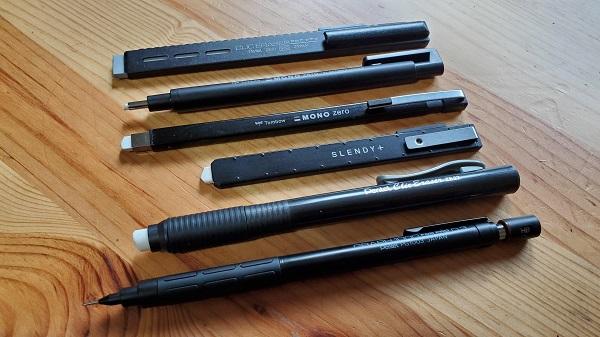 Just like pens, there are also knock-type erasers. If you purchase one, you will likely stick to one brand because the barrels designed by one stationary brand are different from its competitors. You'll have to buy refills from the same manufacturer.
For example, the Seed Slendy + Super Slim Knock Eraser features a slender yet sturdy metal holder that holds a rectangular eraser. The typical knock-type eraser features a cylindrical barrel that holds a rubber eraser of the same shape.
Electric Eraser
At the press of a button, you can erase the finest details with an electric eraser. This type is usually compact. An electric eraser is a handy tool for artists, cartoonists, and illustrators. With a cordless design, it is very convenient
A particular product we recommend is the Seed Sun Dolphin 3 Electric Eraser. It spins at 10,000 revolutions per minute (RPM), allowing you to lightly erase small areas. You can refill it with a sand or plastic eraser, with the former allowing you to erase ink marks.
Electric erasers are battery-operated. The one from Seed uses AAA batteries. Some cheaper ones, like the electric eraser from Daiso, use AA batteries.
Retractable Eraser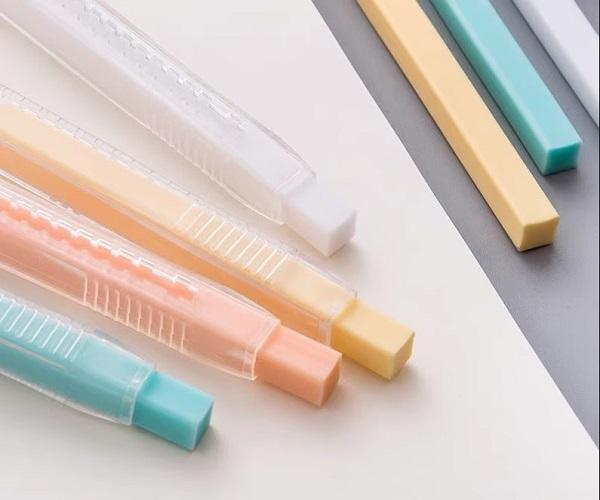 Retractable erasers from Japan are among the best ones. Tombow's line of retractable erasers is the favorite of many artists, students, and designers. The brand's erasers are very portable and precise.
The company produces retractable erasers in different shapes and sizes. It manufactures rectangular erasers that allow users to always have a clean edge. They also produce ultra-thin erasers, which can perfectly erase pencil strokes. Just like knock and electric types, retractable erasers are refillable.
For more information on Japan's best stationery brands, we have a dedicated article linked before!
Foam Eraser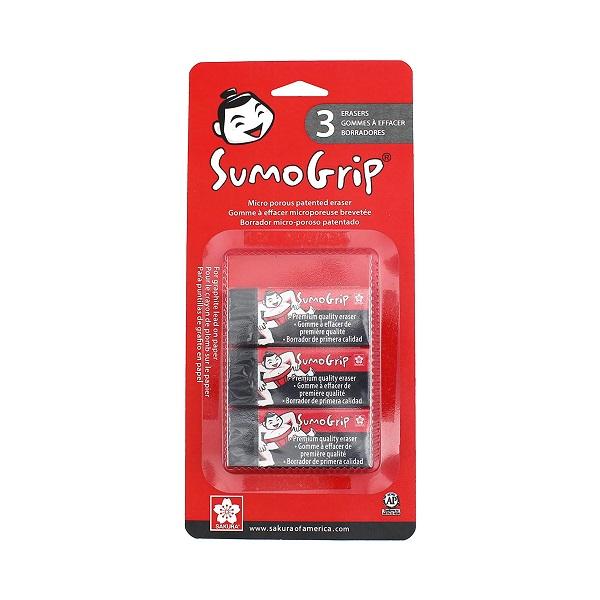 Your hands already get tired of writing notes or drawing sketches. So if you want to erase effortlessly, get yourself a foam eraser from Japan.
An excellent foam eraser is the SumoGrip from Sakura. It is better than your typical eraser because it easily removes pencil marks even from a light touch on the surface. Its material is an open-cell foam that functions like a very fine sandpaper. It can easily handle B to 2H pencils. Since you rub the eraser lightly, it will not damage the paper, unlike the typical erasers on the market.
Novelty Eraser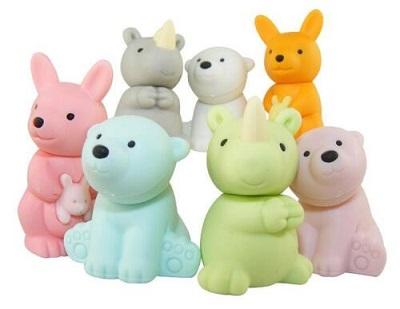 Novelty erasers are not just for kids. They're also an excellent choice for teens and adults who want to create a certain theme for their desks. Japanese brand Iwako is popular for manufacturing cute erasers. It sells erasers that typically come in a themed set.
You can purchase erasers in designs such as cute animals, Japanese snacks, Sanrio, and more. If you're going for a kawaii desk, getting novelty erasers is the way to go.
Choosing the Best Japanese Eraser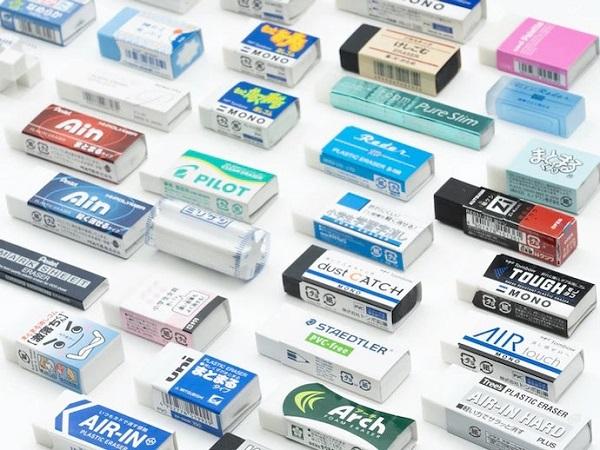 Japanese eraser brands are very particular with the way they designed these correction tools. They cater to specific functions that students, designers, artists, and professionals need.
Choose an eraser that best fits your lifestyle. If you plan to take lots of notes choose the multi-function eraser. If you're an artist who draws the tiniest of details, then a thin retractable eraser will help you.
Check out our ZenPop Stationery box to get your own original Japanese erasers delivered at home!