We asked for your very best instant noodles hacks…and you delivered!
We took your hundreds of recommendations to improve instant ramen and broke them into the following six categories:
Try out your favorite hacks on our Ramen Pack - 7 full-size bowls of authentic and delicious Japanese noodles!
Toppings: The Bare Minimum
OK, the absolute bare minimum is, of course, boiling water...
But if you're ready to do more than turn on the kettle, here are some suggestions that will put a little pep in your ramen's step.
Always add a hard boiled egg (Brooke, USA)
Cover in cheese (Thays, Brazil)
Put cheese in it...sorry! (Eia, Lithuania)
Source: NYT Cooking
I add sesame seeds! (Maryna, Ukraine)
Add chilli powder (David, UK)
I add fresh spring onions, plus sesame oil and chilli oil. Makes ramen awesome! (Rebecca, Australia)
Add garlic and sesame (Michelle, Singapore)
Add a raw egg underneath the noodles before adding water. (Jim, Canada)
I love to eat them plain with a bit of Maggi (Andreas, Germany)
Fresh mint (Athena, Denmark)
Kecap Manis - Indonesian sweet soy sauce (Bob, USA)
Add kewpie mayo to make it creamier and less spicy! (Rachel, USA)
Toppings: A For Effort
So it's Friday night and you're feeling wild! Time to mix things up and get adventurous in the kitchen...
It doesn't take much more effort to take your ramen from delicious to AH-MA-ZING!
Instant ramen is best served with a Netflix binge marathon!
Veggies, veggies, veggies! (Drew, USA)
Corn and mozzarella is perfect and and don't forget with dried seaweed. Mix it all through the ramen and add hot sauce. (Nurul, Indonesia)
Add an egg and don't skimp on red chili flakes! (USA)
Nothing groundbreaking...sometimes I add a bit of butter, corn or an egg or some shredded pork. (Nina, USA)
I like to add deep-fried tofu cubes and extra veggies. (Susan, Canada)
Scramble eggs and butter into it?! (Gina, USA)
Fresh ginger is a must have addition to any ramen. (Derek, USA)
Bacon fat, frozen greens, fried garlic and grated ginger. (Alasdair, USA)
I always add some sliced ham that I brown up on the stove to give more flavor. (Elizabeth, USA)
Add a Japanese curry block (Sydney, England)
Toppings: Untraditional
It's time to think outside your ramen bowl!
If you're out of nori (seaweed) and chashu (Japanese braised pork), it's OK!
These creative ramen lovers show that you can really use whatever is in your fridge.
Scrambled eggs with bacon bits topped with sour cream. (Cassandra, USA)
Hotdogs and broccoli (Brady, USA)
Ghost pepper powder! (Joel, USA)
Spam, sous-vide egg, and spring onions (Andre, USA)
Add eggs, sriracha, hoisin sauce, lime, green onions, basil leaves, cilantro and bean sprouts. (Gerson, USA)
Ramen: A Well-Rounded Meal!
Let's get serious! It's time to take your instant cup noodle from a salty snack to a awesome well-rounded meal.
Fried or boiled eggs make ramen a meal. Also some steamed shrimp or some artificial crab chunks. (Allen, USA)
Ajitsuke Tamago eggs and fried fish balls. (Steven, USA)
I add a fried egg and some mayonnaise and sriracha sauce and some cucumbers. (James, Netherlands)
Almost always, I add a soft boiled or poached egg, fresh bean sprouts, and green onions. After that it varies…julienned carrots, fresh off the cob buttered sweet corn, various protein, sometimes breaded pork chop, chicken slices, or fried pork belly slices. I fried spam once, and also bratwurst slices. Also various mushrooms. I've tried fresh enoki, and portabella, and also caramelized mushrooms. As well as stuffed mushrooms. (Monica, USA)
I always add nori, vegetables and protein to my cooked noodles and I will sometimes change or add to the premade sauces to make them taste a bit better. (Kimberly, USA)
Ramen: Serving Suggestions
There's more than one way to eat your instant noodles! Our favorite? Ramen pizza!
Credit: SoraNews24
If the ramen is too spicy, add cheese or a stick of sushi to it! This only works if you're the type to pour the water out! (Amie, Vietnam)
Toast with butter then ramen on with lots of soy sauce and make it into a toasted sandwich. (Kat, Australia)
Putting water in the package straight up and just eating out of it minimum dishes. (Kali, USA)
Adding more ingredients to the broth can give it more flavor and really make a difference! (Nicholas, USA)
Put ramen in a deep fryer for a crispy topping to mac and cheese or burgers. (Natalie, USA)
Source: PopSugar
A tip for my fellow gluten-free folks: check if the spices has gluten. If they don't, just switch the noodles to rice one and enjoy! (Julia, Poland)
Save up sauce from multiple packs to use on one super pack and double the flavour. (Joseph, England)
Ramen: Cooking Method
Obvs, one of the best things about instant noodles is that you can eat them...(almost) instantly!
But, these ramen fans have showed us that just a few more minutes spent on cooking time can make your instant ramen really pop!
Frying the noodles slightly before adding the soup makes them tastier. (Adham, Egypt)
Boil in chicken broth instead of water. (Corey, USA)
If you want a higher quality texture, always cook on the stove top if you have the extra time. Also toppings. (Haley, USA)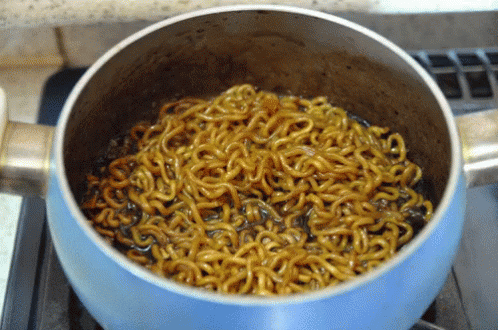 Break the ramen in half before cooking it. (Chanel, England)
Drain noodles, add seasoning, eggs and peas, cook in a wok. (Joseph, USA)
Japanese Instant Ramen Subscription Box
Thank you to everyone that shared their instant ramen noodles hacks with us.
Check out our monthly Ramen Pack for 7 full-size bowls of authentic Japanese noodles!
Follow us #zenpopjapan