If you're interested in Japanese culture, then you would have noticed that they use rice or Gohan in many of their meals, such as sushi, Omurice (rice omelet), Oyakodon (chicken and egg rice bowl), and onigiri (rice balls). Japanese cuisine took this rice obsession further by making rice snacks, the most popular being Japanese rice crackers.
Rice crackers are bite-sized delights called "senbei" in Japanese. They have existed for centuries and have a rich history. There are records showing that rice crackers originated from China during the Asuka period (538 AD – 710 AD). During the Edo period (1603 and 1868), Japan put its own spin on the rice cracker by roasting a mixture of rice flour and sugar, creating senbei. Another type of senbei was mixing rice flour with salt instead for that savory taste. Back then, people saw it as a low-class smack because it was popular with farmers.
Today, Japanese rice crackers are enjoyed by many people. Even though they can be made at home, there are also packaged versions that you can buy in stores. In this article, we'll explore the world of Japanese rice crackers, their types, best choices, and even how to craft your own at home. So keep reading.
Types Of Japanese Rice Crackers
Japanese rice crackers come in a dazzling array of shapes, sizes, and flavors, making it a delightful challenge to choose your favorites. Here are some of the most popular types:
Senbei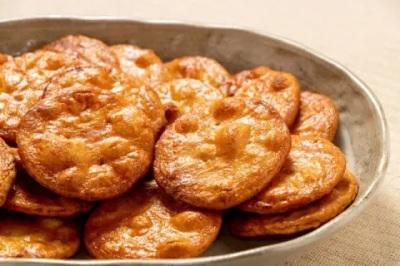 The classic senbei is the most popular type of Japanese rice cracker. It's a thin, crispy cracker that is often sold on street stalls. You can find senbei in various shapes and textures, from rectangular and round to puffed and airy. Senbei is made from non-glutinous rice flour mixed with water. People use different ingredients to make senbei more appetizing. For instance, you can find sesame seeds, shoyu (soy sauce), or nori (seaweed) senbei, which gives that extra layer of flavor.
Arare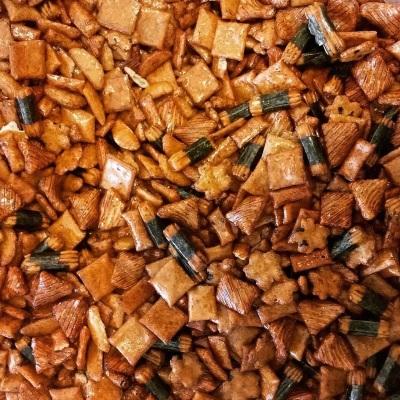 Arare are small, bite-sized rice crackers that come in many colors, shapes, sizes, and flavors. They are mostly mixed with sugar for a sweet taste, but sometimes, the flavor can be more complex as it is coated with soy sauce. Arare is made with glutinous rice, just like mochi, so it is chewy. It is also a popular choice during Japanese celebrations like Hinamatsuri.
Okaki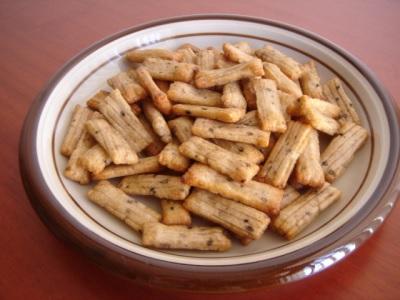 Okaki is similar to Arare because it is made with the same mochi glutinous rice flour. The main difference is that it is often larger and thicker than Senbei and Arare. Okaki is known for its satisfying crunch and chewiness. These crackers can be flavored with soy sauce, matcha green tea, or even curry.
10 Best Japanese Rice Crackers
If you don't have the time to make Japanese crackers in the comfort of your home, there are many commercialized versions you can buy. Here are some amazing flavor suggestions for you to try out.
Shrimp or Prawn Senbei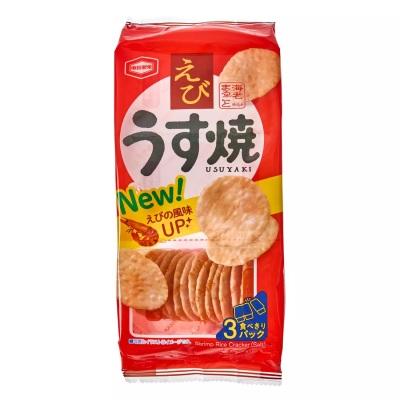 For people who love seafood, shrimp or prawn senbei will be a wonderful snack to get addicted to because it captures the rich umami flavor of seafood. These rice crackers are seasoned to perfection, with a mix of flavors like soy sauce, salt, and shrimp or prawn powder that's so satisfying.
Norimaki Arare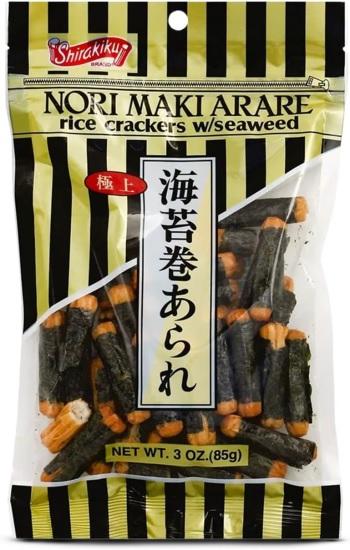 Norimaki Arare are thin and long Arare pieces wrapped with a sheet of seaweed. In Japan, seaweed or nori is used for meals like ramen, onigiri, and sushi. Norimaki Arare combines the flavors of seaweed with Arare rice crackers. Seaweed actually adds an interesting flavor to the snack, plus it is super healthy.
Soy Sauce Flavored Senbei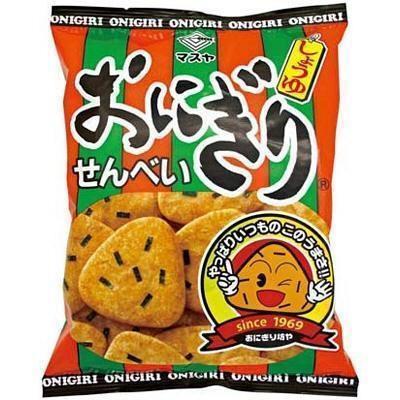 One of the most popular Japanese rice cracker flavors is shoyu (soy sauce). The classic soy sauce glazed senbei is a timeless favorite. The Masuya Onigiri Soy Sauce Senbei is a famous senbei brand with pieces shaped like onigiri instead of the usual round senbei shape. It is coated with soy sauce, leaving a savory and slightly sweet taste.
Salty Rice Crackers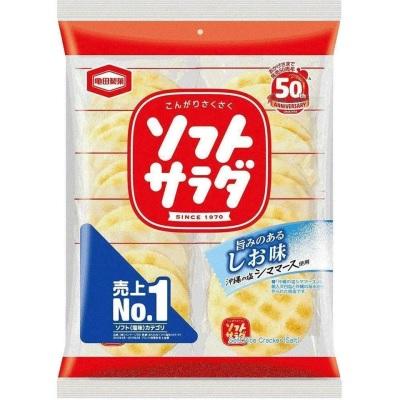 Japanese rice cracker is already a delightful snack without complex flavors. Sometimes, all you need is a simple salted flavor, and you're ready to go. This senbei is a soft salted flavor that is hard on the outside but soft inside. It goes great with tea or juice.
Assorted Flavors Rice Crackers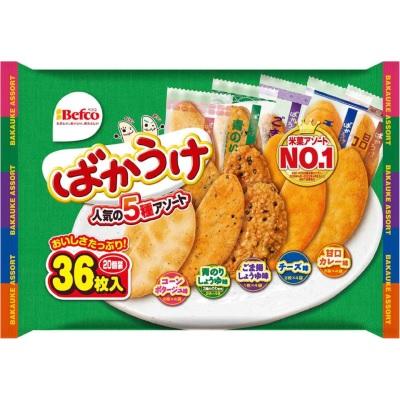 When you can't decide on the type of rice cracker you want, just buy an assorted pack where you get a mix of flavors. The Befco Bakauke Senbei Rice Crackers include 5 different flavors in one pack. There is curry, cheese, corn soup, soy sauce with sesame, and soy sauce with seaweed flavor in each pack. Getting an assorted flavors pack will allow you to decide on your favorite rice cracker flavor without breaking the bank.
Cheese Okaki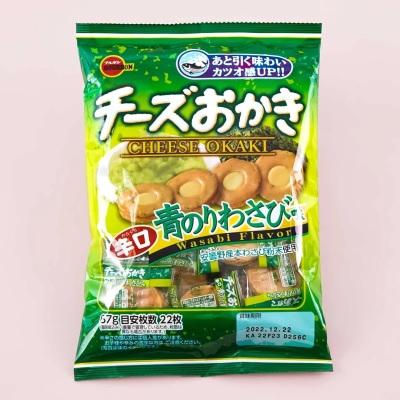 The thickness and chewiness of Okaki make it the perfect choice for cream cheese filling. This Bourbon Okaki is nori and wasabi flavored to give that spicy kick mixed with that creamy cheese center. These thick rice crackers are y coated with wasabi and nori seasoning, and it is a delight to bite into.
Sugar Glazed Senbei
Sugar-glazed senbei is different from the savory soy sauce or salted norm of traditional senbei. Senbei is a snack that tastes good even without complex flavors. A simple caramelized sugar glaze not only adds a touch of sweetness but also gives senbei a more satisfying crunch.
Kaki no Tane Senbei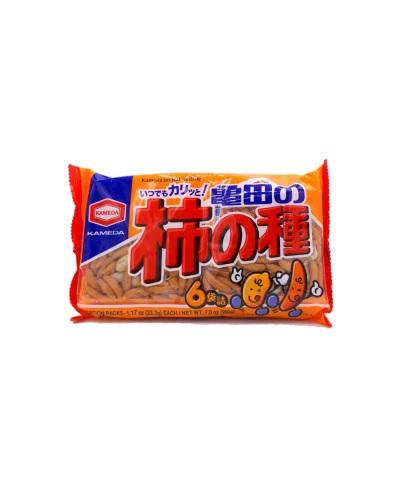 Kaki-no-tane is a popular snack in Japan known for its shape resembling persimmon seeds. It is basically senbei but in a smaller shape. It is usually mixed with peanuts in the pack and some spicy pieces. This blend of flavors makes it a fun snack to take with beer and other beverages.
Black Sesame (Kuro Goma) Senbei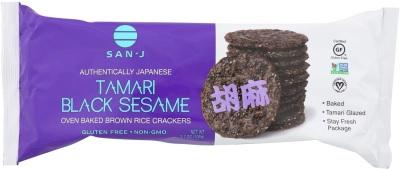 Black sesame is used to make many dishes in Japan, there is even Japanese black sesame ice cream! Sesame senbei has a nutty and rich taste. These rice crackers are coated with black sesame seeds, which are healthier than regular ones, to add a unique crunch and a toasty flavor that's hard to resist.
Matcha Arare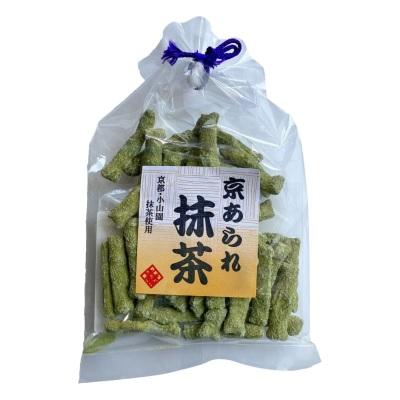 Asians love tea, and matcha is a popular green tea flavor. Matcha Arare combines the taste of matcha green tea with the satisfying crunch of Arare rice crackers. The subtle bitterness of matcha complements the rice cracker, giving a beautiful flavor that is perfect for any occasion.
How To Make Japanese Rice Crackers At Home
If you don't live in Japan and you want to try out rice crackers with just a few ingredients, you can make them at home. Keep in mind that there are different senbei recipes, and you can add ingredients like sesame seeds, nori, sugar, salt, and matcha for extra flavor. The recipe below is a basic guide for making senbei.
Ingredients
¼ cup of rice flour
1 cup of pre-cooked rice
¼ cup of water
¼ Vegetable oil
Instructions
Preheat your oven.
Combine the rice flour, pre-cooked rice, and oil in a food processor and pulse until it is mixed well.
Add the water little by little in the food processor to turn the mixture into dough. It should be able to retain its shape when you mold it.
If you have sesame seeds or you want to mix in flavors, you can do so at this stage.
Place the dough underneath a parchment paper and use your rolling pin to flatten the dough.
Using a cookie cutter, cut out circles on the dough.
You can use a caramel or shoyu mixture to glaze the dough at this stage.
Place the senbei cuts inside your oven and bake for 8 minutes. Do the same for the other side.
Another alternative is to deep fry the senbei for a crunchier texture.
Whether you're savoring these crackers in their traditional form or getting creative with homemade versions, Japanese rice crackers are a snack that has the perfect balance of flavor, texture, and cultural significance.
Satisfy your cravings and experience the joy of authentic Japanese crackers by buying a snack pack from Japan – to start your ZenPop subscription today!
This article was originally written by our freelance writer Umm-Kulthum Abdulkareem and edited by us.