Sumo wrestling, Japan's 2,000-year-old national sport, is rich in history and tradition.
While samurai were among some of the original wrestlers, today's wrestlers are larger-than-life icons of Japan!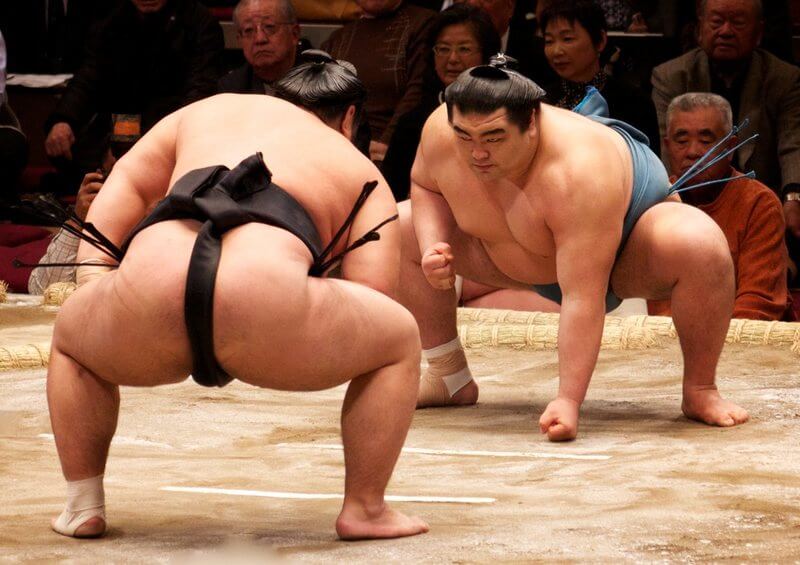 Life as a rikishi (sumo wrestler) is one of discipline, especially in the lead up to a honbasho (sumo tournament).
Every aspect of their daily lives is dictated by strict rules and traditions, from what they wear to, of course, what they eat.
How Do Wrestlers Get So Huge?
Yamamotoyama Ryūta is the heaviest Japanese-born (now retired) sumo wrestler in history, weighing in at 265 kilograms.
Most wrestlers weigh in at 150 kg, a weight gain that requires a serious effort to maintain!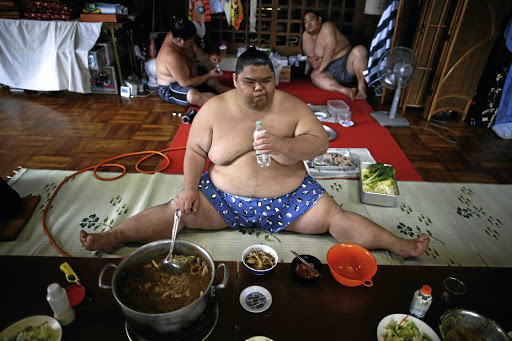 Photo: Issei Kato/Reuters
To keep at their optimal weight, wrestlers have a strict diet of 20,000 calories per day. That's 10 times how much an average adult needs!
What Do Sumo Wrestler's Eat?
Even more astonishingly, those 20,000 calories come from two meals of 10,000 calories each!
Struggling to imagine what a 10,000-calorie meal looks like? It's equivalent to eating four ZenPop Ramen packs or 28 bowls of instant ramen...in one sitting!
But eating is serious business and the sumo wrestler diet is considered to be "part of training" (taberunomokeikonouchi).
A wrestler's day starts early, not with breakfast, but intense training instead. By 11.30am they're starving and are ready to sit down to their first meal of their day - brunch!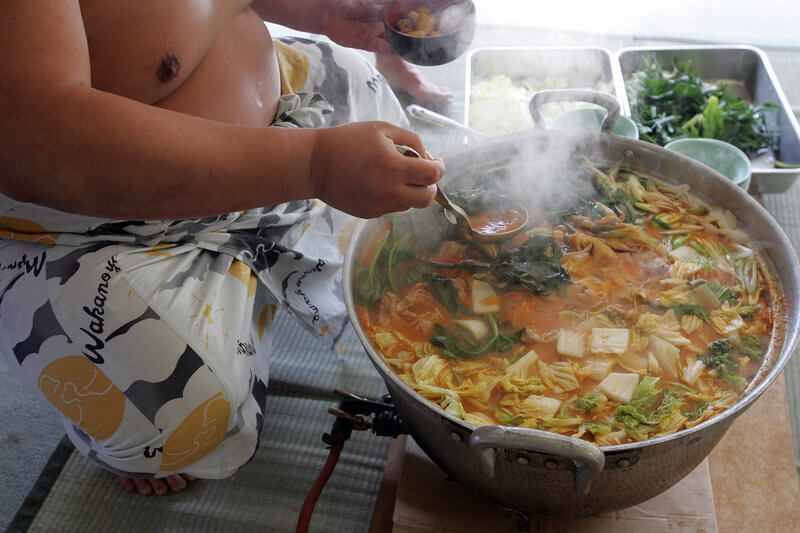 Photo: Atlas Obscura
On the menu is chanko nabe (ちゃんこ鍋), a traditional Japanese stew, filled with fish, vegetables, meat and tofu. To accompany this healthy but hefty dish is-all-you-can-eat-and-drink rice and beer. A healthy rikishi will usually eat 5-10 bowls of rice and up to 6 pints of beer.
After all this eating and drinking, wrestlers retire for a well-earned siesta to sleep off their food coma, as well as to ensure the calories they've just eaten turn into bulk!
Where Can I Eat Chanko Nabe in Japan?
Hot pots (nabe) is a popular Japanese dish, especially during the winter months, which can be found easily in many restaurants. If you want the sumo-sized chanko nabe, you'll need to visit a specialty restaurant.
Tokyo's Ryogoku area, known as 'Sumo Town', near Ryogoku Sumo Wrestling Stadium is the perfect place for a hungry traveller. Many of the restaurants here are run by retired wrestlers!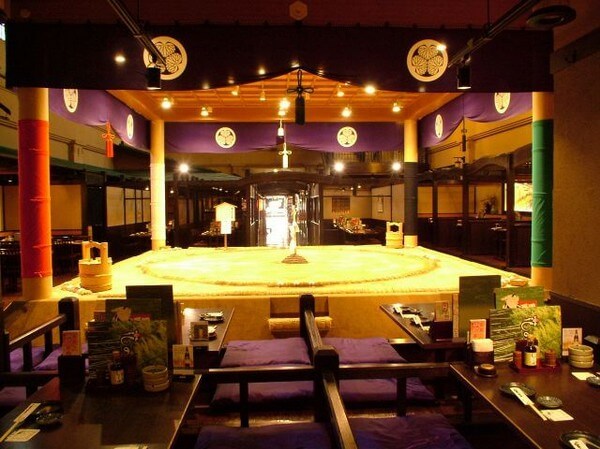 1. Hananomai Sumo Restaurant
This restaurant, in Tokyo's Sumo Town, has a real sumo ring (dohyō) in the middle of it! Of course, chanko nabe is served, and if you've brought your appetite you can book tabehōdai (all-you-can-eat course) in advance.
2. Chanko Kirishima Restaurant
A short walk from the stadiu, you can indulge on their protein-rich broth of chicken stock, dashi, fish, pork, chicken, chicken balls, tofu and vegetables.
3. Namba Chankonabe Naniwa Ichiban
Tournaments in Osaka are held at the EDION Arena Osaka, approximately 350 metres from the subway Namba Station, so this restaurant is a good option if you've worked up an appetite watching the tournament.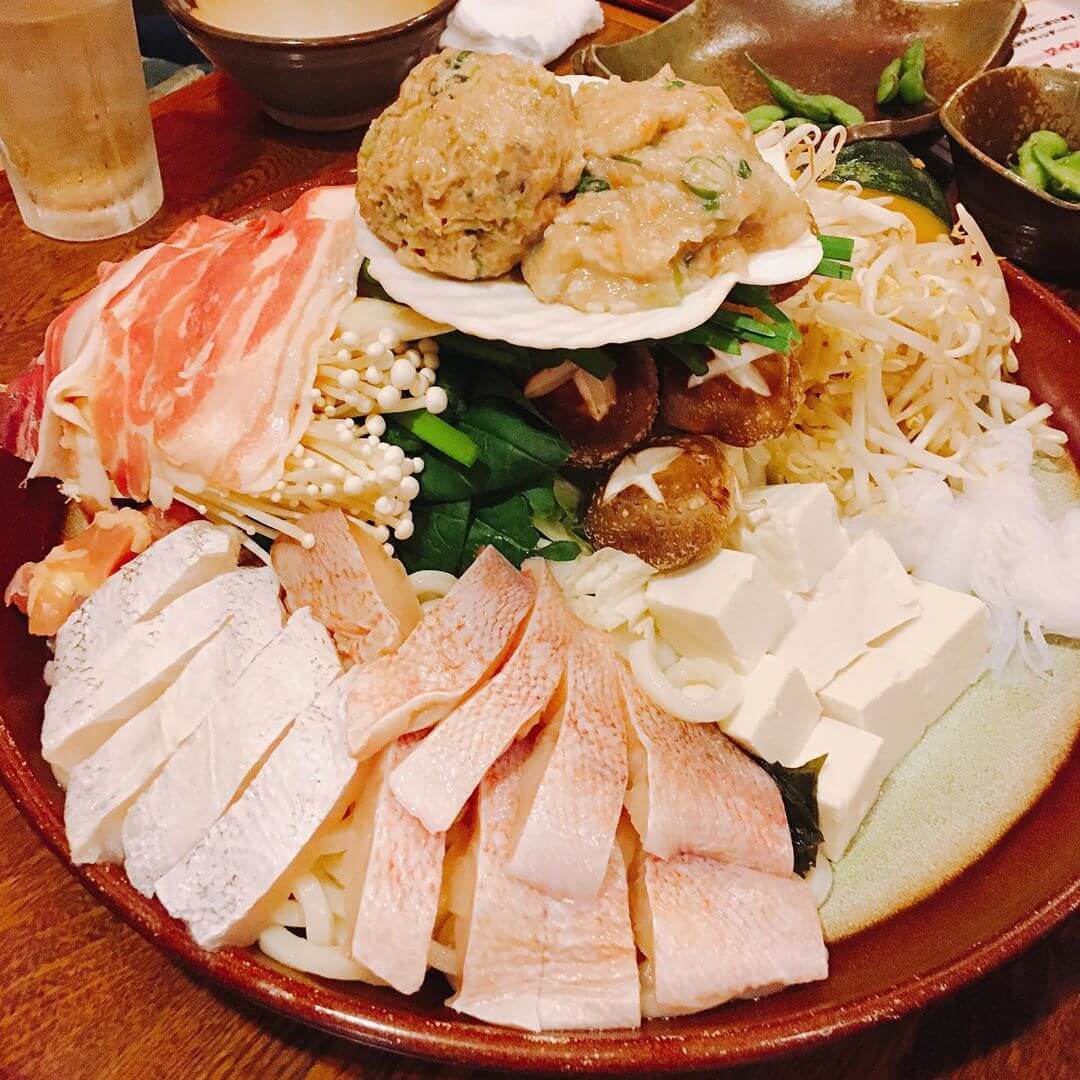 Photo: Instagram (hmmskt)
Where Can I Watch a Sumo Tournament in Japan?
There are only six honbasho or professional sumo tournaments held a year.
The Grand Tournament Schedule for 2020 is available online:
New Year Basho

- 12 - 26 January, Ryogoku Kokugikan

Spring Basho

- 8 - 22 March, Osaka Prefectural Gymnasium

Summer Basho

- 10 - 24 May, Ryogoku Kokugikan

Nagoya Basho

- 5 - 19 July, Aichi Prefectural Gymnasium

Autumn Basho

- 13 - 27 September, Ryogoku Kokugikan

Kyushu Basho

- 8 - 22 November, Fukuoka Kokusai Center
It's best to plan ahead to get a much sought after ticket. Tickets start at ¥3,800 ($35 USD) through to ¥38,000 ($352) for a Japanese style box in which you sit on the floor.
The tournaments last for 15 days and the top ranked wrestlers (makuuchi and jūryō) wrestle once a day, while the lower divisions wrestle several times a day on alternating days.
Of course, no sporting event in Japan would be complete without a nama biiru (draft beer), nihonshu (Japanese rice wine) or whisky. There is also plenty of delicious food to enjoy, such as Kokugikan Yakitori (grilled chicken skewers) or bento (Japanese lunch box).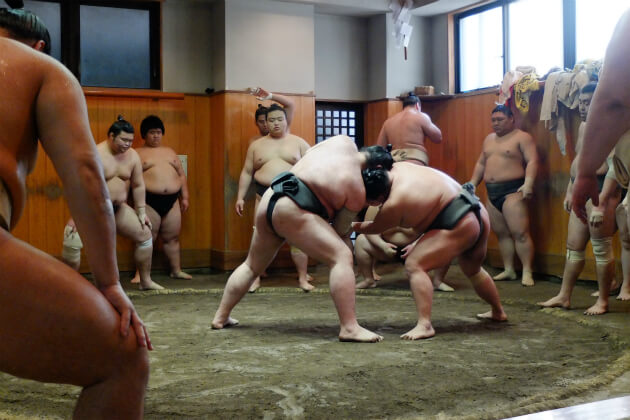 If you're looking for a cheaper alternative to get up close and personal with the wrestlers, you can visit a sumo stable (beya) for the morning training session, known as asageiko. You'll still need to plan ahead for this visit and make sure the stable masters are expecting you!
Sumo wrestlers are an important part of Japanese culture. So, it's not surprising you can find kawaii sumo items, like these cute stick markers and mechanical pencil included in August's Summer Festival Stationery Pack!