Don't you just love Japanese subscription boxes? You can order a box filled with amazing items that change every month. It's like having a bowl of edible Netflix content. There are so many subscription boxes to choose from, but in this article, we will be going over two of Japan's elite Subscription boxes; Japan Crate and ZenPop. Let's get started!
Origin
Japan Crate was the first-ever Japanese subscription box made. It was founded in 2014 by Hank Rao after he visited Japan for the first time. He had always been amazed by Japanese culture, so he came up with the idea of conveying his love and experience of the country through subscription boxes. His idea has led to other companies creating their subscription boxes, and in a way, is the reason we are writing this article in the first place.
ZenPop was founded in 2016 by a Japanese company called Zenmarket.Inc (now ZenGroup Inc.). The company offers online shopping and proxy services for thousands of customers across the globe but ZenPop was created to help people around the world get access to authentic Japanese snacks at affordable rates.
What's in the box?
Japan Crate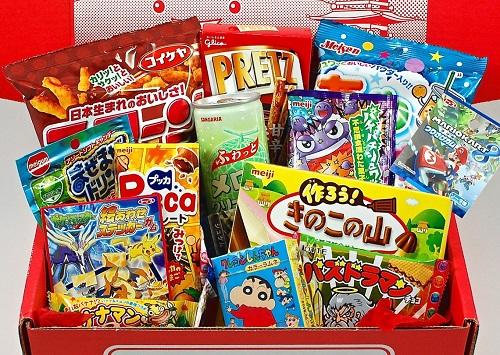 Japan Crate boxes come with a range of full-size candies and snacks, along with other items.
Full-size candies: There's a saying that no two Japanese candy tastes the same, and this is mostly true. Whatever your preferences are, you'll find candies ranging from different kinds of sweet to savory to new flavors you've never heard about.
Full-size snacks: From unique Pringles and Dorito flavors to anime-themed snacks, each box has a variety worthy enough to keep your palettes excited.
Drinks: Each crate comes with one unique drink exclusive to Japan, such as red bean sodas and milk-flavored energy drinks.
Bonus item: each crate comes with a unique non-edible item to keep as a souvenir.
Booklet: If you are having trouble not knowing where to start or you are just afraid of eating something you might not like or might be allergic to. Each crate comes with a booklet detailing the items, ingredients, and themes of each crate.
ZenPop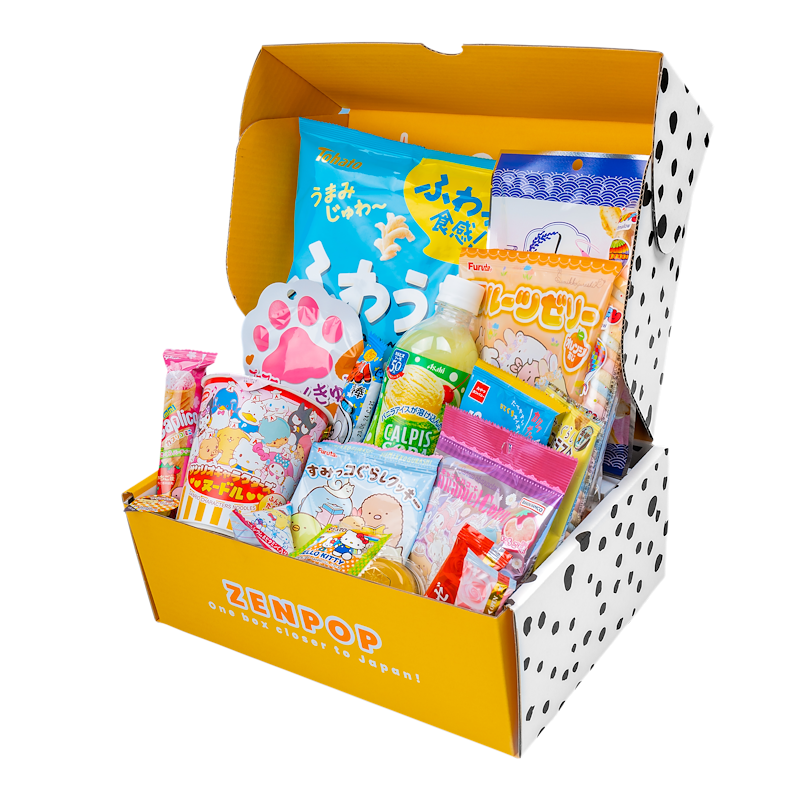 ZenPop boxes come with at least 20 items of different varieties. ZenPop offers other types of boxes, but this description is restricted to the snack subscription box.
Snacks and Candies: Customers are rewarded with a box filled with popular Japanese chocolates, cookies, and unique Japanese snacks such as Dogashi.
Drinks: Each box comes with one or two unique drinks you might have never heard of, like Japanese Fanta or CC lemon, but will surely keep you refreshed.
Noodles: The Japanese experience isn't complete without noodles. ZenPop offers a pack of instant noodles in each subscription box. You can also get various types like shoyu ramen, udon or soba.
Seasonal snacks: Japan has unique seasons, and each subscription comes with a snack unique to those seasons.

What Else Can I Get?
Japan Crate
Japan Crate has other crates to give customers more authentic Japanese experiences.
Umai Crate: This crate offers a selection of Japanese instant noodles and spices.
Doki-Doki crate: This comes with 5-6 of the cutest / kawaii items Japan has to offer. From plush toys to accessories.
Inku crate: This is a stationary box that comes with 8 to 10 Japanese items such as notebooks and pencils.
Gacha Gacha crate: Gachas are Japanese toys usually found in vending machines. Each crate comes with 6-8 toys.
ZenPop
ZenPop offers three other subscription boxes.
Anime Box: Anime have found its way into homes across the world, so it's no surprise to find an anime-themed subscription box. Each box comes with collectables, plushies, and anime character figurines.
Ramen Box: This pack comes with a variety of Japanese noodles such as Udon, yakisoba, somen, and so many others.
Stationery Box: From cute stickers to anime-themed notebooks, ZenPop stationery packs are packed with the most amazing stationeries from popular Japanese stationery makers.
And, they have a Limited Edition box, which changes every few months!
Themes
Japan Crate
Each snack crate comes with its theme. Themes are usually tailored around festivities and seasons but can also be made with an anime or some other cool concept.
Examples of past themes are the Cherry blossom crate which was made to reflect the beautiful Sakura season, Lost in Japan Crate, which gave subscribers a very traditional Japanese experience; other examples include crates like the Christmas crate and New Year's. There are also anime-themed crates like the Attack on Titan crate, and Persona 5 crate, amongst many others.
ZenPop
ZenPop snack boxes are also themed around festivities and unique concepts.
Past themes include Kyoto Spring, a box themed around the feeling of spring in the beautiful city of Tokyo, and Sakura Treat, which also reflects the Sakura season.
Other boxes like the anime, ramen, and stationery pack are also themed. Examples of past themes are the Saiyan surprise anime box, Blooming Creativity stationery pack, and so much more.
Price
Japan Crate
Japan crate offers four subscription tiers, including shipping fees.
1 month: $49.95.
3 months: $47.95 monthly, sums up to $143.85.
6 months: $46.95 monthly, sums up to $281.10.
1 year: $ 45.79 monthly, sums up to $549.45.
ZenPop
ZenPop also offers four subscription options.
NOTE: The prices listed below are for ZenPop's snack box;
1 month: $39.15.
3 months: $37.62 monthly, sums up to $112.85.
6 months: $36.08 monthly, sums up to $216.48.
1 year: $34.54 monthly, sums up to $414.54.
Shipping
Japan Crate
Japan Crate offers free shipping to most countries except for a few where shipping costs $9.95. To know which group your country of residence falls into, visit the official website. Delivery time to the United States takes 3-5 working days, while Canada takes 7-10 and 10-20 working days to the rest of the world.
ZenPop
ZenPop delivers to nearly 70 countries and offers free shipping to the United States. Shipping to other countries usually acquires shipping costs that could range up to $20. Another factor that affects delivery time is the delivery medium used. ZenPop boxes are available for shipping via DHL, Zen Express, UPS, Airmail, FedEx, ECMS, and EMS.
We could compare many other things, from box sizes to a deep exposition on each item, but we wouldn't want to bore you with too much detail. We've made sure to discuss what's most important in helping you choose which to purchase.
Do you find yourself craving Japanese munchies, why don't you order a ZenPop snack box where you get loads of candies and snacks from Japan?
This article was originally written by our freelance writer Umm-Kulthum Abdulkareem and edited by us.