The Japanese cultural experience is truly out of this world, from tea ceremonies to anime and traditional Japanese clothing. There are many reasons why people love Japan. Even with all the love and admiration, many can only experience Japan from their phone screens. Nowadays, there are ways to visit Japan without actually visiting the country physically, and it's called snack boxes. Japanese candy and snack subscription boxes are getting more popular by the minute, and we can see totally why. This article will review two popular Japanese subscription boxes, Sakuraco and Bokksu.
But first, what are they? Japanese candy and snack subscription boxes are boxes filled with treats, from candies to teas, from around Japan. Based on your subscription, these boxes are shipped to consumers monthly or once and usually come at reasonable prices. Now, let's get into it.
Origin
Sakuraco was founded by Tokyo native Ayumi Chikamoto in 2021. Interestingly, Chikamoto had already been in the business of subscription boxes after launching TokyoTreat in 2015 - another popular snack box. The reason behind Sakuraco was to introduce deeply cultural Japanese snacks to the world. Sakuraco also connects local Japanese snack and tea makers with the rest of the world. This will help small businesses survive and give a more authentic taste of Japan.
Bokksu, on the other hand, was launched in 2016 by Danny Taing, an American of Chinese and Colombian descent. He had spent years living and working in Japan and loved the snacks. When he returned to America, he arrived with a box of snacks that his family and friends appreciated. After finding it difficult to access the snacks he loved, he decided to do what other founders do, make them available.
Price
We started with this category because, let's be honest, as tasty as a candy box might sound, price is usually on our minds while making a choice. Prices of both products are generally per month and vary based on your subscription.
BOKKSU
1 month: $49.99
3 months: $45.99 Billed $137.99
6 months: $43.99 Billed $263.94
1 year: $39.99 Billed $479.88
SAKURACO
1 month: $37.50
3 months: $35.50 Billed $106.50
6 months: $33.50 Billed $201
1 year: $32.50 Billed $390.00
Note: Shipping costs for Sakuraco subscription boxes are not included in the price and differ based on location.
What's inside the snack boxes?
BOKKSU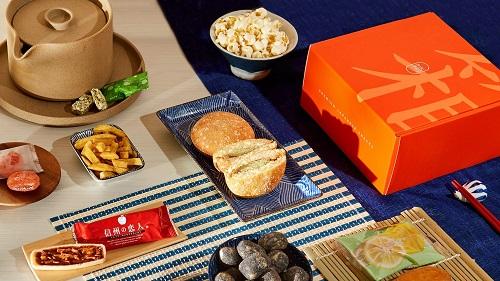 Photo: Bokksu
Each Bokksu box comes with 20-22 non-customizable items and a guide to help you understand each snack's composition in each box and potential allergens.
Japanese snacks: Bokksu adds a few Japanese cakes, crackers, cookies and candies to the box.
A different Japanese tea is added to the subscription box every month.
Bokksu Exclusives: Bokksu snack makers create candy exclusively for them.
Bokksu snack pack has a different theme for each month of the year, but for a first-time buyer, you get a taste from every month arranged for you hooked.
SAKURACO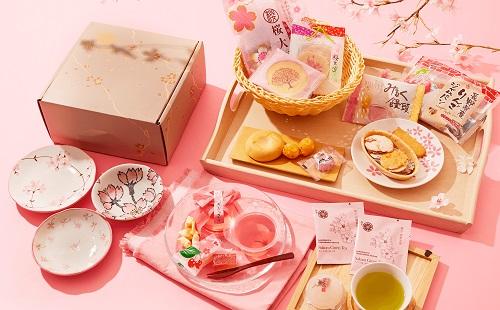 Photo: Sakuraco
A box of Sakuraco comes with 20 items reminiscent of a Japanese tea time ceremony. Each box also contains a 24 pages guide about the selected items and the following items:
Wagashi: many traditional Japanese snacks like senbei, dorayaki, and yokan are a wonder to taste. Sakuraco adds some of these snacks to its subscription box. Learn about Japanese wagashi by reading our blog post.
Japanese Homeware: Isn't it cool having handmade Japanese cutlery come with your snack box? Sakuraco adds Japanese Ceramics, Japanese Cups (Yunomi), Renge (Japanese Soup Spoon), and Japanese chopsticks or chopstick holders to the subscription box.
Japanese tea like matcha, hojicha, genmaicha, and of course, Sakura tea are also added to a pack.
Sakuraco Exclusives: Sakuraco has some snack makers create candy exclusively for their snack boxes. You can't get them anywhere else.
Theme
It's boring getting the same box every single month of the year. That is why Sakuraco and Bokksu both give a feel of Japan with monthly themes.

BOKKSU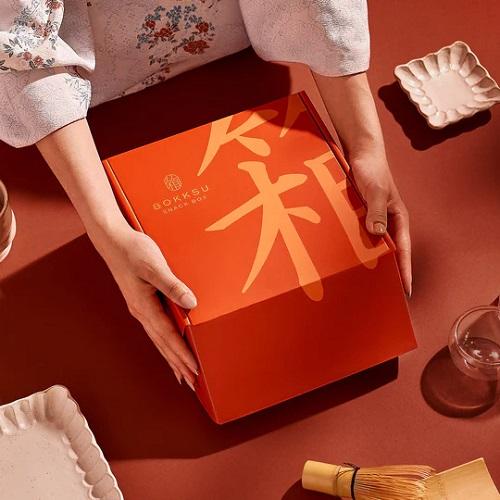 Photo: Bokksu
Bokksu monthly packages are usually tailored around Japanese seasons and festivities like the Japanese moon or summer festivals. Some previous boxes include:
Bokksu tanjoubi: This box was for May 2022, when Bokksu celebrated their 6th anniversary with a box filled with chocolate, cakes, candies and tea.
Matsuri nights: this is a famous Japanese festival with lots of lights. In this 2022 box, Bokksu incorporated several street foods with flavors like takoyaki and even sake flavored snacks.
Sakura season: in this box, you get pink snacks like strawberry cookies, Sakura mochi, and Sakura milk candy. A Sakura box will be included every year, so you'll definitely get some. Learn about what Sakura really means in Japan when you read this blog post.
SAKURACO
Photo: Sakuraco
What's really cool about Sakuraco's boxes is that they stay true to the Sakura branding, so each box has these beautiful flower patterns. The monthly themes are usually dedicated to a region like Kanto and Hokkaido, depending on the month.
Sakuraco boxes are more tailored towards a traditional feel and contain snacks of cultural significance; it is clear that the goal is to make you learn more about Japan. Here are some previous boxes:
A taste of Hokkaido: this box was for June 2022. Hokkaido is known for its dairy delights, and Sakuraco included Hokkaido exclusive snacks like milk Danish and Hokkaido melon jelly and milk bell castella.
Colors of Koyo: Koyo refers to colourful leaves that are vital in Autumn in Japan. This snack pack contained autumn leave shaped snacks to match the theme and persimmon jelly.
Shipping
Sakuraco and Bokksu both ship to most countries around the world.
BOKKSU
Unlike Sakuraco, Bokksu subscription shipping orders are usually free except for a few countries ranging from $4.99 in countries like India to $22.99 in middle eastern countries like Bahrain and the United Arab Emirates.
SAKURACO
Sakuraco's shipping prices range from $10 to $12.50 express shipping fee (usually takes 2-14 business days), depending on the country groups. Group one costs $10 and contains countries like the Pacific islands, South Korea, Taiwan, Malaysia, Cambodia, etc. In contrast, group two costs $12.50 for countries in Europe, Africa, America, and Australia. Sakuraco also offers an option for 7-28 days of delivery. If you don't want to pay money, use the Surface Mail - (Estimated Delivery Time - 60~90 Days After Shipping).
Customer Reviews
If you still have doubts, find out what others are saying.
BOKKSU
There are nearly 25 thousand product reviews of Bokksu, with almost every one of them being 5 stars. One user says:
"I always wanted to have a box of mystery snacks every month to be surprised and enjoyed with my loved ones. These boxes really are the highlights of my month and made it easier to go through the motions of the mundane. Thank you to the team that made these boxes and the dedication to make sure that I had a great time."
SAKURACO
There are 13 thousand of Sakuraco reviews on the website, with a large percentage being 5 stars.
"This is an excellent way to experience a small bit of Japanese culture. The Sakura Box is filled with great tasting snacks, and the kitchenware item is always beautiful."
Based on these categories, you can make a choice that suits you. Whether it's Bokksu's more inclusive Shipping cost or detailing of potential allergens, or it could be Sakuraco's more traditional snacks that fit your interest in having a Japanese tea ceremony. There's something for everyone.
FAQs
Is Sakuraco the same as Bokksu?
No! Different companies own both products, but they are both snack subscription boxes.
Are Sakuraco and TokyoTreat the same?
They are both owned by the same company but are different-styled subscription boxes; while Sakuraco focuses on traditional Japanese snacks, TokyoTreat is more concerned with trending snacks in Japan.
What does Bokksu mean in Japanese?
Bokksu is a phonetic spelling of the Japanese loan word for box.
Alternative to Bokksu and Sakuraco
Now, have you heard of ZenPop? We offer even more Japanese snacks in our jumbo snack box with over 1400g of treats (3lbs), and plenty of surprises! We include senbei, chocolates, Kit Kats, noodles, drinks, and more unique snakcs, wagashi, and dagashi from Japan!
If you find yourself craving Japanese munchies, why don't you order a ZenPop snack box where you get loads of candies and snacks from Japan?
This article was originally written by our freelance writer Umm-Kulthum Abdulkareem and edited by us.