Japanese gummies have a lot to offer when it comes to flavors. The country's candy manufacturers go beyond the typical fruit flavors you normally see in Western brands. They use all kinds of ingredients to make a unique twist on gummy candies.
And although some ingredients are the same, Japanese companies use agar jelly instead of gelatin. This ingredient makes the candies gummier.
If you want to get yourself some unique treats, go with Japan's gummy candies. We've listed some of the best ones in the market below.
Kanro Pure Gummy Series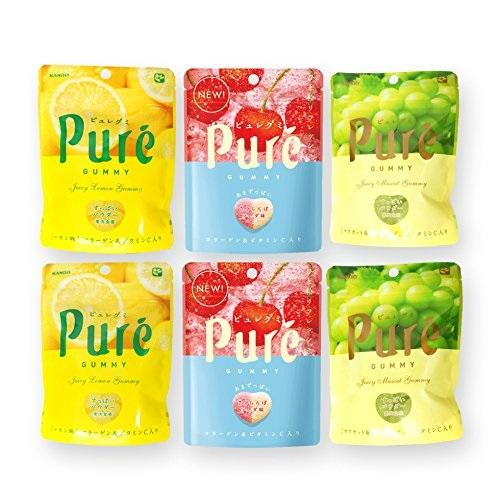 Japanese gummy candy manufacturer Kanro released its line of fruit candies in 2002. It has made a name for itself as a staple gummy snack in the country. The manufacturer succeeded at mimicking the flavor of fresh fruit. It achieved this feat by using fruit puree instead of artificial flavors.
Biting on a Kanro gummy candy feels like eating the flesh of a fruit. With vitamin C and collagen, it is a healthy choice. It also has some protein as fish gelatin is one of its ingredients.
Kanro offers standard flavors, including grape, lemon, ume (plum), and muscat. It releases special flavors available for a limited time too.
UHA Mikakuto Kororo Soda Pop Gummy Candy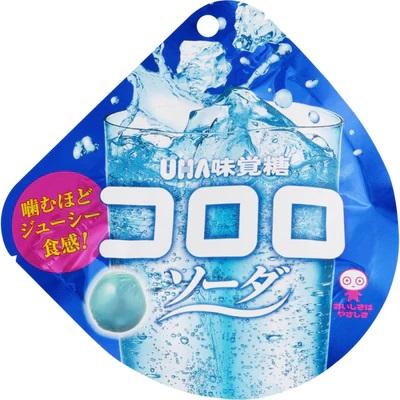 Soda has always been used as a candy flavor. And if you want to try out a Japanese candy that tastes like a refreshing carbonated drink, go with UHA Mikakuto Kororo Soda Pop Gummy Candy.
This candy comes in a small, convenient pack. Pop this juice candy on your way to work or when you're traveling, by car, bus, or train to get your fix of soda wherever and whenever.
Kabaya Tough Gummy
Kabaya Tough Gummy taste test
You get three flavors in one package with the Kabaya Tough Gummy candy. What makes it unique from other gummy candies is its higher elasticity and a different kind of chew (hence, the "tough" in its name).
Kabaya Tough Gummies are gummy candies that feature high elasticity and have a unique chew. The regular pack includes soda, cola, and energy drink flavors. Since it's larger than your typical gummy candy, you can enjoy it in your mouth for an extended period.
Kabaya added more flavors to the Tough Gummy lineup. Among the latest additions are lemon, melon, grapefruit, and cool peach.
Meiji Kaju Gummy Candy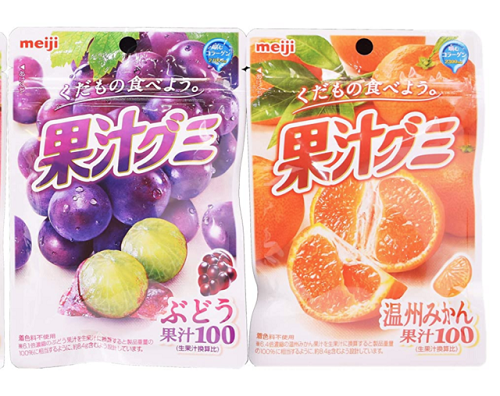 Meiji is yet another company that doesn't use artificial flavors for their gummy candies. Its product, the Kaju Gummy, uses extract from real fruit juice. The company initially released its grape flavor, but currently, the staple ones include acerola cherry, kiwi, lemon peel, lime, muscat, peach, strawberry, and tangerine.
Kaju Gummy candies have a firm and chewy texture. Bite on one and you'll be treated to a burst of flavor that amplifies with every chew. The experience is close to eating the actual fruit. Since it's not overly sweet, adults will appreciate these candies.
Meiji Poifull Gummy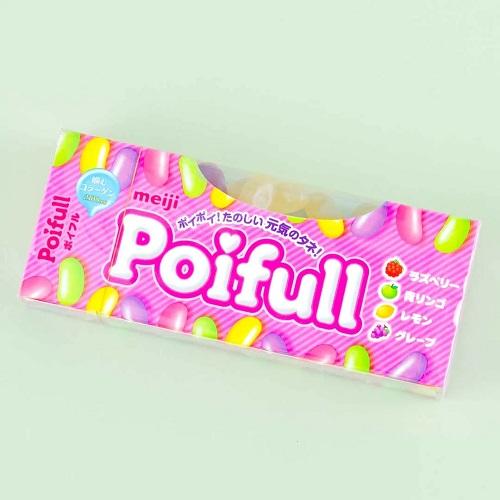 Are you fond of jelly beans? Then you'll surely love Meiji's Poifull candy. Each candy consists of a thin outer coating and an inner layer that's soft, chewy, and fruity. These candies were made using 100% fruit juice.
It has different variants, each of which has a set of flavors. The mixed fruit packs offer the flavors of apple, grape, lemon, raspberry, kiwi, and green apple. Poifull Gummy candies also come in drink mix packs with cola, ramune, white soda, and lemon juice.
Kasugai Tsubu Gummy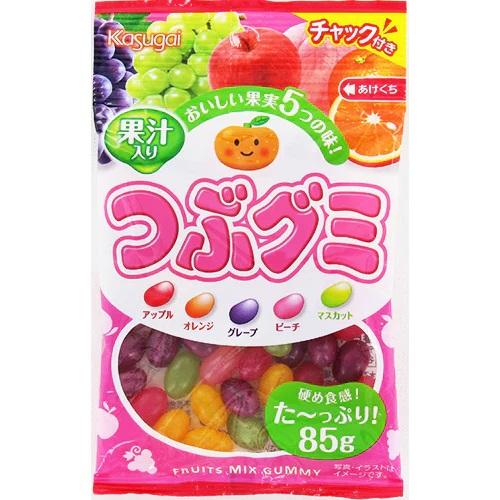 Kasugai makes a lineup of fruity candies and one of their products is the Tsubu Gummy. One bag of this product treats you to five flavors that include peach, apple, orange, muscat, and grape. There are also other variants with an assortment of fruit candies, such as apple mix and berry mix.
Nobel Otoko Ume Gummy Candy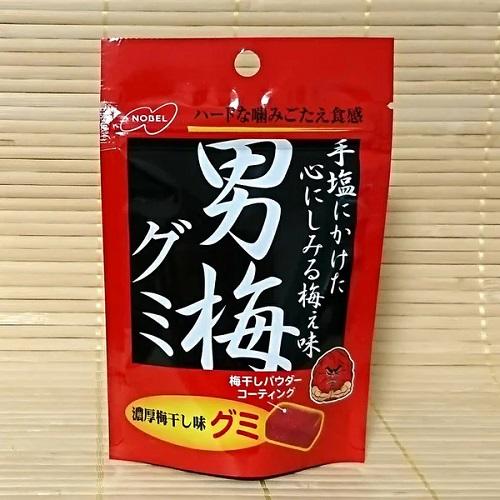 Nobel Otoko Ume Gummy Candy is not a snack for everyone. But people who love the dried plums of Japan will appreciate the Otoko Ume Gummy candy.
The more you chew on this treat, the more you taste the sweet and sour flavor of the gummy. The taste is further intensified by the ume powder coated on each candy. It is harder than the typical gummy candy you need so you need to let it melt in your mouth and chew on it slowly.
Kasugai Frutia Gummy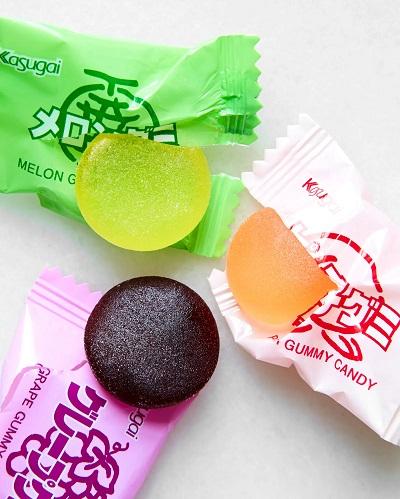 Japan has an abundance of fruit-flavored treats and among the best gummies are the Kasugai Fruitia Gummy candies. The soft, round gummies are made using real fruit juice. So it does taste like the real thing. You can also smell the rich, fruity aroma. Kasugai states that these candies are gluten-free.
The top three flavors of Kasugai Frutia Gummy are peach, grape, lychee, and muscat. Other top favorites include kiwi, watermelon, strawberry, melon, and mango. But if you want some variety, you can always purchase their fruit mix package.
Nobel Chibi SOURS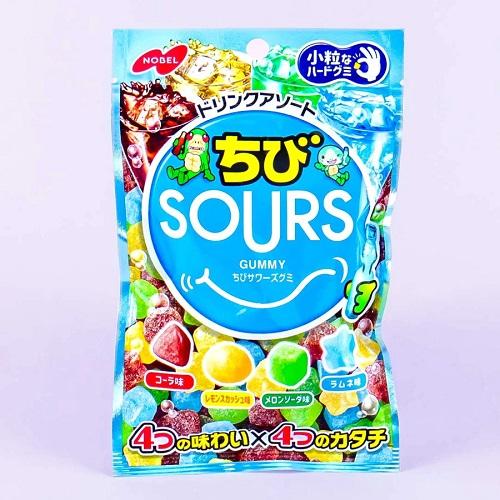 Just from the name of this gummy candy, you already know what flavor to expect. But it's not the dominating flavor in the candies. Its sour taste is a delightful accent that gradually brings out the fruitiness as you chew.
A bag comes with these flavors: grape, peach, orange, and green apple. The candies are small, so there's a lot to munch on in one pack. In other words, you can eat the candy one by one, or stuff your mouth with different flavors. The excellent texture of every piece will keep you wanting more.
Meiji Gummy Cola Up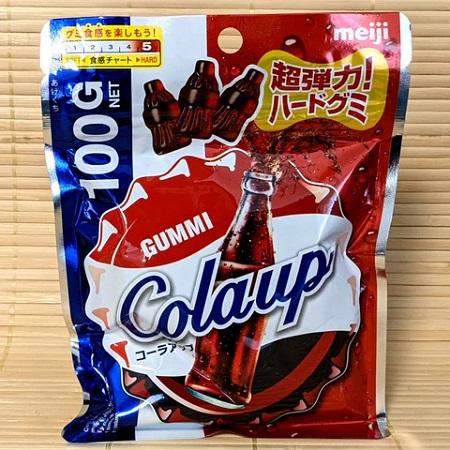 If cola is your favorite beverage, then you can never go wrong with a cola-flavored candy. And Meiji's Gummy Cola Up is definitely worth a try.
Each candy is shaped into small cola bottles, which look very cute. Chew this slowly, though as the texture of this candy is rubbery. And the more you chew, the more its flavor intensifies in your mouth.
Final Thoughts
There's no question that Japanese candy brands create some of the best gummy candies out there. Their use of natural ingredients allows them to capture the true essence of the fruit, making their candies burst with flavor, whether they're sweet or sour.
Japanese gummy candies are indeed a must-try for candy lovers. They use such amazing ingredients that their creations have an unparalleled taste and texture. Try any of these recommendations and experience how unique Japanese gummy candies are!
Discover them at home with a Japanese snack box!