Hanbagu is a perfect dish if you want to satisfy your cravings for a Japanese-style hamburger steak. It is incredibly juicy, tender, and has mouth-watering flavors that are simply impossible to resist.
In this post, we are going to teach you a simple Japanese hamburger steak that can be easily made at home. This juicy dish is served with a sweet, ketchup-based sauce with veggies on the side. It will surely be a hit with your family. Try it for lunch or dinner. This child-friendly recipe is also something you can add as a protein to your kid's bento.
What is hanbagu?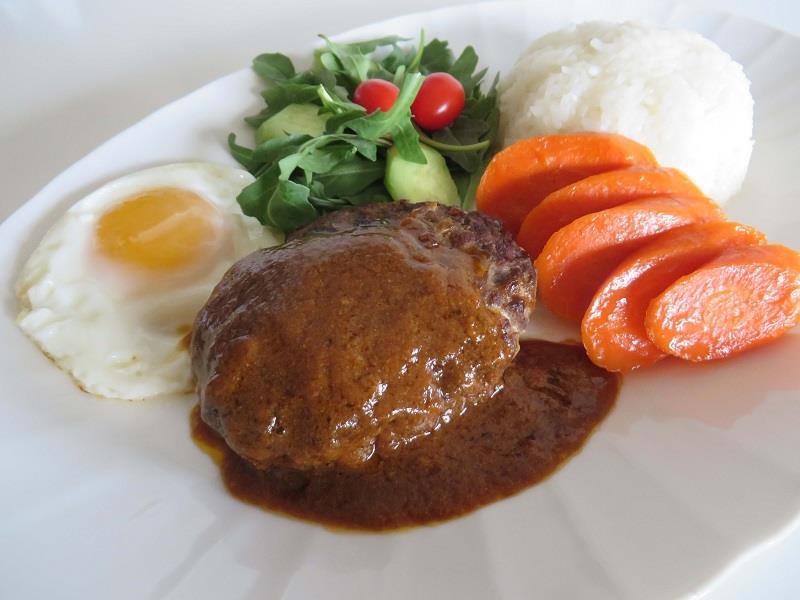 Hanbagu served with egg, rice, and vegetables
The hanbagu steak (ハンバーグステーキ) a.k.a. the Japanese Hamburg steak (or Japanese hamburger steak) is a meatloaf dish commonly served at home or Yoshoku (洋食) restaurants (establishments serving western-influenced food).
While it is among the popular dishes in the land of the rising sun, it wasn't originally invented there. What sets the hanbagu apart from the hamburger steak in other countries is that it is served with rice instead of bread.
What is Japanese Hamburg made of?
The simplest hanbagu is usually made of a combination of ground pork and beef. The other ingredients include panko and onion. Its glaze has ketchup, chuno sauce, and sugar.
In Japan, the pork-and-beef mixture is called aibiki niku (合いびき肉). If you're in the country and preparing this dish, you don't have to purchase ground pork and beef separately. You can specify that you need aibiki niku. Spaghetti meat sauce, Curry Doria, and Menchi Katsu are just some of the frequent applications of this mixture.
Beef is expensive in Japan. That's why they mix these two types of meat. There are premium restaurants offering dishes that serve 100% beef. If you're willing to splurge, you can try using pure beef too!
Why is Hamburg steak popular in Japan?
In the 1960s, hanbagu gained popularity in Japan as a more inexpensive way to serve beef (or meat) by combining it with other components like bread crumbs and onions.
A Brief History of Japan's Hamburg Steak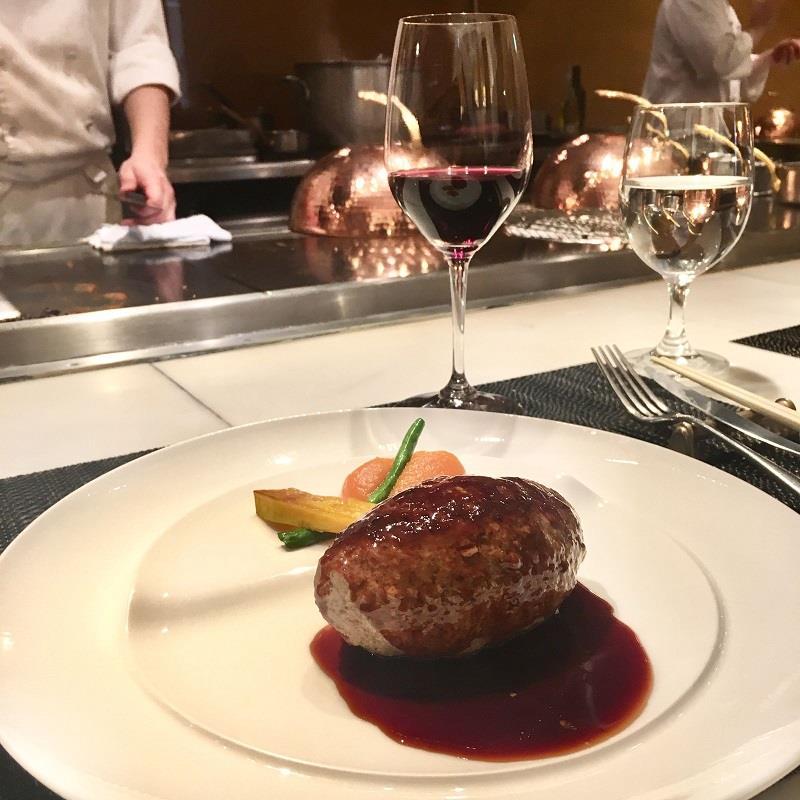 Hanbagu served at a restaurant
During the '60s, magazines frequently published the hanbagu recipe, making it a common meal in Japanese households and restaurants. It was reportedly initially served at Yokohama, one of the first seaports in Japan to be opened to foreigners, during the Meiji era. Where it came from remains a mystery. Some people say it originated from Germany — hence the name.
Up until the 1950s, it was only served in Yoshoku restaurants. It was through the development of meat processing technologies that finally brought the dish to homes. When the '80s came, the sauce is included with vacuum-packed patties, which are frequently used in bento. Frozen burgers were popular and frequently offered in fast-food restaurants as well.
Hanbagu vs. Hanbaga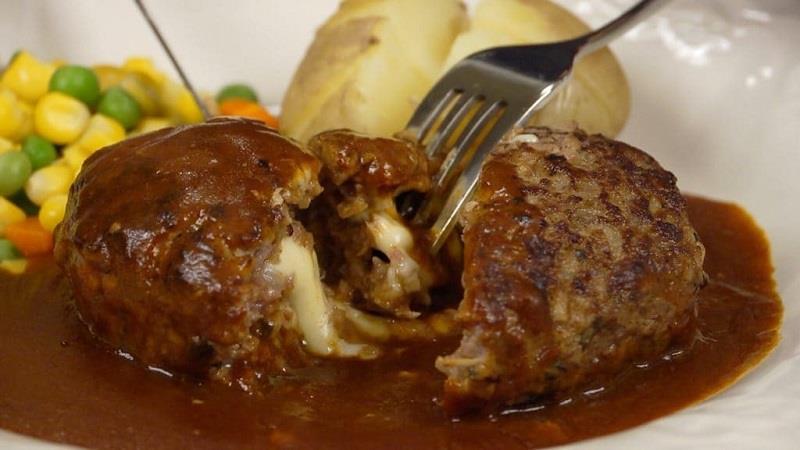 Juicy hanbagu with melted cheese inside
Hanbagu can be easily confused with hanbaga because they nearly sound the same. But they are quite different.
The only common thing between the two dishes is that both use patties. Hanbaga refers to the American-style patties between two hamburger buns, which are commonly found in fast food restaurants. Hanbagu, on the other hand, is the meat patty served with rice with vegetables as garnish. It will always have that touch of flavor used in other Japanese dishes.

How to Make A Simple and Delicious Hanbagu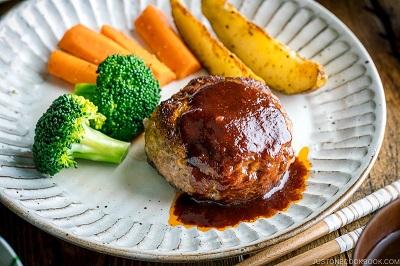 Prep Time: 20 minutes
Servings: 2
Ingredients:
300 grams mixture of ground pork and beef
100 grams onion
1 tablespoon milk
1 tablespoon panko (bread crumbs)
1/2 teaspoon salt and pepper
1/2 teaspoon nutmeg
1 medium-sized egg
2 tablespoons cooking sake
1 tablespoon oil
Sauce ingredients:
2 tablespoons ketchup
1 tablespoon chuno sauce
1 teaspoon sugar
Garnish ingredients:
10 grams baby leaves
4 pieces cherry tomatoes
Instructions:
Mince the onion.
Place the ground meat mixture in a bowl. Add the milk, panko, salt and pepper, nutmeg, and egg. Mix the ingredients altogether. Then knead the mixture until it gets sticky.
Divide the mixture into two. Form the patties into an oval shape while tossing one at a time from one hand to the other five times. Doing so releases the air that's left within your patty. Create a small dent in the middle like in the image below.
Doing so will help expand the patties while you fry them.
Spread the oil evenly on the frying pan over medium heat. Fry both patties for about three minutes.
Once the side turns brown, flip the patties to fry the other side. After frying both sides, it's time to add the sake. Cover the pan and leave it for about five minutes (adjust this time based on the thickness) to thoroughly cook the insides of the patties. Removed from heat once cooked.
Make the sauce in the same frying pan, since it's left with the juices of the patty. Add the ketchup, chuno sauce, and sugar and cook over low heat. Once the sauce is all warm, remove it from heat.
Place each patty on a plate. Garnish with baby leaves and cherry tomatoes.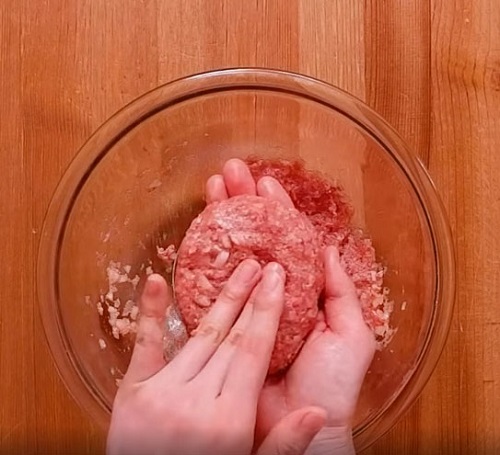 Additional Notes:
You can substitute the cooking sake with beef or chicken stock. Just ensure that you adjust the heat accordingly.
If there's too much oil left after frying the patties, wipe it using a paper towel before making the sauce.
Feel free to serve the dish with ponzu (Japanese citrus-based sauce) or demi-glace.
You can slowly sauté the minced onion and let it cool down before making your patties.
A fun twist on the hanbagu is to use it as the patty for your hamburger.
Frequently Asked Questions
How do I check if the patties are done?
Having chopsticks is very helpful when cooking the hanbagu since you can't see the insides of your patties. Poke the patties until the oil comes out. If you see a clear liquid, then it means that your patty is done. When it's still white, you need to keep cooking.
The meat shops in my area don't sell the ground beef and pork combination. What is the ideal ratio if I mix the two types of meat?
The common ratio of beef and pork is 7:3. But feel free to use 2:1 for this recipe. As you get used to cooking this Japanese western-style dish, you can make changes to the suggested ratios.
What is chuno sauce?
Worcestershire sauce and tonkatsu sauce are combined to make chuno sauce. As a result, the deep brown Japanese condiment has a mildly sweet, sour, sweet, and fruity flavor.
You will likely find chuno sauce in Japanese grocery stores or your favorite online shopping site. Some sellers on Amazon carry the sauce too. According to some cooks, you can easily replace chuno sauce with a mixture of Worcestershire sauce and ketchup.
What is the purpose of the panko?
The panko in a hanbagu has two functions. First of all, it acts as a sponge, soaking up all the meat juices to prevent leakage into the frying pan from the patties. As you're chewing your hanbagu, the fluids from the beef come out, allowing you to enjoy the juiciness of the dish
Another function is that bread crumbs soaked in juice are tender and won't harden when fried.
Now checkout our ZenPop boxes for some original snacks from Japan, and Hanbagu-flavored chips!