It's always good to have a laugh every now and then. Whether it's a joke video or a gag gift, a bit of silliness is enough to brighten someone's day when they're having a bad time. Japanese humor tends to revolve around physical comedy and other variety shows, some of which involve popular actors and voice actors. Of course, among these gag gifts and humorous quips, there are certain universally funny concepts: one of them being, yes, you guessed it– poop.
Japan has a lot of seemingly random poop themed products, and ZenPop has put them together in a limited time box (available from August 1st). These are little poop shaped candies, erasers, and stationery that are sure to make you laugh, or make a friend laugh as a cute gift!
Today we're going to cover some of Japan's most important poop-related cultural references, the history and fascination for poop, coming from long-standing traditions, and move on to some of the cutest poop-shaped stationery items in the box and some other poop-themed products that may have you chuckling a little bit– and don't worry, we promise nothing is going to gross you out!
How to say poop in Japanese?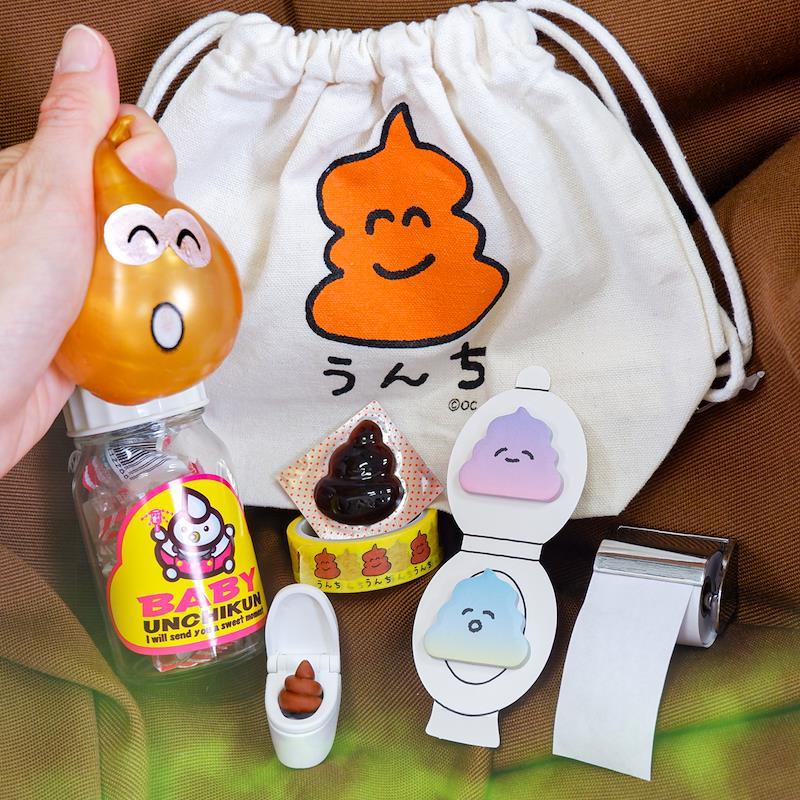 The Japanese word for poop, unko (うんこ), refers to the forceful sound that people make when they poop. The diminutive form is ko (子). Daiben (大便), which also means dung and shit, is another term for feces.
In contrast to the tendency of using the word "shit" in English to describe something negative, the Japanese use the word kuzo (糞), which is only occasionally used to refer to crap, feces, or other excrement. The Japanese word for defecate is kusomaru (糞放る).
As it is relatively frequent to discover motorbike-style restrooms (those with a hole in the ground where you sit), which are how feces are depicted in Japan, a spiral-shaped stool is actually the typical shape for a Japanese stool.
Japan's God (Kami) of poop - Kawaya no Kami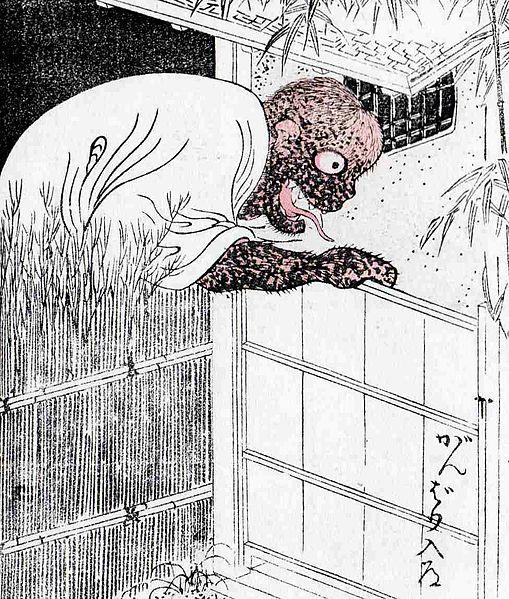 The Shinto religion has more Gods than you can count, and they are spread out practically everywhere. Also included were the excrement. A few Japanese deities have strong associations with the restroom.
It used to be widespread practice to worship private gods known as benjo-gami by putting religious statues inside or under the toilet. Others interred divine statues beneath the restroom.
Human feces was once collected by Japanese farms for use as fertilizer in more traditional times. This regular occurrence gave rise to the local faith in kawaya kami, also known as the god of the bathroom.
Kawaya kami, which had a strong impact on agriculture, also contributed significantly to fertilization. Rituals were carried out every new year to petition the kawaya kami for assistance in reaping a successful harvest the following year.
In the rite, rice was consumed, signifying a large object the god had left behind—could this be feces? A bathroom was frequently styled and maintained as spotless as possible. The cleanliness of Japanese bathrooms may be attributed to this god.
The restroom is also home to spirits like Aka-Cloak and Hanako-san. Stories like "The Blonde in the Bathroom," where we have to perform a ritual involving repeating words three times. When will the strangeness end?
Japan's good luck poop - Kin no Unko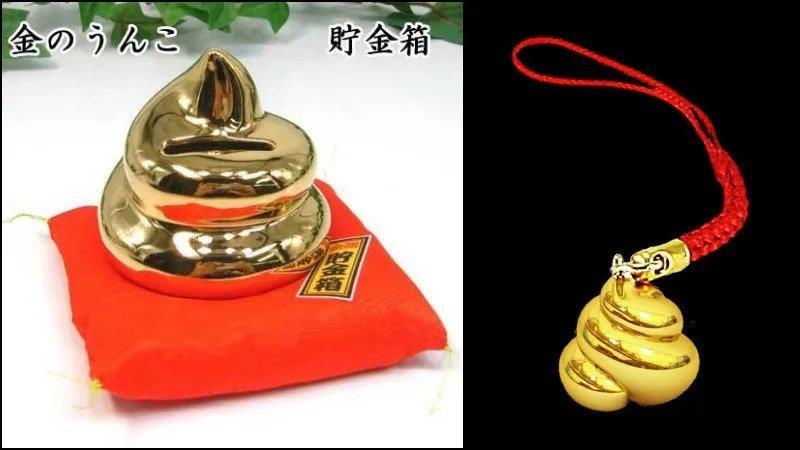 The "good luck" poop known as kin no unko (金のうんこ) exists in Japan. Simply because the sound 'un' at the beginning of the word unko resembles the sound 'un' from the Japanese word for luck (運), this golden poop became a local emblem.
Due to how well-liked this golden feces was, over 2.7 million golden poop-themed cell phone keychains were sold in 2006. Kyoto's Ryukodo is one of the key organizations responsible for the gold shit.
In late 1999, the company's president Koji Fujii had the notion to manufacture garbage. Due to the nation's dismal mood and Japan's economic slump. Koji intended to sell an inexpensive good that would make people happy. So the toilet is where he got the idea.

Some of the kin no unko have 24-karat gold plating over authentic porcelain construction. While a huge feces on a silky red fabric costs at least 2,100 yen, a little poop keychain can be had for as little as 105 yen.
When high school girls started purchasing the items as mementos on field trips for around 200 yen, the products became extremely popular. A successful product boom was launched by kids, and it received national media attention.
The poop building - Asahi Beer Hall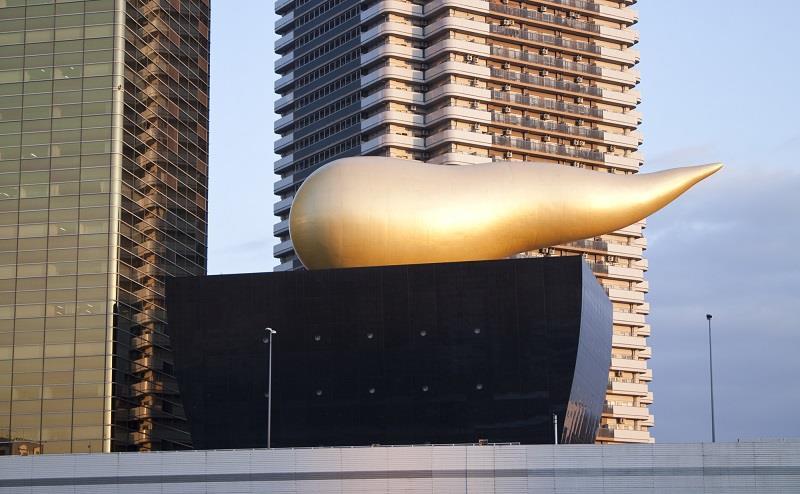 Asahi Beer Hall, a distinctive structure in Sumida, Tokyo, is also known as Kin no Unko due to its resemblance to a feces. Unko-biru, which translates to "poop construction," is another name for construction.
Of course, that was not the original purpose of the building, as Asahi is one of the Japan's most popular beer. The project was done by a French designer named Philipphe Starck and was completed in 1989.
The shape of the building is a glass of beer, designed to complement the neighboring building in the form of a golden beer mug that houses the offices of Asahi Breweries. It is considered one of the most recognized modern structures in Tokyo.

The Poop Museum in Odaiba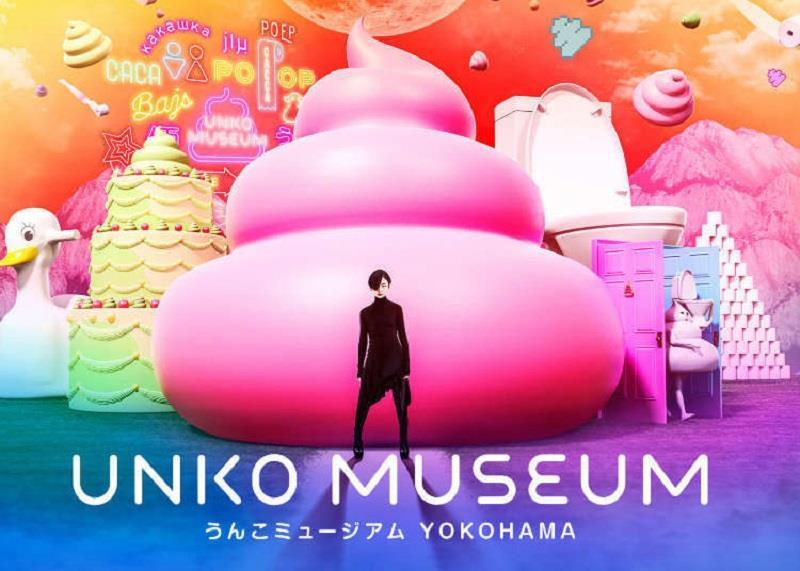 We are not discussing negative things, but rather crap. Inside the Himeji Literature Museum is a Japanese museum dedicated to excrement. We find "Excretory Literature," books about excrement and similar topics, among other displays.
Alternately, the Bosta museum is present in Yokohama and Tokyo permanently. Although the museum was intended to be a short-term solution, it ended up staying in Odaiba permanently. a vibrant, filthy location that sees 100,000 people per month.
Everything in this museum is designed to resemble a toilet or a shithole. There are plenty of vibrant and entertaining things for you to see, including balloons, food, and toilets with excrement inside. Don't pass up the opportunity to visit the Japanese museum of dung!
Poop Ice Cream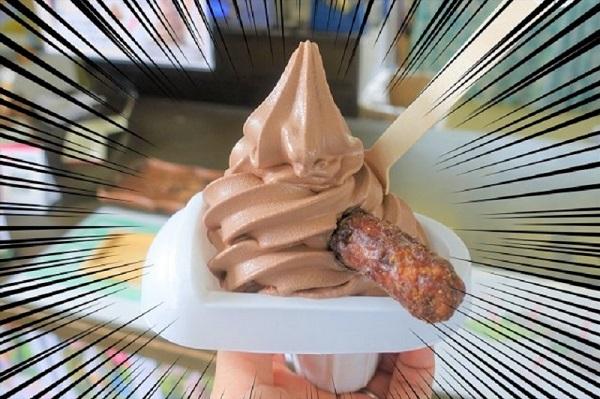 Kiyosato Kogen is a well-known summer resort location. In addition to providing meals and lodging, Kiyosato Restaurant and Cottage Boku also offers mementos and sweets, one of which is an ice cream named "Ku Soft"- Poop Ice Cream.
It is a hefty load, served in a toilet-shaped cup. It's creamy, soft and chocolaty!
Another reason to adore Japan is the feces-themed ice cream, and it's good to know that the long-standing custom of making people smile with crap is still practiced in this remote region of the nation.
A collection of poop-themed stationery
Unchi Collection Die-Cut Sticky Note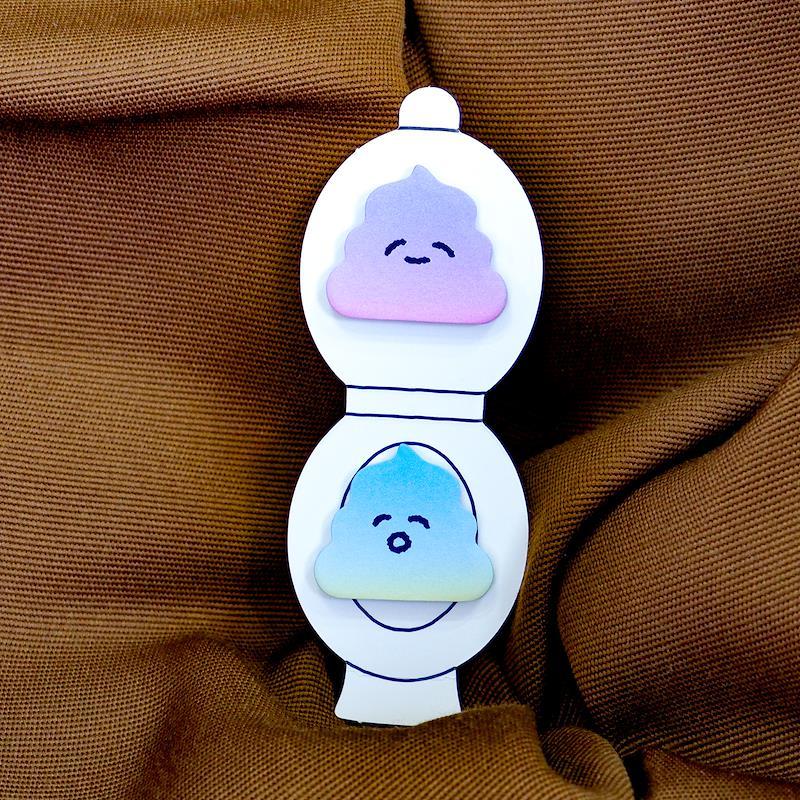 These die-cut sticky notes take cute to the next level, with adorable faces printed onto the little pink and blue pastel unchi ( うんち, a Japanese word for poop). The sticky notes also fold into their "toilet bowl" shaped case for safekeeping when not in use. Each set comes with 30 sheets of each color, which should be more than enough sticky notes for a light user looking to jazz up their stationery set up, or just leave a note for a friend.
Pilot Frixion Unchi Stamp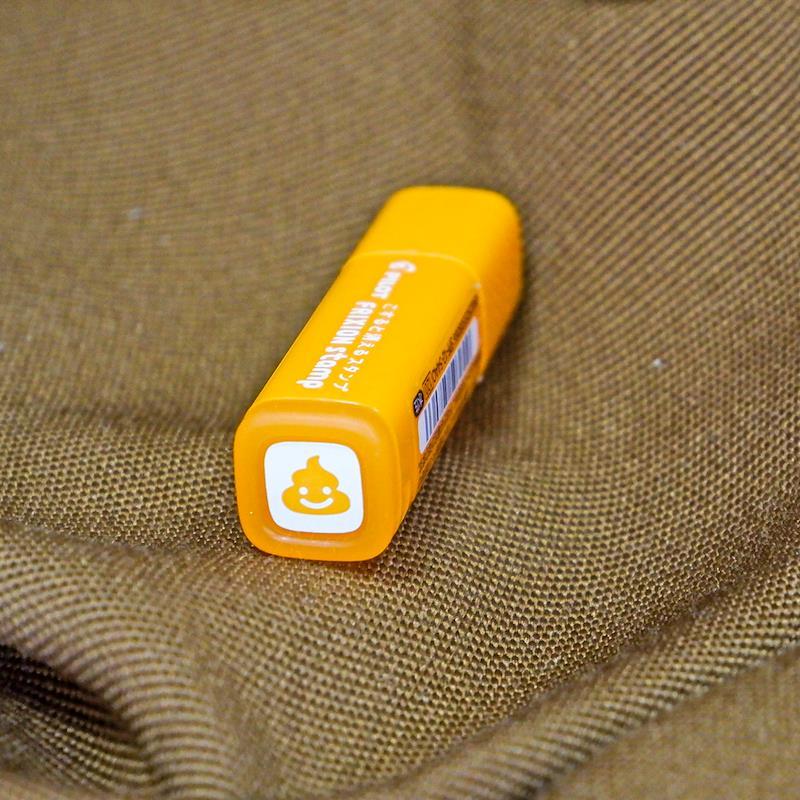 Ever wanted a stamp for your journal to indicate just how you're feeling? The Pilot Frixion stamps use special ink that you may be familiar with from their other Frixion lines, like the erasable pens. They come in all kinds of colors to suit your mood, and can be rubbed off easily in case you change your mind. The one included has a little poop emoji on it in a tasteful apricot orange, which you can use to decorate letters, notes, and schedules.
Here's an example from Pilot for how they would use their Frixion stamps.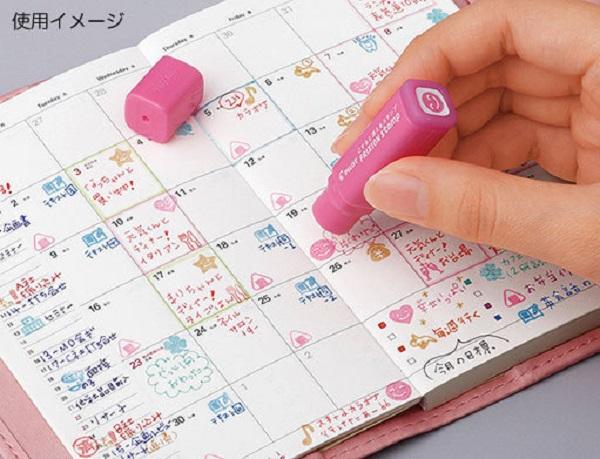 Jack Unchi-kun Gummy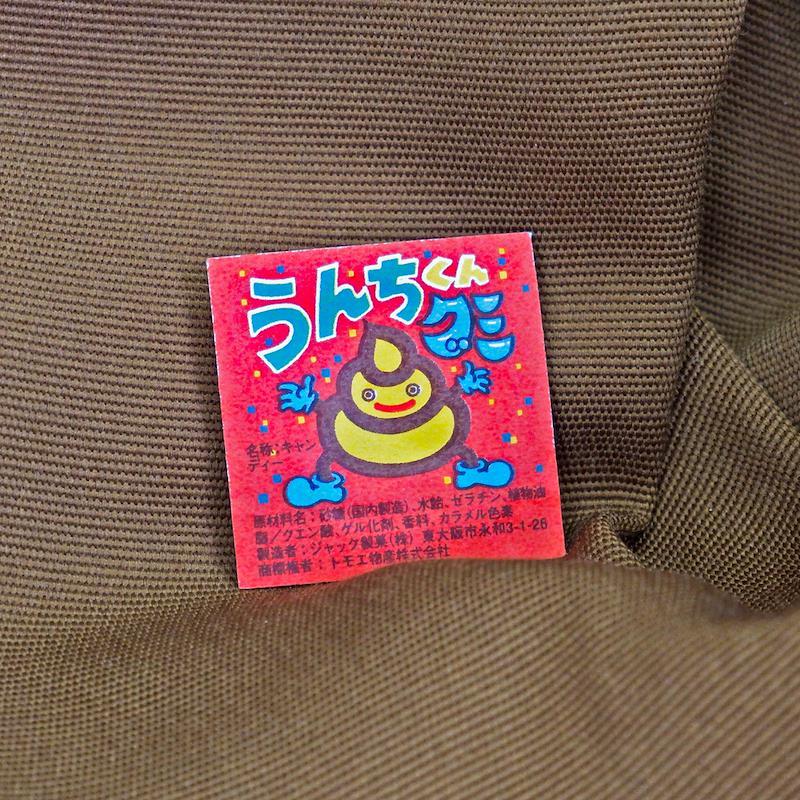 The Unchi-kun gummies make hilarious gag gifts for children, friends, or even co-workers. They are small enough to be inconspicuous, but have a distinct and clear design when out of the package. Of course, since it's a gummy candy, it will have a fun jiggle to it as well. Don't worry, though– it's definitely more than safe for consumption despite its shape! The gummies are cola flavored, which is a popular flavor of candy in Japan. You might find that a lot of candy in Japan either has a "cola" flavor (which is the brown type that tastes a little like Coca Cola) or the "soda" flavor (which is closer to Ramune, which is a Japanese lemon flavor soda popular with kids.)
Of course, make sure you're always giving these away with the best of intentions; even if it is for a gentle prank!
Miyabi Stationery Poop Erasers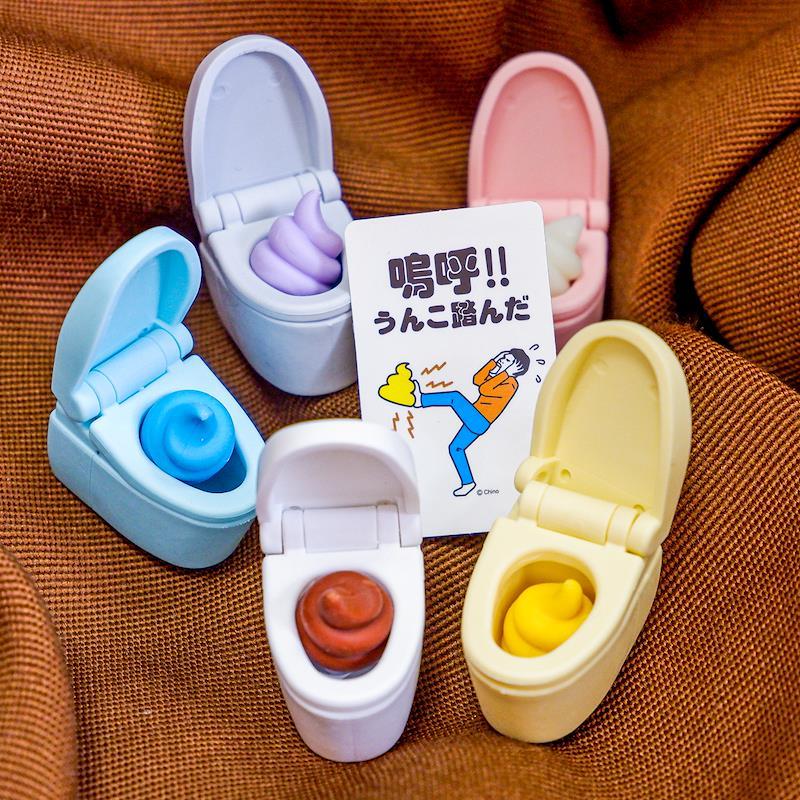 Okay, the image above might look a little weird– but Japan is known for stepping up their eraser game big time. You often see erasers shaped like real fruit or desserts, or even other kinds of stationery. These are shaped like toilets with a little bit of poop in them, although they come in different kinds of colors to suit your specific aesthetic.
Not only is the whole toilet an eraser, which is great for anyone that erases a lot for art or just needs to correct a little mistake in their essay draft; but the little poop inside it actually detaches and can be placed on the tip of your pencil for ease of use.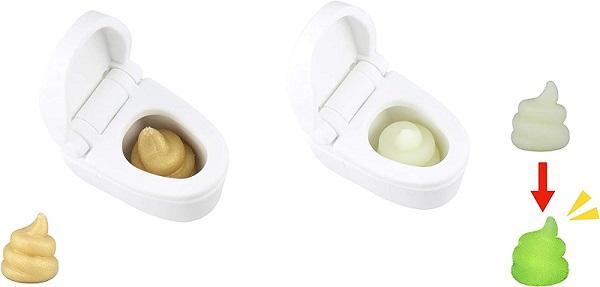 If you're lucky, you may even get one of the surprise secret toilets– which could either have a golden poop or a glow in the dark poop inside!
Moko Moko Mokoreto
Did you ever want your experience of Japanese toilet humor to be a little bit more… interactive? The Moko Moko Mokoreto candy is definitely a special type of item, where yes, you do eat foaming candy out of a plastic toilet case.
First, you build the toilet, which is made of plastic and comes in similar fashion to what you would see out of a model kit or a small gachapon figure. You can also decorate your toilet, which you can do with the stickers that the candy comes with– these are usually expression sheets with eyes or other designs on them.
Next, you would open the back lid of the toilet and pour the included candy powder inside. There are usually two included flavors, so you can choose which one you would like, or mix them together. Add a little bit of water from the lid and then wait and watch the candy foam up from inside the toilet!
Are you a fan of Japanese humor or comedy? Are you looking for a funny gift to give a friend or just to brighten up someone's day? Why not try out ZenPop's limited edition box (available from August 1st), which features all kinds of silly poop-themed products from Japan? If that doesn't strike your fancy, you can never go wrong with a box of sweets, ramen, or stationery as a treat for yourself, too.