The kimono is one of the symbols of Japan. This traditional type of Japanese clothing dates back to the 5th century and hasn't changed much since then. Basically, it is a T-shaped robe without buttons, which is fixed on the body with an obi belt (帯).
The cut and principle of wearing the national dress of Japan are simple, and the richness of materials and the depth of meaning of the patterns are striking. In this article, we will learn about the history of Japanese kimono, why it is experiencing a real renaissance today, we'll understand what kinds exist, and learn how to tie the obi belt. In this article, we're going to look into:

Before the Meiji era (second half of the 19th century), both men and women wore kimono (着物) as casual wear. The word itself meant "clothing" or "that which is worn".
With the arrival of foreign culture, kimono began to be gradually ousted from the closet in Japan. Until World War II, however, Japanese men and Japanese women, although they wore dresses and suits in the city, still preferred traditional clothes at home.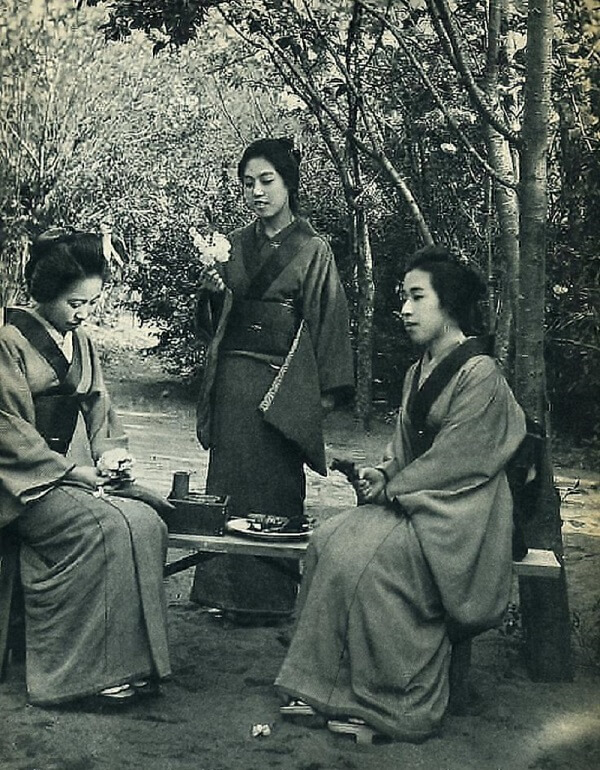 ▲Young Japanese women admiring sakura trees. Japan, 1894.
After the war, the situation changed: kimono became an outfit for special occasions, such as New Year's Eve or a wedding ceremony. Many young people can no longer wear the traditional costume on their own - they need the help of professionals or special tutorials to put them on properly.
However, geisha and maiko, kabuki actors, tea masters and other members of traditional professions still wear traditional clothes every day. And more and more fashion lovers are being inspired by it when creating their looks.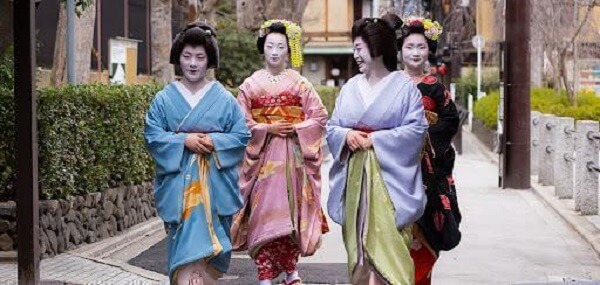 ▲Geisha (foreground) and maiko (background) on the streets of Kyoto.
A kimono costs an average of 4,000 yen (40 USD) to ... no upper limit! Some pieces can go up to several million yen.
The cost depends on the fabric and the specific craftsman. Most kimonos are made of silk, linen, cotton or wool, although in recent years polyester and other materials that can be washed in a washing machine are becoming popular.
Approximate cost of kimono by material
Wool - about 20,000-30,000 yen (150-200 USD).
Silk - 30,000-80,000 yen (300-800 USD).
Cotton kimono - 2,000-4,000 yen (20-40 USD)

Why is a kimono expensive?
Many of us are used to low prices for machine-made clothing. But the actual silk kimono is sewn by hand. Silk, especially natural silk, is expensive.
Often the fabric is also dyed by hand. This significantly affects the final cost of the product.
Masters of tailoring undergo special training. In order to be recognized as professionals, they need to prove that they can sew a kimono from scratch in 8 hours. Kimono sewing is both a craft and an art, requiring skill and taste.
Lots of details such as the obi belt, obiage, and jori also add to the final cost.

What specific accessories are part of a Kimono?
The thing about kimono is that there are many layers. There's the obi belt that holds everything in place, the bottom kimono, the nagajuban, special laces and garters.
So what does it take to wear a kimono the Japanese way?
Nagajuban - worn under the main kimono.
Eri-shin - an insert for the collar.
Kimono - the main element of the costume.
Obi - the belt that holds everything in place.
Obi-ita - a plate that is inserted in the front between the layers of the obi belt to smooth out its surface.
Obi-makura - a small cushion with ties that can be used to shape the obi into the desired shape.
Obijime is a decorative lace that is tied over the belt and secures the entire structure.
Obiage - a small piece of cloth (usually silk), which is used to drape the upper part of the obi.
Tabi - white cotton socks.
Jori - Japanese traditional shoes.
What you need to wear a kimono: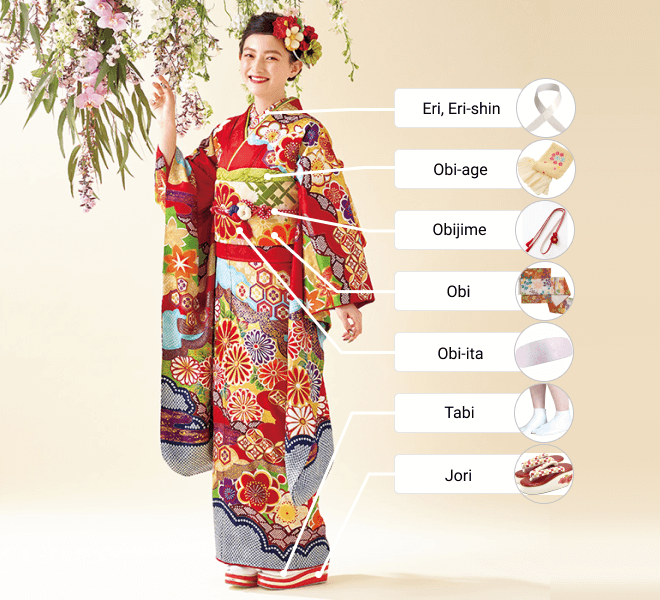 Even just looking at these accessories is sheer pleasure. Each detail is made with skill and care, which distinguishes the work of Japanese craftsmen.
As with any other clothing, there is a different kimono for each season and occasion. The differences are determined by the material, color, pattern and selected details.
Now let's break down what Japanese women wear at different times of the year and what they pay attention to.

Summer

▲ Summer kimono
The photo is of a summer homongi. Homongi is a "visiting garment" that is worn on special occasions: to a tea ceremony or to the theater, or you can wear it to a friend's wedding.
The kimono on the photo is made of thin silk. Translucent material creates a sense of coolness and freshness, which is especially valuable in hot weather. The pattern is an inflorescence of autumn grasses on a gently blue background. What do fall grasses have to do with it, if it's still summer? The fact that in Japanese culture it is considered good form to be a little ahead of the curve and make references to the coming season.
Cotton and linen are used to make yukata. Bright and playful, and at the same time easy to handle and comfortable, they have become a must-have attribute of the hot Japanese summer.

Autumn
Temperatures drop in the fall, and it's time for double-layered avase. It's especially chic to choose a fabric in juicy hues that matches the vibrant autumn scenery.
Pictured here is a wool kimono. A kimono is a kimono with a repeating pattern. It is suitable for everyday use: for a walk with friends or a trip to an exhibition, and with the right elements in it you can go to the theater or to visit.
Winter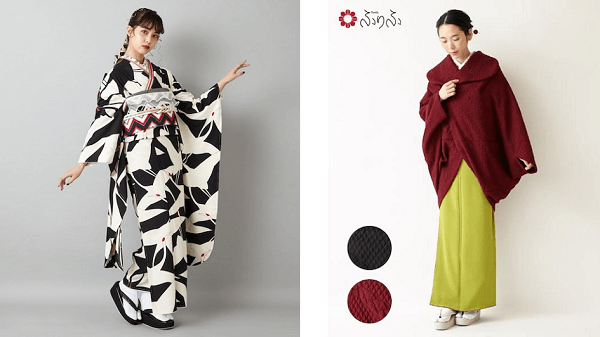 ▲Winter: on the left - furisode with cranes, on the right - a cape jacket in combination with a muji-kimono.
All winter kimonos are lined. In regions where there is a lot of snow in winter, an additional layer of cotton is sewn between the two layers of silk.
On the left side of the photo is an elegant furisode with long sleeves. Such outfits are worn by unmarried girls on solemn occasions. The fabric shows a crane, a traditional Japanese symbol of longevity.
This motif can be used throughout the year, but originally cranes came to Japan in winter, so they can be found on festive furisode, which young Japanese women wear to celebrate the birthday of January 10.
Is it too cold to wear a kimono in the winter? The precautionary Japanese have solved that problem, too! There are hundreds of accessories for the cold season, including wool capes, shawls and warm armbands.
Spring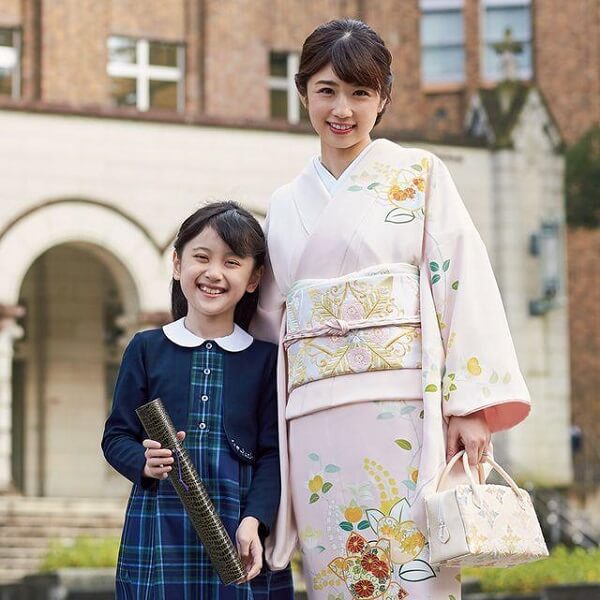 ▲Spring tsukesage
Spring tsukesage is a must-have closet item for every self-respecting Japanese woman. Spring is the time for graduation and the solemn ceremony of the beginning of the school year as well as Shinto festivals, which are usually attended in traditional attire.
An elegant tsukesage in delicate pastel shades is just perfect.

Wedding irochikake and shiromuku
Crane is not only a good omen, but also a symbol of love and fidelity, so many wedding dresses are decorated with images of these birds.
A wedding irootikake is much more elaborate and luxurious than the usual kimono. It weighs up to 30 kilograms, and is helped by 2-3 costumers at a time.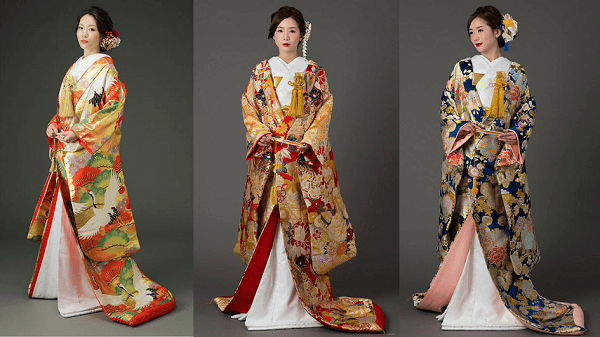 Japanese wedding kimono

What is the difference between Kimono for men and for women?
There are a few subtle differences bewteen Kimono worn by men and those worn by women. In this article we've mostly talked about the ones work by women, so let's take a look at what changes for men.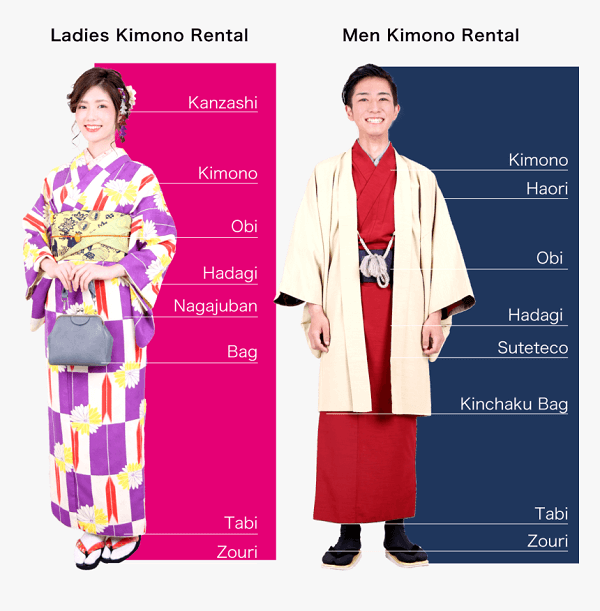 Color: Women's kimono are often more colorful, and don't shy away from vibrant tones like red, pink and purple, while male kimono are usually very subtle. Colors like black, brown, navy and grey are the most common.
Pattern: Men's kimono come plain or with few pattern, usually only the kamon (家紋, family symbol), is added to a formal kimono. However, women's kimono often feature patterns related to nature: flowers, animals and you can even find some fun modern kimono.
Pieces: All kimonos can be one-piece or two-piece sets with hakama (袴) pants worn on the lower half of body in formal situations, it is rare to see women wear the hakama, more common for men.
We've seen that the obi (帯) is the belt that holds the kimono tight. Well, men's obi have three main types: kaku-obi (角帯, stiff obi), heko-obi (兵児帯, casual obi) and sanjaku-obi (三尺帯, three-foot-long obi). On the other hand, women have three times the variety, the more common examples being maru-obi (丸帯, complete obi) and fukuro-obi (袋帯, pocket obi).
Furthermore, there are even more decorative ways of tying an obi for women than men. You may see women designing their obi to look like a flower or butterfly in the back..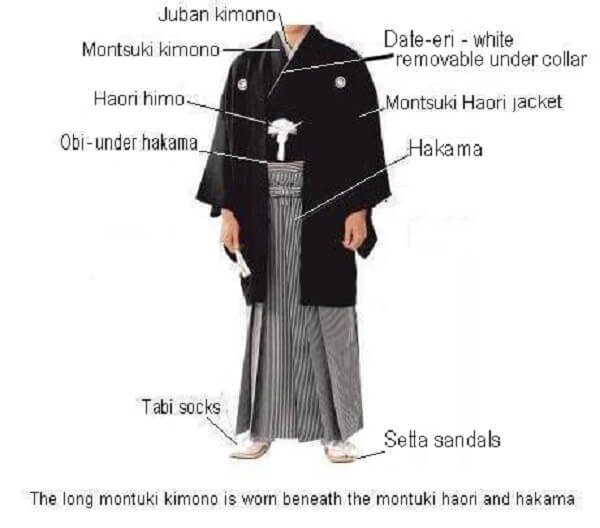 Another important difference bewteen both are the sleeves. Women's sleeves are unattached from the body for over half their depth and are open, not sewn closed, whereas men's kimono sleeves are attached either all the way down or with just an inch..
Finally, the length is also a notable difference between men's and women's kimonos; women's kimonos longer because they are worn with a large fold-over at the waist, whereas men's kimonos are worn without the length adjusting fold at the waist.
The simplicity of the cut, the variety of materials, and just incredible beauty has won the Japanese national costume popularity all over the world. And it can be combined with anything!
Here are some examples of what brands, and you can do with traditional clothes:
Modern antenna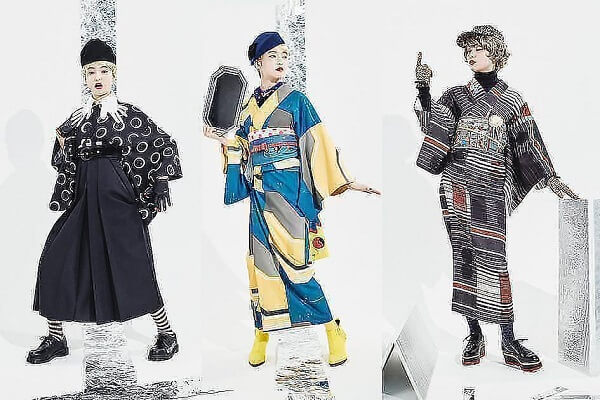 Modern antenna is a Japanese clothing store that transforms kimono into a product of high fashion. Playful and terribly creative, yet easy to wear, they sell like hotcakes.
On the website of Modern Antenna there is a handy search by category. You can buy a kimono for 30 thousand yen (20 thousand rubles) and a yukata - for 13 thousand yen (8 thousand rubles). In addition, Moderna Antenna makes regular clothes inspired by the materials and patterns of traditional wafuku.
Furifu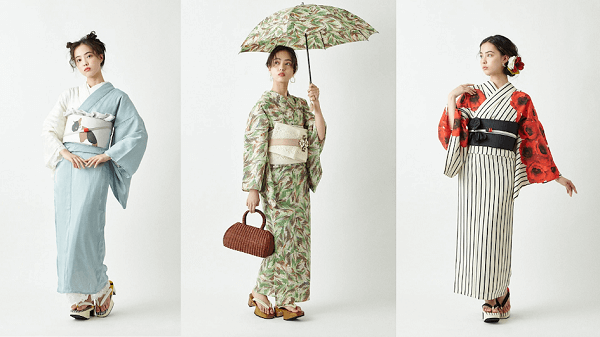 Furifu is a brand of "original textiles" for women who value individuality. Their images will please both fans of retro-style and lovers of extraordinary outfits of exotic shades.
Misamaru
Misamaru is a Japanese fashion designer who creates stunning outfits in a variety of styles from kimono.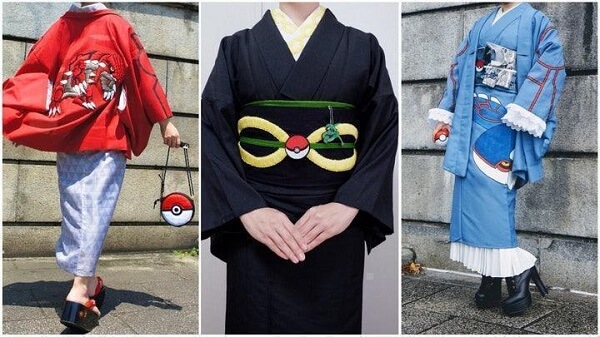 ▲Tweeted by @misamaru_boc
For Misamaru, kimonos are just clothes. She doesn't get hung up on "traditional" ways of tying the belt or color combinations. Misamaru is not afraid of bold experiments, and looks at kimono not as a finished product, but as a material ready for transformation.

When you look closely at the fabric and choose a style, it's time to decide on the size.
Unlike normal clothes there are no strict sizes, but when buying it is better to pay attention to a few measures. It's a shame to make a purchase and find that the thing will be out of size.
What parameters are worth paying attention to:
身丈 (Mitake) - the length of the robe. Should be equal to +-2 cm of your height.
裄 (Yuki) - the length of your arm to the hand. Measured from the point between the shoulder blades to the wrist of the outstretched hand. Depending on your build, this value can vary greatly from person to person. A standard Japanese kimono for a height of 165 cm has a yuki measuring 68 cm.
袖幅 (Sodehaba) is the width of the sleeve from shoulder to hand. Half the length of the yuka. That is, for a height of 165 cm will be equal to 34 cm.
丈 (Sodetake) - sleeve length, ⅓ of a person's height. For a height of 165 cm it is about 53 cm. Note that the sleeve length also differs depending on the type of sleeve: furisode will be longer than komon.
前幅 (Maehaba) is the width of the kimono at the front.
後幅 (Ushirohaba) is the width at the back.
Maehaba and ushirohaba are determined by the volume of the hips. For Japanese women, the average volume is 90-95 cm, with a maehaba of 24.5 cm and an usirohaba of 30 cm. On the volume of hips 100-110 cm need to lay a width of 29 and 35 cm, respectively. A kimono with a standard width can also be worn, but it will require a little more skill.
How to choose a kimono correctly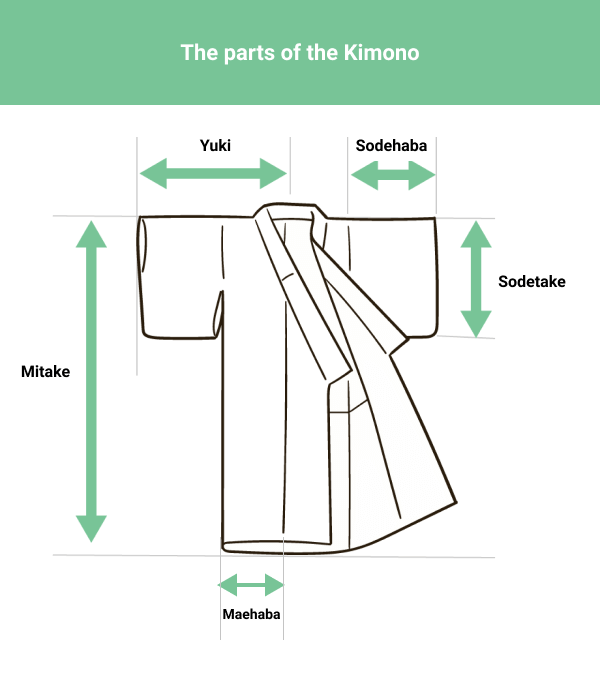 There are a few things to keep in mind when wearing a Kimono. And most importantly, there are a few don'ts: things you should never do.
1: Wear Left over Right
For both the nagajuban (kimono underwear) and the kimono there is one important rule. Always, absolutely always, wear the left side over the right side. Only dead people have their kimono worn right over left.
2: Pay attention to your collar
The collar of your kimono has to be in a specific position, so as to show the back of your neck, for women especially.
3: Follow the seasons
Japan prides itself in its 4 seasons. Of course, other countries have them too, but they are very distinct here, and Japanese people are very much in touch with the seasons, and so is the kimono. You should wear certain colors or patterns only during specific months, or even certain events.
4: Keep it parallel to the ground
The kimono is cut in a specific way so that it maintains a tube shape. Should it not get the right shape naturally, you should add padding to adjust. A kimono is a very symmetrical garment; the seams need to be aligned and the bottom of the kimono needs to be parallel to the ground.
5: Formal vs Casual Kimono
It's quite straightforward, you have two ways to wear a kimono; formal or casual. We looked before at some different styles, and what occasion you want to wear your kimono for, but here is a good rule of thumb to make the difference between formal or casual kimono:
Does it have gold/embroidery/silk/shiny fabric? Can you only see the design's pattern on certain parts? It is most likely a formal kimono.
Is it made of cotton? Does the pattern repeat itself all over the dress? Do you notice the absence of embroideries? You could assume that it is a casual kimono.
6: Always wear your obi on the back
This one might be very obvious, but still: make sure to always wear your obi on your back. In fact, mostly in the past, the obi was worn on the front by women who worked in the red-loight district.
And there you go: this was your complete guide to Japanese Kimono! It's a wonderful traditional garment that has been continued throughout the centuries. This article, hopefully, allowed you to get a little more appreciation for this beautiful dress, and will find some joy in trying them on in the future!