Are you a fan of tonkotsu broth? While Shoyu and Shio based broths are readily available all over Japan, a modern favorite of both locals and foreigners is tonkotsu broth. Hakata Ramen is a type of ramen that originated in the Hakata disctrict of Fukuoka, and is part of the Tonkotsu type of ramen noodles. With a rich porky taste combined with thin noodles, this style of ramen is incredibly filling and almost criminally delicious.

Hakata-style ramen is one of the most famous ramen styles in Japan, and only continues to grow in popularity as more and more chefs adapt this style and put their own twist on the iconic dish. The rich pork broth is the primary reason that ramen has become so popular in the West during the last decade, and you may recognize names like Ippudo and Ichiran when hunting down where to have the most delicious tonkotsu ramen.

Let's head down to the southern point of Japan, at the port city of Fukuoka, and discover their iconic Hakata-style ramen!

The Origin of Hakata Ramen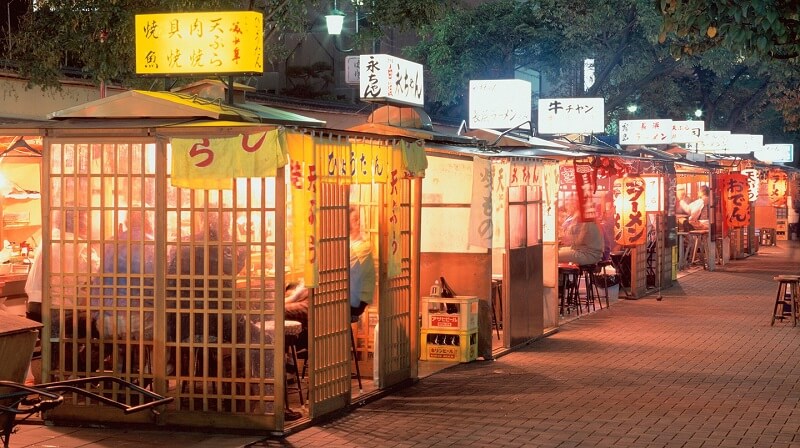 Source: The Culture Trip
Japan's southern island of Kyushu hosts Fukuoka city, a port city known for its delicious pork dishes. Hakata is the name of a business district in Fukuoka city. It is said that this is the birthplace of Tonkotsu ramen, although that is disputed by some who claim that it was born in Kurume before making its way to Fukuoka City. While we may know the broth as "tonkotsu broth," or "pork-bone" broth in the west, in Japan it is mostly referred to as Hakata ramen, in reference to its origin in Fukuoka.

Hakata ramen was originally sold from food stalls to fishermen working in the business district. Fukuoka city is known for having many of these different food stalls, known as yatai. While these food stalls are common all over Japan, they are most prevalent in Kyushu, and it's a great way to experience eating authentic Hakata ramen.

The practice of eating at these stalls quickly and cheaply not only gave rise to the popularity of Hakata-style ramen, but also the system that most ramen shops that sell Hakata ramen follow: the "kaedama" or noodle refill, where you can get a second serving of noodles to put in your broth to eat more!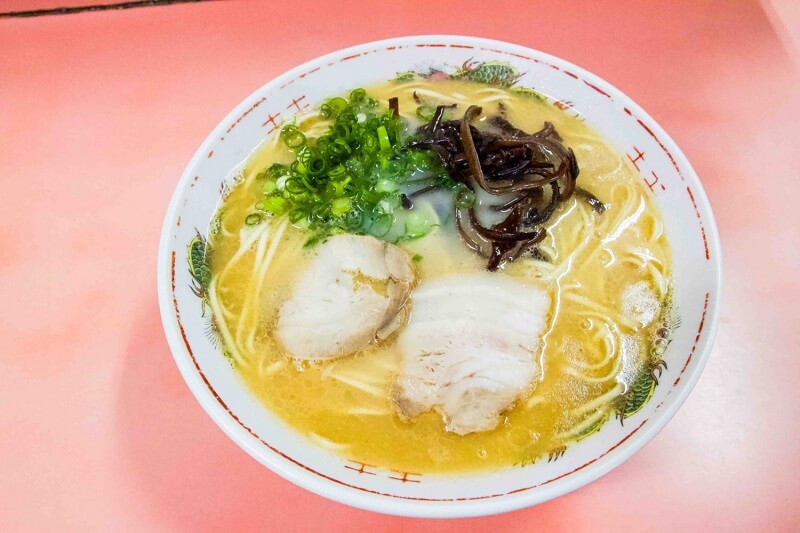 Hakuryuken has been around since 1952, and their simple but delicious Hakata ramen is full of flavor.
Source: 5am Ramen
The very first permanent shop that sold Hakata ramen is called Hakuryuken, and is still open today. After 70 years of serving the original tonkotsu ramen, the tasty pork broth and delicious toppings remain timeless and unforgettable.


What makes Hakata Ramen?
The base of Hakata ramen is called tonkotsu, and is what primarily gives it its rich umami flavor. Unlike other ramen broths that incorporate lots of seasoning, Hakata ramen is often seasoned very lightly, letting the main taste of the broth retain its porky flavor. It can be seasoned with shio, shoyu, or miso, but usually this is done very lightly. The most common seasoning for tonkotsu broth is shio, or salt, which preserves the milky white color of the soup.

Tonkotsu broth also differs from other ramen broths in the way that it is cooked. While other soup bases like the ones used for Tokyo Shoyu ramen never reach a boiling point, tonkotsu broth is cooked at a rolling boil, which contributes to the flavor and texture of the broth overall. In order to help the pork bone broth reach its optimal flavor, the pork is cleaned thoroughly beforehand, and cooks for a very, very long time to make sure all the flavor is taken out of the pork bones. This process can actually take from 6 to 18 hours, or maybe more depending on the restaurant and their particular recipe!

Hakata ramen is also iconic for the straight, super thin, noodles that come with the soup. While other ramen tends to sport the curlier types that soup and sauce cling to, Hakata ramen tends to favor very straight noodles, typically served with a firm "just cooked" texture. The reason for this is because the noodles tend to soften up in the warm broth, and in order to avoid them becoming too mushy, they are served to a customer when very firm. It's also common for Hakata ramen shops to offer kaedama, which is a second serving of noodles to make your bowl last longer!

As for toppings, many have their own preferences when it comes to ramen. However, the most common toppings are slices of chashu pork, green onions, an egg, and kikurage mushrooms. Some swear by adding a little bit of spice in the form of chili bean paste, or adding an extra depth of flavor by asking for fried garlic. A lot of popular ramen shops that make Hakata style ramen allow you to customize your ramen in some way, so don't be afraid of trying out different combinations of toppings. Everything they offer pairs very well with the tonkotsu broth and is sure to fill you up.

Best Restaurants to Eat Hakata Ramen
;
Ichiran
Ichiran is a ramen chain that is extremely popular not only in Japan, but also overseas. Their popularity skyrocketed in the past few years due to the unique experience of their "ramen focus booths," where you sit alone with your ramen bowl without distractions. There are typically screens between you and other customers, and even contact with the chefs/waiters are minimized. You usually pay for your ramen at a vending-machine style menu located near the front of the restaurant, and then are seated inside where you are presented with an order form. After ordering your meal, you sit in the Ramen Focus Booth, where your food is presented to you from behind a fold-down screen and you can place all your attention on the experience of enjoying your ramen.

It isn't all just about the experience though. Ichiran's broth is extremely delicious, and has a wonderful savory aroma unlike any other type of tonkotsu. They also serve their own special red sauce, made of togarashi pepper and other secret spices, to add a little kick of spice onto your ramen.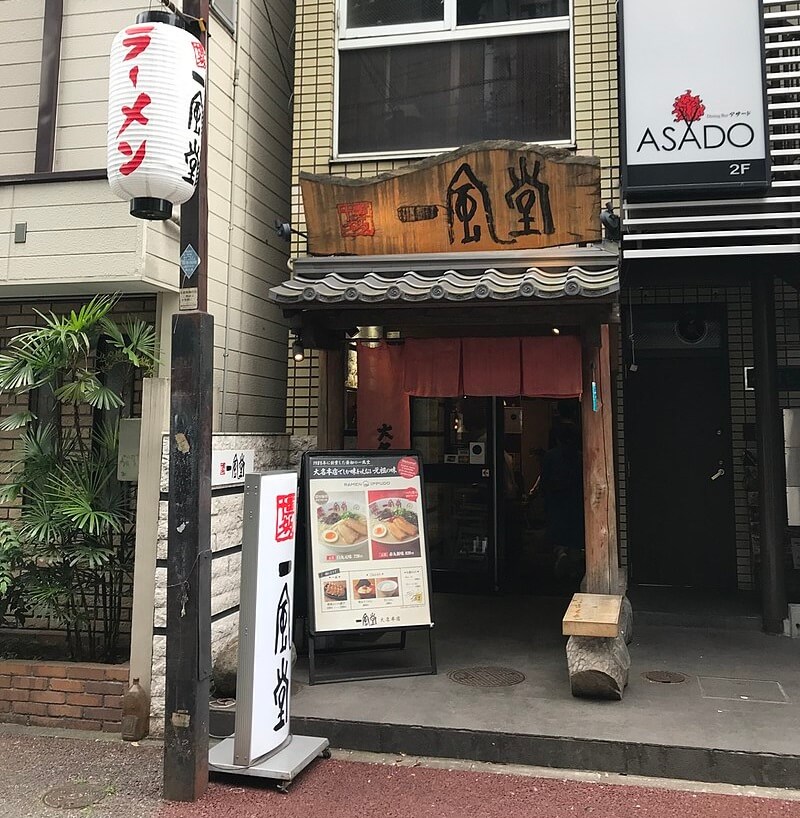 Ippudo's main branch in Daimyo, Fukuoka, since 1985.
Source: Wikipedia
Ippudo Daimyo
Ippudo has lots of branches all around the world, but this particular one located in Fukuoka, called Ippudo Daimyo, has been around since 1985-- and is the original Ippudo outlet! The restaurant only has 24 seats total, so it's possible that like Ichiran, you may face quite a queue if you happen to arrive during the rush hour. Ippudo offers many soup and toppings combinations, but we would like to recommend the shiromaru ramen, the original taste of their Hakata ramen which has been popular since they opened for business.

The tonkotsu broth included with their original recipe takes at least 18 hours to prepare, and results in a strong broth that has a beautifully fragrant scent to it. Ippudo also offers lots of complimentary toppings such as bean sprouts and pickled ginger, which you can either eat on their own or on top of your ramen.

Ippudo's one-of-a-kind broth explains their popularity and the rapid spread of their franchise all around the world. There's nothing more satisfying than a large bowl of delicious ramen topped with melt-in-your-mouth chashu pork. It's also great to finally get to the bottom of your bowl and see the hidden ありがとう (arigatou, thank you) message that appears once you've finished your meal!


Fukuoka Ramen Stadium
Fukuoka Ramen stadium isn't necessarily a whole stadium, but a food court located in Canal City's Cinema Building in Fukuoka. Canal City Hakata is a shopping mall located in Fukuoka, and alongside the fountain show / 3d light show or the extensive shops, it also offers one of the coolest places to sample some of Fukuoka's famous Hakata ramen.

The Ramen Stadium has eight total ramen stalls that each offer different types of ramen from all around Japan. While two of the stalls offer Tokyo and Sapporo ramen, four of them specialize in Fukuoka's famous tonkotsu ramen. Three of these offer Hakata-style options, while one features Kurume-style ramen, which has thicker noodles compared to that of Hakata ramen.

The three different stalls which offer Hakata style ramen are Nagahama Number One, Ramen Jinanbo and Shodai Hide-chan, and each put their own spin on the dish. For example, Shodai Hide-chan is known for its thickly sliced chashu pork, and Ramen Jinanbo includes crispy noodles as one of their toppings! Whether you're exclusively looking for tonkotsu ramen or you'd like to sample all of the different flavors of Japan, Fukuoka Ramen Stadium is a great place to visit.

Best Instant Ramen Options
Nissin RAOH Ramen Noodle - Umami Tonkotsu
As always, Nissin RAOH loves to surprise us with the astounding quality of their instant ramen. Not only does the broth come with a separate packet of oil and seasoning, but the tonkotsu broth isn't overly salty or overpowering! The broth has a nice tang to it and retains the porky flavor that you'd expect from classic tonkotsu ramen, and gets even better once you add their sesame oil packet and their seasoning, which also contains sesame seeds. Overall, Nissin RAOH's tonkotsu ramen hits the spot, especially when looking for that umami, pork-bone taste.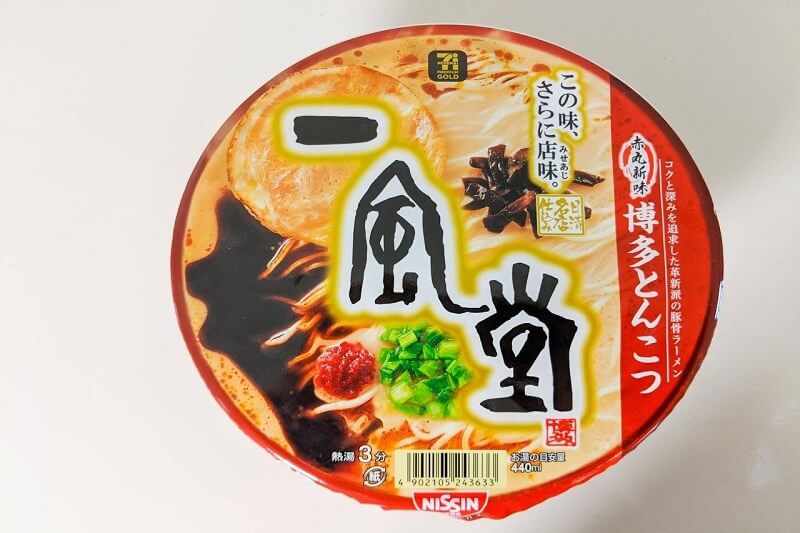 Source: Asian Food Network
Ippudo Garlic Oil Tonkotsu Ramen
Ippudo partnered up with Nissin to make their signature Hakata ramen widely available, even in instant form. Sporting Ippudo's iconic tonkotsu broth, it manages to keep its light and milky consistency while still retaining all of the flavor from their 18-hour cooking times and special recipe. The noodles are nice and thin with a good bite to them, and the instant variety also comes with spicy miso paste and burnt garlic oil. These two additions are a great twist on classic Hakata ramen, and only enhance the flavors of the broth, giving you a delightfully umami experience.

What's your favorite type of ramen? Tonkotsu broth is wildly popular around the world, but we love to see how different restaurants and companies make this iconic broth their own. Hakata style ramen's popularity can only be attributed to the time, care, and refinement that goes into making a single, delicious bowl.

If you'd like to get a taste of these instant noodles or try different ramen varieties, why not take a look at our Japanese Ramen Pack, which includes 7 full-sized servings of instant ramen, straight from Japan!