When it comes to office supplies, you can't do much better than Japanese stationery. The Japanese have a knack for transforming everyday items into works of art, making upgraded versions of the smallest office tools. Forget about the plain old pens and sticky notes you're used to – we're about to dive into a world of 10 Office Supplies Only Available in Japan that'll add some pizzazz to your workspace!
Japan has long been known for its craftsmanship and commitment to perfection. Luckily, this habit extends to their creation of office supplies. Each item in this exclusive list is a useful upgrade of an office supply you already have or new innovation you did not even know you needed.
Kokuyo Harinacs Stapleless Stapler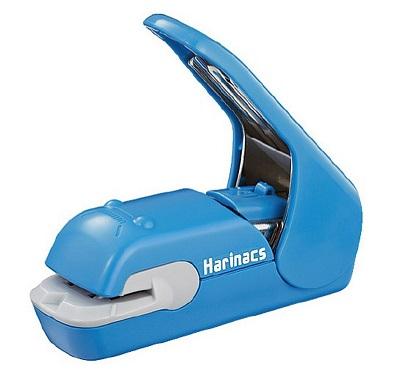 Say goodbye to traditional staples with the Kokuyo Harinacs Stapleless Stapler. This ingenious device binds papers together without needing metal staples, making it both eco-friendly and efficient. Although this stapler comes in 5 or 10-sheet binding versions, It ensures your documents stay neatly organized because the stapled area remains flat and free from the hassle of removing staples. If you want to unbind the paper, a little rub with a pen cap should do the trick. What makes this stapler remarkable is its simplicity. It proves that even everyday office tools can be reimagined and improved for environmental sustainability.
Midori Aluminum Multi Rulers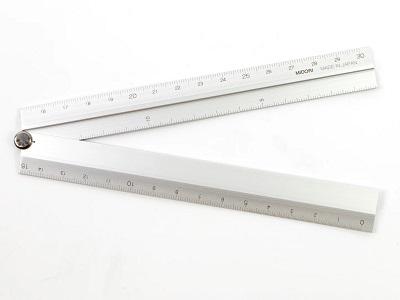 Imagine a ruler that's not just for measuring but can do much more. That's the Midori Aluminum Multi Ruler. It's not your regular ruler – it's made of strong aluminum, so it's tough, looks cool, and can do so much more.
Normally, these rulers look like a short 15cm ruler, but it can be extended to 30cm. These rulers stand out for their many features, like the built-in protractors that enable precise angle measurement for up to 180 degrees. Students, artists, architects, and other professionals will find these features useful. Despite their many features, these rulers are lightweight and portable, so you can take them anywhere. So, whether you're in school or doing art at home, this ruler is a handy tool that makes your work neater and more precise.
Tombow Mono Zero Eraser

An eraser that looks like a pen? Don't mind if I do. For artists and architects where you need to be extremely precise when erasing little mistakes, the Tombow Mono Zero Eraser is a lifesaver. This slender stick eraser has an ultra-fine tip that can be extended using the cap. This way, you don't waste more eraser than you need.
It also comes in different sizes and eraser shapes, like rectangular and round shapes. With the pen barrel, you feel more comfortable while using it, and It leaves no trace of correction behind. One last thing: this eraser is refillable, so when you run out, you don't have to buy an entirely new one; just get a refill.
Kokuyo Campus Smart Ring Binder Notebook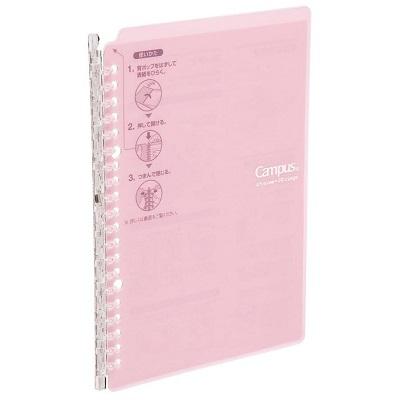 Have you ever stumbled when deciding how big the book you're buying should be? Well, the Kokuyo Campus Smart Ring Binder Notebook solves that problem with its customizable ring system. Unlike traditional notebooks, you can effortlessly add, remove, or rearrange pages to suit your needs. Your book can get bigger or smaller when you want it to.
The Kokuyo Campus book series comes in different versions and is used by students all over the world, so you don't have to worry about the actual quality of the paper. The book is available in eight translucent cover colors like green, pink, blue, and purple. You can also mix sheet types like ruled, dotted, or grid. What makes this notebook truly exceptional is that it is eco-friendly and reduces waste. You can use this book for a long time by just refiling it.
Themed Erasers by IWAKO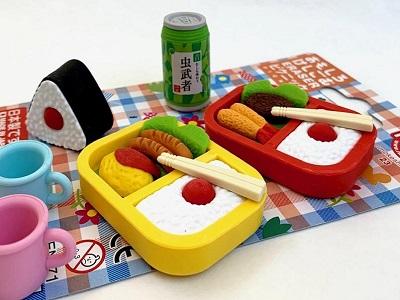 Who needs boring erasers when you can get beautiful themed ones? IWAKO erasers made in Japan take everyday shapes and turn them into beautifully themed erasers. The company started creating plastic molds in 1968 but later focused on making eco-friendly erasers in different shapes. Their puzzle eraser collection is like tiny 3D puzzles that double as erasers. What makes their products stand out is how realistic and detailed they look. Dinosaurs, animals, sushi – you name it, they've got it. Erasing your mistakes becomes a mini adventure! The bento eraser set has a complete bento box of Japanese food along with an extra eraser, canned drink, and mini chopsticks. These erasers also make the perfect gift for loved ones.
Quality Japanese Pens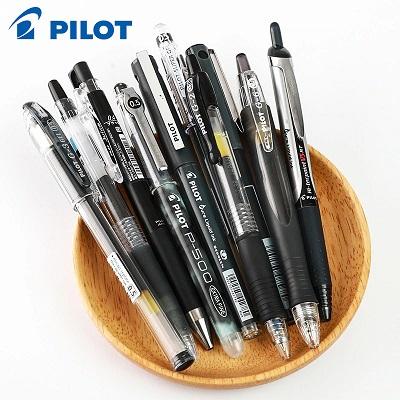 If you are not using a Japanese pen by now, you're missing out. There are many Japanese pens you can buy, but some stand out because of their high quality. For instance, the Pilot G2 Gel Pen glides effortlessly across paper because of its unique gel ink formula, which not only writes like a dream but also dries quickly, so you won't smudge your brilliant ideas.
Another cool pen is the Pentel Fude Touch Sign Pen, which is a calligraphy lover's dream come true. Its flexible brush tip allows for both fine lines and bold strokes, making it perfect for creating expressive artwork and writing. Then, the Uni-ball Signo DX Gel Pen has a tip that is very thin. This little pen is perfect for detailed work, precise notes, and even tiny doodles. Plus, it comes in a rainbow of colors (around 26 colors), so you can unleash your inner artist in style.
Japanese Planners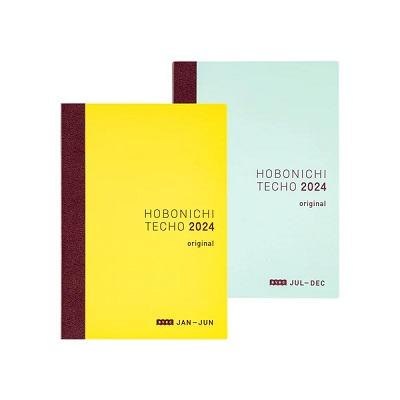 Japanese Planners are like personal assistants that fit in your bag. Take the Hobonichi Techo, for example. It's a Japanese planner invented in 2001 that's got one full page for every day of the year, which is perfect for jotting down appointments, birthdays, or even just your thoughts for the day. The planner is available in several sizes and covers like leather, patterned, plain, and even anime-inspired covers. It's also got this super-smooth Tomoe River paper that is bleed-free and smooth to write on.
There's the Midori MD Notebook Diary with this minimalist charm. It is undated, so you can start anytime. Plus, there's a handy index ribbon to keep your planner organized.
Japanese Tapes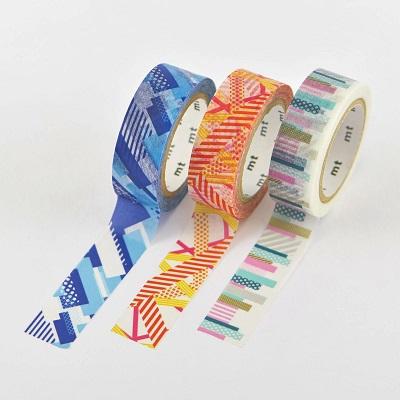 When it comes to sticking things together, Japanese Tapes are in a league of their own. The MT Washi Tape is a prime example. It is the original brand and creator of the washi tape which are basically colorful masking tapes. Washi tapes are available in a zillion colors and patterns. It is super useful when decorating your journal or adding a splash of color to your notes. You can also use it to decorate your furniture and room.
Another cool type of tape Japanese office workers use is the Midori Correction Tape. When you start taking notes by hand you'll notice that mistakes become an everyday thing. Instead of messing up your paper, just stick on a correction tape and write over it. It mimics the color of paper so it's hardly noticeable.
Kokuyo Beetle Tip Dual Color Highlighter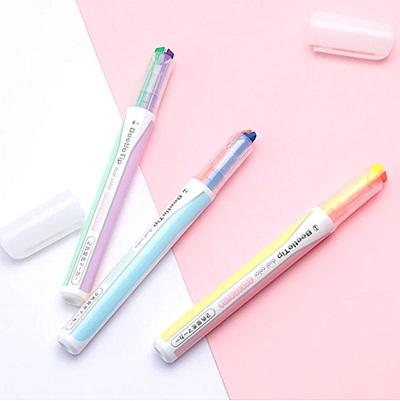 One Japanese gem in the highlighting world is the Kokuyo Beetle Tip Dual Color Highlighter, which allows you to switch between two colors with ease. Whether you're emphasizing key points or categorizing information, this highlighter allows you to color code with beautiful pastel colors. Professionals can use this highlighter to organize their ideas and thoughts.
Raymay Pencut Premium Scissors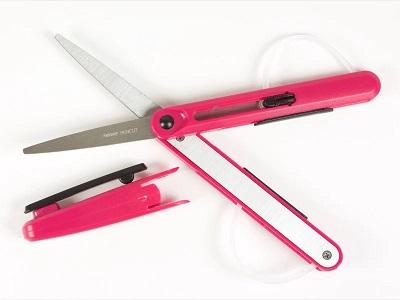 These awesome scissors barely take up any space because they are designed to fold like a pen. It even comes with a matching cap so it looks just like a pen until you expose the scissors blade. Even though they look cool, what makes the blade special is that it's made with fluorine coating which keeps sticky residue from building up when you cut tapes or stickers with it.
These 10 exceptional items serve as a testament to Japan's reputation for craftsmanship and attention to detail. These exclusive office supplies from Japan will undoubtedly enhance your workspace and elevate your daily tasks.
Have you been looking to buy some high-quality Japanese office supplies? You can check out our ZenPop stationery store for the best deals from Japan.
This article was originally written by our freelance writer Umm-Kulthum Abdulkareem and edited by us.