When it comes to adding a touch of creativity and personalization to your home decor, there are countless options to explore. However, using washi tape is one of the most versatile and fun ways to decorate your furniture. It's easy to install, and it can be removed immediately.
Originating from Japan, washi tape is a decorative adhesive that comes in various colors, patterns, and designs. It's common to want to change things with old furniture or ones with no personality. Instead of using more permanent paint, washi tape is a more straightforward fix. It offers a simple, affordable solution to transform furniture into unique pieces. In this article, we'll explore various ways to decorate furniture with washi tape and unleash your inner artist.
How do you use washi tape on wood?
Before applying washi tape, it's important to prepare your furniture. Clean the surface thoroughly to remove any dust or dirt that could hinder adhesion. Next, you just stick the tape on the wooden surface. Some people use glue for extra hold when they want a more permanent design, but you can skip it.
Now, here are 15 ways to decorate your furniture with washi tape:
Diagonal Patterns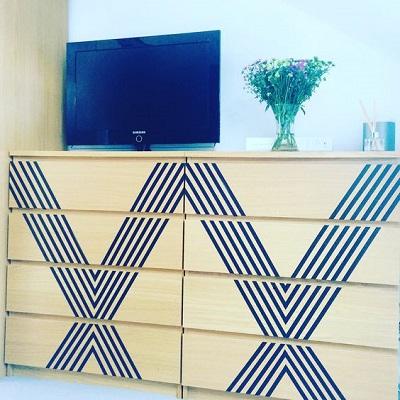 It's easy to get bored of plain wooden drawers, especially when they sit at a visible spotin your home. You can make diagonal patterns with washi tape where they meet at the center to make a V. This can completely change the look of the console to make it a centerpiece.
Corner Design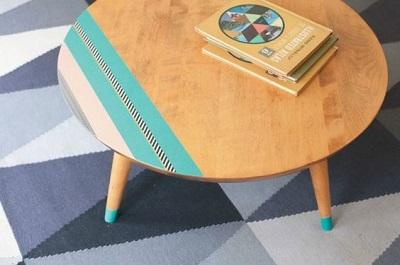 You don't have to let your washi tape take center stage with your furniture. You can turn a cute little coffee table into a colorful delight by mixing patterned washi tape and one with a bold color. Stick the tape to the edge of the table and leave the rest of it plain for a unique look. You can even take it a step further by covering the legs of the table with tape.
Vertical Colorful Patterns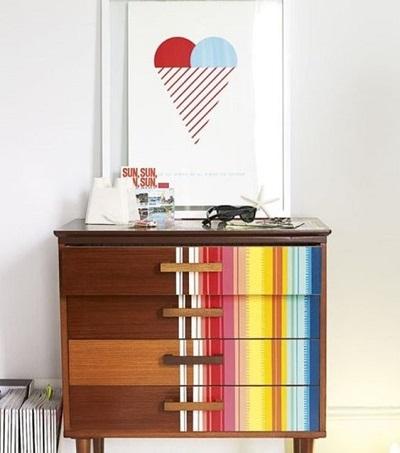 If diagonal patterns are too difficult, you can decorate your cabinet using vertical lines with washi tape. All you have to do is to follow a simple gradient using bright colors for a stylish look.
Bold Patterns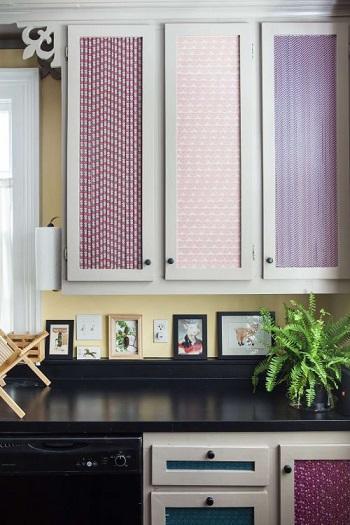 Instead of making lines with washi tape, stick to one pattern to create a bold, unique design for cabinet doors. The goal is to make it look like one big pattern. This design completely transforms the doors,, and the washi tape pattern is so muted that you can use a different tape for each door.
Use Angles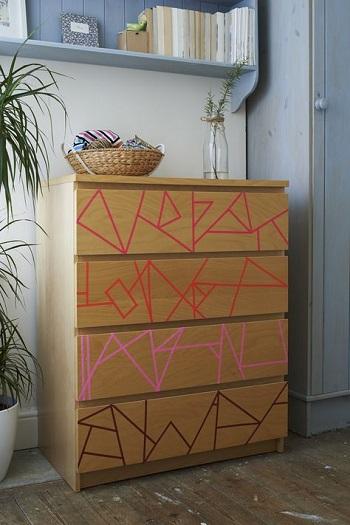 Take a note from geometry class and use your washi tape to make sharp angels on your drawer faces. Instead of following a specific pattern like diagonal, vertical, or horizontal, switch it up with this design, and you'll get something unexpectedly stylish.
Muted Lines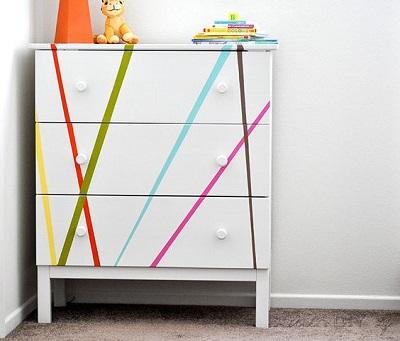 Some people that you need a lot of washi tape to make your furniture a statement piece. But with a few washi tape lines and the right color combination, you can turn a plain cabinet into an interesting conversation starter.
Border Designs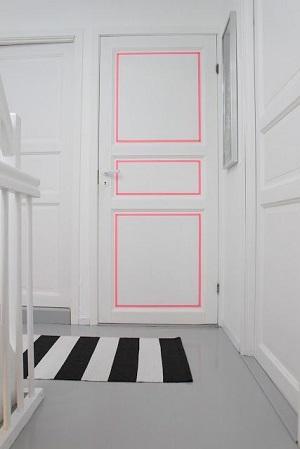 Another muted way to design furniture is to imitate its original shape by using washi tape to create a border. For furniture with dull colors, a bright color or pattern of the tape will bring it to life in a subtle way. It is also an excellent way to introduce colors to the entire room.
Full Coverage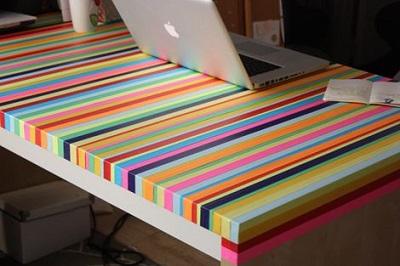 Sometimes our furniture can get wear and tear if they've been with us too long. Washi tape can be used to completely cover it to make it look new again. You can use bold colors for a bright piece or muted ones to bring old furniture back to life.

Subtle Decor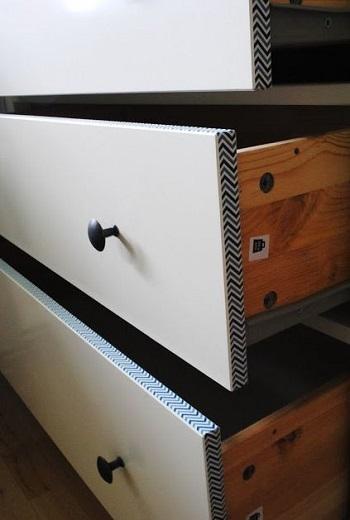 Washi Tape decor does not always have to be bold. You can use it subtly by sticking it on the corner of the drawer face. This way, it will be fully visible when it is opened. You can also use this pattern for doors or any other furniture where you don't want an overpowering design.
Chair Decor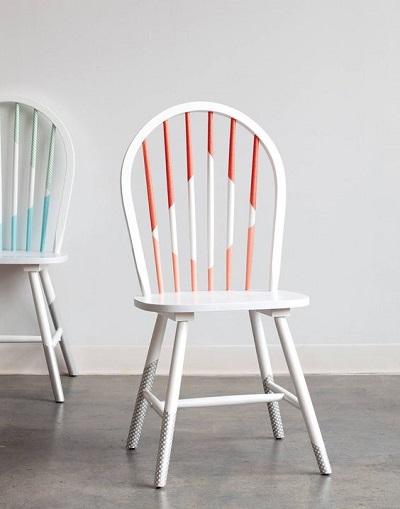 Decorating chairs with washi tape is fun because it can be done in many ways. Chairs that are made with individual pieces of wood for the legs and back are especially easy to design. Just roll the washi tape around the wooden rods, and you can turn boring colors into something more interesting.
Enough furniture design ideas? Here are 20 more creative Washi Tape ideas.
Washi Checkered Pattern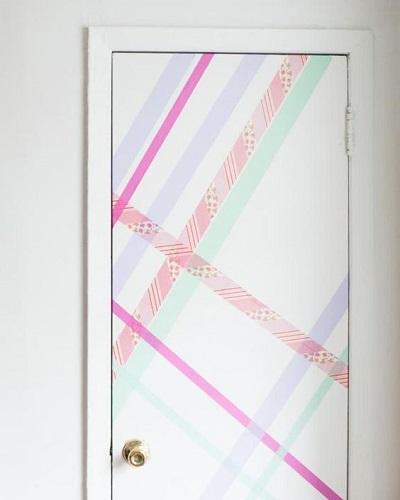 Some of the most iconic fashion pieces feature the checkered pattern that is known for its uniqueness. You can take a note from fashion and use washi tape to make the checkered pattern on your furniture. Use a mix of plain and patterned tapes and a mix of sizes.
Makeshift Headboard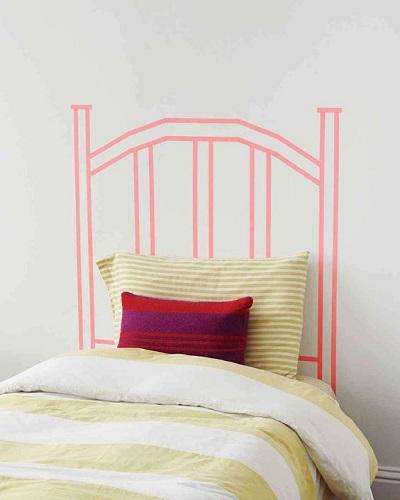 Moving into an apartment can be expensive, so if you have settled for one of those bedframes that do not come with a cool headboard, you can use washi tape to create an illusion headboard. It'll upgrade your bedroom, and it can be easily removed when you move the position of your bed.
Thick Washi Tape Decor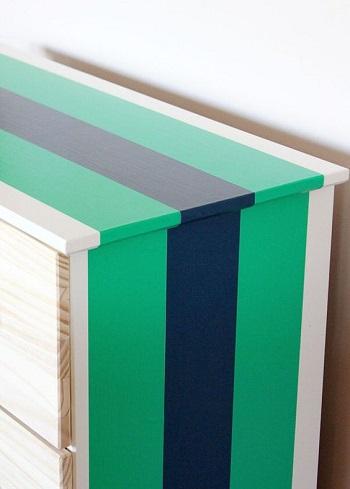 Previous designs have used thin washi tapes as they are more popular. However, bold tape saves a lot of time by covering a large surface area. You can simply use them for over the side and on top of desks or cabinets for a brighter look.
Triangle Designs
Did you know that you can cut your cold washi tape into different types of triangles to decorate your furniture? Instead of using the tape as it comes, take it a step further by creating these patterns. The great thing about washi tape is that it is translucent, so using one tape over other colors creates a new color where they meet.
Crisscross Pattern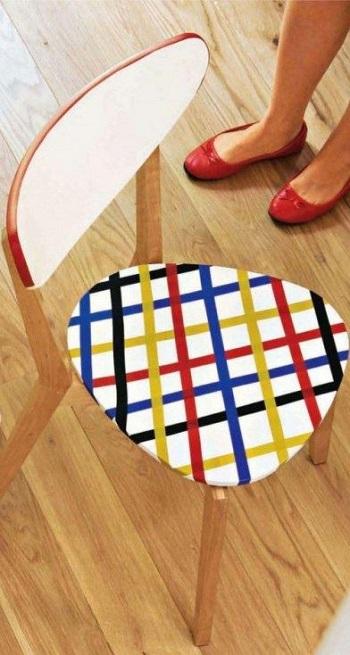 It's not just the backrest of chairs that can be decorated with washi tape, the seat of the chair can also be decorated. As one of the most basic ways to decorate using washi tape, the crisscross pattern allows people to use different colors for a fast decor project. The best part about using this style of design is that even mistakes seem like part of the plan.
Decorating your furniture with washi tape is a creative and budget-friendly way to add flair and personality to your home decor. Whether you want to accentuate edges, create intricate designs, or revamp old furniture, washi tape offers endless possibilities. With washi tape, you can transform your living space into a vibrant and stylish sanctuary that truly reflects your unique taste.
Have you been looking to buy some Japanese washi tape? You can check out our ZenPop stationery box for the best selection of items from Japan..
This article was originally written by our freelance writer Umm-Kulthum Abdulkareem and edited by us.