Washi tapes are patterned decorative tapes used in paper crafts, DIYs and other art projects. These tapes were originally made in Japan and the best part is that they are eco-friendly. They are absolutely gorgeous and versatile so most people stick them on just about anything, their laptops, pens, chargers. You name it.
In this article, you're going to learn the coolest ways to use washi tape at home.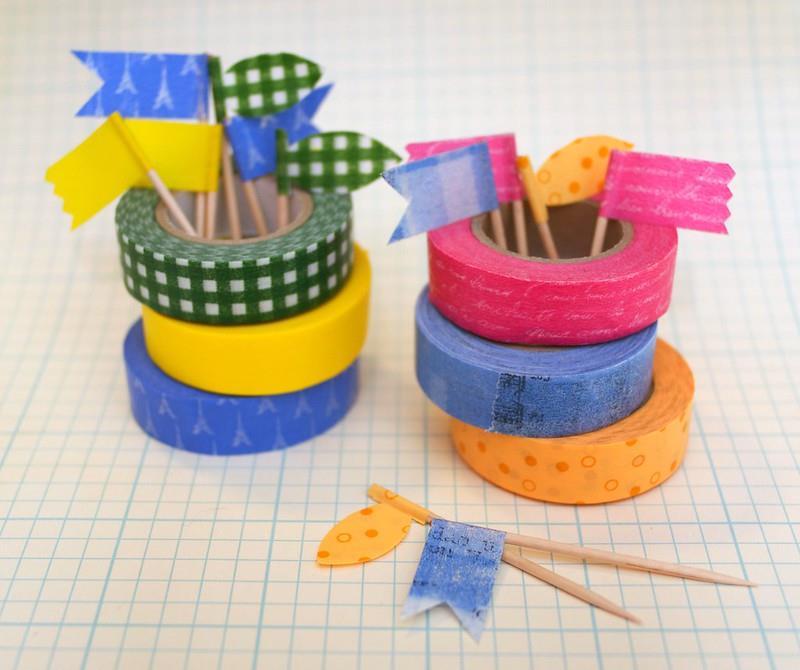 What makes Washi Tape so cool?
Well, they are handmade Japanese paper made from plants in the shrub family. So, unlike usual paper, there is no mass cutting of trees. Washi tapes are biodegradable and easily recycled. They can also be torn by hand so there's no need for cutters or scissors when crafting, so kids can use them safely. Although washi tape is sticky, it can be peeled off without leaving any residue (even on paper) and stuck somewhere else. Talk about reusable!
20 Washi Tape Art Ideas You Should Try out!
Check out these awesome washi tape ideas.
WASHI TAPE GIFT WRAPPING ART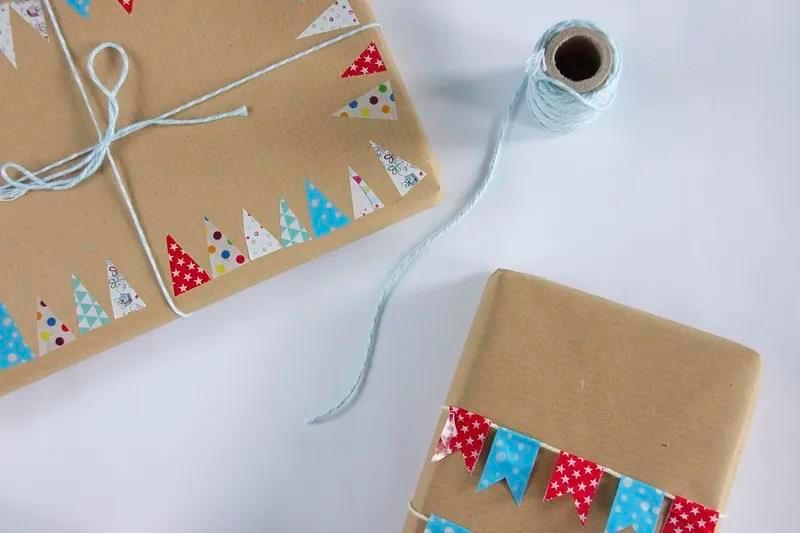 Wrapping gifts doesn't have to be boring and tiring anymore. Explore a variety of creative approaches with washi tapes. These allow you to use a lot of really cool designs to match the theme of the occasion.
WASHI TAPE TO OUTLINE FIGURES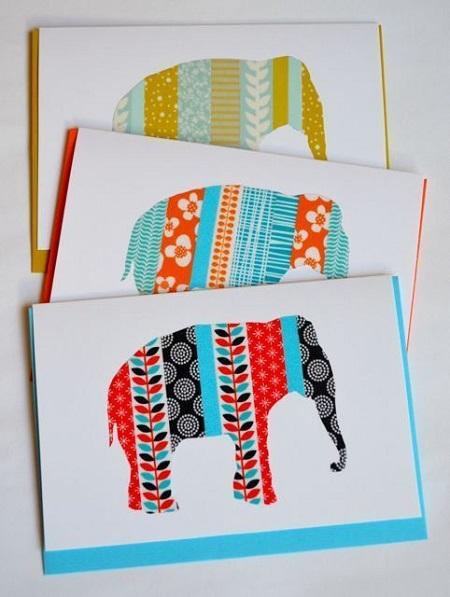 Instead of painting the silhouette of animals and figures, you can use tape to outline them. It is a new twist that makes the artwork look different.
WASHI TAPE PICTURE FRAMES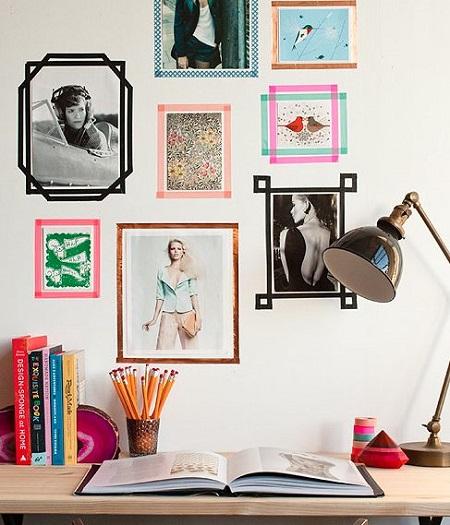 When you don't want to buy frames for your posters, you can save costs by using cool washi tapes. It can give the illusion of a frame, and you don't have to stick to the usual rectangle shapes. Get creative with geometric patterns.
WASHI TAPE FLOWER VASE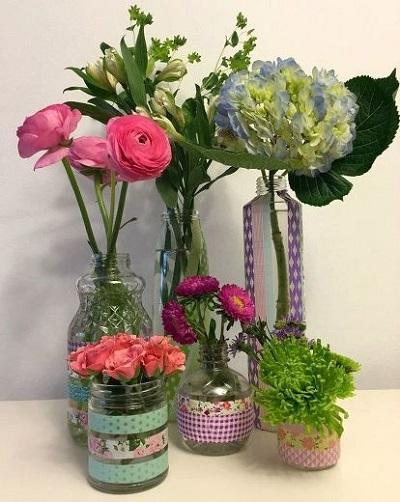 Flower vases can look dull when it's just in one color, especially when it's an old glass jar that you are trying to recycle. Washi tape art can spice up the look of plain vases and turn them into amazing pieces of art.
CREATIVE FRIDGE ART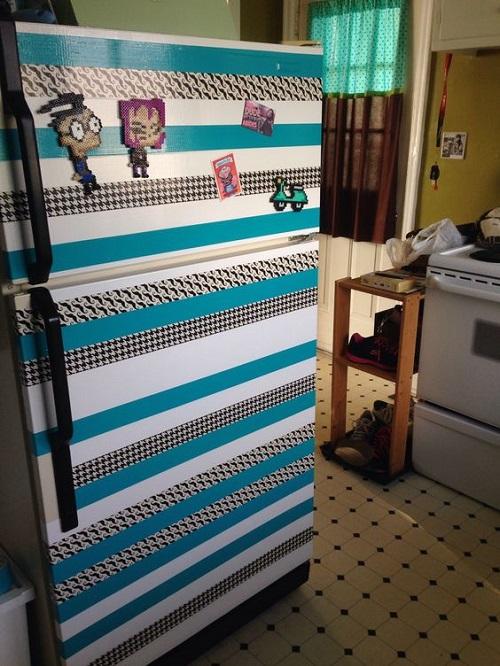 Refrigerators usually come in one solid color, but sometimes it's good to go for something a little bolder. You can use washi tape to get that refined look for your fridge. If you don't like it after some time, just peel off the tape and go for a new design or the plain look. It's a fun way to bring your kitchen to life.
COOL DOOR ART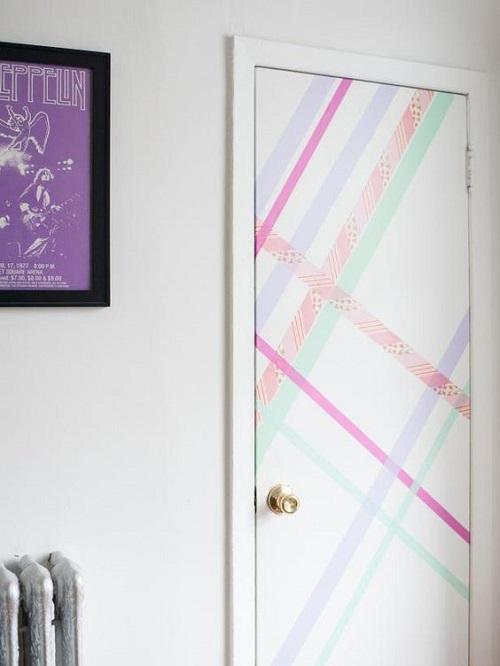 Shut the door on boring doors with washi tapes. You can use pastel colors for a checkered design or bold patterns to turn plain doors into something a little more daring.
WASHI TAPE CHARGERS
Isn't it annoying when you are trying to figure out which charger is yours because everyone else's looks the same? Well, with washi tape, you can customize your charger and USB cord. If you don't like the design, easy, switch it up after a few weeks!

WASHI TAPE LAPTOPS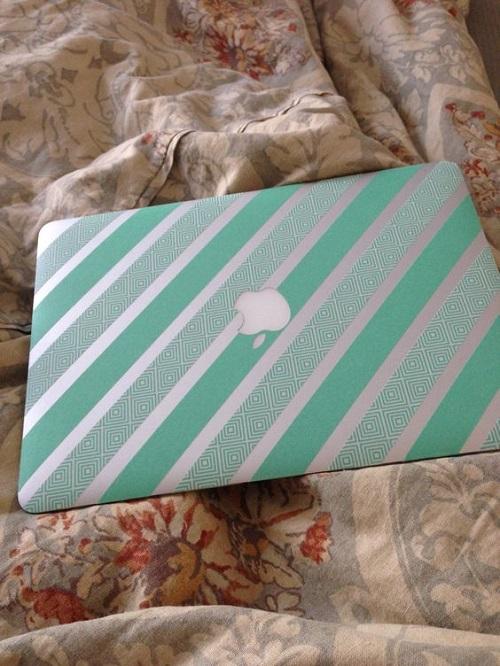 All work and no play is never good for anyone. There is no reason for your work laptop to look the same way you bought it. Customizing it with washi tape will make it unique and the only one of its kind in the world.
AWESOME DESK ART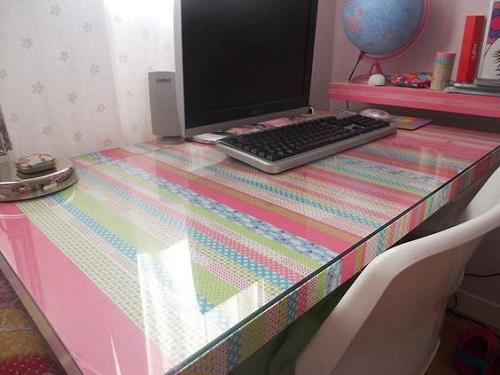 Work desks do not always have to look all serious. Use washi tapes to revamp them to make your workspace at home look inviting. That's not all, patterns will help you think of creative solutions and improve your productivity.
WASHI TAPE FOR CABLE ORGANISING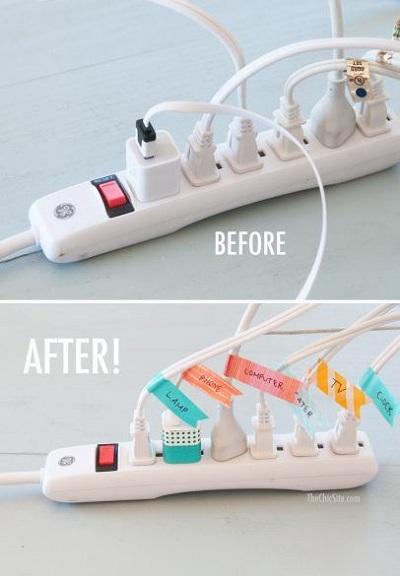 Just like regular masking tape, washi tape can be used to label cables and jars. You can't deny that it looks way better and you can even color code when labeling.
UNIQUE WASHI TAPE KEYS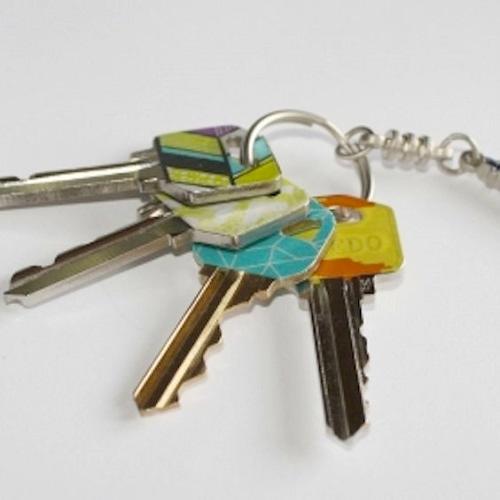 Do you have similar-looking keys that make you fumble when you're trying to unlock your door? Don't fret, washi tape crafts provide a simple method of differentiating keys. All you have to do is use different tape patterns on each key and you'll be able to choose the correct key every time.
WASHI TAPE PENCIL HOLDER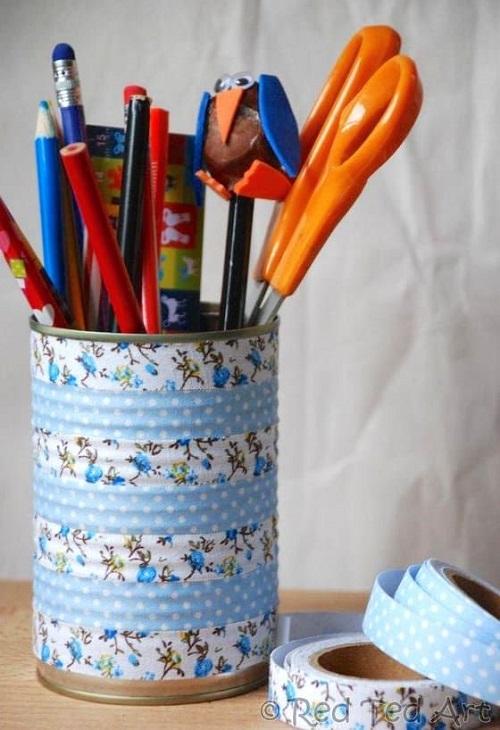 It's not just vases that can be customized using washi tapes, pencil holders and even spice jars can get an upgrade too!
UNIQUE PENCILS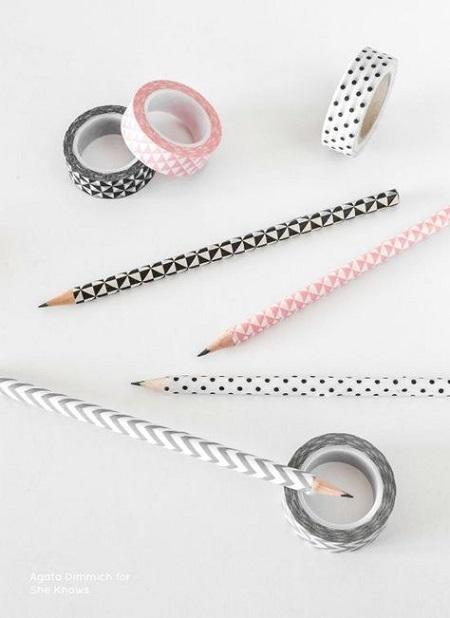 Some pencils come in solid colors and that's not too exciting especially for kids. Upgrade simple pencils using washi tape to get that fun look that kids love.
WASHI TAPE WALL ART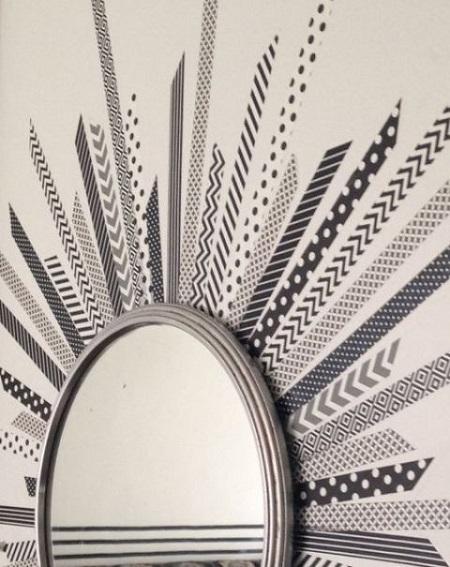 Washi tape art on walls can be used to create amazing patterns. However, another cool way to do this is to incorporate decorative pieces like mirrors and clocks in the design for that refined look.
WASHI TAPE CRAFT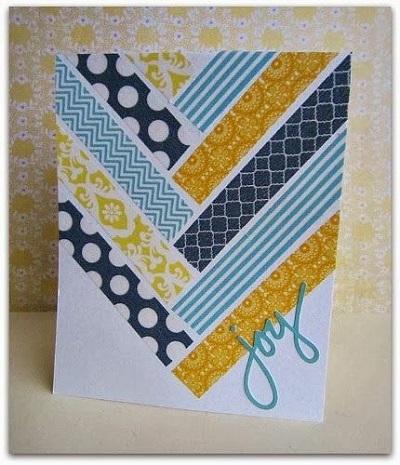 Sometimes, it's okay to skip the pencils and paints and just settle for creating art with washi tapes. Using a variety of patterns, you can come up with awesome art pieces that can be hung on your bedroom walls or even sold on the internet.
WASHI TAPE FOR FASHION ILLUSTRATION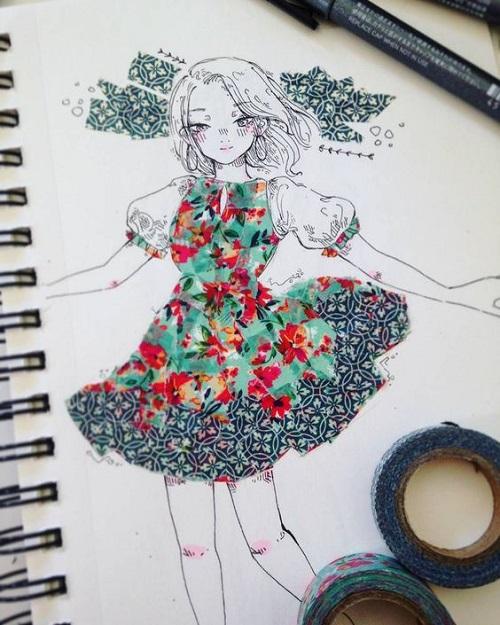 Washi tape takes fashion illustration to a whole new level. They come to life and make the dresses look real. Designers can also convey the intended patterns of outfits to the tailors using washi tape. This way, the finished product looks exactly like the illustration.
FANCY WASHI TAPE ENVELOPES
Even with most people communicating by email nowadays, some people still send letters and invitations using paper and envelopes. Washi tape can be used to upgrade envelopes from being just simple to looking fun and creative.
WASHI TAPE PHONE CASE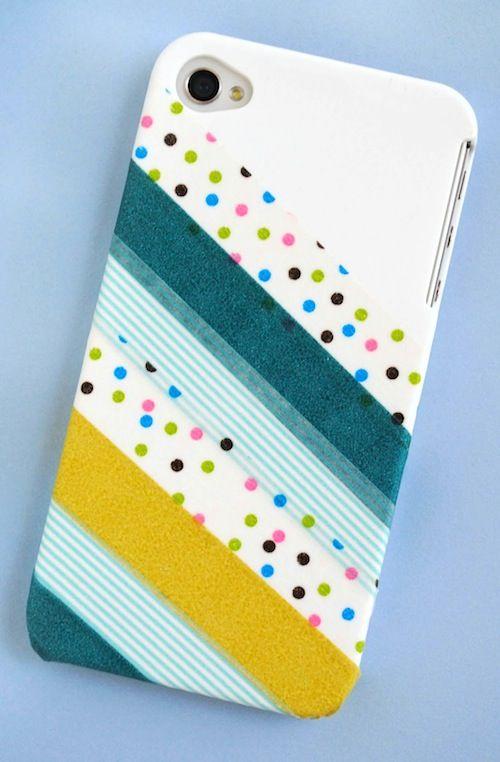 Sometimes we buy these plain phone cases thinking that it's way more mature than the patterned ones. However, it's hard to deny that we still want to bring out that playful side once in a while. With washi tapes, it's easy to customize plain phone cases and take them off when you want a more serious look.
BEAUTIFUL PATTERNED GLASS FRAMES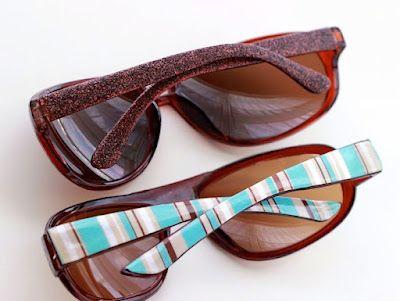 Gone are the days when glass frames come in one color. Nowadays, there are a lot of colorful frames but they aren't really appropriate for all situations. With washi tape, it's easy to customize your glasses and peel them off when going to work.
FLASHY EARRINGS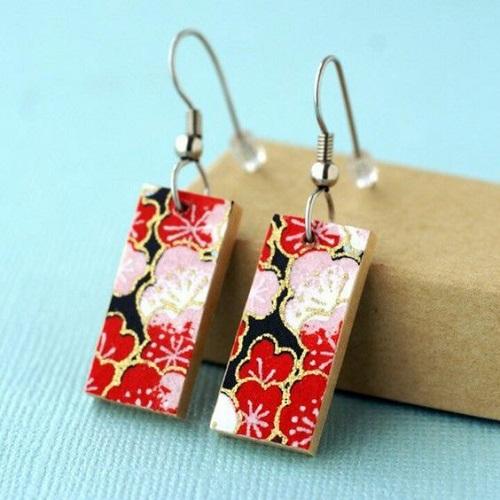 Instead of throwing out old worn out looking warring, just wrap it up with washi tape and it will look as good as new.
How To Do Washi Tape Art
While we have listed 20 awesome washi tape craft ideas for everyday use, you may still want a detailed tutorial. Check out this video to learn how to do washi tape art.
With washi tape, the world is your oyster when it comes to creativity. If you want to start trying out all of these ideas, you can check out our ZenPop store for the best stationery from Japan.
This article was originally written by our freelance writer Umm-Kulthum Abdulkareem, and edited by us.