Ramen comes in all shapes and sizes, and Sapporo Ramen is one of the most iconic ramen styles. Rich and salty, this ramen incorporates the flavors of Japan's northern island of Hokkaido, where cold winters are the norm. A bit of butter and a generous scoop of sweet corn makes this ramen a delicious treat to warm you up!
Ramen can have thick or thin broths, cloudy or clear; seasonings vary between shio, shoyu, and miso, while others incorporate chili oils or sesame. They also come with a variety of toppings, some more common, like the standard pork on top of tonkotsu ramen, and others more interesting, like a spoonful of corn. In this complete guide to Sapporo Ramen, we'll be taking a look at this delicacy from northern Japan and answer your questions; What is Sapporo Ramen? What are the origins of Sapporo Ramen? Where to eat Sapporo Ramen? and, Where to order Sapporo Ramen?


The Origin of Sapporo Ramen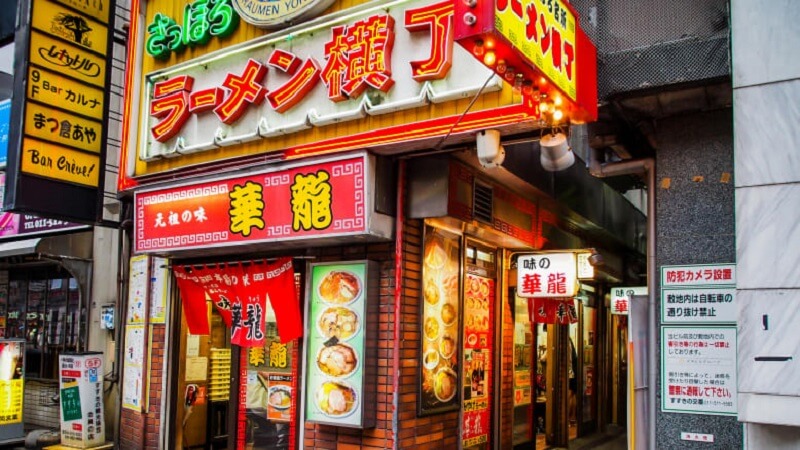 Source: CNN Traveller

Where does Sapporo Ramen come from? Hokkaido's special ramen was rumored to have been served after the second World War. It was first introduced into Sapporo by a Chinese chef in 1932, where the original style was a thick pork bone soup with soy sauce. After the war, people began to reinvent ramen styles, introducing thicker broths and different toppings.

It is rumored that a customer once asked for noodles to be added to his miso and pork soup, resulting in the popular Miso Ramen. This began at a restaurant called Aji-no-Sanpei, and they continue to serve their iconic Miso Ramen, using the same recipe, since its first appearance on the menu. Soon different toppings were added, such as vegetables to help with the fat content of the ramen.
Eventually, this Miso Ramen was so popular that it became the standard style of ramen in Sapporo. Sapporo is now known as a "town of ramen," and you can find several restaurants within walking distance from each other at Sapporo Ramen Alley. While there are many places to eat ramen in Sapporo, the iconic taste can be found at older shops that carry on the old traditions.

Modern variants of Sapporo Ramen incorporate spices like chili paste and oil, or other more unique toppings like leeks, onions, and cabbage. Modern twists change the toppings or the noodles, or even the base used (ranging from pork, chicken, to fish) to alter the taste, but the thing that makes Sapporo Ramen iconic is the miso-mixed broth.


What makes Sapporo Ramen Unique?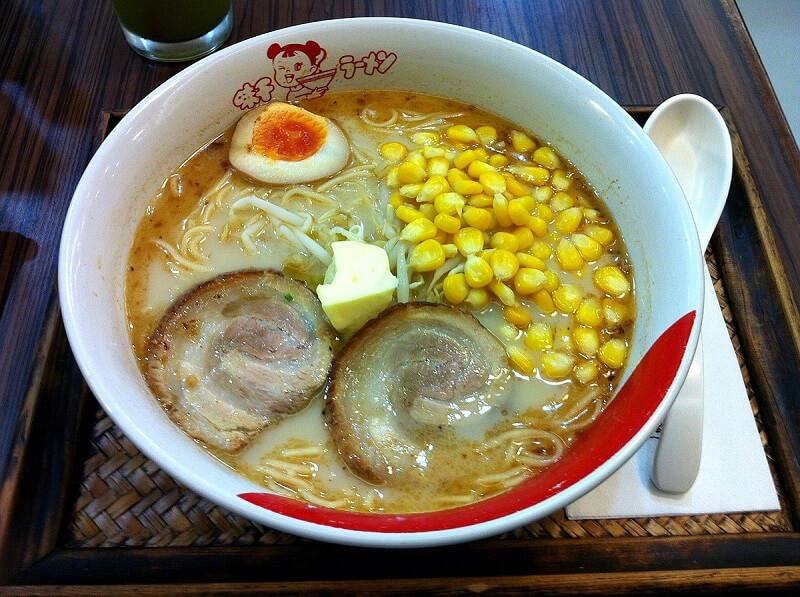 Source: Wikipedia
Sapporo Ramen's broth is miso-based, and particularly thick and rich in flavor. The tare or sauce of the ramen is made of soy sauce and miso, and is usually caramelized with vegetables before the rest of the pork broth base is added. This ramen is also unique in that most of the ingredients are cooked in the wok, the even and high heat creating deeper flavors and more intense aromatics.

The Miso broth is especially rich and thick due to the addition of butter, making it a heavier soup compared to other types of ramen. Hokkaido is actually also known as a producer of dairy products, so you can think of Sapporo ramen as an all-encompassing taste for the city and region.
In order to combat the high fat content in the broth, the toppings are usually loaded with seasonal vegetables and bean sprouts. These are also balanced out by generous loads of sweet corn on top. If vegetables aren't your thing, you can also have the noodles topped with seasonal seafood. The broth's deep, salty flavor combined with the sweet or savory toppings are sure to carry someone through Hokkaido's notably harsh winters.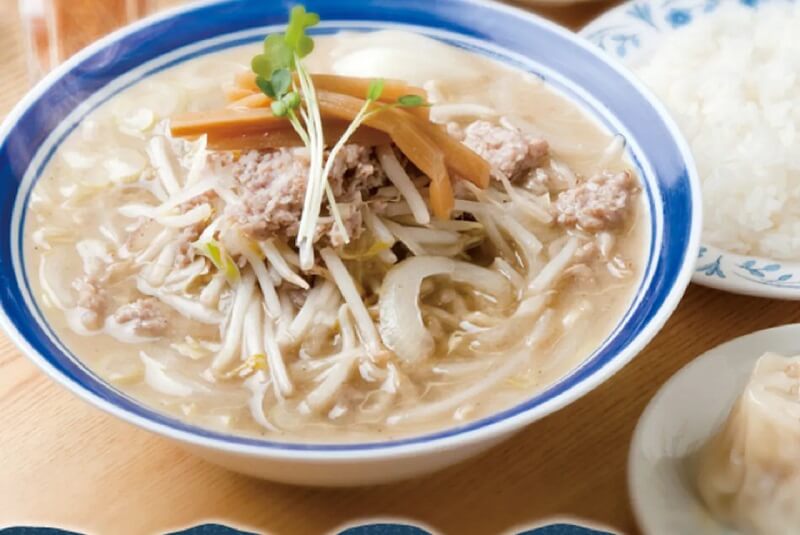 Source: aacdn
While other broths tend to hit you hard with flavor or tone you down for clearer, healthier options, Miso ramen tends to mellow out as you continue eating it, keeping its strong taste without hitting you in the face with too much flavor. It's a nice type of ramen to enjoy any time of the month, even if you aren't in the cold winters of Hokkaido.

Best Restaurants to Eat Sapporo Ramen
Where to find the best Sapporo Ramen restaurants? Sapporo Ramen Alley (Ganso Sapporo Ramen Yokocho). If you love all kinds of ramen, the Sapporo Ramen Alley in Susukino is more than worth a visit. The staff are used to serving foreigners, so whether you speak Japanese or not, you're likely to find a good fit here. The alley is open from lunch up until the early hours of the morning, though at night the stalls tend to be crowded due to the local nightlife scene. Here are some of the best restaurants to try at Sapporo Ramen Alley:
Baisensya
Baisensya's specialty is Sapporo miso ramen, with a special twist that blends two different types of Hokkaido miso. Not only is the miso carefully selected for its quality, but is fermented at room temperature in the restaurant to give them a rich yet mellow flavor. The amazing quality of their miso base also carries over to their miso ramen variants, which can go the more savory route with additions of blackened garlic and fried onions, to spicier versions that incorporate chinese chili oil and chili paste.
Shirakaba Sansou
Shirakaba Sansou is a small restaurant located in Sapporo Ramen Alley, seating only a few customers at a time. This hole in the wall restaurant features hearty broth made of chicken or fish flavored with their miso. Their ramen comes heavy with toppings, like chashu, nori, and ground pork-- and additionally, a great supply of boiled eggs that you can add to your ramen.
Aji no Karyu
Aji no Karyu was featured by Anthony Bourdain, and is known for not only its miso ramen, but also its selection of Hokkaido seafood. While many say that the corn-and-butter ramen experience is odd or targeted towards tourists, the combination and balance of the thinly sliced beef, miso broth, sweet corn, and butter truly makes for a different ramen experience compared to other miso-based broths.
Aji no Sanpei
Known as the birthplace of miso ramen, Aji no Sanpei serves the most authentic original Sapporo ramen. Unlike the others on this list, Aji no Sanpei is located at Daimaru in Sapporo. Their recipe has not changed for several years, giving a refreshing taste of the basic, original miso ramen at its peak. While others may serve more trendy variants, it's nice to come home to the taste of the traditional miso ramen. Be careful though-- Aji no Sanpei usually has a pretty sizable line to get in!

What Are the Best Sapporo Instant Ramen Options?
Sapporo Ichiban Miso Ramen

The popular ramen brand Sapporo Ichiban makes instant miso ramen with a chicken broth base, creating a slightly sweet instant alternative to getting miso ramen at a restaurant. You can dress it up with a number of different toppings, including butter and sweet corn, or just the regular addition of a boiled egg and sliced pork. Sapporo Ichiban Miso Ramen is very accessible, and has a flavorful miso broth that has a good balance of savory and sweet.
Nissin RAOH Umami Miso Ramen

Taking only 4 minutes to cook, the Nissin Raoh Umami miso ramen has a mild flavor and creamy texture. The soup base is close to restaurant quality, and you can even dress it up with your own additional toppings. It comes with high quality noodles that are air fried rather than deep-fried (for preservation, giving them a perfect chew and bite when you cook them. It also includes a sesame oil packet for those that like to add a little more flavor to their ramen.
Yamachan Sapporo Miso Ramen
Yamachan's Sapporo Miso Ramen comes with a very, very thick soup base, which may be intimidating for some. However, when fully mixed with warm water, the ramen broth itself comes out to be a rich soup with lingering flavor. The noodles feel just thick enough to chew through, and while not as thin as other instant ramen, they go very well with the hearty soup base.
Maruchan Instant Miso Ramen
Maruchan Japan offers an instant ramen that's sure to please a lot of people. While still basic, it comes with a generous amount of miso paste so that you can control the richness of your soup. Add just a little of the miso paste for a milder flavor, or add the whole packet for the maximum intended effect. As with the others, you can also add your own meat or vegetables to this-- why not try emulating the Sapporo Ramen with a little of butter, bean sprouts, and sweet corn?

Do you like Sapporo-style Ramen? Why not try out all the great varieties of regional ramen from Japan through Zenpop's Ramen Pack! You can get not only miso-style ramen, but other special varieties as well.