February is here and love is in the air! This month, you'll fall in love with our brand new Japanese subscription boxes!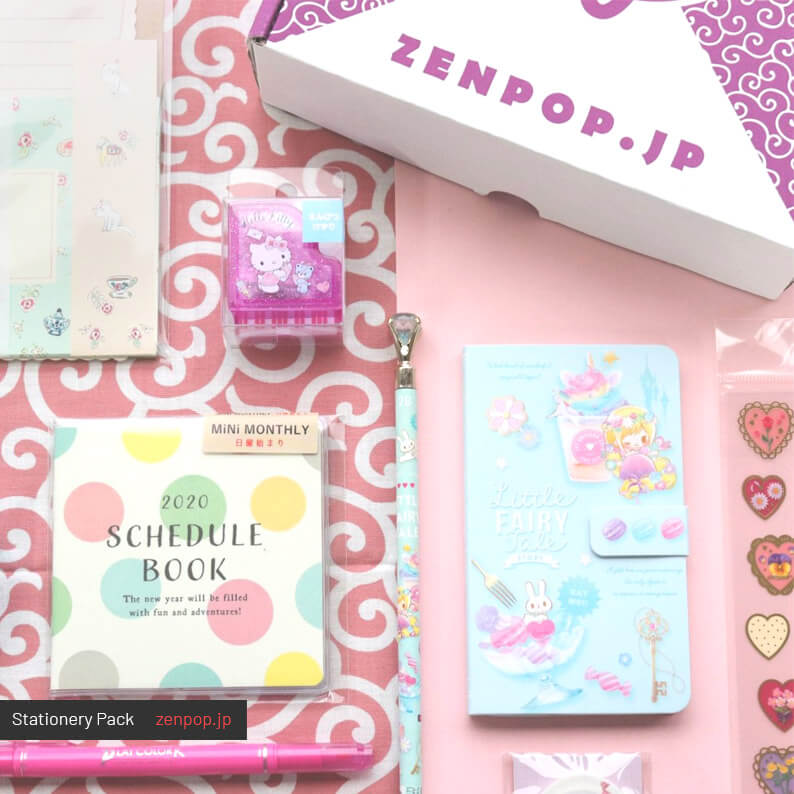 ZenPop's Japanese Stationery Subscription Box: Pastel Fairy Tale
Be swept away to a magical land with our Pastel Fairy Tale Stationery Pack! Fall in love with the colorful notebook and jewel-studded pencil from the 'Little Fairy Tale Story' series. Write your own fairy tale with the delicate letter set and pink Tombow dual tip pen. Be enchanted by each of the dreamy products, including a mini-schedule pad, Mt Fuji eraser, a special Sanrio item and custom-made ZenPop item. 10 dreamy items included.
Items:
Sanrio Pianco Pencil Sharpener
Plus AIR-IN Mt. Muji Eraser
Tombow - ZenPop Luna Glue Stick
Little Fairy Tale Smartphone Notebook
Little Fairy Tale Pencil
Mindwave Flower Hearts Stickers
Ryu Ryu 2020 Agenda
Pink Ribbon Washi Tape
Harupei Letter Set
Tombow Playcolor K - Princess Pink
Bonus Surprise: This month, 30 lucky subscribers will receive a bonus Little Fairy Tale Story pencil case! All subscribers (existing and new) are eligible to win. Good luck! Find out more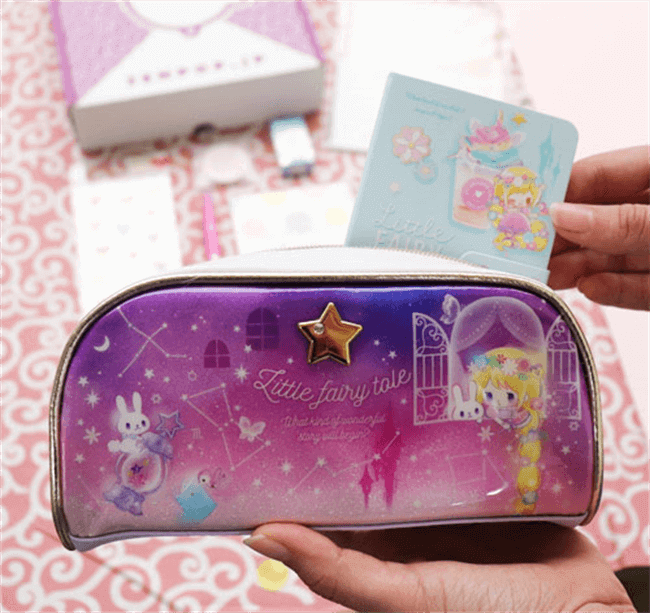 30 lucky ZenPop subscribers will win this Little Fairy Tale pencil case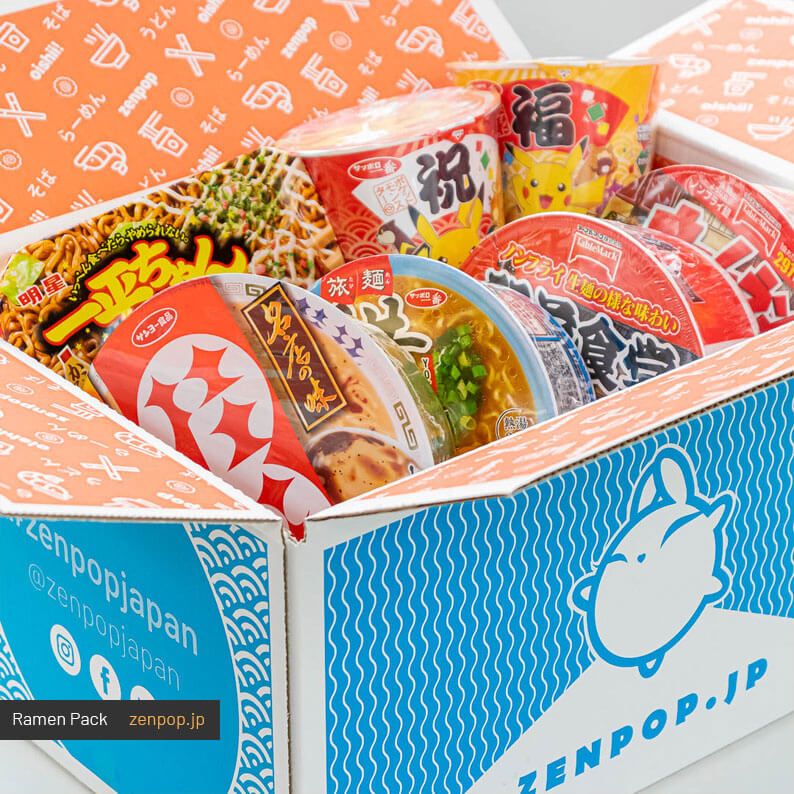 ZenPop's Japanese Ramen Subscription Box: Shoyu Love
Shoyu or soy-sauce is one of the most popular (and delicious!) ramen types in Japan. As many restaurants make their own special soy broth from scratch, no two shoyu ramen are alike! Savor a limited edition Pokémon shoyu ramen and udon, Yokohama's famous tonkotsu shoyu ramen and more! 7 full-size bowls of authentic Japanese noodles.
Items:
Pokémon Noodle - Shoyu Udon
Pokémon Noodle - Shoyu Ramen
Ekimae Shokudo Shoyu Ramen
Keika Kumamoto Tonkotsu Ramen
Yokohama Tonkotsu Shoyu Ramen
Homerun Chicken Shoyu Ramen
Rich and Sweet Thick Yakisoba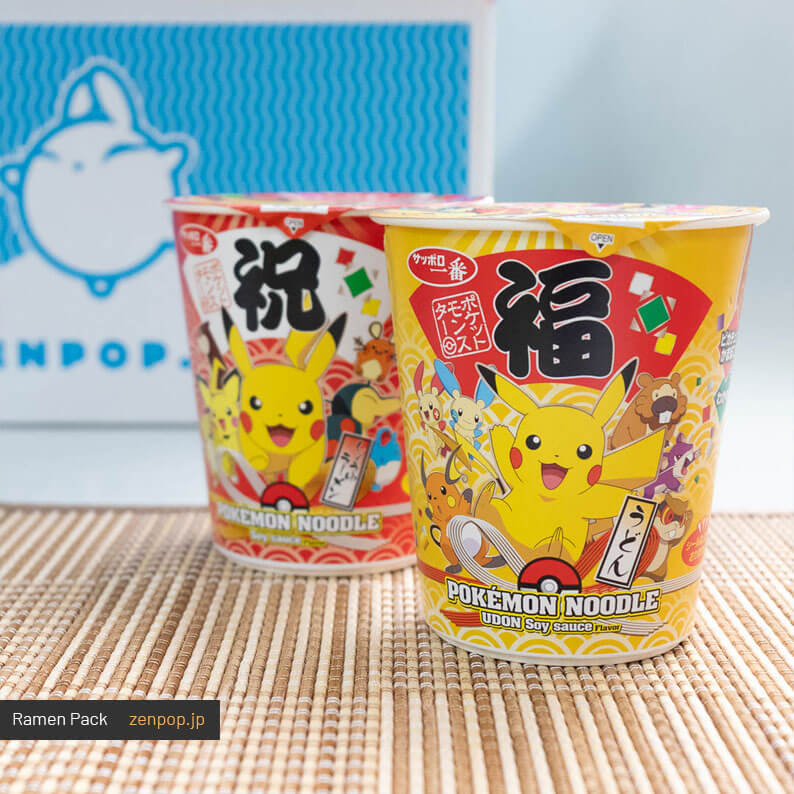 All subscribers will get two tasty and limited edition Pokémon instant ramen
Limited Edition Pokémon Ramen
This month, all ZenPop ramen subscription box subscribers will get two Pokémon cup noodles - shoyu udon and a shoyu ramen - to celebrate National Pokémon Day on the 27th February. You gotta eat 'em all!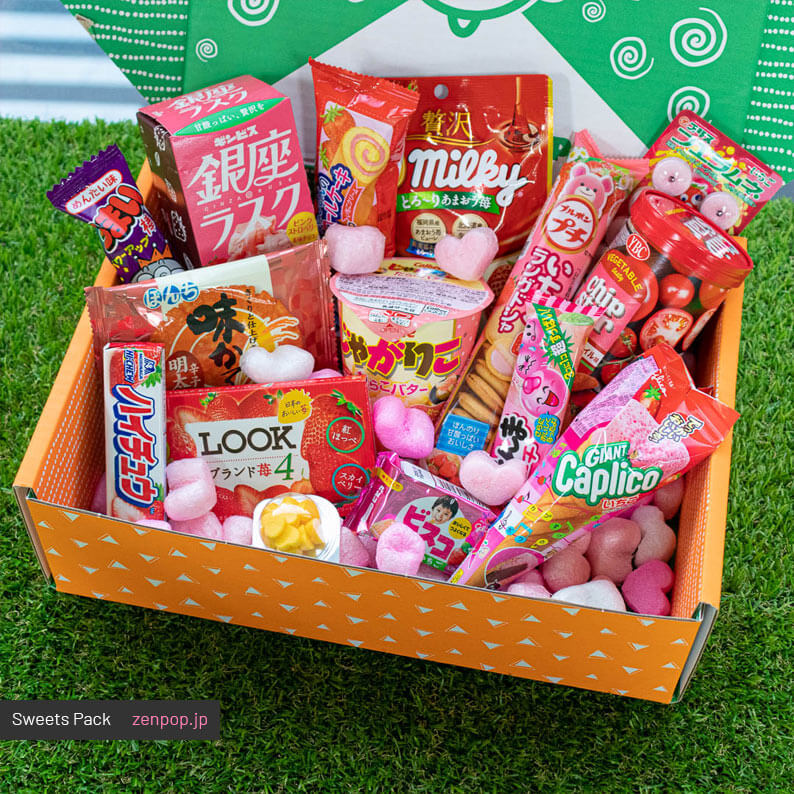 ZenPop's Japanese Sweets Subscription Box: Strawberry Lover
To celebrate Valentine's Day, enjoy the sweet taste of strawberry treats, including a limited-time Milky candy, Hi-Chews, a crunchy 'ice cream' cone and lots more. You'll also enjoy savory snacks like Jagariko, a limited edition ChipStar flavor and mentaiko senbei, a popular delicacy in Japan. 15 sweet and savory snacks from Japan.
Items:
Milky Amou Strawberry
Strawberry Bisco
Giant Caplico Strawberry
LOOK Strawberry 4
Puchi Strawberry Langues de Chat Biscuits
Ginza Rusk Strawberry
Strawberry Whistle Ramune
Strawberry Hi-Chew
Strawberry Cream Roll Cake
Peach Gum
Tomato Olive Oil Chipstar
Mini Banana Heart Chocolates
Jagariko - Tarako Butter
Mentaiko Senbei
Umaibo Mentaiko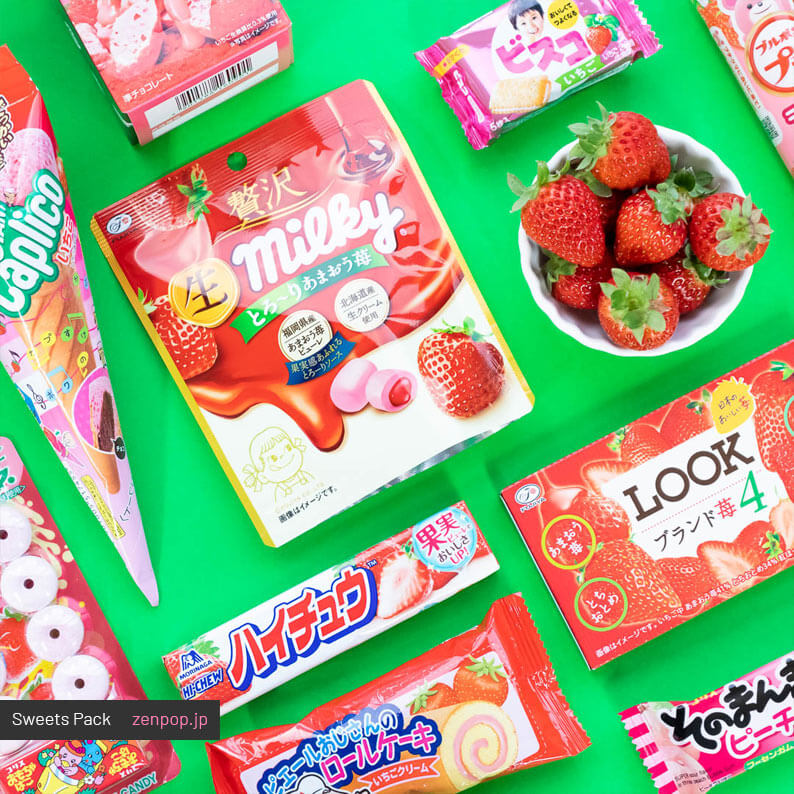 Find out more about the variety of Japanese strawberries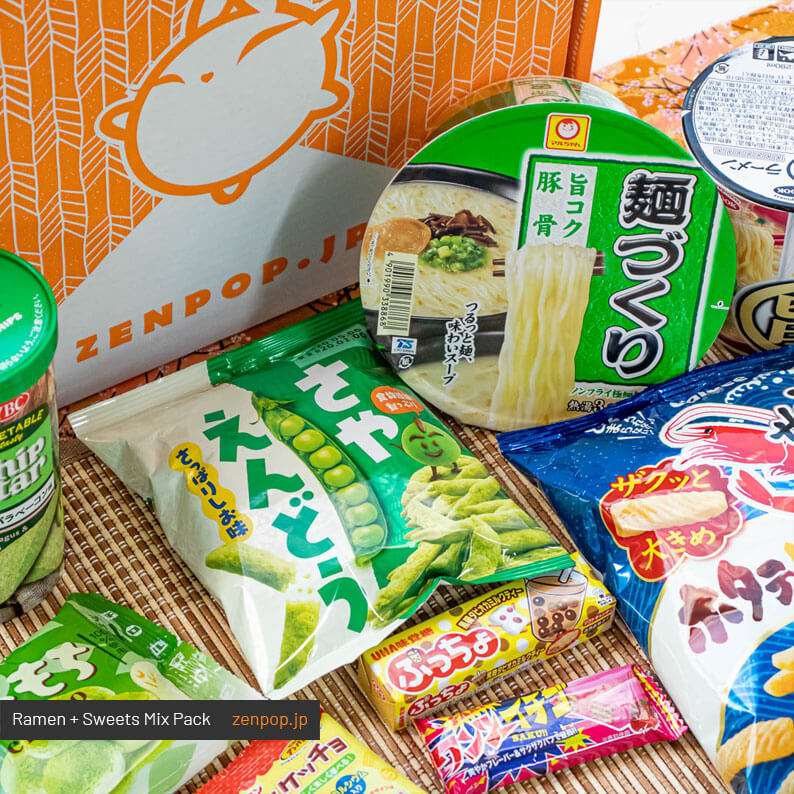 ZenPop's Japanese Ramen and Sweets Subscription Box: City Izakaya
Visiting an izakaya (tavern) is an absolute must-do in Japan. Feast on crunchy edamame (soybean) crisps, a limited-time scallop butter and shoyu chips, tasty tonkotsu (pork-bone) ramen and more! For a sweet treat, try popular Boba Milk Tea gummies or traditional matcha chocolates. 2 bowls of ramen and 7 sweet or savory snacks.
Items:
Tonkotsu Ramen
Tonkotsu Ramen
Asparagus Bacon ChipStar
Scallop Butter and Shoyu Kappa Ebisen (Shrimp Flavored Chips)
Boba Milk Tea Puccho Candy
Tirol's Matcha Mochi Choco
One Two Ichigo
Calbee's Saya Endo - Edamame (Soybean) Crisps
Anpanman Hiragana Choco Biscuits
April's ZenPop Packs Out Now!
Be the first to get a sneak peek of ZenPop's new Japanese subscription boxes:
Follow #zenpopjapan