When looking for the next best hard candies to buy, Japan has a lot to offer. These candies come in different shapes, sizes, and flavors. Various Japanese candy makers not only create candies that we're used to eating, but they also make it a point to produce creations that fuse modernity with tradition.
In this post, we will explore some of the best Japanese hard candies available in the market. For each product, we will take a closer look at what makes them special.
Konpeito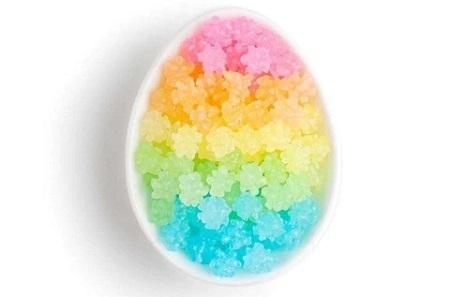 If you're looking for a traditional Japanese hard candy, konpeito is a perfect choice. Hard as it may be to believe, the country has been enjoying this treat for centuries.
Not only are they sweet like sugar, but they look cute too. The round-shaped candies look like stars with their spikes. They come in different colors, including blue, pink, white, orange, violet, green, and more. Their cuteness makes them a perfect treat for the young and old.
Is konpeito expensive?
During the 16th century in Japan, sugar was expensive just like in the rest of the world. And since konpeito is purely made of sugar, having one at the time is considered a luxury. Only high-class nobles and samurai families were privileged enough to purchase konpeito.
Nowadays, bags of konpeito will only cost you less than five bucks.
Morinaga Ramune Soda Candy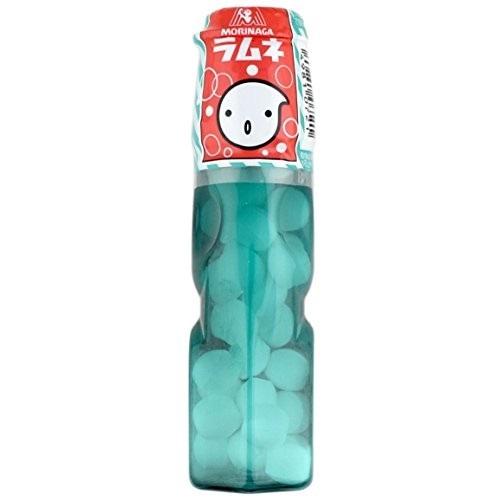 Among Japan's best-selling candies is the ramune soda candy from Morinaga. It tastes exactly like Japanese soda, but this time, it's in candy form. Ramune soda is a popular lemon-lime carbonated soft drink in Japan that is known for its unique bottle design and marble stopper.
The candies are shaped like tablets. They are packaged in a small plastic bottle that mimics the shape of a ramune drink.
These candies are a great pick-me-up when you're feeling tired from work, studying, or even a hangover! They're really refreshing and packed with 90% glucose, which can give your brain a nice boost of energy.
Asahi Calpis Milk Candy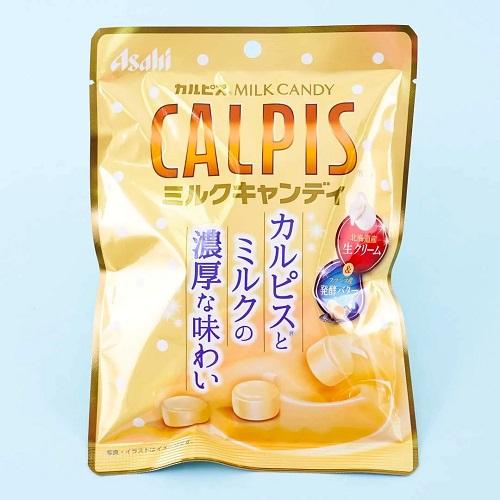 Japanese food companies love turning their beverage into candy form. Asahi is one of them, and they turned their cultured milk drink into a sweet treat. The manufacturer seasoned their milk candy with their own lactobacillus beverage.
The candy is made thicker and richer using Hokkaido cream and French fermented butter. With its flavor and packaging exuding luxury, it will surely be a hit for adult candy lovers.
It's important to note that dairy products from Hokkaido are top-notch because of the excellent farming conditions and environment on the island.
Kasugai Flower's Kiss Candy (Hana no Kuchizuke)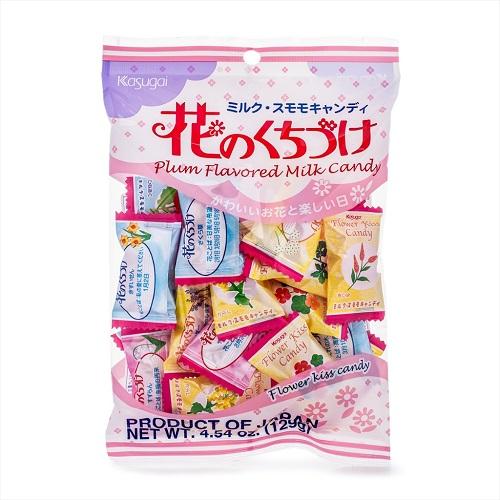 Kasugai Flower Kiss Candy is a beloved treat that many people enjoy. The hard candy mixes condensed milk with the candied Japanese apricot plum.
It's like you're having a milk and fruit dessert.
Each candy is packed in a pastel-colored wrapper for freshness. And while the colors are different, the candy is the same. Kasugai boasts that this sweet treat will give you a flowery breath.

Lion Janjaka Soda Candy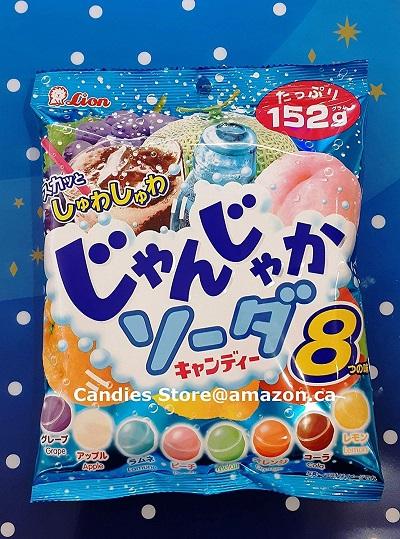 Fizziness is not something that you only experience from a soda drink. It can come from a sugar treat such as the Janjaka Soda Candies.
The best thing about a pack of this product is that it includes 8 different beverage-based flavors. These include apple, cola, grape, lemon, melon, orange, peach, and ramune. So if variety is what you're looking for in a pack of candies, Janjaka Soda Candy is your best bet.
Nobel Otoko Ume Candy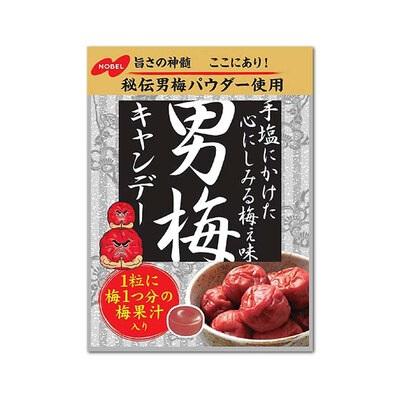 For most people, ume is an acquired taste. But that won't keep us from adding Nobel Otoko Ume Candy to this list.
For most candies, it's all about sweetness. But that's not the case for Nobel Otoko Ume Candy. It will surely surprise your taste buds with its unique kind of salty and sour taste.
And don't let the name fool you into thinking that the candy is only for guys. This can be enjoyed by anyone.
But be warned, it's packed with intense ume or Japanese plum flavor. It comes from the juice contained in the candy, giving you an experience that's near eating an actual plum. So if you're feeling adventurous and want to try something different, give Otoko Ume Candy a try!
Ryukakusan Herbal Drops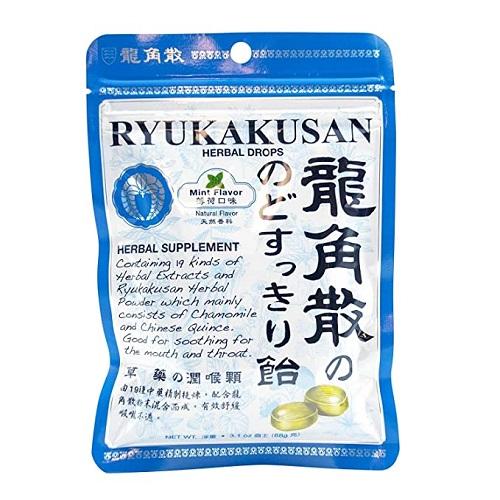 Not all candies are intended as a sweet delight that everyone will snack on. Others can actually be beneficial for one's throat. Ryukakusan Herbal Drops are among them.
You don't need to have a throat problem to enjoy the cough drop Ryukakusan. If you just want to freshen your breath, pop this candy.
Ryukakusan's candy, in 2018, gained quite an attention in a not-so-good way. But this isn't the brand's fault, though. The unfortunate incident happened during a city assembly. Kumamoto Prefecture Councilwoman Yuka Ogata was kicked out of the hall for eating a Ryukakusan cough drop during the meeting. She was criticized on the spot, with some people shouting that it was against the rules and she should leave.
Kasugai Kuro Ame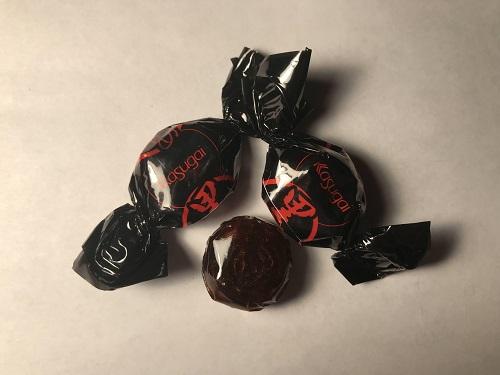 Okinawa is known for being the source of the black sugar called kokuto. For people who want a taste of this healthy sweetener, Kuro Ame by Kasugai is the answer.
This sweet treat, whose name literally means black candy, uses Okinawa black sugar that's cooked over an open flame. This process creates a rich taste and aroma.
People who pop this candy will be treated to a mellow and sweet taste with hints of bitterness. It's perfect for people who love candies with a depth of flavor.
Special Mention: Sakuma Drops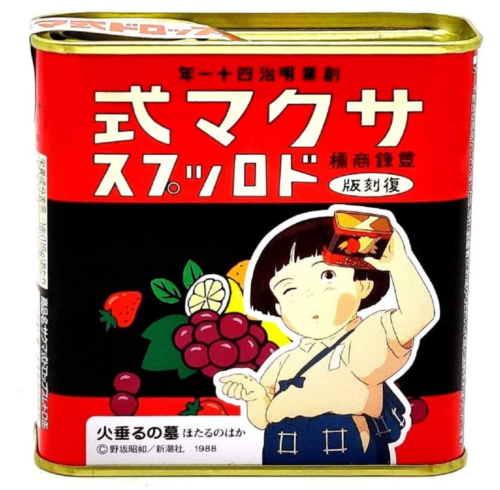 Not all people have tried Sakuma Drops. But if you've heard the name, you've likely seen the Ghibli animated movie Grave of the Fireflies. The candies were a significantly featured motif in the anime.
Japan has a long history with the Sakuma Drops. The juice-flavored candies were created by Sakuma Seika in 1908. It once ceased operations during the Second World War.
Sadly, with the rising production costs and lesser sales, the company has decided to close down for good. Throughout its 114-year history, however, Sakuma Drops has remained a beloved treat for many people, both in Japan and around the world.
So before it completely disappears from the market, try looking for it in your favorite online shop.
Conclusion
Japanese confectioneries and food companies successfully created a variety of hard candies that can cater to people of all ages. From fruity and fizzy treats that will delight the young ones to sweets with a unique and luxurious taste, there is something for everyone.
With tons of flavors to choose from, people will surely find candies that will suit their tastes and treats that make excellent souvenirs. You can also get some of those treats delivered to your home in one of our ZenPop snack boxes!