This month, we're back with a fun and unique theme for each of our packs, following August's Summer Festival theme for all packs. Choose from:
We're also excited to introduce you to our brand new Limited Edition Pack - Washi & Sticker Lover! ZenPop's Limited Edition Packs are exciting one-off boxes of unique and must-have products from Japan, as requested by our fans! Ordering is easy and no subscription is necessary. Stock is limited!
Ramen + Sweets Mix - Snack Sensei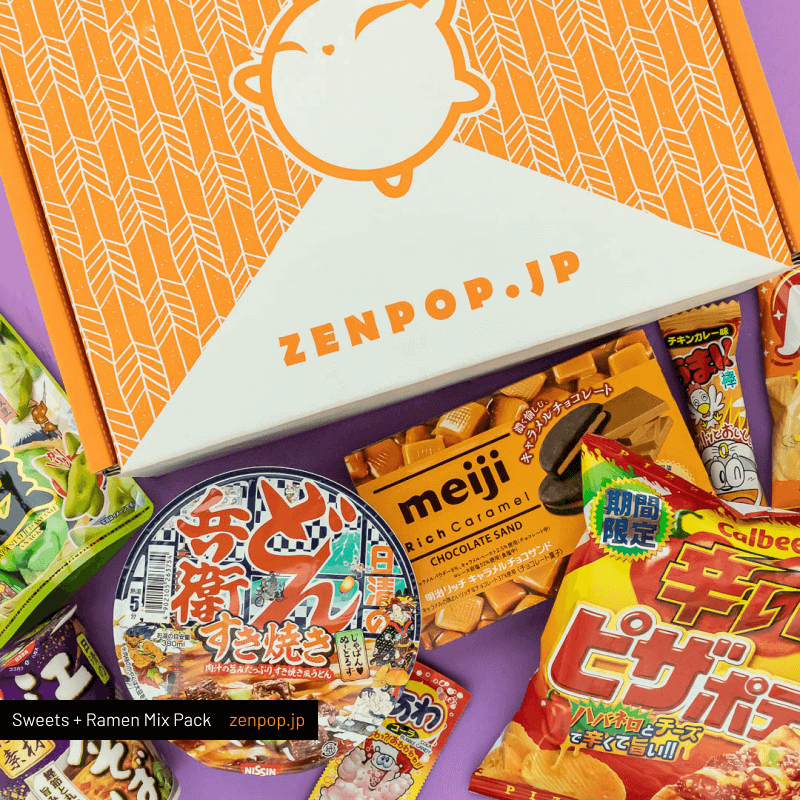 Earn your status this month as a Snack Master with our new Snack Sensei Ramen + Sweets Mix Pack! It includes a bunch of savory snacks that represent real Japan, like Sukiyaki-Style Udon and Edamame Crisps, as well as others with a more modern taste, like Calbee's new Spicy Pizza Potato Chips. For all your dedication to mastering the art of snacking you've also earned a delicious sweet treat or two! So, we included Meiji's new Rich Caramel Choco Sando!
Your Snack Sensei Ramen + Sweets Mix Pack includes:
Nissin Sukiyaki-Style Udon
Nisson Edo Soba
Calbee's Spicy Pizza Potato Chips
THE Edamame Snack
Chicken Curry Umaibo
Happy Turn Rice Crackers
Meiji's Rich Caramel Chocolate Cookies (6 Pack)
Awa Cola Ramune
2 full-sized noodle dishes plus 6 sweet and savory snacks are included in your ZenPop Ramen + Sweets Mix subscription box.
Limited Edition - Washi Tape & Sticker Lover
Decorate your bullet journal or planner with 4 beautiful washi tapes and 4 cute sticker sheets.
Washi tape and stickers are the perfect Japanese stationery items to dress up your bujo, planner, study notes, pen pal letter, gift, craft project...or anything!
Build your Japanese stationery collection with these special items:
4 varieties of unique and easy-to-use washi tapes, including pre-cut, slim and perforated
4 fun and different stickers sheets - perfect for your planner and more
What's a ZenPop Limited Edition Pack?
You choose the kinds of packs—tell us what you want!
Only small runs of each limited edition pack are available
It's a surprise! No two packs are ever the same
No monthly subscription required
Stationery - Kawaii Characters (SOLD OUT)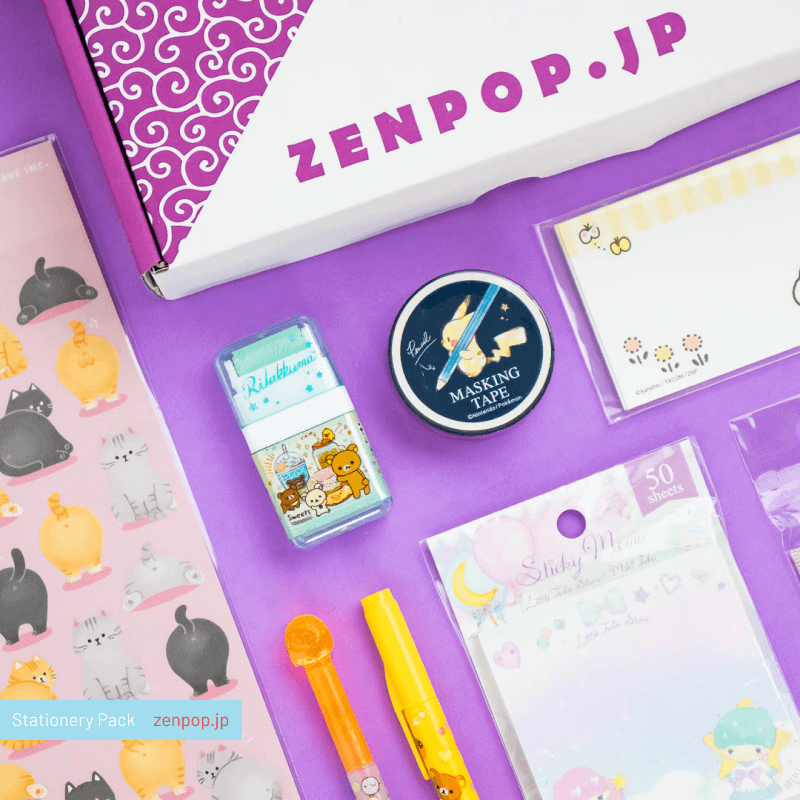 Did you know that there are thousands of cute characters and mascots in Japan? We are sure you know a few of them! ‌But why do people in Japan like characters so much? And why are there so many of them?
Cuteness is of course one of the reasons, and another reason is because a lot of Japanese look to be "healed" from characters.
Let your heart be healed by Rilakkuma, Sumikkogurashi, Kirby and more in this month's ZenPop Japanese Stationery Pack.‌
Your Kawaii Characters Stationery Pack includes:
Pokémon Masking Tape - Pikachu Series
Free Diary 'To Do' Masking Tape
Tenori Ichioshi Glue Tape Stamp
Animal Oshiri Stickers - Rabbit, Hamster or Cat
Zombie Cat Mini Cards
Sanrio Sticky Memo - Cinnamorolll or Little Twin Stars
Kirby 30cm Ruler
Rilakkuma Rolling Eraser
Rilakkuma Play Color 2 Double-Tipped Pen
Sumikko Gurashi Double-Tipped Pen
10 beautiful stationery products are included in your ZenPop Japanese Stationery subscription box.
*September's Kawaii Characters Stationery Pack has sold out. Subscribe today to pre-order October's Halloween Cuties Stationery Pack.
Ramen - Local Favorites (SOLD OUT)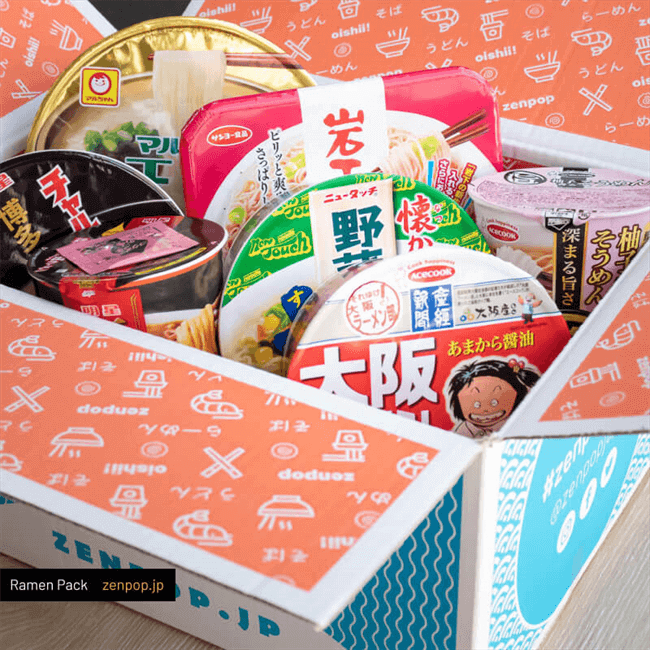 Eating in Japan is easy, but eating like a local can be a bit more challenging. Join our Local Favorites food tour to discover new flavors and ramen varieties that you'll want to slurp up again and again. In Japan, we're spoilt for choice when it comes to fresh and tasty noodles. We all have our favorite ramenya (restaurant), whether it be for a rich tonkotsu (pork bone broth) or light and healthy zaru soba. What are your favorites?
Your Local Favorites Ramen Pack includes:
Rich Toro Tonkotsu Ramen
Osaka Shoyu Ramen
Chicken Shoyu Ramen
Natsukashi no Yasai Tan Men
Yuzu Soumen
Hakata Bari-kata Tonkotsu
Iwashita Shin-shoga Shio Yakisoba
Find out more about the origin and flavors of each of these tasty instant ramen.
7 full-sized Japanese noodle bowls are included in your ZenPop Japanese Ramen subscription box.
*September's Local Favorites Ramen Pack has sold out. Subscribe today to pre-order October's Flavors from Beyond Ramen Pack.
Sweets - Anime Friends (SOLD OUT)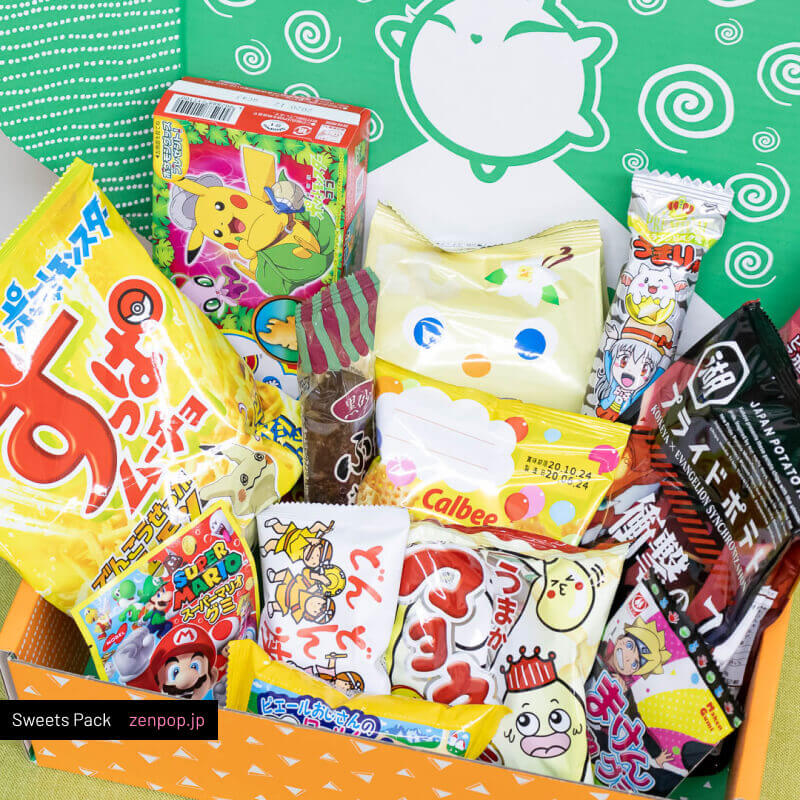 We've gathered all of your favorite anime friends into one action-packed Sweets Pack! Hang out with Pikachu, Doraemon and Super Mario, as well as the lead characters from popular anime series like Evangelion and Naruto. Plus you'll meet some of Japan's cutest snack mascots.
Your Anime Friends Sweets Pack includes:
Koikeya X Pokemon Vinegar Lemon Suppa Mucho
Ottotto X Pokémon - Usu Shio
Koikeya X Evangelion Synchronization - Pride Potato (Consome Flavor)
Shigekix Shigemon Footprints EVO Soda
Boruto Maken Energy Drink Gummies
Super Mario Gummies - Cola and Ramune
Bourbon Petit Black Tea Biscuits
Tohato's Caramel Corn - Vanilla
Calbee's BBQ Chips
Umakamon Mayonnaise Snacks
Umaibo - Bisque Flavor
Dondon Yaki Crackers
Butter Cream Roll Cake
Brown Sugar Fugashi
Doraemon Cool Cola Gum
15 different Japanese candy and savory snacks are included in your ZenPop Sweets subscription box.
*September's Anime Friends Sweets Pack has sold out. Subscribe today to pre-order October's Spooky Delights Sweets Pack.
Follow us #zenpopjapan