Find out what was in February's Japanese subscription boxes. Direct from Osaka, Japan to you!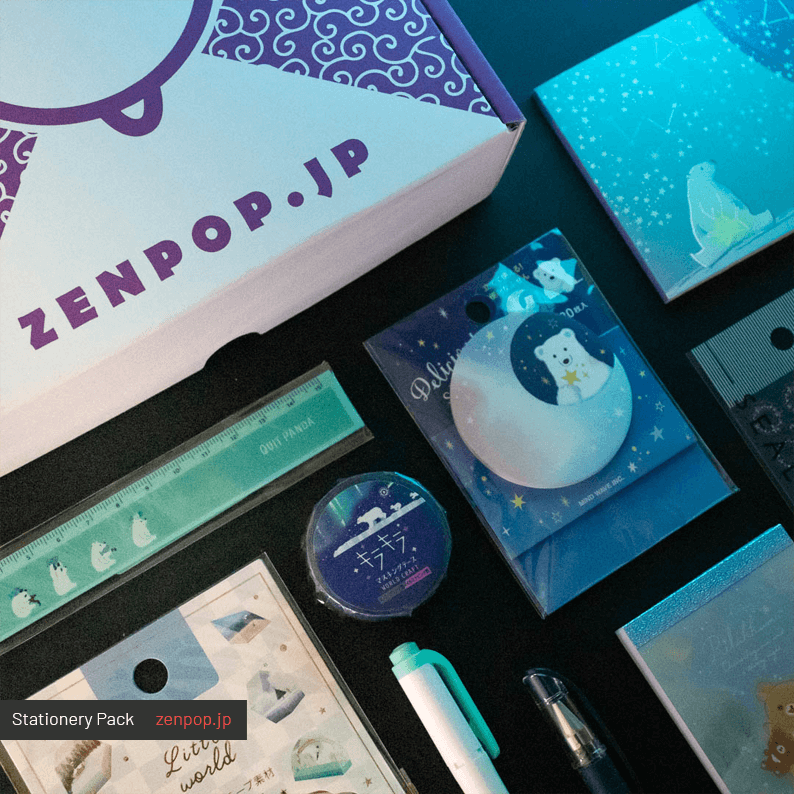 Japanese Stationery Subscription Box | February's theme: Starry Night
Be dazzled by the beauty of a starry night sky with our favorite friends Rilakkuma and Kirby, as well as the majestic and beautiful shirokuma (polar bear). Get ready to sparkle in the new year, with glittery washi tape, gilded flake seals, starry sky schedule stickers and more. Make a wish on a shooting star and capture it in your new Rilakkuma starry night memo or on your Japanese-style "one-stroke writing paper" with one of your two writing tools, including a Mildliner!
10 beautiful and sparkly items included.
Items:
Starry Sky Glitter Washi Tape
Shirokuma Stand Fusen
Rilakkuma Starry Night Mini Memo
Shirokuma Ippitsusen Notepad
Shirokuma To-Do List
KIGURUME's Quit Panda Slim Ruler
Starry Sky Schedule Stickers
Gilded Washi Flake Seals
Mitsubishi Signo Uni-ball Extra Fine (Blue-Black)
Kirby's DreamLand Mildliner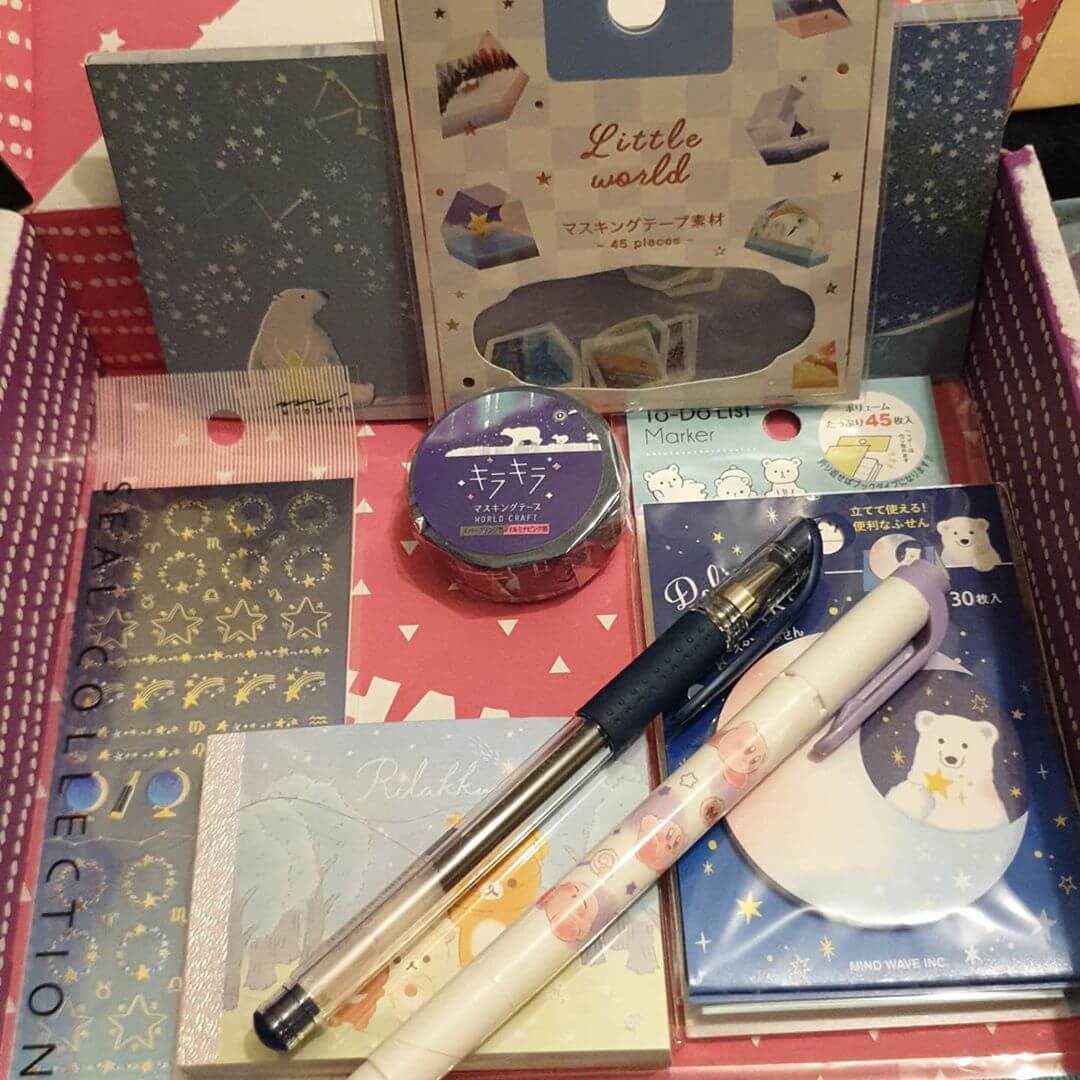 When your latest ZenPop Japan stationery box comes and it is so beautiful you don't want to use anything 😭 @miss.nicolleforever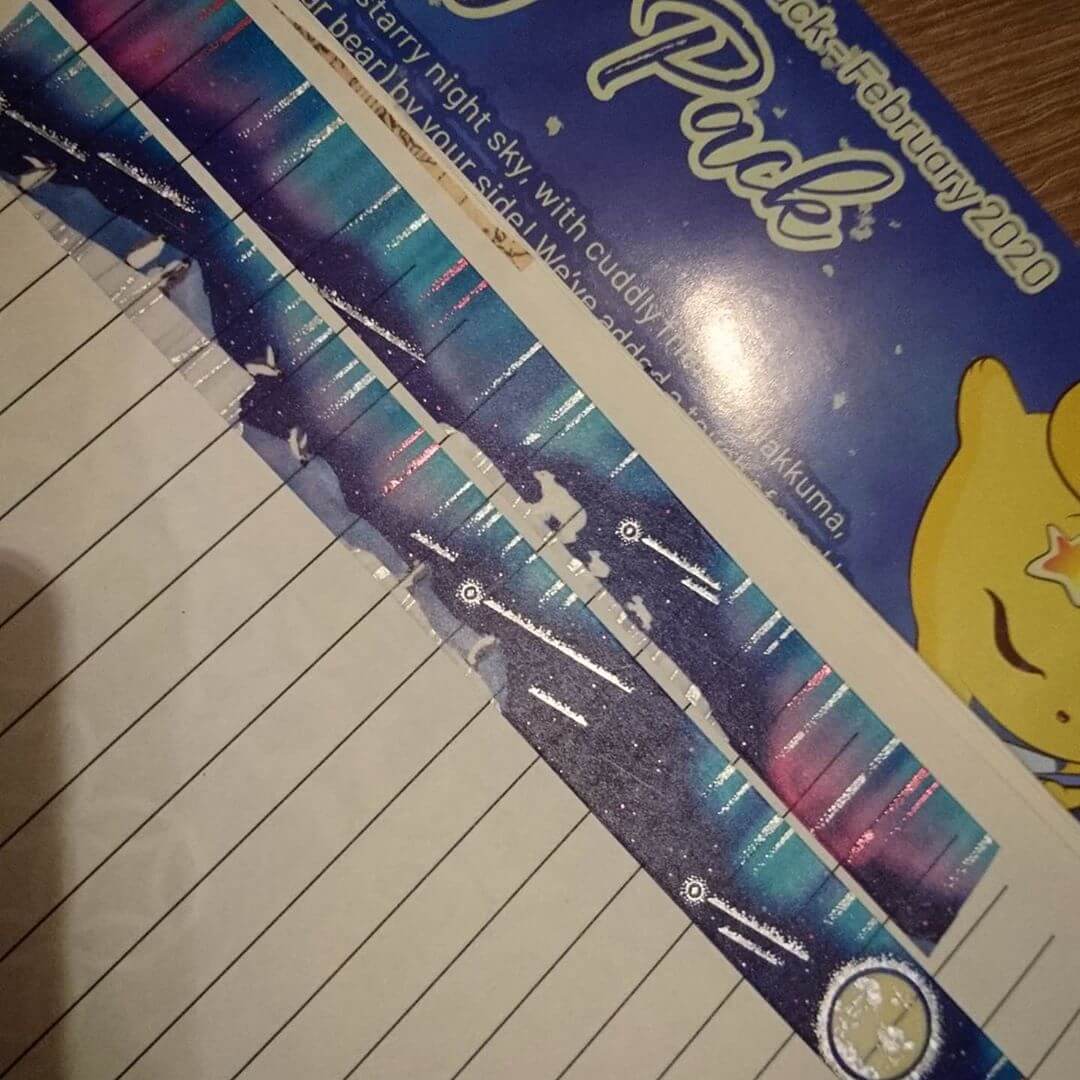 This new Washi is art itself 😍 ✨ 🐧 @steffispics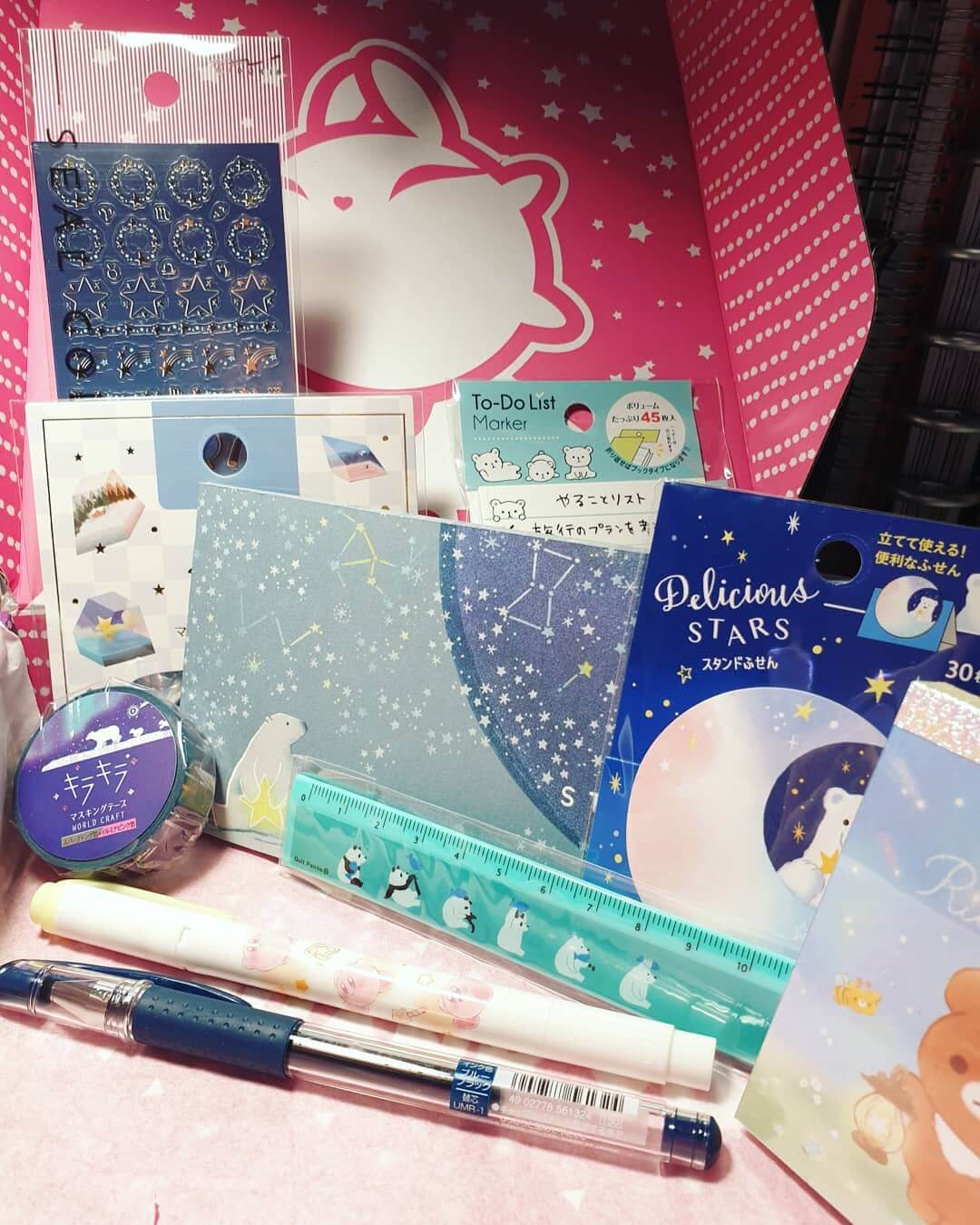 I really love this box, she never disappoints me 💕 @shifumiesjournal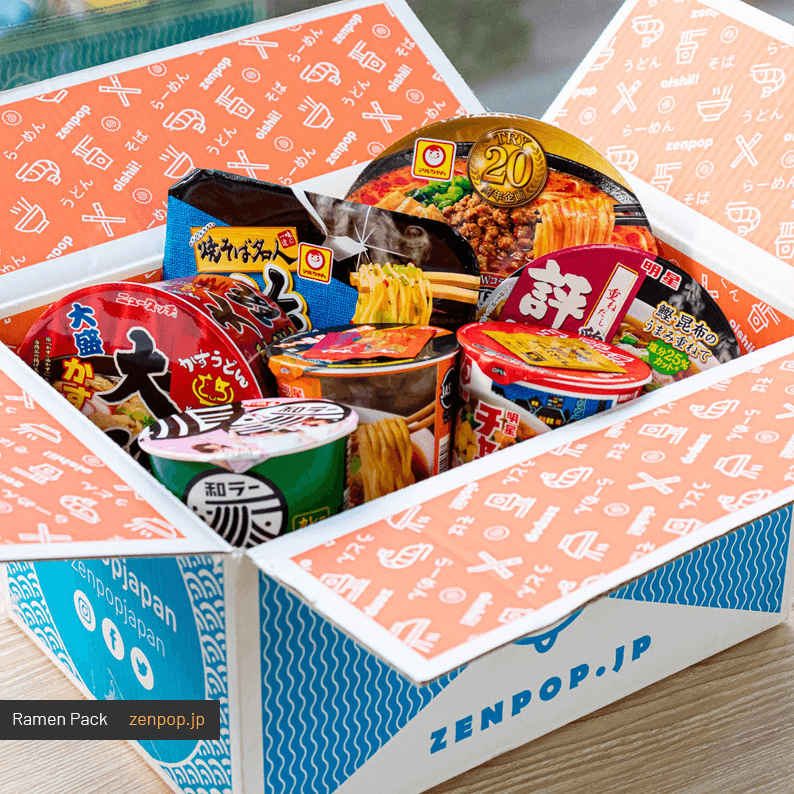 Japanese Ramen Subscription Box | February's theme: Trip to Japan
Transport your taste buds to Japan with this variety of popular and premium instant noodles! You'll try classic flavors, like miso and shoyu (soy sauce) ramen and nanban soba, to unique and off-the-beaten-track tastes! Starting in northern Japan, slurp up Sapporo's infamous soup curry. Next, a special ramen collaboration from two award-winning ramenyas that specialize in miso and tonkotsu. If you're an adventurous traveller, experience a traditional Osakan udon dish with a starring ingredient might surprise you! We wish you a safe and enjoyable trip to Japan.
7 classic and uniquely Japanese full-size instant noodle bowls.
Items:
Oshima X Tanaka Shoten - Miso Tonkotsu Ramen
Osaka Kasu Udon
Niwatori Nanban Soba
Charumera Shoyu Ramen
Sapporo Soup Curry Ramen
Mellow Miso Ramen
Shio Yakisoba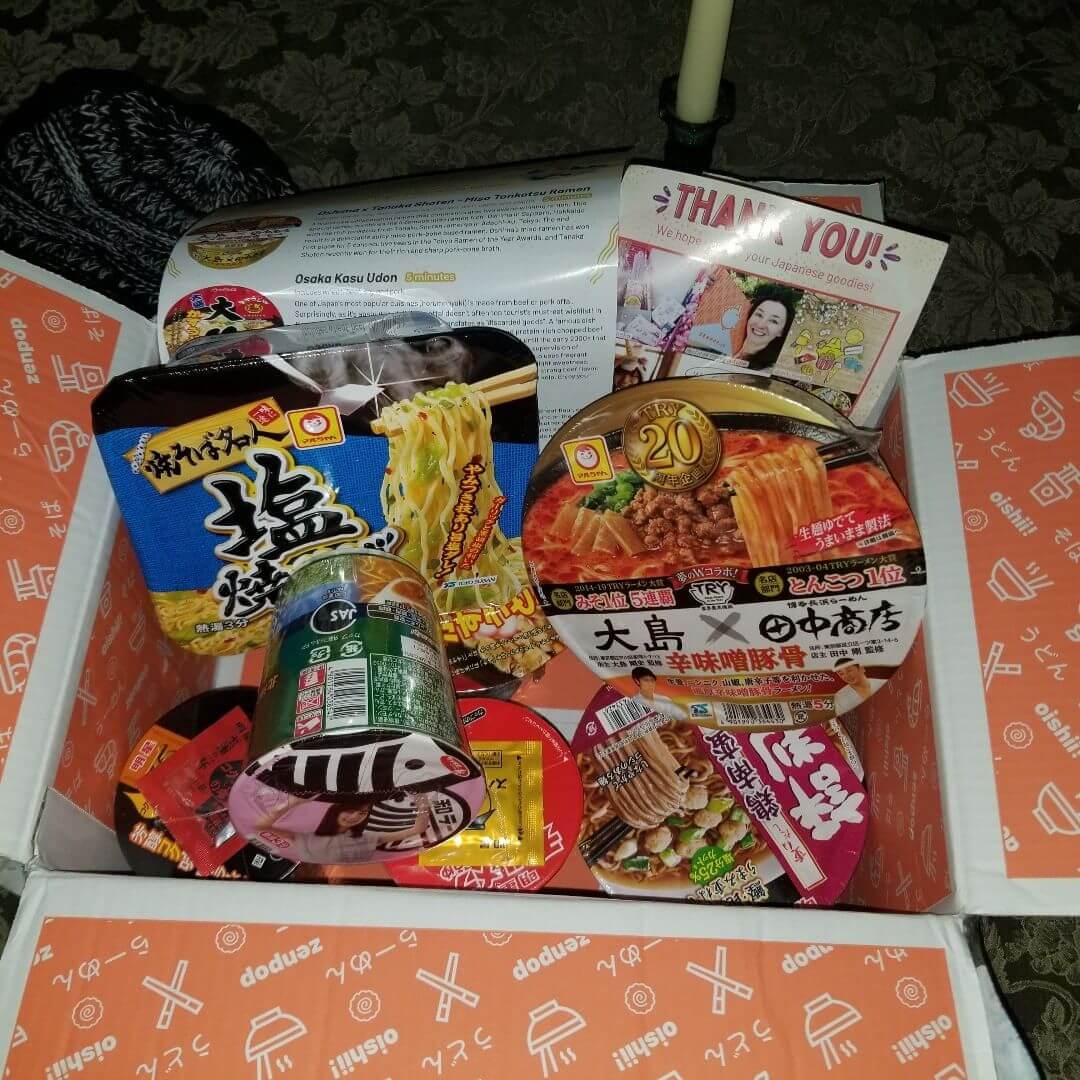 Thank you #zenpopjapan for another amazing package! @valkyrie_needs_food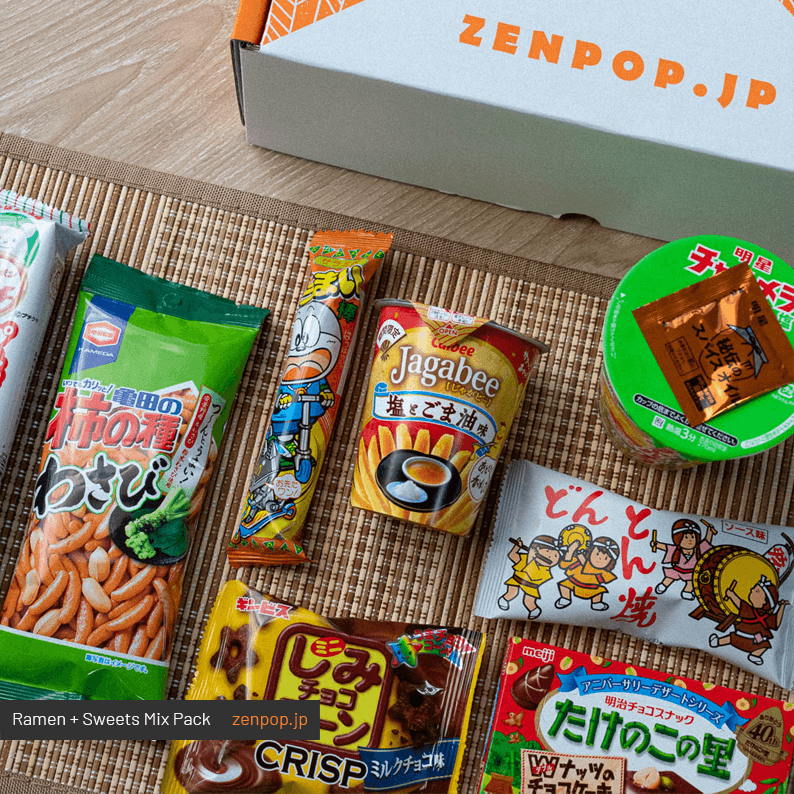 Japanese Ramen + Sweets Subscription Box | February's theme: Midnight Snacks
Satisfy your late night cravings with this month's Midnight Snacks Mix Pack! We were inspired by the popular TV series, Midnight Diner, based on the best-selling Japanese manga. Open from 12am to 7am, the izakaya (restaurant) serves up tasty comfort food in the busy nightlife area of Shinjuku, Tokyo. Pull up a counter stall and re-fuel with salty stir-fried noodles, Kaki no Tane (a classic Japanese bar snack), savory pancakes and more. If you're ready to call it a night, then indulge with a sweet treat or two, like Takenoko no Sato's nutty chocolate cake. Sweet dreams!
2 salty ramen, 5 savory snacks and 2 sweet treats.
Items:
Charumera Shio Ramen
Shio Yakisoba
Wasabi Kaki no Tane
Calbee's Jagabee Salt and Sesame Oil Crisps
Milk Chocolate Shimi Choco
Takenoko no Sato - Double Nuts Chocolate Cake
Umaibo - Salami Flavor
Puchi - Margherita Pizza Chips
DonDon Yaki Sauce Flavor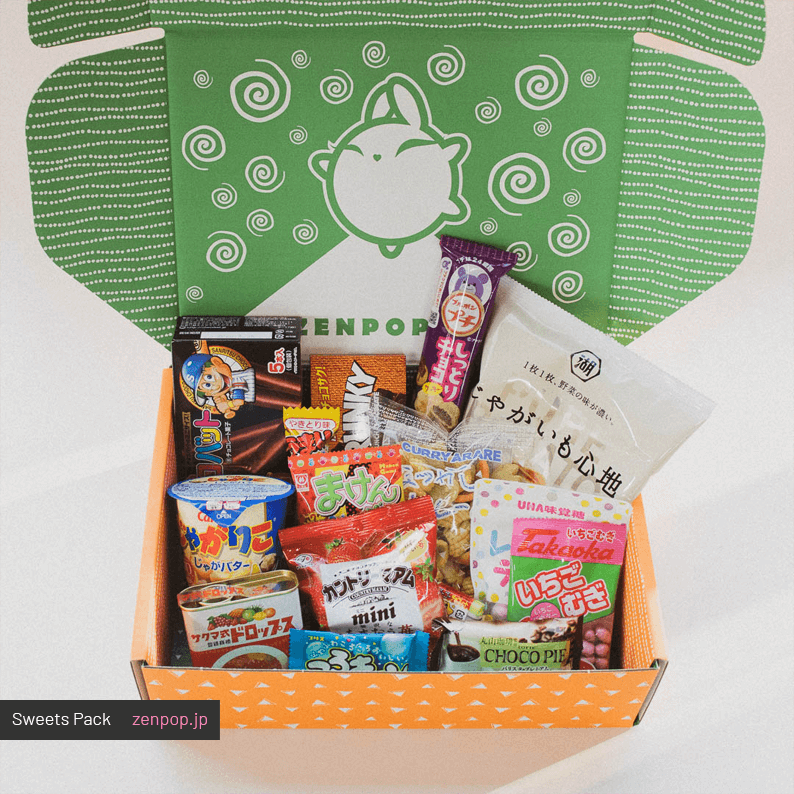 Japanese Sweets Subscription Box | February's theme: Sweet Memories
Experience Japan's classic sweets and flavors, while making new sweet memories! Try real-fruit drops made famous by their appearance in anime Grave of the Fireflies (and hold onto the collectible tin!) Get a taste of one of the most sought-after and exclusive ramune candies. Enjoy a premium choco pie - a collaboration with popular coffee chain, Maruyama. Plus sample traditional flavors, like shoyu (soy sauce), yakitori and curry, to new tastes of soda, potato butter and amaou strawberry.
15 classic and delicious sweets and snacks included.
Items:
Country Ma'am Amaou Strawberry Mini Cookies
Lotte 'Barista Premium' Choco Pie
Puchi - Moist Chocolate
Crunky Chocolate
Umaibo - Yakitori
Koikeya - Soy Sauce Chips
Sakuma's Drops
Rainbow Ramune
Natsukashi Curry Arare
Maken Gummy Cola
Koro Kyan Soda Chewing Candy
Mini Choco Bats
Ichigo Mugi
Gogo Chocolate
Jagariko - Potato Butter
March's Packs Sneak Peek
Be the first to get a sneak peek of next month's new Japanese subscription boxes:
Follow us #zenpopjapan