Wagashi are traditional Japanese confectionery usually relished with a cup of green tea. We're talking about all the yummy treats that have been sold on the streets of Japan for ages. They come in different colors, tastes, and various ingredients with varying methods of preparation.
Also, it can be classified based on moisture contents. There are Namagashi, Han-Namagashi, and Higashi. Namagashi, also known as fresh wagashi, usually has a more than 30% moisture content. They are soft and taste best right after they are made. An example of this is mochi. As for Han-Namagashi, they are called "half fresh." They are semi-perishable and within the range of fresh and half dry. The moisture contents fall between 10%-30%. And Higashi is dry wagashi with less than 10% moisture content (this is basically hard candy).
There are a whole lot of scrumptious Japanese wagashi to satisfy your cravings—each with its unique tastes and designs. They are usually colorful with unique shapes, which adds to the excitement of having a preference. Formerly, these snacks were only sold on street stalls but now you can get the commercialised version on packs by signing up for our Zenpop monthly snack pack. We made a list of the top ten Japanese wagashi in 2022 you can't help but have. And if you are treading new territory and have never had a Japanese snack, we'll help you start your journey of different flavors. Let's go!
Taiyaki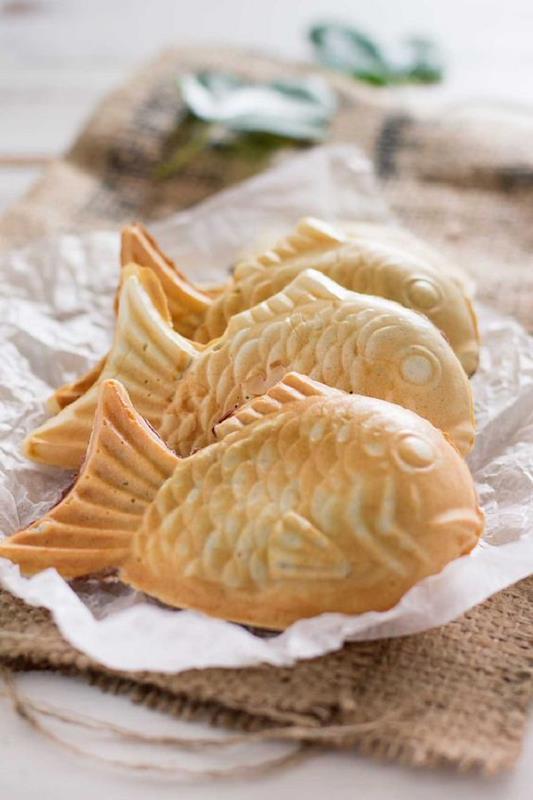 Taiyaki is a fish-shaped Japanese confectionery. Its essential ingredients are batter and sweetened azuki beans. Imagine the regular pancake batter molded into the shape of a fish with red bean paste filling inside it. Taiyaki can be baked or fried, either way, it tastes heavenly. It is a very old snack dating back to the 1600s, it has kept the signature fish-shape and it is still very popular in Japan. Although the most popular filling is the Anko red bean paste, now there are vast delicious fillings for taiyaki. There are custard cream, matcha, apple pie, and chocolate. Some daring flavor explorers have filled theirs with ice cream! Learn more about taiyaki here.
Daifuku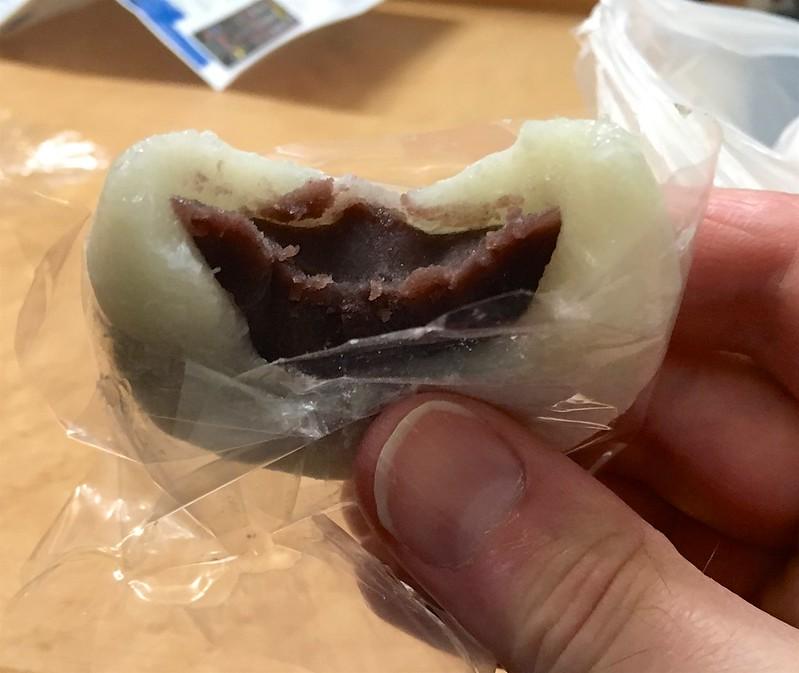 Daifuku, also known as Daifuku mochi, is a small round mochi stuffed with sweet fillings, usually red bean paste. The outer layer of Daifuku is chewy and the inner layer is a burst of sweetness. There are varieties of filings that can be loaded into Daifuku; you can have chestnut, Caramel, mocha or ice cream filling. A popular type of Daifuku is the Ichigo Daifuku or strawberry daifuku. A whole strawberry is wrapped in a thin layer of bean paste and covered with mochi. It is fruity, and the sweetness is explosive. Daifuku usually comes in colors of white, light green, or pink. You can eat it freshly made or toast it lightly to make the mochi sticky and soft. Daifuku is commonly enjoyed with green tea. Learn more about daifuku here.
Castella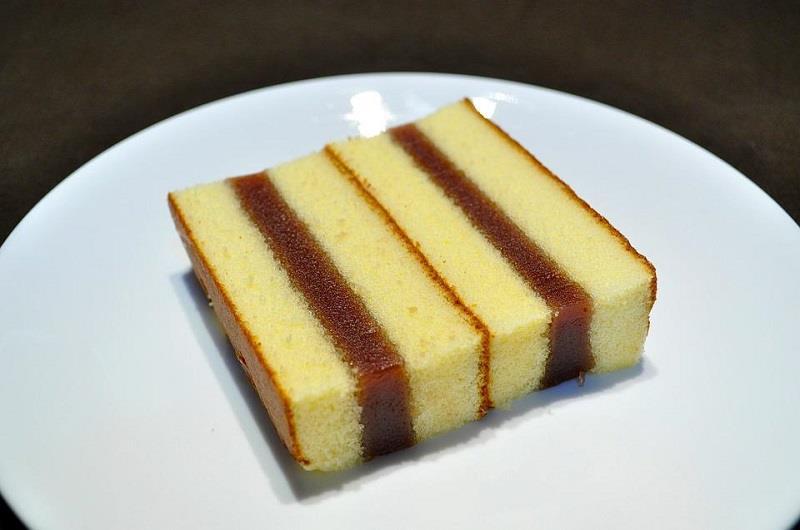 Castella is a Japanese sponge cake made from flour, sugar, eggs, and Mizuame (a type of sugar syrup). Castella is baked like any other cake and cut into long, rectangular shapes. It usually has a dark brown top and bottom crusts with a soft springy middle. Because of the Mizuame, Castella is very moist, smooth, and fluffy. It is just mildly sweet, the fragrance is to die for (not literally), and it is the perfect combination of sweetness with a touch of syrup. Castella is a very popular snack in Japan. It goes well with green tea or iced coffee, especially during summer. It is the perfect combination of refreshing and delicious.
Dorayaki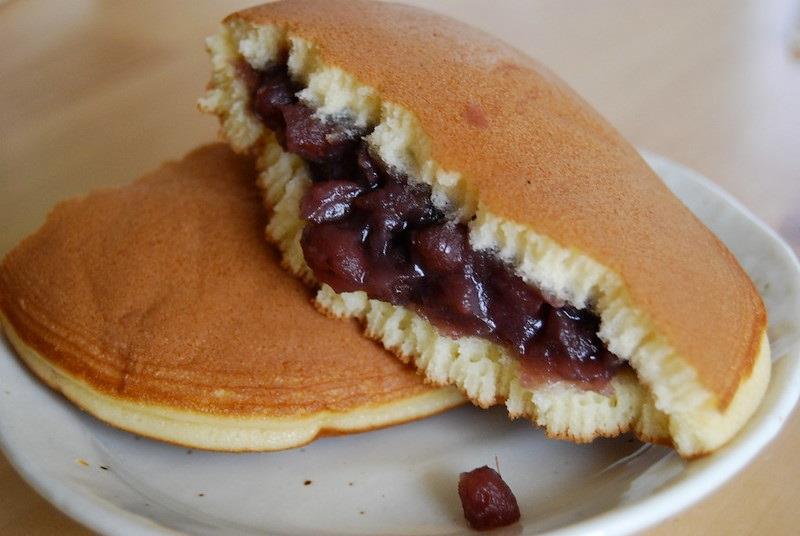 Dorayaki comprises two small pancake-like patties with azuki bean paste filling. But unlike the usual pancake batter, the dorayaki batter is similar to cake batter, so dorayaki is like eating anko filled cakes; you can imagine the explosion of sweetness that will take place while eating this! Initially, the dorayaki confectionery used to be made of one layer folded, but the two-layer dorayaki was invented in 1914 by Usagiya in the Ueno district of Tokyo. Initially, the dorayaki was filled with the red bean paste, but now it can be filled with cream, mocha, Chestnut cream and yuzu. Learn more about dorayaki here.

Yokan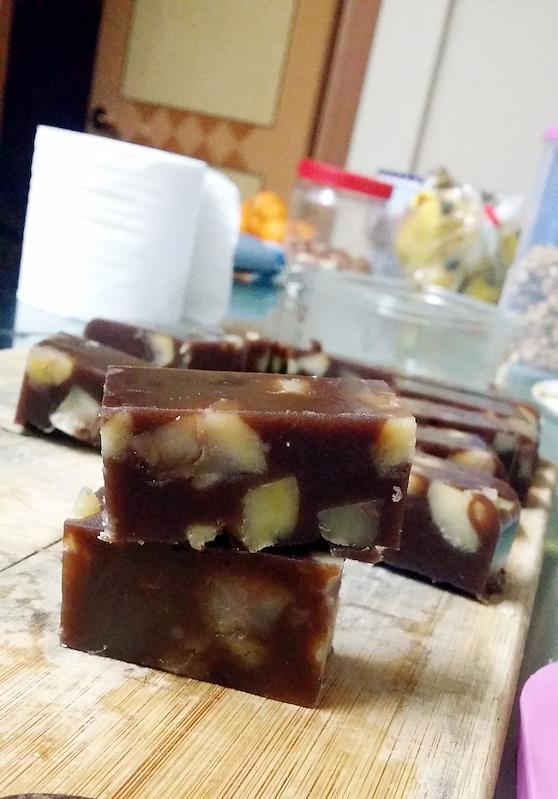 Yokan is a Japanese confectionery you can't afford to not taste. It is a very popular wagashi in Japan made with red bean paste, agar jelly, and sugar. Yokan is a jelly textured wagashi in block form and eaten in slices. The two main types of yokan are neri yokan and mizu yokan, mizu yokan being the popular one of the two because it is softer. It is best served chilled and eaten in the summer. Yokan tastes even better when taken with green tea.
Sakura mochi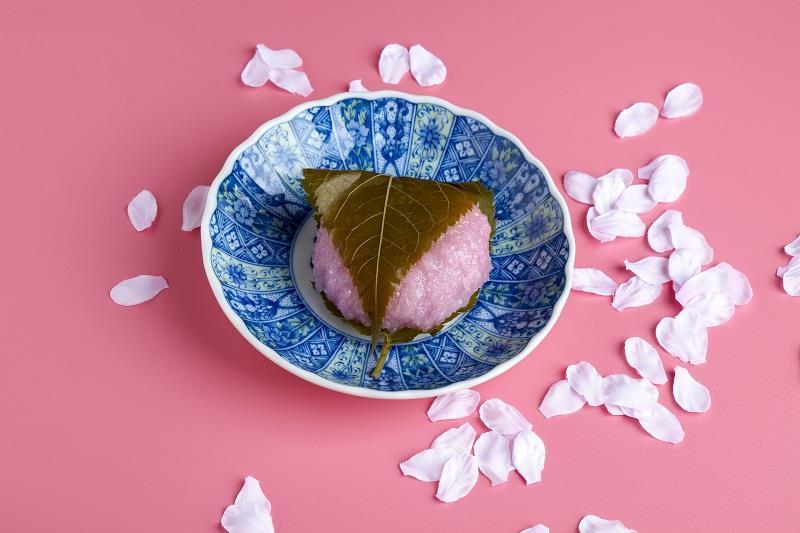 Sakura mochi is inspired that but the beauty cherry blossom flowers called sakura in Japanese. It is a pink-colored mochi with anko filling wrapped in an edible sakura leaf. Sakura mochi is a treat usually enjoyed throughout the spring season in Japan. Also, it is often eaten on Girl's Day, known as Hinamatsuri, on the 3rd of March to celebrate the beginning of spring. It is the combination of pretty and delicious rolled into one; the sweetness of the red bean paste clashes with the light saltiness on the pickled sakura leaf, creating a series of taste eruptions on the buds.
Dango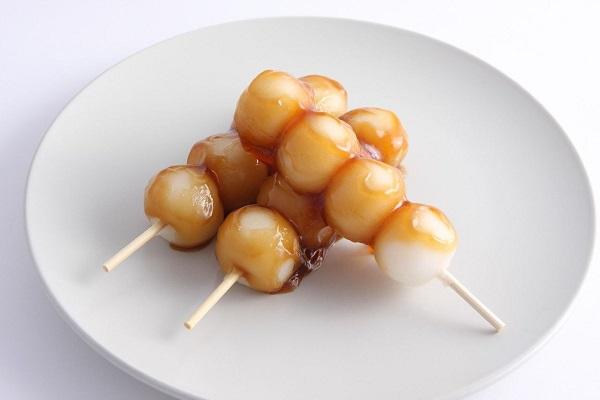 Japanese dumplings or dango are one of the few skewered wagashi. It is made from rice flour, while that sounds underwhelming, the chewiness makes it stand out. Dango is sweet and usually round in shape. There can be about 3 to 5 Dango in a skewer. Dango is not usually served plain, there are various varieties of Dango like Kuri, denpun, Anko, bocchan, and many more. But the most popular of them is the mitarashi dango which is smeared in a sweet soy sauce-based syrup. While dango is usually compared to mochi, the latter is made using rice grains while dango is made using rice flour. Learn more about dango in this ultimate guide.
Konpeito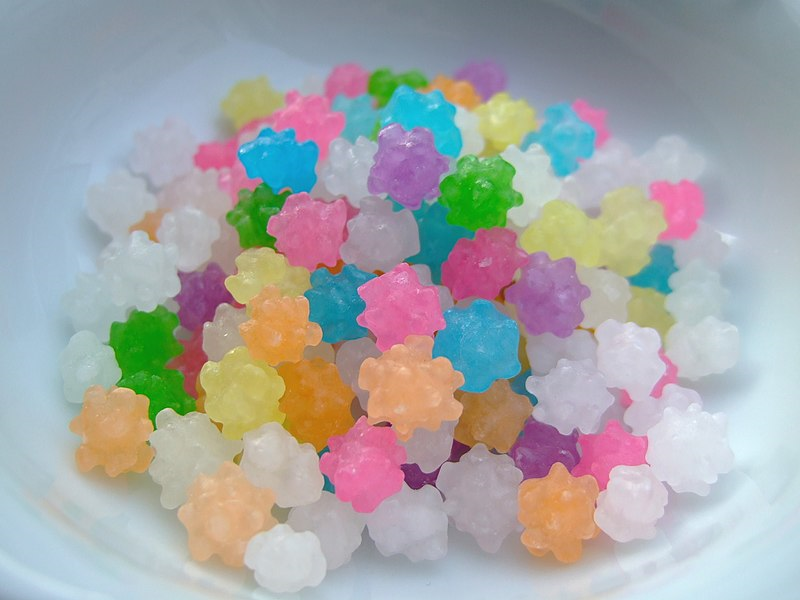 Konpeito is Portuguese and Japanese sugar candy. It got the name "konpeito" from the Portuguese word "confeito," which means "confection" or "candy ". It is made from sugar syrup and flavored liquids. While it is tiny, the star-shape makes it unique. These little candies are hard but very sweet. It comes in different colors and flavors. If you are in need of sugary goodness, konpeito is your go-to wagashi. You can have a pack in your pockets and throw some in your mouth while working or reading.
Nerikiri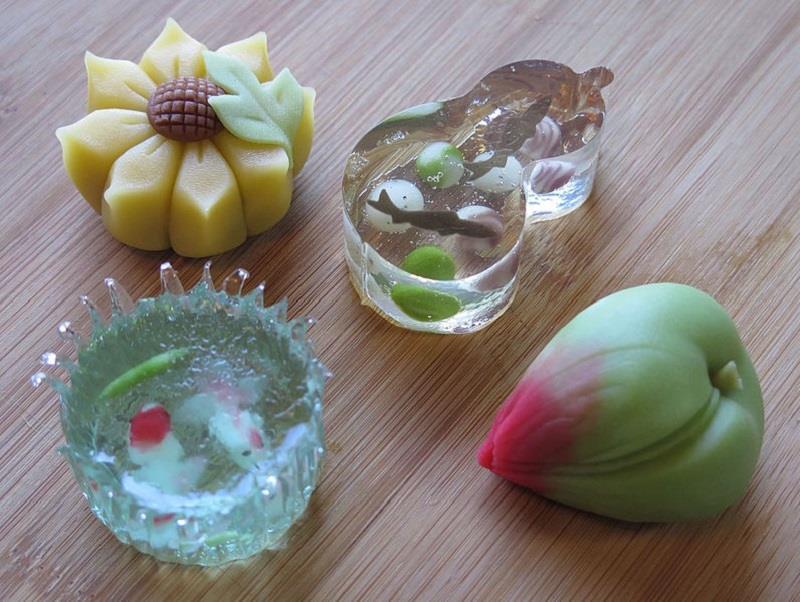 This wagashi is super fun because it can be made in so many cool shapes. It is made by kneading sweetened white bean jam), glutinous flour and sometimes Chinese yam. The nerikiri dough is made supple and very flexible that can be colored and molded into different shapes with hands or wooden molds to form shapes like fruits, animals, and stars. The most common shape is sakura, a cherry blossom flower. Nerikiri is well known for its artistry and superb taste.
Anmitsu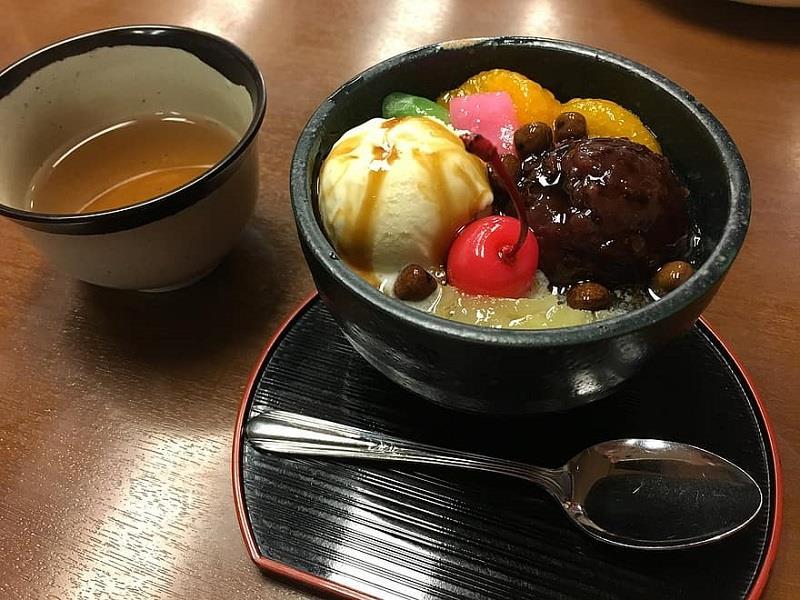 This Japanese wagashi dates back to the Meiji era. It is a cold sweet loved by everyone in Japan. You usually get Anmitsu served as a dessert topped with ice cream, anko, fruits or dango. They are basically cubes of agar jelly and it is served with black syrup (mitsu) on the side. It is almost never eaten alone without all the yummy toppings. It is mainly enjoyed drying summer for the hot days.
Well, enjoy your venture into various bursts of exciting flavors! And do not forget to order some special pack of these Japanese wagashi from our zenpop pack; you will definitely get the best the land of the rising sun has to offer!

This article was originally written by our freelance writer Umm-Kulthum Abdulkareem, and edited by us.