Japan loves to celebrate its franchises like video games and anime with special collaborative efforts. Some have themed events like escape rooms or even limited-time stage shows to hype up the fan base, or as a means to give their supporters more content. One of our personal favorite ways to celebrate, however, is through food!
Many companies have special cafés that serve themed dining experiences, including special menus, desserts, and drinks all based around your favorite anime or video game. Most of these are surprisingly packed, so you may need a reservation in order to visit. You also may likely get special goods such as coasters, limited-time photo prints, and other exclusive items for visiting!
Here are some of our favorite themed cafés in Japan:
Pokémon Café

The Pokémon Café has two major locations, one at the Nihombashi Takashimaya Shopping Center in Tokyo, and the other at the Daimaru Shinsaibashi Store in Osaka. They make original sweets, meals, and drinks inspired by Pokémon. In addition, they usually have limited-time, special items every so often. Since they celebrated their third anniversary in March, their current menu features Patissier Pikachu's Celebration Sweets Box and Chef Pikachu's Toasty Carbonara Set.
Some of the menu items also feature plates or glasses that you can take home after your meal, which some collectors might be interested in. One such case is the "Choose Your Pokemon" Latte, where you can not only choose which Pokémon's image is displayed on top of your coffee, but also take home a mug or glass from the café.
Pokémon Café in Tokyo also has a special division called Pikachu Sweets, located in Sunshine City Ikebukuro. You can buy lots of Pokemon-themed baked goods, drinks, and even plush toys here!
Gundam Café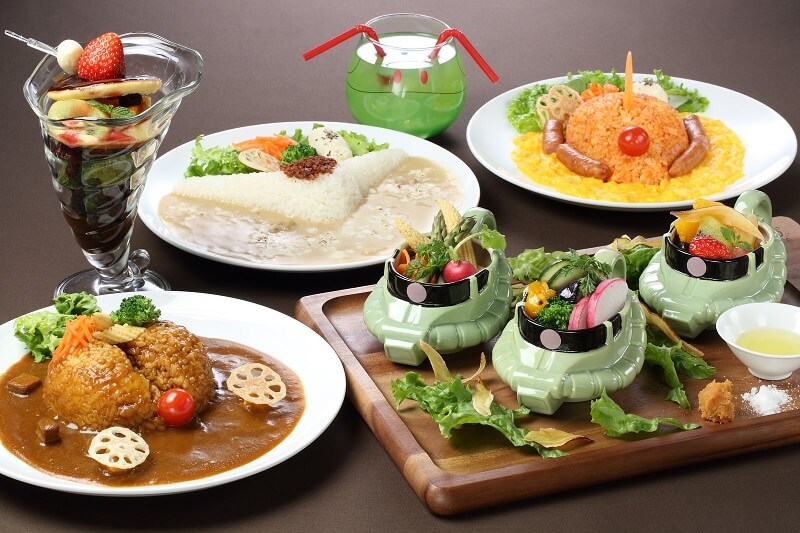 The Gundam Café is one of the first things you might see upon entering Akihabara, very close to the JR station as well as another landmark, the AKB48 Café. Not only does the Gundam Café have exclusive items and merchandise that you can't find anywhere else, but some of the limited menu items also differ per location (as they have stores in Odaiba, and elsewhere.)
However, the best part of the Gundam Café is the experience of feeling like a real pilot. You can choose to dine in the mess hall and be served a lunch that mimics what we've seen pilots eat in the shows, designed to make you feel like you're eating inside the spaceship. If you're feeling adventurous, you can also take a seat at the Principality of Zeon, and enjoy several of their themed drinks (including alcoholic beverages!)
They also hold special shows and events every now and then, which feature new voice lines and interactions from characters that you may never have heard before. For any mecha fan, the Gundam Cafe is certainly a must-see.
Square Enix Café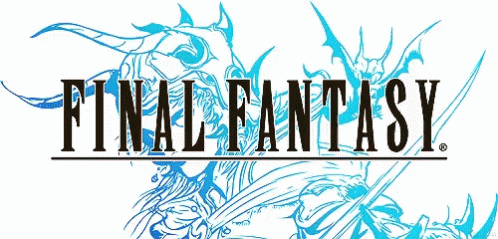 Located in the Akihabara area, the Square Enix Café is definitely a place worth stopping by if you're a huge video game fan. While the collaboration menu changes every month, it rotates between some of Square Enix's most popular franchises, such as NieR, Dragon Quest, Kingdom Hearts, The World Ends With You, and Final Fantasy. These usually coincide with current game releases, anniversaries, or events.
The current menu focuses on food inspired by NieR Replicant, and features special dishes made to represent characters in the game, such as Yonah and Kaine. Something special about the Square Enix café is that their goods section-- for souvenirs and limited edition keychains, posters, and other items, can be accessed by anyone without needing to dine at the Square Enix Café.
Square Enix also has another café in Umeda, Osaka with the rotating menus; as well as a separate cafe for players of the MMORPG Final Fantasy XIV called the Eorzea Café in Akihabara.
ufotable Café / Machi ★ Asobi Café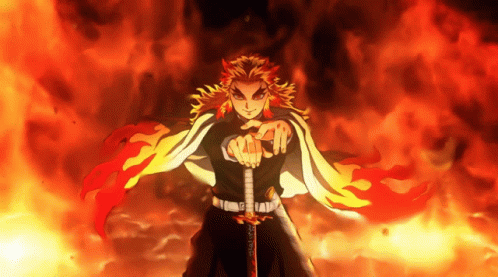 The ufotable and Machi Asobi cafés are situated all around Japan, with locations in Tokyo, Nagoya, Osaka, Tokushima, and Kitakyushu.
While most people may know ufotable from the Fate series or their most recent work, Demon Slayer, the café rotates between several collaboration menus depending on what is currently airing.
A visit to the café also requires a strict reservation, but it's well worth the wait considering the special items and amazing food. They usually have character drinks available, and special place mats as well as posters featuring key animation frames or special promo art.
Unfortunately, you cannot order across menus even if the café is hosting multiple collaborations at the same time-- as certain menu sets are given out during specific time slots and shifts.
The current available collaborations are for the Demon Slayer: Infinity Train movie, the "Combatants Will Be Dispatched!" anime, and the "Rom-Com Where the Childhood Friend Won't Lose!" anime.
Tower Records Café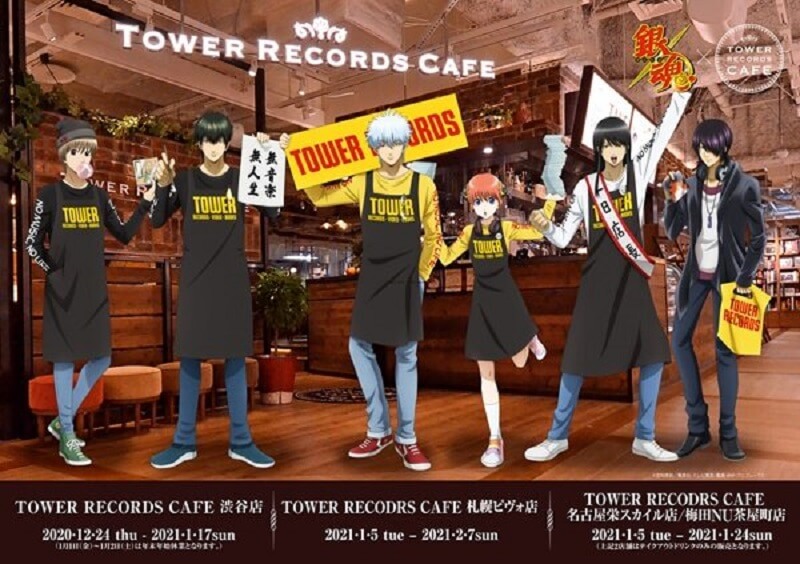 The Tower Records Café in Shibuya is well known for having several tie-ups with outside franchises such as Rilakkuma, Cardcaptor Sakura, or Detective Conan. This stylish café, while not sporting the themed decor or special shops of the other permanent collaboration restaurants, Tower Records changes its collaborations fairly often, ranging from movies, anime, J-pop bands, and so on.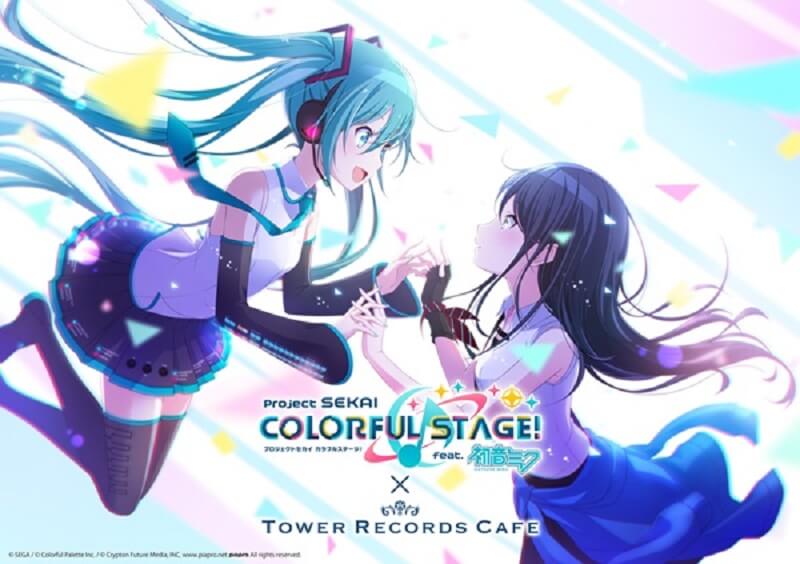 Recently, they had a collaboration with Vocaloid for Hatsune Miku's Project Sekai which included a full menu of various drinks, as well as several special meal sets that come with postcards for the collaboration. They also held a special menu set for the latest Gintama Movie, based off of the story of the movie itself.
If you want to take advantage of the collaboration menu, you do have to get a reservation, however there are sometimes drinks available that can be bought for takeout!
Which of these cafés would you like to visit? Or get your treats delivered to your home with the ZenPop Sweets Pack!
This blog was written by Sam: Sam is a university student interested in everything in otaku culture, from video games to anime. Growing up, she spent several hours in front of the TV watching mahou shoujo shows, and now binges entire seasons of anime within in a few hours. She loves to attend conventions in cosplay and always stops to take pictures of stray cats.