Instant Noodles are noodles that are precooked, and dried in a block, which you can buy in a cup with the matching seasoning oil. But you already knew that. However, do you know how many cups of instant noodles are consumed every year in Japan and worldwide? Do you know who makes your favorite noodles? And do you know how it all came to be?
In this article, I will start from the creation of instant noodles by Momofuku Ando in 1958, to the market dominance of Nissin Foods in Japan with an overwhelming 49% market share today. Every step along the way, and every playmaker in the game will be introduced to you, and by the time you're through, you'll be an expert, and able to appreciate even more the cup of pleasure you have in front of you.
They are mostly wheat flour noodles prepared with palm oil, and salt. You'll find sachets inside your pack with flavoring and a few ingredients to give your dish some aromas.
History
1958. That's where it all started. Momofuku Ando. That's the person who started it all. The Taiwan- born, Japanese inventor marketed his first creation on the 25th of August 1958: the Chikin Ramen (no, there is no mistake in the spelling), for his company, Nissin Food.
He lived in Ikeda, in the north of Osaka at that time. In his little shed, just behind his home, he tried to find a way to make ramen tasty fast. Basically, he just wanted to add hot water and be done with it. Legend has it that he only slept four hours per night, and worked alone on this project.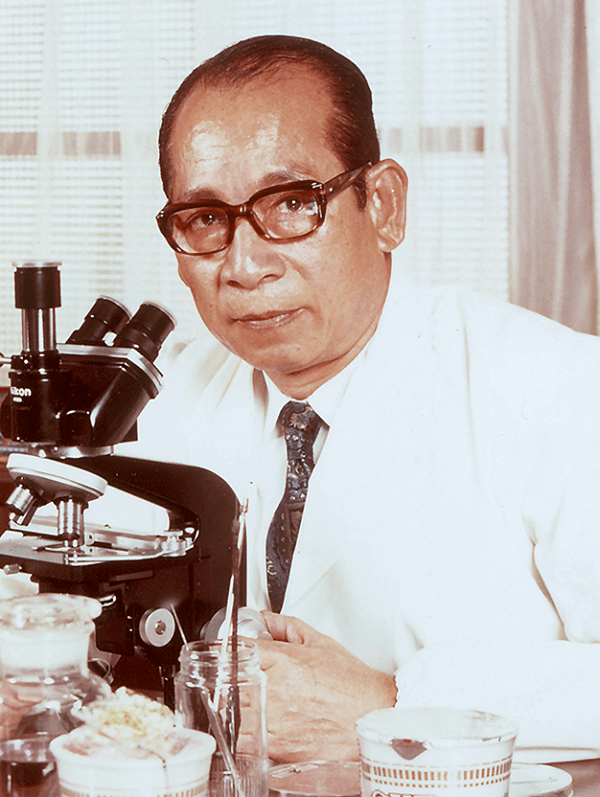 Source: Cup Noodle Museum Osaka
Chicken Ramen is the result of a lot of trial and error, and was nicknamed "magic ramen" at first, after it became an instant success in Japan.
It's only later, in 1971, that he created the first Cup Noodle. You've seen the branding before, for sure. The white instant noodle cups with the all caps writing on it? This idea came from a trip that Ando made to the USA.
He decided on the Cup Noodle after seeing that people were actually breaking up his dried chicken ramen into pieces, and putting it into a bowl. So, why not serve it as such from the start?
The last big invention coming from his genius was the Space Ramen in 2005. It's in the name: he wanted ramen that could be eaten in space by the world's astronauts!
Momofuku Ando passed away in 2007, but left a legacy behind.
Noodle Composition
Instant noodles are prepared from 3 key ingredients: wheat flour, water, and salt. Easy. Seasonings vary from pack to pack, and depend on the regulations of the producing country.
The reason that wheat flour is used for instant noodles, although other options are available, is that the protein content of flour allows the noodles to resist the drying process without falling to pieces. After being cooked, they are fried at a high temperature, and the protein helps to keep it all together.
The water is super important: if the right amount is not used, the noodles will be either too sticky, or too dehydrated.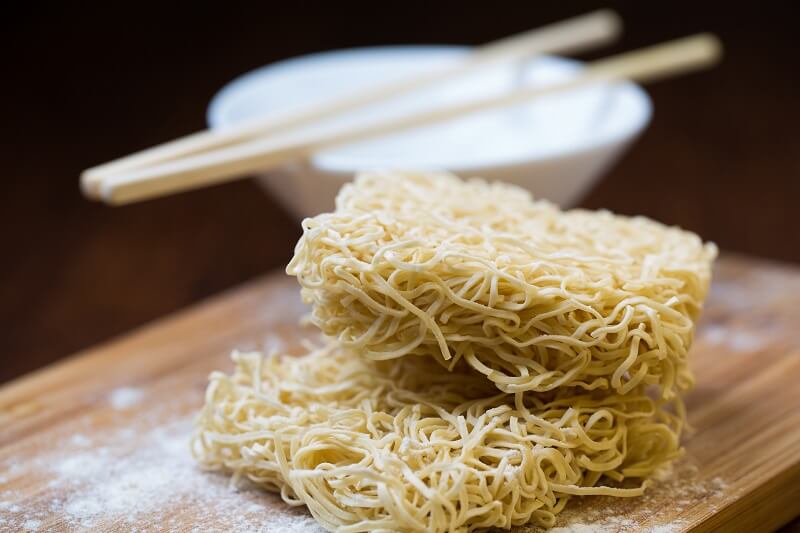 Source: Freepik
The salt strengthens it all. And because they need a long shelf life, the required salt content is higher. So be aware, one cup of instant noodles contains on average more than half the daily recommended amount of sodium (salt) that you should eat.
Kansui is of course, as I talked about it in our Ramen Guide, the unique ingredient necessary for the production of, well, ramen. This alkaline solution gives the yellow color for your noodles, and the characteristic chewiness you know ramen to have.
Some specific types of instant noodles use buckwheat, but these variations are rare. If you ever come across some, though, they are well worth a try!

World Noodle Consumption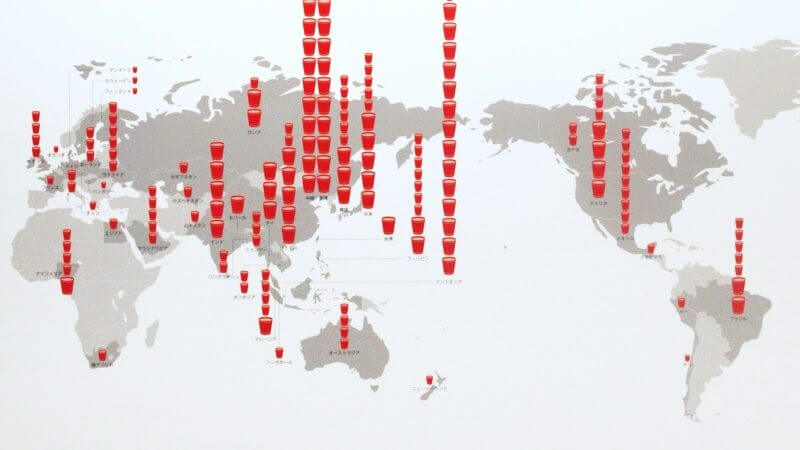 Source: Cup Noodle Museum Osaka
100 billion. That's the number of instant noodles that are consumed every year on the planet.
The biggest consumer is, of course, China and with a demand of about 40.25 billion noodles in 2018. Interestingly, Japan only comes at 4th place with about 5.78 billion behind Indonesia in second place, and India in third. The USA comes in 6th place with 4.40 billion instant noodles served yearly.
Regulations vary in each country, and therefore not all noodles are available everywhere. For example, noodles from the Nestlé owned brand Maggi were banned in India for 6 months in 2015 as they were deemed unfit for consumption.
A lot of countries also have their own production. In Indonesia, Supermi, produced by Indofood Sukses Makmur, was a hit in the late 60s. And still today, the company owns a market share of about 70% with their brand Indomie and Sarimi.
In Korea, the popular instant noodles, ramyeon (라면), are often served spicy. The producer Nongshim sells some of the most popular products such as the Shin Ramyun since 1986, or Neoguri since 1982. You may also have already seen the ultra-spicy ramen on your supermarket shelf as their products are exported to over 80 countries.
In Japan, the average person eats about 45.4 cups of instant noodles per year. It's a national dish after all.
The Noodle Market Leaders
582.3 billion yen. Do you know what this amount is? This is the total sales amount of instant noodles produced by domestic manufacturers in fiscal 2016. Incidentally, it is not the retail price but the wholesale price, so the actual amount is much larger. The amount may not seem like much, but if you convert it to a number of units, it is 5.8 billion servings.
Since the world's population is about 7 billion, this means that Japanese manufacturers are making enough instant noodles to supply more than 80% of the world's population. I know, right?
In Japan, four companies hold an overwhelming share of the instant noodle market:
Nissin Food Products 日清食品 whose products include Chicken Ramen and Cup Noodles, has a 40.4% market share as of 2005.
Tōyō Suisan 東洋水産 under the brand name Maruchan, whose products include Akai Kitsune and Midori no Tanuki, has a 19.2% market share.
Sanyō Foods サンヨー食品 Sapporo Ichiban, has an 11.5% market share.
Acecook エースコック Super Cup, has an 8.3% market share.

Nissin Food Products Co., Ltd.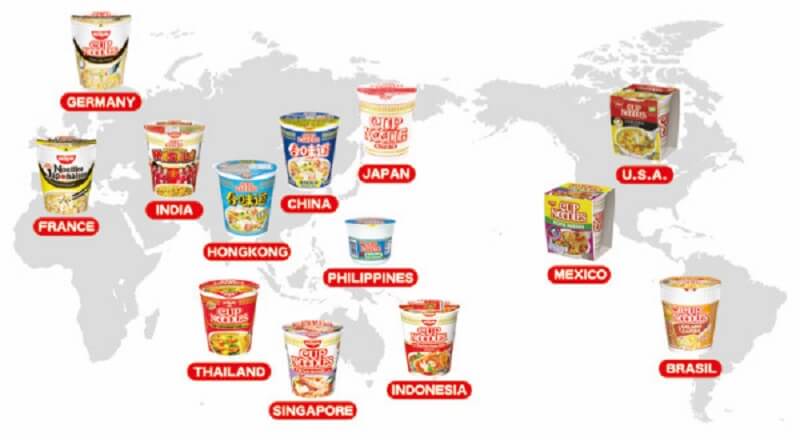 Source: Nissin Foods
The company founded by Momofuku Ando is not surprisingly our market leader, by far. It was established all the way back in 1948. The original name was different, Chuko Sosha, 中交総社, and changed to the current one years after the invention of the Chikin Ramen.
The headquarters are located in Osaka! Our backyard personal noodle product right there! The name actually has a meaning, and is the abbreviation of Ando's dream for the company: 日々清らかに豊かな味をつくる (Hibi kiyoraka ni yutakana aji o tsukuru), which translates as "Day after day purely create great taste".
Nowadays, the company overs a lot of different brands such as Nissin Top Ramen, Nissin Chikin Ramen, Nissin Cup Noodles and more.
Toyo Suisan Co., Ltd.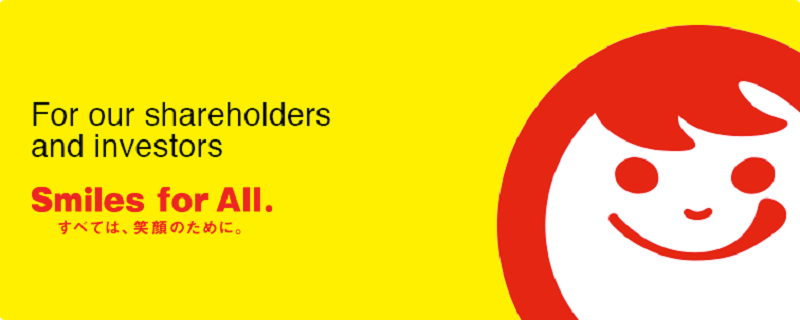 Source: Toyo Suisan
Coming in second place, the owner of our beloved Maruchan. Dating back to 1953, we've got Kazuo Mori to thank for this. The company used to focus on seafood production and export overseas.
The brand Maruchan (マルちゃん, Maru-chan) is actually a Japanese-American collaboration. Irvine, California has hosted the US production facility since 1972 and has sent the company to one of the leading spots of the industry in North America.
Maru, means round and is often associated with friendliness, and chan is an honorific suffix that demonstrates affection. With their positive vibes, the company delivers a range of Instant Ramen, Udon, Soba and even Yakisoba.
Sanyō Foods Co., Ltd.

Source: Sanyo Foods
Sanyo food is a Tokyo based company founded in 1954. They initially focused, and got famous, for producing smoked red salmon. They had some interesting attractions for Scandinavia, and to start to reproduce the original flavors from northern Europe, the company imported a lot of products from overseas before they went into mass production.
Sapporo Ichiban (サッポロ一番) is a brand actually manufactured in Gunma prefecture, not Hokkaido where you can find the city of Sapporo. In the shelves since 1966, the company got famous for their red packaged original soy sauce flavored ramen.
Every package of the brand has a color associated with the type of noodles you'll find inside. Miso ramen has an orange packaging while black and red means shio (salt) ramen. The golden packs are reserved for the tonkotsu ramen, and green goes with chicken.

Acecook Co., Ltd.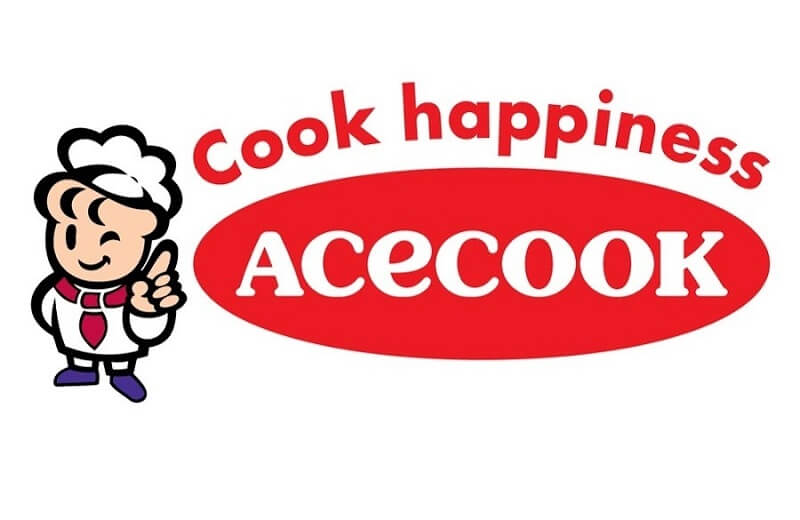 Source: Acecook
1948, the date. Osaka, the place. Noticing a pattern here? We do love our noodles in Japan's culinary capital. Acecook and their lovely pig chef mascot have been serving us pleasure for decades. The name actually changed to the current one in 1964.
The logo evolved over the years, retaining it's friendly look. The company has set up a lot of overseas subsidiaries.
Our Favorite products
Let's get down to business. Which are the best noodles? What should you try? Here are our recommendations, in a random order:
Seimen Rich Toro Tonkotsu Ramen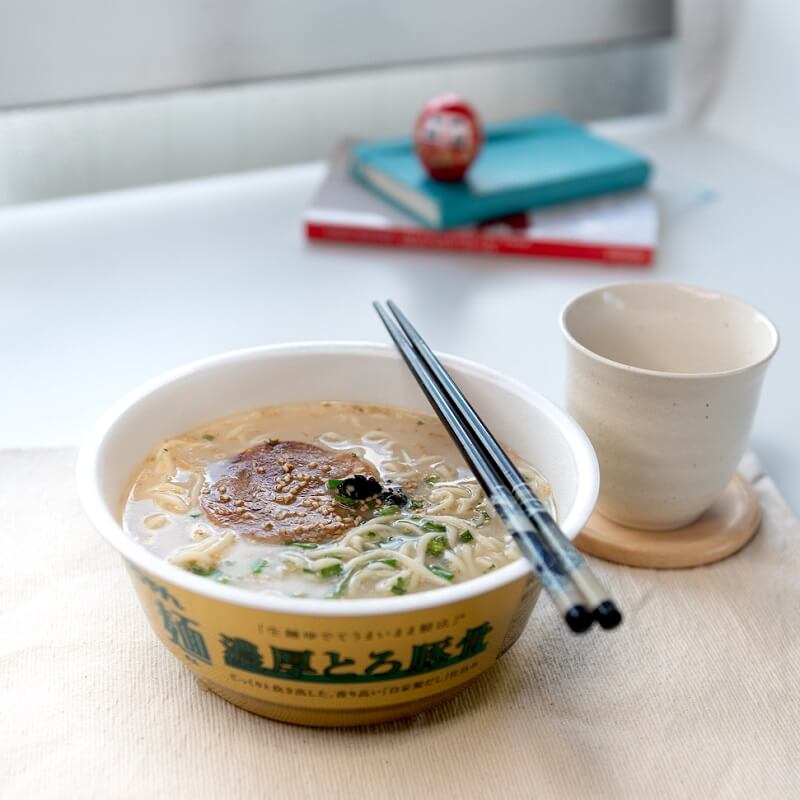 Source: ZenPop
A refreshing and salty ramen that allows you to enjoy the full umami flavor of chicken. Nagoya Maruchan Seimen's ramen (with an extra 10g this time, yay!) is very special because it tastes as if it was freshly made on site for you! In fact, the technology to produce the special noodle is patent-protected. It's smooth yet with a good body - you can't go wrong with tonkotsu based broth with garlic and other spices. Toppings are chashu pork, scallions and wood ear mushroom. If you would like to add a little something-something to it, we'd recommend some boiled cabbage, which goes really well with tonkotsu.
Attack On Titan - Consommé Shoyu Ramen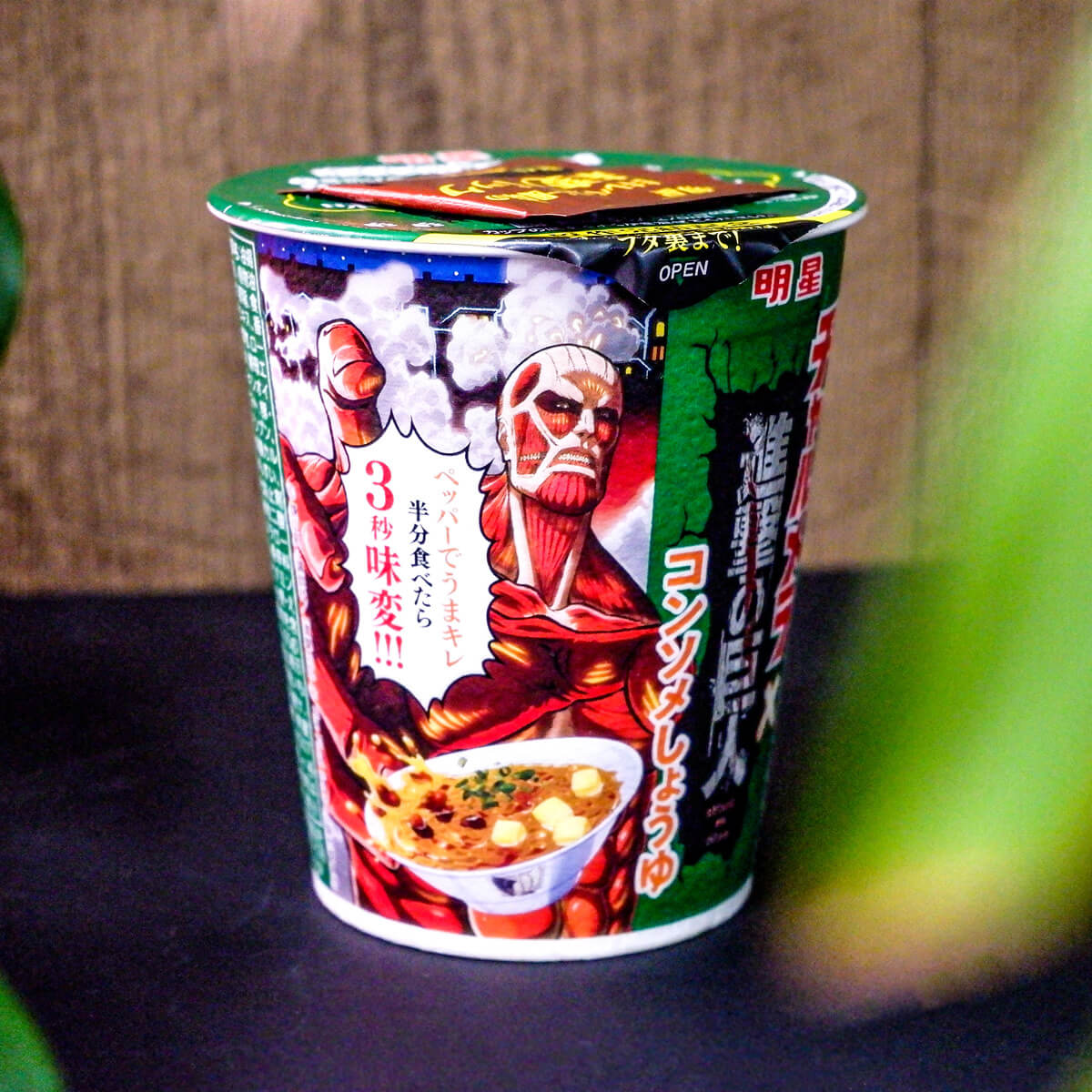 Source: ZenPop
Myojo Foods is collaborating with "Myojo Charumera" and the popular manga "Attack on Titan" to create this unique and time-limited cup. This ramen comes with minced meat that uses imo (potato) that appears in the show as its main ingredient. The noodles are smooth and crispy in texture, together with a sauce that combines pork and chicken, onions and garlic.
Megami Seafood Shoyu Noodles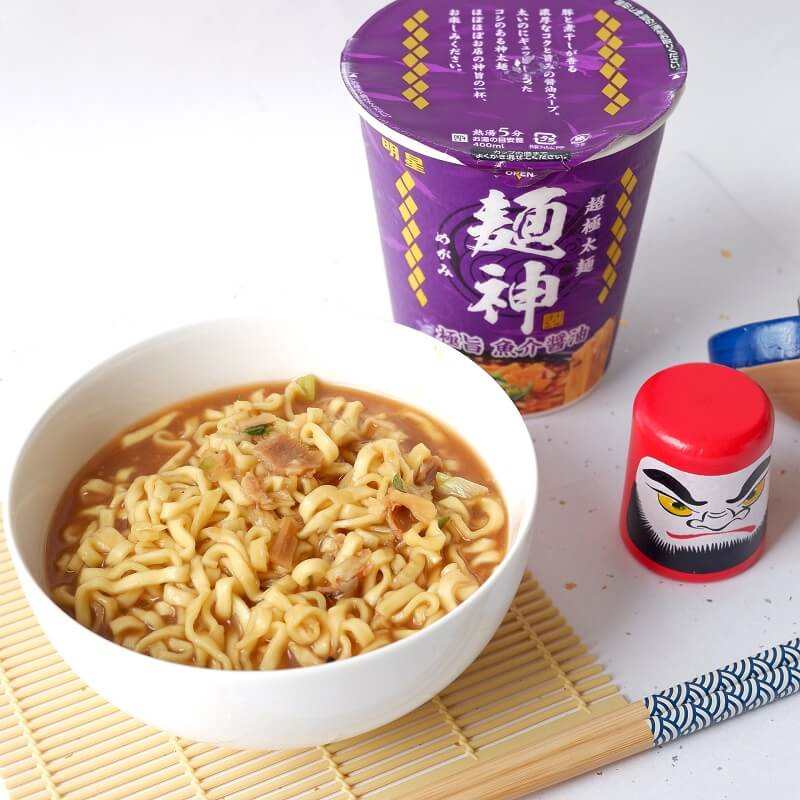 Source: ZenPop
This is a special and extra rich cup of noodles dubbed Megami, or noodle god! Myojo has created a new manufacturing method, so you are going to experience super-thick noodles like those in popular ramen stands in this cup. The rich broth is a seafood shoyu (soy sauce) base with added richness from pork and sardine. Toppings are open fire grilled chashu pork, menma (bamboo shoots), scallions and se-abura (processed back fat) for a heavenly cup of noodles you won't soon forget.
Nissin U.F.O. Yakisoba
Source: ZenPop
The U.F.O. selection from Nissin never disappoints. And flashy red from their packaging does not stay unnoticed on the shelf. The texture of their noodles is slightly different, on the chewier side, and the creamy sauce will just leave you craving more.
Everything Curry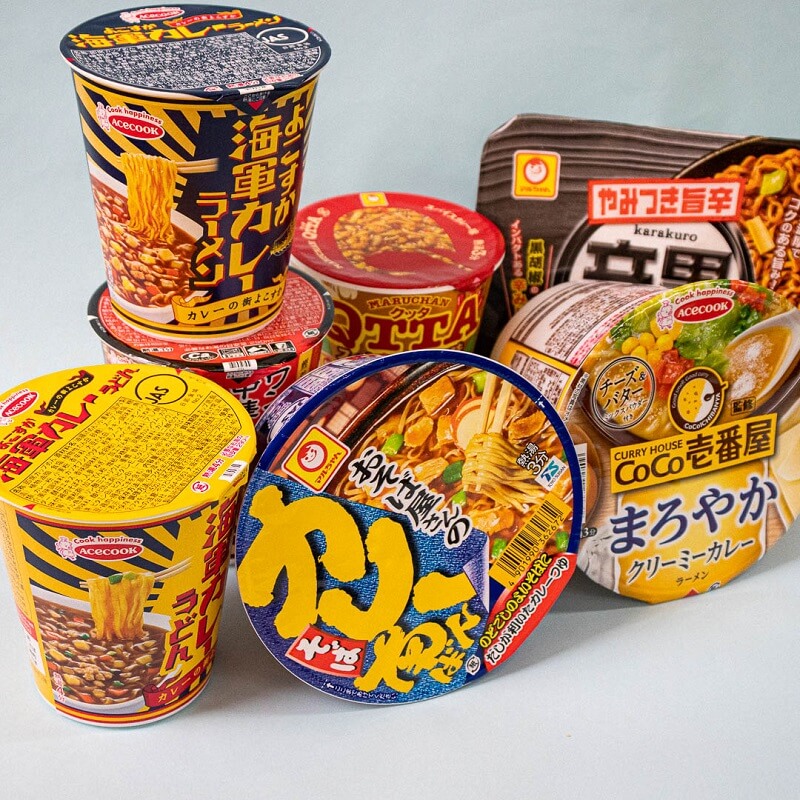 Source: ZenPop
Who doesn't like curry? Japan has an incredible variety in their curry-sphere! We love all those tasty curry instant noodles. Some are spicy, some are creamy, but all of them will satisfy your curry cravings. Japanese curry actually doesn't come directly from India as one would expect, but made a detour through England. Acecook, Maruchan, they all developped their own variations for you tro try out!
Umakara Tonkotsu Ramen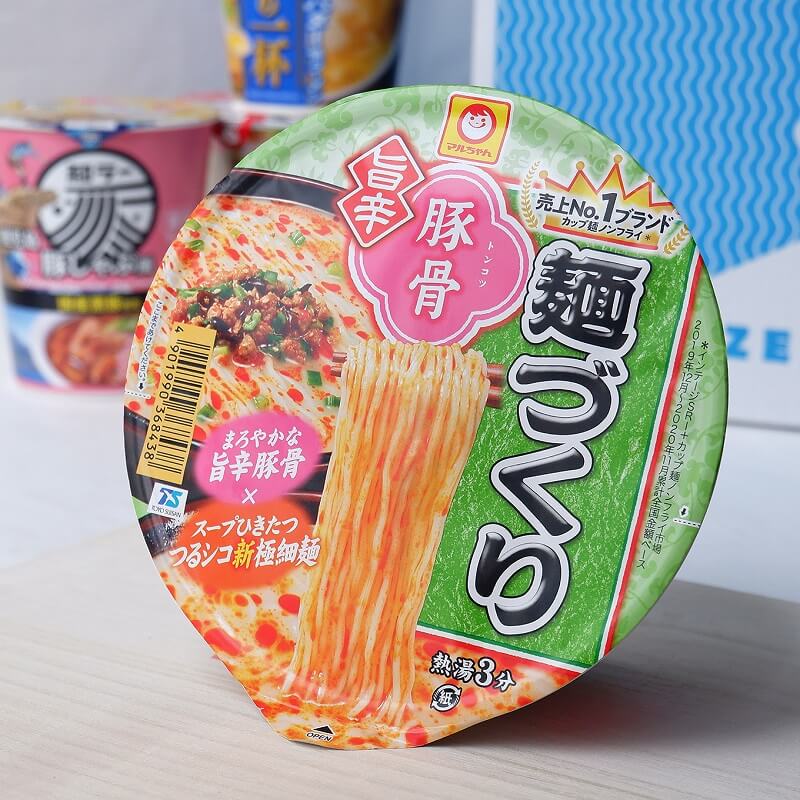 Source: ZenPop
A classic tonkotsu ramen. With a mellow, spicy pork bone flavor from the broth paired with chili peppers and peppers, this cup pulls no punches, and without a doubt lifts itself up to the top shelf of tonkotsu ramen.
Nissin CUP NOODLE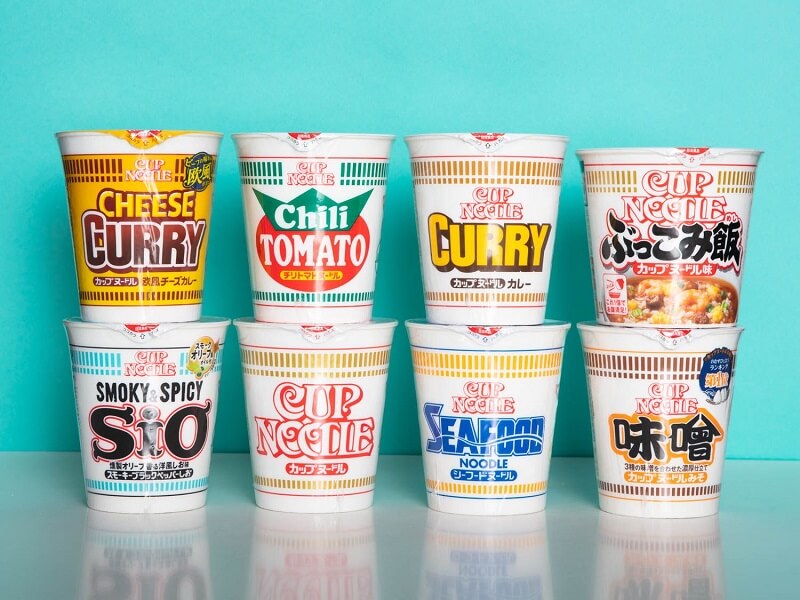 Source: Serious eats
Nissin keeps coming back on this list, simply because, well, they do make some of the best noodles. And in this case, the classic CUP NOODLE. It can't be replaced, nor compared. It's got its unique flavorful taste in combination with their branded noodles and savory toppings. Simple and efficient. You've seen them in our packs too.
With a concern for their customers' health, Nissin has just released a new line of CUP NOODLE PRO, wherein PRO does not stand for professional, but rather for protein. Those contain more than double the regular protein content than your normal cup noodles.
Ippudo Instant Ramen
Source: Ivy's life
The famous ramen restaurant chain created their own branded instant noodles with Nissin. You can only find those in 7-eleven stores across the country. They went all in by creating two versions of their instant ramen: one with the regular seasoning sauce, and another with black soy sauce and spicy miso!
You'll also find a tasty piece of sliced pork inside matching perfectly the rich tonkotsu broth!
Ichiran Instant Ramen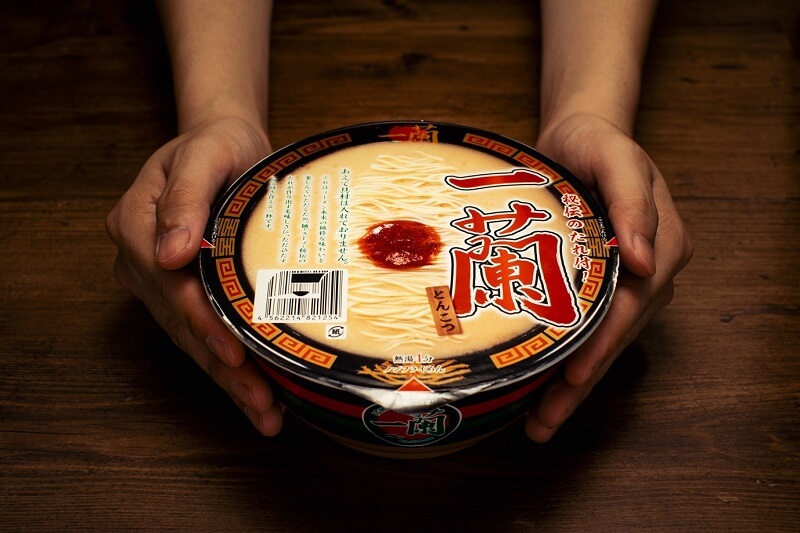 Source: Japan Today
The direct competitor to Ippudo, Ichiran Ramen, couldn't go longer without bringout out their own instant version of their famous ramen. This is a premium version of tonkotsu-based instant noodles only available in selected stores.
Maruchan Akai Tanuki Tempura Udon – Soba with tempura bowl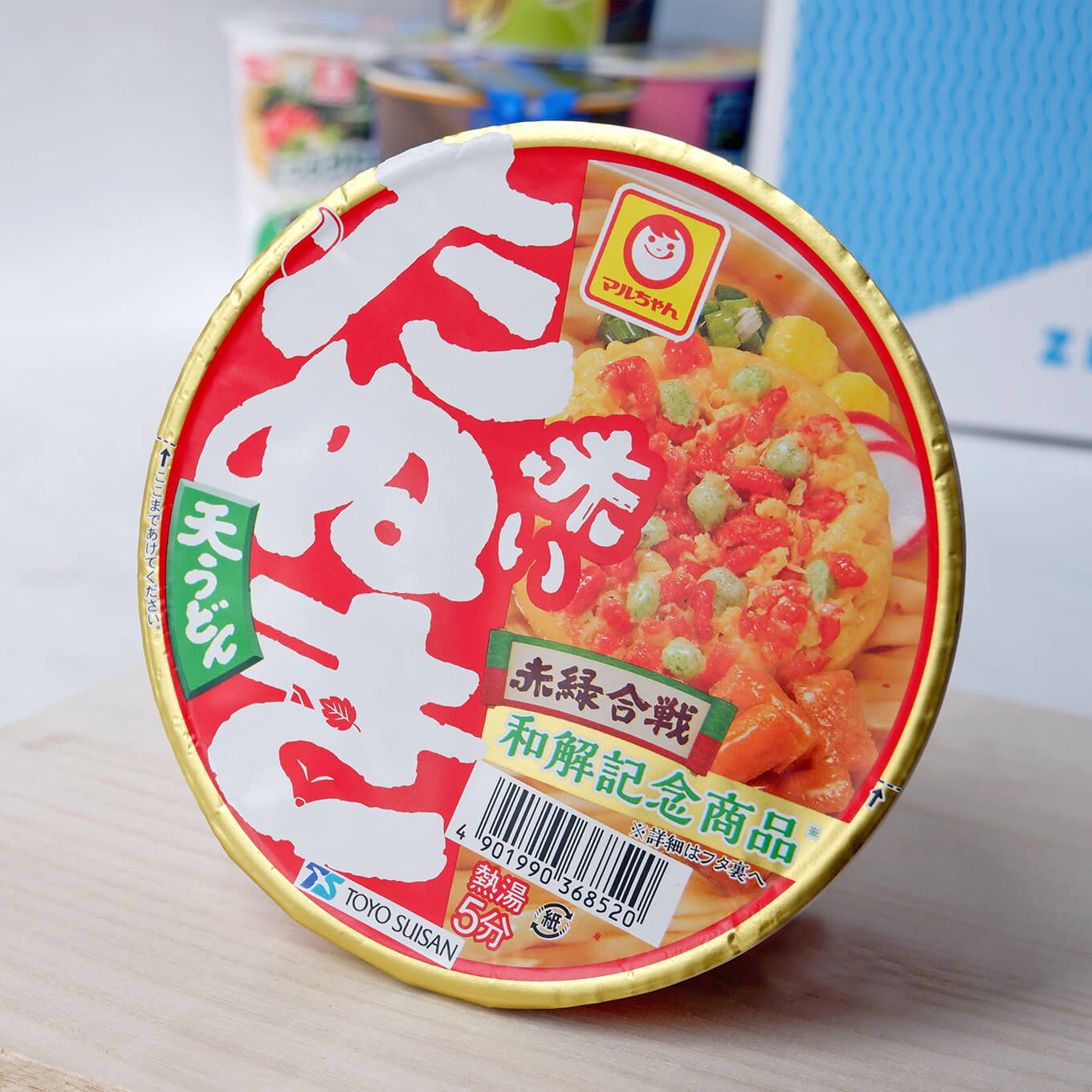 Source: ZenPop
Available in our ZenPop packs, you can't go wrong with those tempura-topped soba in a bowl! Maruchan did something pretty impressive with this pizza-looking tempura, which is actually a shrimp-based tempura. This is one of the rare instant noodles that offer you buckwheat soba as opposed to the regular wheat flour ramen.
Conclusion
This list could go on, and on, and on! If you don't want to keep looking for the best instant ramen, you can leave it up to us. Every month, we at ZenPop, curate some of Japan's best instant noodles for you, pack them in a cute box, and ship them directly to your home. Three clicks away, to happiness you'll find the way.