DIY candies in Japan mean edible arts and crafts. Or, it's more like science experiment sometimes to make them. They were originally produced for kids to develop the creativities while eating candies, but adults can also enjoy them. Some of them look like lovely miniature foods, others are like clay or other materials that can be shaped as you like.
So if you love both eating candies and doing arts, DIY candies are the right fit for you. Are you interested in cultivating your aesthetic sense with the candies? Now let's dive into the popular DIY candies in Japan!
ねるねるねるね (Neruneru Nerune)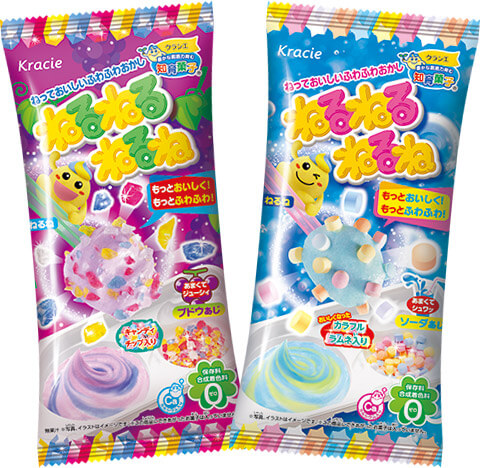 Neruneru Nerune is one of the very first DIY candies from Kracie, the maker of famous Popin' Cookin'. It's soft candy made from water and special powder, and it changes the color when you mix the different colored candies.
Can you guess what the trick is here?
The first powder contains Anthocyanin (alkaline) while the second one contains citric acid (acidic), so the color changing is a result of the scientific reaction. Little kids wouldn't understand what's happening, and they might feel as if they were mysterious witches who use a magical power. When they get older and use a litmus paper at school, they'll know the truth.

ポッピンクッキン たのしいラーメンやさん (Popin' Cookin' Fun Ramen Shop)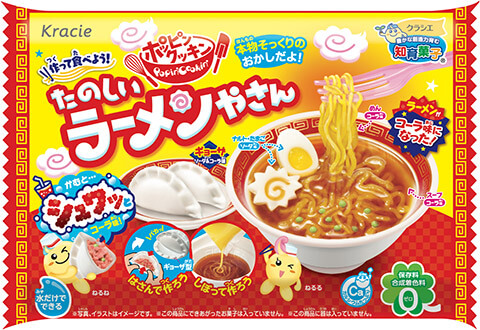 Looks like a miniature bowl of Ramen, but never expect that it actually tastes like the dish because it's sweet! You can make gyoza dumplings too, and they're also sweet.
To be honest, neither of them tastes very good, probably because you would expect the savory flavor of ramen, but it's fun to make, which is a bigger deal when it comes to DIY candies.

ポッピンクッキン つくろう!おべんとう! (Popin' Cookin' Let's Make Obento!)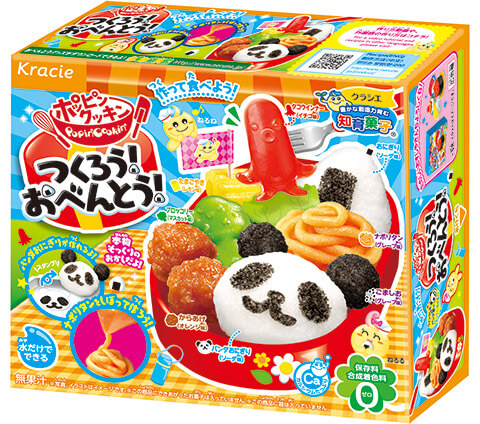 Make an Obento box of fried chickens, spaghetti, rice balls, a broccoli, a tamagoyaki (a rolled omelet), and an octopus sausage. Again, each of them doesn't taste like an actual food. They feel like jelly or gummy in your mouth.
The completed candies on the packaging look very cute, but you'll need much skill with your hands to make them well.
海のいきものグミ (Sea Animals Gummy)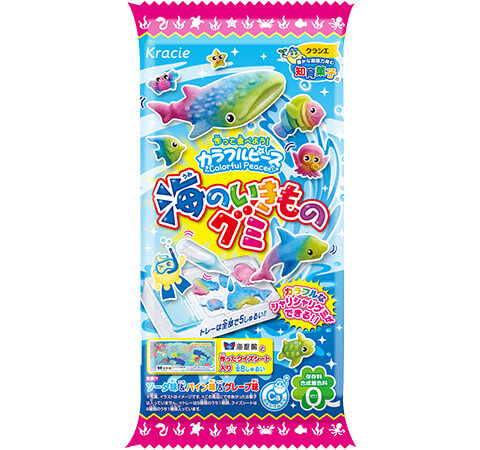 Making gummies would be a nice summer activity especially if they are shaped like sea animals. Just use the molds included in the kit to make the edible jewels.
These gummies are also made from water and four kinds of special powder. If you want to make your gummies colorful, mix the powder of different colors before dropping water. If you want to challenge your dexterity, make a Luna-shaped mold yourself and make a candy of our bunny mascot!
ポッピンクッキン ハンバーガー (Popin' Cookin' Hamburger)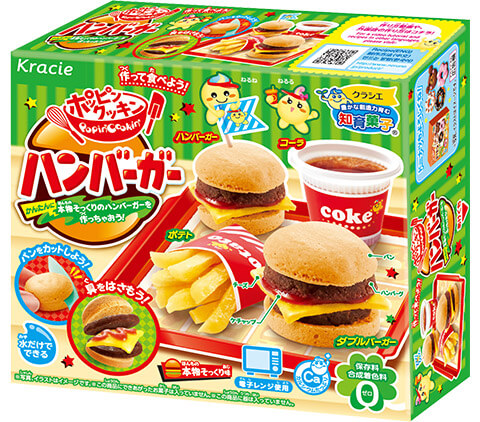 You can make two hamburgers, french fries, and coke with this kit. And believe it or not, they taste like what they look like!!! The meat tastes like meat, the buns taste like buns, the french fries taste like french fries….
Imagine if you'd had this when you were playing house in your childhood. It should have been wonderful!

Which DIY candy do you want to try?! We might include one in future ZenPop boxes… Stay tuned!
Check what's inside our current Sweets Pack!