Do you know the bullet journal? Often abbreviated "BuJo", this simple little notebook, part diary, part organizer and part diary, is the perfect tool to plan your daily tasks with style and creativity!
Created by the American designer Ryder Carroll, the concept of the bullet journal has, at first glance, little to do with Japan. However, the Japanese have a vivid imagination and have given it a kawaii, refreshing and colorful touch. There is even a local alternative to BuJo in Japan: the Hobonichi.
Whether you are already a bullet journal fan or not, discover here how to make the ZenPop Papeterie Kawaii box the ideal ally of your daily organization... and how to keep a Japanese inspired journal (or a Hobonichi) according to your desires.
What is a bullet journal?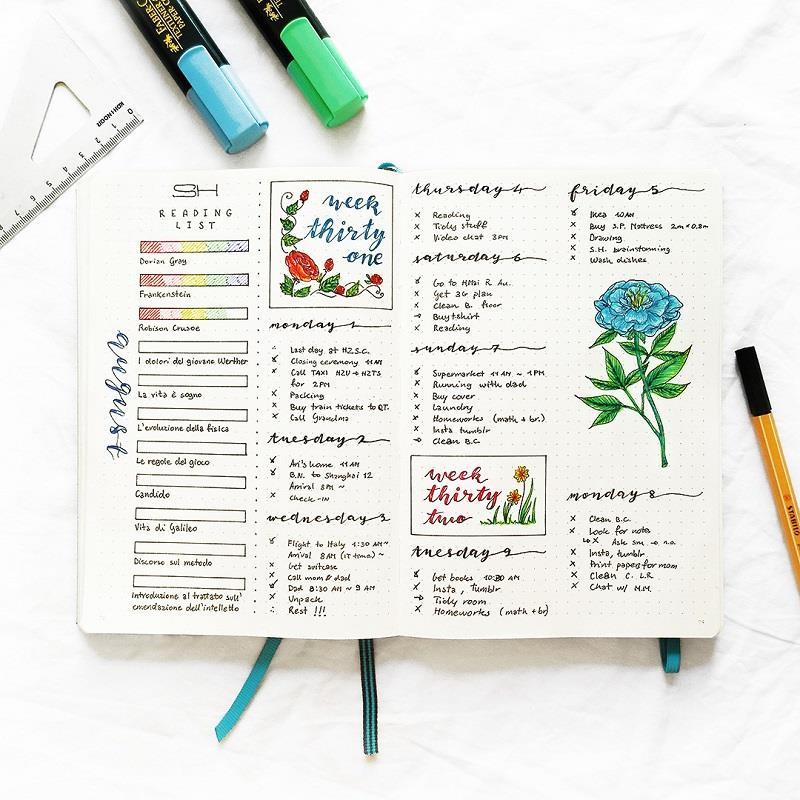 The bullet journal is a notebook that groups together a set of tasks to be carried out, in the form of bulleted lists.
However, this simple definition hides the essential, because the bullet journal is not just an object. It is above all an organizational system.
Like a diary, it is designed to help you plan your life... but in a completely personalized way, without any constraining structure or ready-made layout. The basis of the bullet journal concept is that everyone designs it themselves, according to their needs and goals. Each BuJo is therefore totally unique.
Why keep a bullet journal on a daily basis?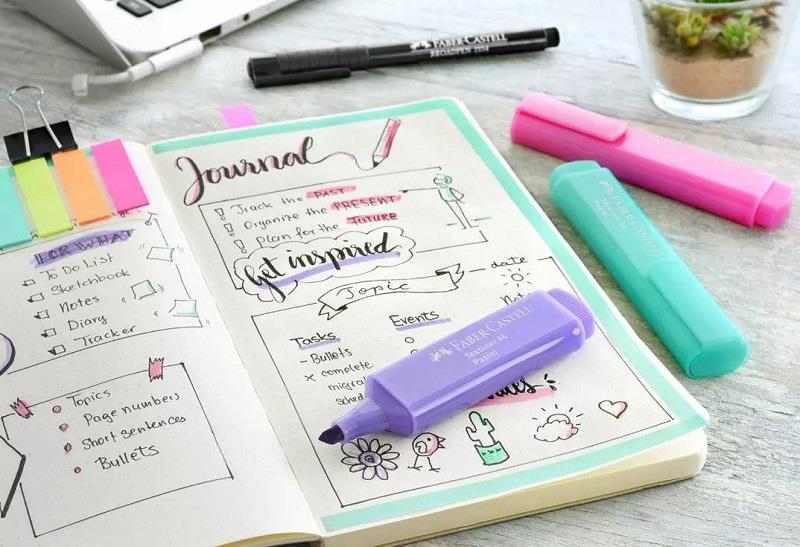 The benefits of Ryder Carroll's method are significant. Keeping a bullet journal on a regular basis helps you to better visualize your daily organization, to plan your life in a more fluid and pleasant way, to optimize your time... and therefore to reduce your stress.
The BuJo is also a creative way of expressing yourself, allowing you to let your imagination run wild. Some people even include their diary in it!
In short, the bullet journal is both a tool for organization and personal development, ideal for people who are overwhelmed on a daily basis.
How to keep a bullet journal in the right way?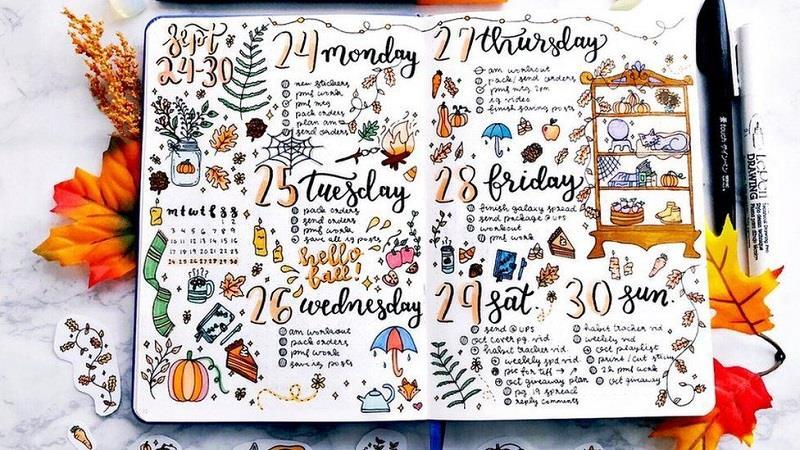 The original BuJo requires very little material. A notebook and a pencil: that's all you need to start the adventure!
The concept is also based on a few strict rules: index system at the beginning of the notebook, pagination rules, use of precise symbols...
After a first "Index" page acting as a summary, the tasks of the current month are organized by day and by type, thanks to a system of symbols. A square to be checked, for example, indicates a daily task to be done, while a circle indicates an event, an exclamation mark underlines an emergency, etc.
Many specialized blogs allow you to learn more about the perfect organization of a classic bullet journal, starting with Ryder Carroll's official blog, The Bullet journalist. You can regularly find examples of layouts and testimonies of followers of the original method.
This method is also available in the form of paid training courses or books, but you don't need to go that far to find your own way of doing things, especially if you're a creative person who loves freedom!
Indeed, if the BuJo is a concept based on many rules, absolutely nothing obliges you to conform to them 100%... and this is where the Japanese bullet journal comes in!

How to create a Japanese bullet journal?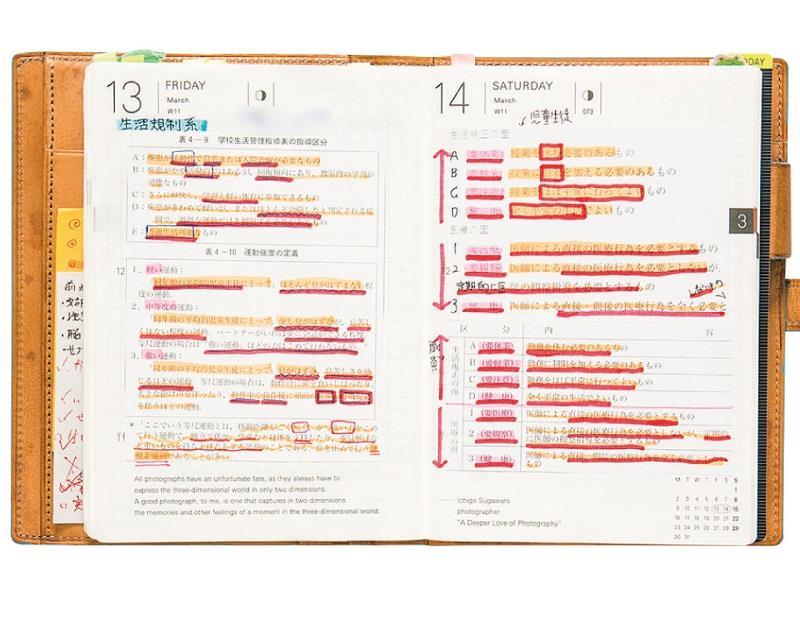 You want to make a unique and original BuJo, which reflects your personality and your love for Japan? So why not add a little kawaii touch?
This is what many creators are already doing on Youtube or Instagram for example, via the hashtag #kawaiijournaling.
Stickers, washi tape, colored markers and ink pads will be your best assets to make your Japanese bullet journal an organizational tool that is as practical as it is cheerful and inspiring. Our best advice: let your imagination run wild, depending on your moods and the seasons!
Each month, you will find a nice selection of seasonal Japanese stationery in the ZenPop Kawaii Stationery box. It usually includes between 8 and 10 items from Japan, including some cute accessories that will bring a touch of fun to your workspace.
Finally, for those who want to go further in the discovery of Japan, there is also a 100% Japanese alternative to the bullet journal: the famous Hobonichi.
A Hobonichi, the Japanese alternative to the bullet journal, what is it?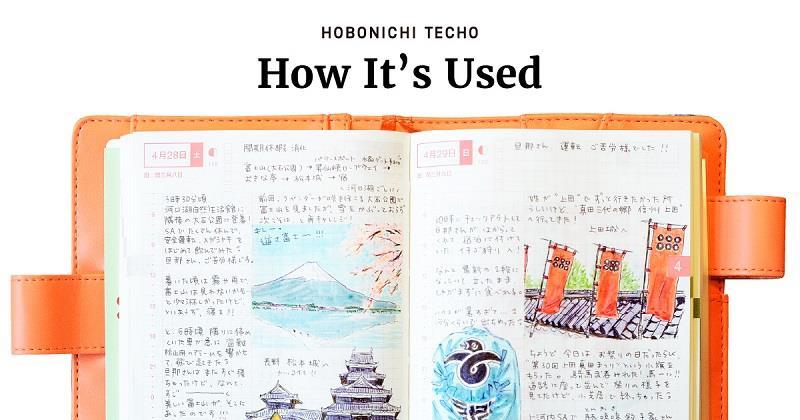 Still largely unknown in the West, Hobonichi Techo is a Japanese stationery brand that appeared in 2002. It publishes every year a diary specially designed to be customized by its owner. The latter is now available in three versions: Hobonichi Techo Original (one page per day, A6 format), Hobonichi Cousin (same, A5 format) and Hobonichi Weeks (one page per week, extended format).
The thick texture of its paper, which allows it to absorb all types of inks without risk, makes the Hobonichi the ideal support for drawing or calligraphy lovers. But it is also possible to personalize it with stickers, masking tape and other kawaii supplies from Japan. Even the cover is customizable!
Thanks to Hobonichi Techo, the austere daily diary is transformed into a colorful and warm logbook, with only your imagination as a limit!
Are you curious about the result? Don't hesitate to explore the Youtube channels dedicated to Hobonichi creation, like the one of the artist Abbey Sy for example, specialized in creative lettering.
Bullet journal vs. Hobonichi: which one to choose?
Even if the Hobonichi is not strictly identical to the BuJo, the two concepts share many similarities. Their main common point is obviously the idea of personalization. Just like a bullet journal, the Hobonichi invites its owner to be creative, decorating the pages on a daily basis according to his or her tastes and moods.
A notable difference is that the BuJo is a blank notebook, whereas the Hobonichi is a diary. Each page corresponds to a specific day, or even a week in the Hobonichi Techo Weeks version.
Finally, while the bullet journal is an organizational tool, the Hobonichi cleverly mixes agenda and diary. It allows its owner to keep a record of his daily life, without necessarily limiting himself to writing lists of tasks (even if it is quite possible to do so if you wish).
You hesitate between the two media? Keep in mind that the most important thing is that your journal looks like you. There is nothing to stop you from using the Hobonichi as a bullet journal... and vice versa!
And if you are really creative, you can also combine the two, depending on your needs. This is what Kaila does on her very inspiring Youtube channel RainbowholicTV. A real goldmine for kawaii culture lovers!
Now you know everything about the BuJo method and the Hobonichi. Do you want to start your own business? Don't hesitate to subscribe to the ZenPop Papeterie Kawaii box to receive each month many seasonal supplies, which will make your bullet journal unique, alive and warm!