Bullet journals have become the go-to solution for people who find themselves torn between the desire for a beautifully organized life and the irresistible urge to doodle cartoons on paper. Instead of apps or software to manage activities, people use journals. The problem is, creating your own pages and making fun headings isn't s easy as it looks in pictures. That's where bullet journal stencils come in.
Now, I know what you're thinking – stencils might sound like something your grandma used for crafting '70s-style flower patterns on throw pillows. But hold onto your ruled paper because these stencils are the perfect way to improve your Bujo. We're about to take your journaling to "Wow, did you hire a professional designer?" Let's dive into the delightful world of bullet journal stencils.
What Are Bullet Journal Stencils?
Bullet journal stencils are pre-cut templates designed to help you create consistent and intricate designs in your journal with ease. They are usually made using durable materials like plastic or metal, which can last a long time. These stencils have various shapes, icons, and patterns used in bullet journaling.
There are stencils for letters, icons, boxes, circles, frames, leaves, ribbons and just about everything else. One of the most significant advantages of using a bullet journal stencil for your journaling routine is boosting your creativity and making the journal neater. It's a great way for beginners to learn how to make a bullet journal. Here are the best bullet journal stencils in 2023.
Mr. Pen Journaling Stencil
PRICE: $4.99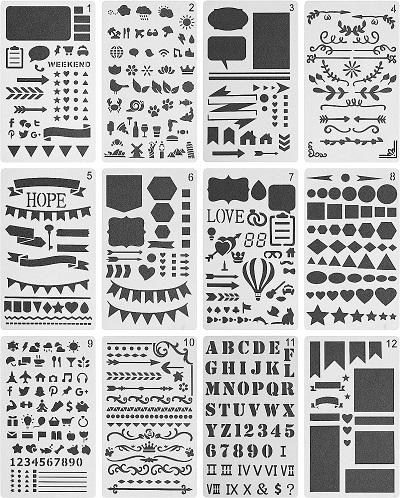 This journal stencil is one of the most popular ones on Amazon, with 12 plastic stencils. With that much in the pack, you know you're getting lots of designs. What we love about this set is that there is a letter stencil which some packs do not include.
As far as shapes go, there are banners, different sizes of squares, hearts, stars, icons, straight lines, and intricate patterns you can use for border lines. The stencils are made using plastic, and it is perfect for A5 notebooks. It is clear that this set gives you everything you want for a very affordable price.
PROS:
It is very affordable.
There are various shapes to pick from; whatever you're looking for, you'll definitely find it.
The lettering stencil comes in handy.
CONS:
No stencil has a ruler edge.
Tsuki Bullet Journal Stencil Set by NOTEBOOK THERAPY
PRICE: $30.98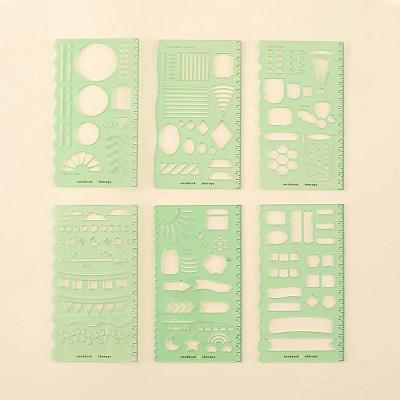 Notebook Therapy is a stationery online store with its own product line. The Tsuki bullet journal stencil comes with 6 stencil sheets with over 100 shapes, and you can use the side as rulers.
This stencil has a lot of uses because each sheet has a different design of wavy lines. There is also a stencil for making both vertical and horizontal lines as well as one for fun shapes like stars, squares, leaves, and even text boxes. There are a lot of fun ways to use this stencil for weekly log boxes and doodles.
PROS:
All of the shapes are functional.
There is a built-in ruler.
The wavy lines on the edge of each stencil are not common in other sets.
CONS:
There is no template for lettering.
Midenco 36Pcs Bullet Journal Stencils Templates Set
PRICE: $15.99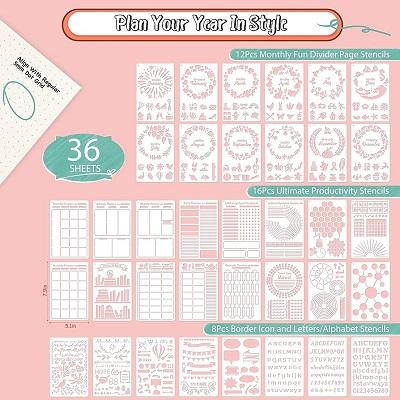 One of the most interesting things to note about this product is the number of stencils. 36 is a big number, and you will definitely get your money's worth. They have almost every design or shape you would ever need, so it is the ultimate cheat code for journaling. You can probably even design your life with this set.
You will find the regular icons, banners, shapes, and lines, but what's most impressive is that there are templates for your weekly planner spread and pages like meal planner, exercise planner, and even mood planner. This stencil inspires you to add pages that you may not have originally planned to add. Additionally, there are 3 letter stencils with 3 fonts for uppercase, lowercase, and numbers. With this set, you don't need anything else other than your notebook, pens, and markers to make an awesome bullet journal.
PROS:
It's perfect for beginners.
There are various shapes for all uses.
The price point is far for its quality.
CONS:
It takes away the fun of creating your own designs.
TrippingJournal Stencils
PRICE: $12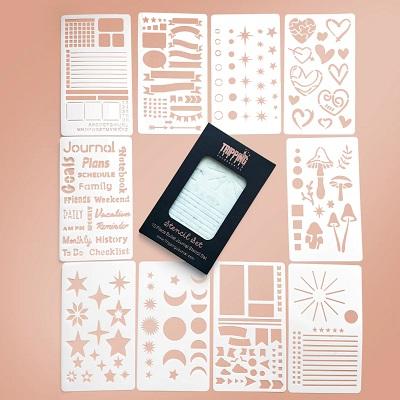 Tripping Journal is a small Canadian bullet journal company. Their exclusive 10-piece stencil set has some interesting templates that are going to boost your creativity without making it too easy for the user. There are the usual squares and lines to help create the weekly and monthly spread, as well as one template with some functional words using different fonts for each word to spice things up.
One cool template that no other company has created is the heart, moon & sun, and mushroom template. The heart template is so cute, and it can be used for many fun pages, but the mushroom one can add a whimsical flair to your journal.
PROS:
It has unique shapes and patterns.
CONS:
No individual lettering template.
ZICOTO Journal Stencils
PRICE: $11.99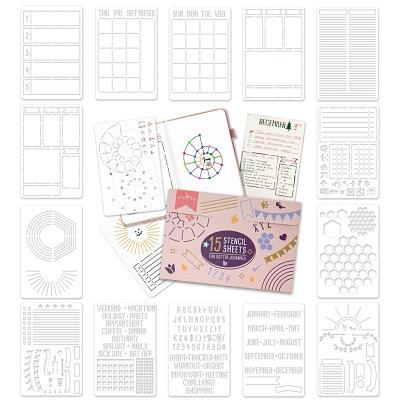 ZICOTO is a small stationery company with an impressive bujo stencil set. The 15 stencil pieces are a Bujo lover's dream with everything you would need. There are pre-made pages for Monday - Sunday notes, boxes, lettering (months, weeks, and single letters), and tracker boxes.
The drawback of this set is that it is too functional. There are not nearly enough icons, and with 15 templates, there could have been more border patterns and doodles to help users who find it difficult to draw. However, its functionality would save a lot of time for busy bullet journal owners.
PROS:
It has pre-designed spreads that users only have to copy to get perfect pages.
It is affordable.
CONS:
It has minimal icons and funky design elements.
BulLine Bullet Journal Stencils Set
PRICE: $13.36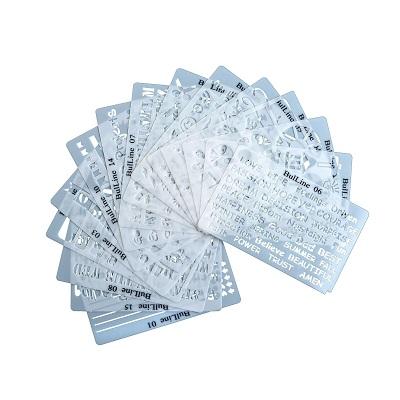 If you are having a little problem with lettering, this stencil is for you. The BulLine stencils are a set of 15 small stencils, with 5 of them dedicated to lettering. It is smaller than all other sets that we have covered, but it can still be used on A5 notebooks.
The lettering stencils are split into single-letter and single-word stencils. You can find functional words like days of the week, key headings, and numbers on the stencils, which can make your bullet journal organized. There are also banners, emojis, boxes, and other design elements on this stencil set. Overall, it is a great set.
PROS:
It is perfect for people who have poor lettering and need support.
CONS:
It is small.
The plastic used for the stencil is quite flexible.
How to Use Bullet Journal Stencils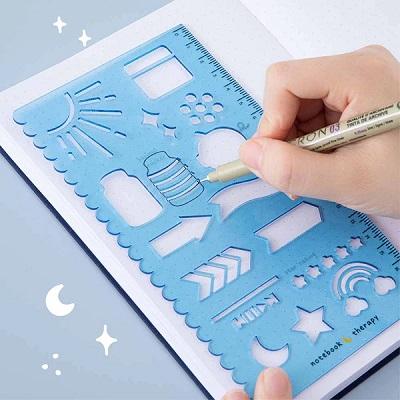 Choose Your Stencils: Select stencils that align with your journaling needs and price range. You might use shapes like circles, squares, or arrows or more intricate designs like floral motifs or alphabets.
Position the Stencil: Place the stencil on your journal page where you want the design to appear. Secure it in place using adhesive putty or tape if needed.
Trace or Color: Depending on your preference, you can either trace the stencil's design using a pen or pencil or use it as a guide for coloring and shading.
Experiment and Combine: Don't hesitate to experiment with different stencil combinations and placements. Mix and match elements to create unique layouts that suit your journal's purpose.
Bullet journal stencils are a game-changer for both seasoned bullet journalers and newcomers to the craft. These stencils allow you to take your personal organization and creativity to new heights, plus it is a huge time saver.
Have you been looking to buy some high-quality Japanese stationery? You can check out our ZenPop stationery store for the best deals from Japan.
This article was originally written by our freelance writer Umm-Kulthum Abdulkareem and edited by us.