Amaou strawberries are actually very rare. Grown in Japan's Fukuoka Prefecture, they are called amaou because of the combination of the words that describe them well: akai (あかい), marui (まるい), ookii (おおきい), and umai (うまい), which mean red, round, big, and tasty, respectively.
This variety is very popular in Japan. And when people talk about it, there's only one thing that comes to their mind — it is ultra-expensive!
Let's learn about this special kind of strawberry in this post.
Facts About Amaou Strawberries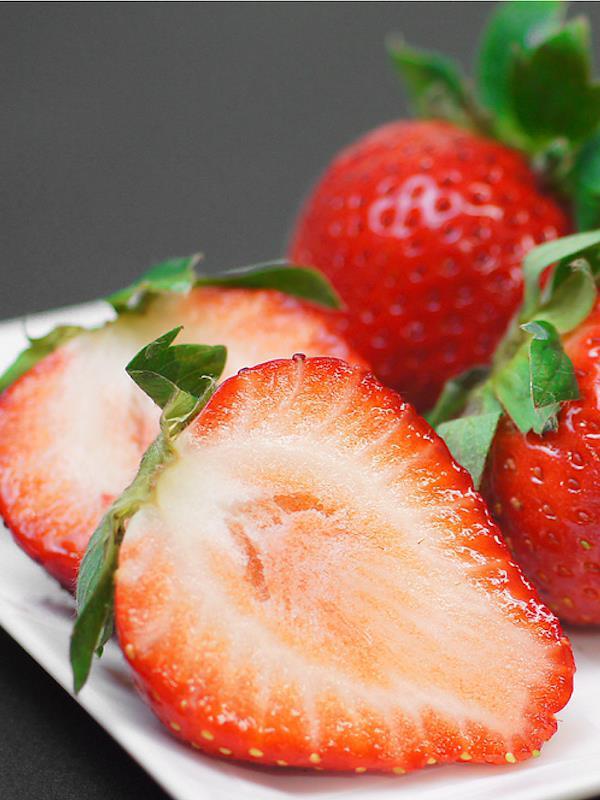 Unlike your typical varieties, amaou strawberries are large. They can even be three times bigger than regular strawberries in Japan. The round fruit has a diameter of about six to eight centimeters. Its shoulder part is round and broad that tapers to a small and curved tip.
Weight-wise, they are about 40 to 50 grams each. The amaou strawberry once held the record of being the heaviest strawberry on this planet. The Guinness Book of World Records recorded its weight at 8.82 ounces. But in 2021, the amaou strawberry was beaten by a variety grown in Israel.
These strawberries look prettier too. They have smooth and glossy skin with bright red color and are covered in an abundance of small and edible seeds. Underneath the skin is a soft, red, watery flesh. Sometimes, the core of the fruit seems a bit hollow.
Typical strawberries are a bit sour, but not the amaou strawberry. They are very sweet yet they contain some acidity, giving you an excellent fruity taste.
Always remember that when you're looking forward to tasting fruits that are only available in Japan, you have to come when those specific fruits are in season. So if you're looking forward to tasting amaou strawberries, it's best to come from December until May. They are usually found in fruit stores and department stores in Japan.
How Amaou Strawberries Are Grown?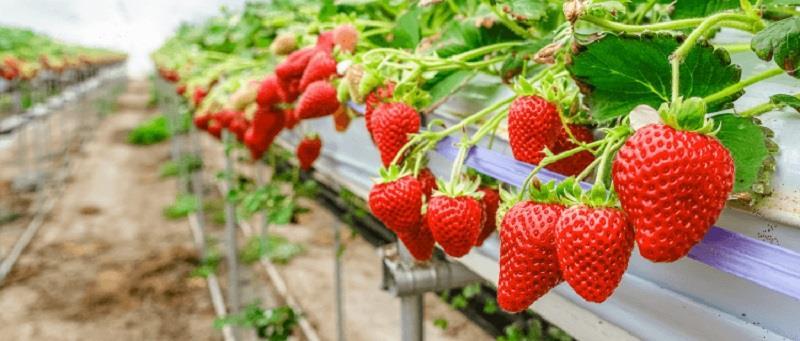 Amaou strawberries in Fukuoka are grown in greenhouses. Farmers use bamboo rods to prop up the leaves, allowing the strawberries to get adequate sunlight.
Bees cross-pollinate the strawberries, and the distance between the plants is large to allow the strawberries as much sunshine as possible.
When it was first developed as a variety, it took more than six years. It was initially created through the process of natural pollination in Itojima City in Fukuoka (where the variety is mostly grown). It's a location where large and slow-growing fruit thrive because of the cloudy and warm climate. Amaou strawberries are sweet because of the environment in which they are cultivated.
Why are Amaou strawberries so expensive?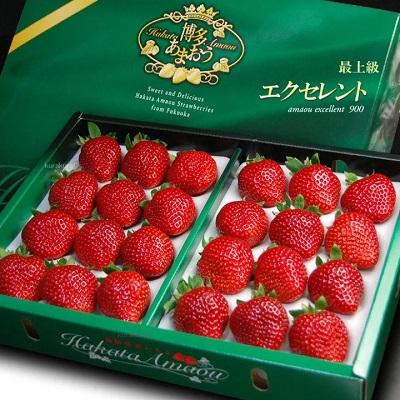 Amaou Strawberry Packaging
Amaou strawberries are not fruits you can eat every day. They're not fruits you can easily buy for yourself either. They are so expensive that you'd probably only buy them as gifts for a special event. A 1.12-kilogram pack can already cost you ¥9,000, and that's about US$67!
So why are amaou strawberries expensive anyway? Aside from the fact that they're rare, it's hard to grow them. When harvesting this type of strawberry, they need to pass a specified quality to be considered an amaou strawberry. If it's ripe yet small, it cannot be sold as one.
Since they're the premium type of strawberry, they are often packaged in presentable boxes and come with dividers to separate the fruits from each other. The strawberries are often exported to other Asian countries (such as Taiwan, Hong Kong, China, and Singapore), which are then sold as luxury products.
Even the Japanese would rarely eat amaou strawberries. Some of them only got a chance to eat a small amount because they received it as a gift from their boss.
How Amaou Strawberries Are Eaten?
Amaou strawberries are best consumed fresh because you can enjoy their pure sweetness and juiciness. Experts suggest eating it from the bottom because the topmost part is where the bulk of the sugar content is. Inside the crisper drawer of your fridge, the amaou strawberry can last two to three days.
You can also slice the strawberries and include them in salads and other mixed fruit snacks and desserts. Since they're big, smooth-looking, and expensive, they make great decorations on top of cakes. Just like any other fruit, you have the choice to top them on your ice cream or yogurt and include them in your fruit smoothies.
We know that a lot of you love to give their beverages a twist. If you have sparkling sake, top it with an amaou strawberry.
Health Benefits of Amaou Strawberries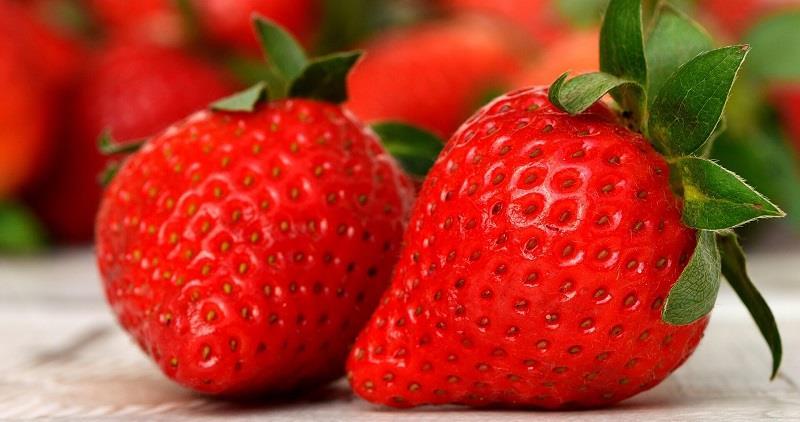 Amaou strawberries are not just sweet and juicy. They're nutritious as well.
They include dietary fiber, which draws toxins and other undesirable elements from the body and expels them. Amaou strawberries provide half the vitamin C of a lemon and can promote collagen formation and your immune system. Additionally, potassium, an anti-inflammatory, is present.
Top Amaou Strawberry Snacks You Can Buy Right Now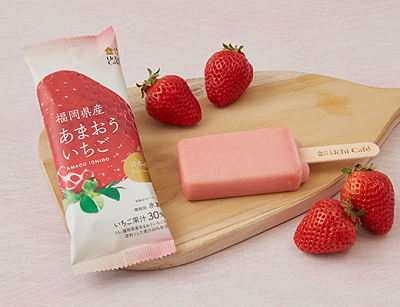 Amaou Strawberry Ice Cream by Lawson.
Since amaou strawberries are seasonal fruits, snack companies often offer them as limited-edition flavors of their products. Nestle Japan, for example, is popular for Kit Kats. The company creates Kit Kats that use regional ingredients and flavors. Among them is the Kit Kat Amaou Strawberry variant.
So if you're on a tight budget and you'd rather not spend money on an ultra-expensive fruit, you always have the option to purchase flavored snacks, like ice cream. The brands will explicitly label their products as amaou strawberry flavor.
Here are some of the amaou strawberry-flavored snacks you can purchase:
Fujiya's LOOK Haato No Gohoubi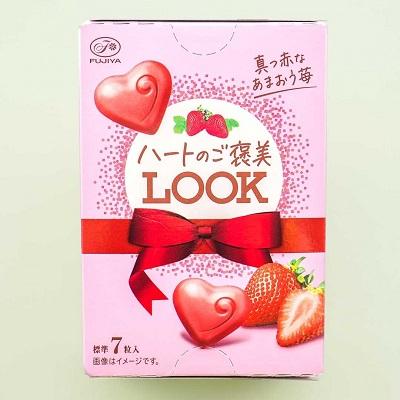 These treats combine milk chocolate with sweet amaou strawberry flavor. Its unique red color and heart shape make it a great gift for your loved ones.
Kabaya's Amaou Strawberry Chocolate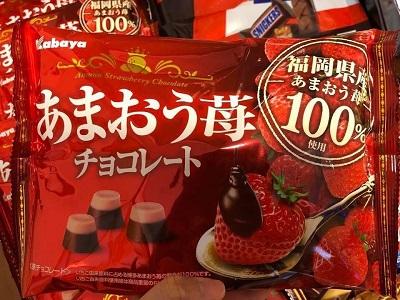 The flat-top chocolate gives you the sweetness of amaou strawberries at the top and delicious milk chocolate at the bottom.
Sennarido's Amaou Strawberry Almond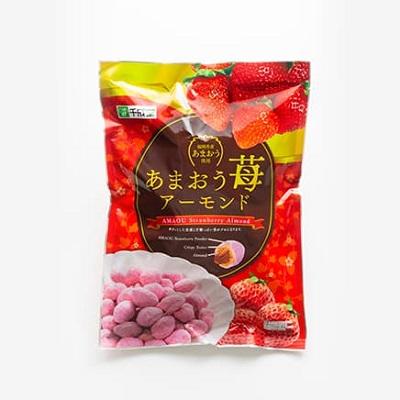 Do you love strawberries? Do you love nuts? Maybe even both? Then this almond amaou strawberry snack is perfect for you. Every piece is coated with amaou strawberry-flavored powder. Since they are individually wrapped, you can easily give them to friends and family.
Bourbon's Pretzels Chocolate - Amaou Strawberry Flavor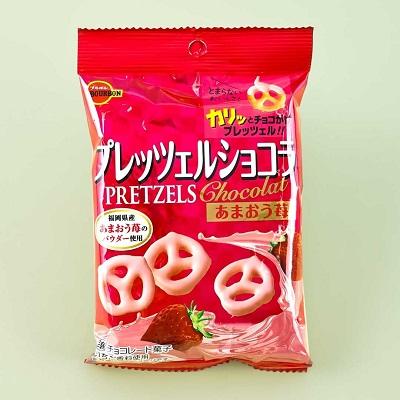 Pretzels are easily among the best things to snack on. And if you're looking for a delicious coating other than your typical chocolate and strawberry, this product from Bourbon is sure to satisfy you.
Morinaga's Hi-Chew Premium Amaou Strawberry Candy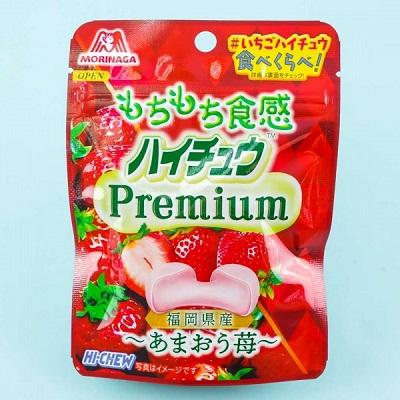 If you love those chewy and fruity candies, get this Hi-Chew amaou strawberry-flavored candy. Eat one and it feels like chewing on mochi that's coated with crispy sugar.
Want to try some of those snacks? Check out our ZenPop Snack and Mix boxes where we regularly include amaou strawberry-flavored snacks and ship them to you!