Pen cases provide an easy way to store your writing utensils, but did you know that the ones offered by Japanese brands can do so much more? Since handwriting and calligraphy are important aspects of the country's culture, manufacturers produce not only writing instruments but also accessories to create a better experience.
Pen cases are not just for protecting our pens, pencils, and erasers, they help us carry them anywhere we go in an organized manner. The good news about them is that they come in different sizes and colors. Moreover, manufacturers engineered them to become more functional.
Whether you need a larger space as you have tons of writing materials or something multifunctional, there's definitely a Japanese pen case that will tick all the boxes.
Before you purchase storage for your writing materials, research some of the best options first. In this post, we'll list the different types of Japanese pen cases:
Canvas Pen Case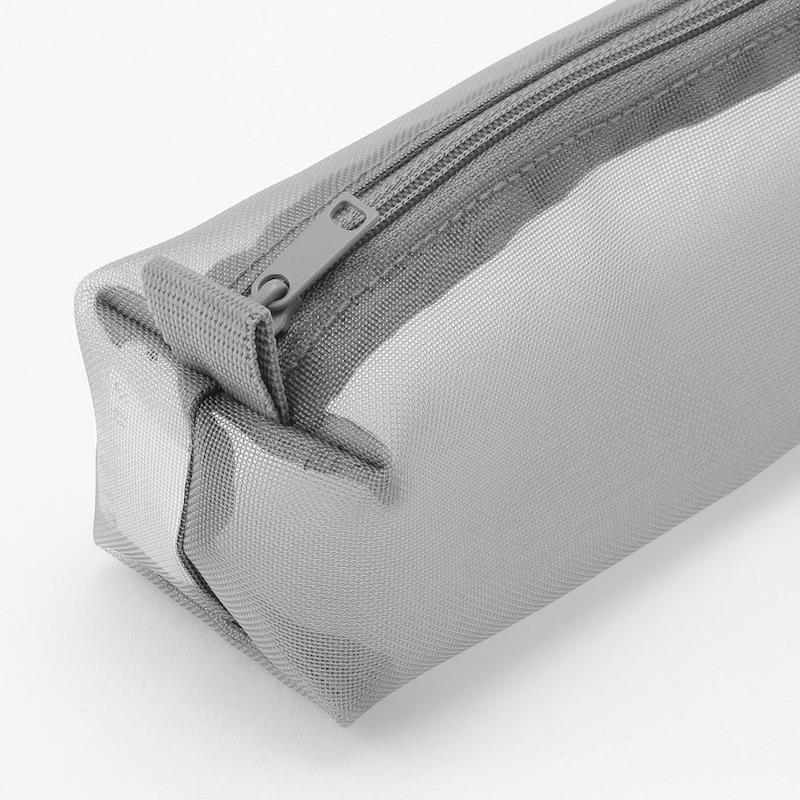 A Muji pencil case
The simplest pen cases from Japan are typically made of canvas. But what's extra special about them is their shape, which is usually a rectangular box. Because of this, you can fit in more pens than the typical pen case.
Some manufacturers add extra features to the canvas pen case, such as placing zippers on two sides or creating two compartments. Others would print cute characters (Hello Kitty, for example) on the canvas. If you want something simple and lightweight, go with a canvas pen case.
Japanese Multifunction Pencil Case
Some stationery companies in Japan create pen cases that have multiple functions. In other words, they can be transformed into something else.
The Pilot Otobaco Pen Case, for example, can be converted into a pen holder with a stand that can hold two pens and a tray that can accommodate a couple more pens. In the middle is a non-slip strip that also serves as a phone holder.
Once you're done with the desk work, just fold the case and secure it using its magnetic closure. You don't need to remove the pens from the tray and from the stand when using it as storage.

Bag/Pouch Pen Case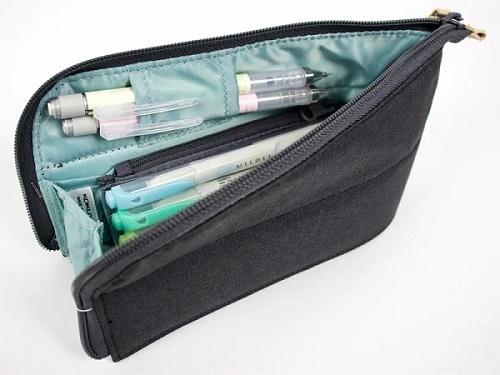 Some people prefer bags or pouches as their pen cases because of the flexibility they provide. They're more compact than typical pen cases because they can be slipped into tight spaces.
Now, you might think that being compact means there are fewer compartments for your stationery items. But that isn't true. Japanese manufacturers typically design them with multiple pockets that are designed for writing materials you'll likely bring along.

Let's take a look at the Kokuyo NeoCritz Worxus. This compact pen case can easily be converted from a bag to a pen tray. It has a loop where you can place your most used pens, a compartment for more pens and other office items, smaller pockets for erasers, small sticky notes, and other small, easy-to-lose office supplies.
When in its tray form, you can easily see all the items in this pouch. It is wedge-shaped when zipped and can easily be stored in your bag.
Transparent Pen Case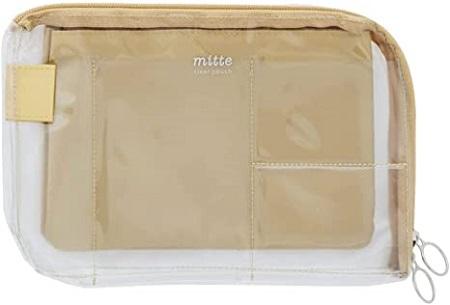 Transparent pen cases are a variation of bag pencil cases. The biggest advantage of clear organizers is that you can easily use your smartphone even if it's still inside the bag. And with just one look, you can easily see if you have all the supplies you need before you go.
Transparent pen cases like the Sun-Star Mitte Bag in Bag also have translucent compartments for items you want to hide from plain sight. Another good thing about this pouch pen case is that it has multiple compartments while still being compact.
Pop-Up Pen Case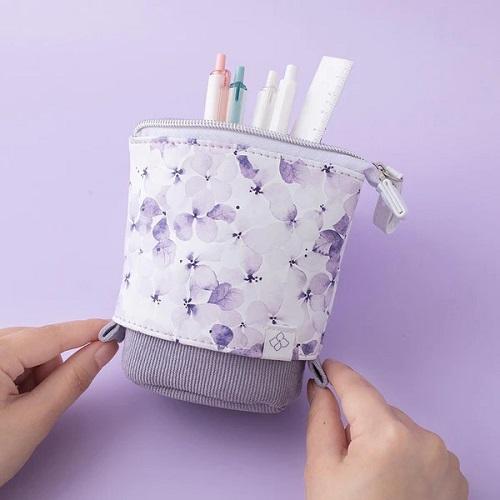 The pop-up pen case is yet another unique product by Japanese office supply companies. Aside from functioning as a storage for your pens, pencils, and erasers, you can easily convert it into a pen cup/holder.
In other words, you can place it on your desk at home while you study so you can easily grab your pens. Then convert it to a pencil case because you'll surely need those supplies at school.
Some pop-up pen cases, such as the Lihit Lab Bloomin Stand Pen Case, have a small loop within the lid, where you can place your eraser or other small office supplies. The brand also carries this product in cute animal designs.
A company called Sun-Star offers pop-up pen cases in simple designs. Moreover, brands outside of Japan have imitated this design, so you'll likely find this kind online and probably at a cheaper price.
Roll-Out Pen Case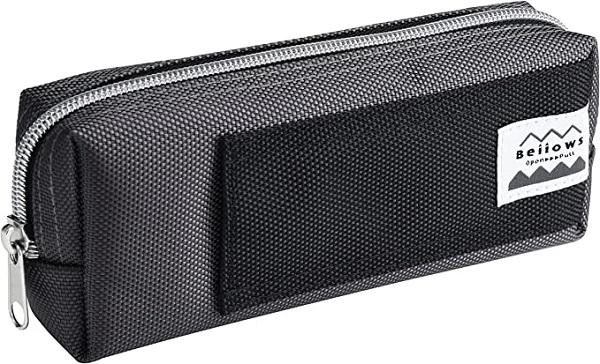 A roll-out pen case may be compact, but you'll be amazed at the number of items you can store in it. One of the best ones out there is the Concise Bellows Pen Case. Aside from being lightweight, it features a tri-fold flap that you can lay down flat on a table for easy access to your pens. Even if it's in a compact form, you can place two pens in its outer pocket (as long as it's not overstuffed inside). The pen case also has a mesh pocket inside for your smaller items.
Standing Pen Case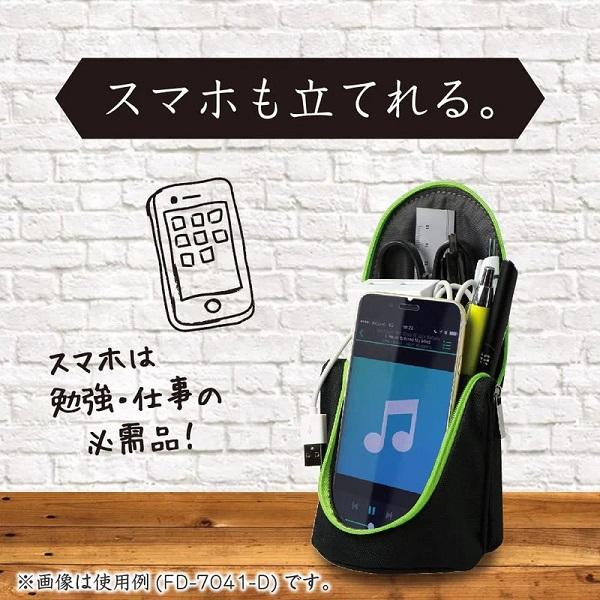 Stationery companies typically design standing pen cases with two functions. Aside from being handy and portable, users can turn it into a pen holder on their desks.
The Sonic Sma Sta Standing Pen Case is one example. It has a compartment specifically for pens and pencils and a small pocket with a Velcro strap for smaller items. When you unzip it, you can fold it half securely (as it has a pair of magnets) to turn it into a pen holder. The front part can be used as a smartphone holder.
Another amazing product is the Raymay Detecool Pen Case. The pens stored inside this case can easily be accessed because the bottom part is flat to make it stand and the inner compartment can be tilted so you can easily reach for your pens. It also has a small pocket for storing an eraser and small items.
Sturdy and Solid Pen Cases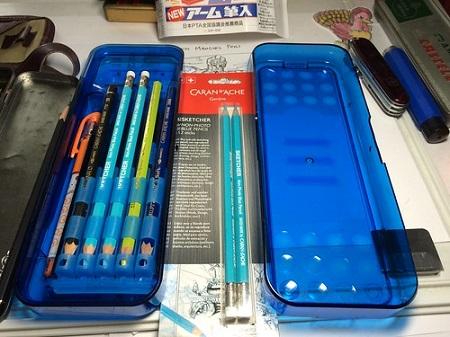 You've probably had at least one solid plastic or metal pen case when you were a kid. So if you prefer traditional pen cases with more features, try the ones from Japanese brands.
We recommend the Sun-Star Arm Pencil Case because of its sturdiness. As you would expect from a regular pen case, this product also has a top tray. But what sets this feature apart is that it has slots for pens and pencils which can be lifted up so you can easily get them. Below the tray, you can store more pens and erasers.
How to Choose the Ideal Japanese Pen Case
When you shop for Japanese pen cases in the country or online, you'll find more unique designs from various stationery brands. But they pretty much offer the same functions.
Before you choose a pen case, consider the design and space of your desk. Ask yourself a couple of questions. Do you prefer cute designs or solid colors? Also, remember that some types are more portable than others.
List down your preferences. Perhaps you just want something simple and cheap. Or maybe you need something that can store more pens and items. If you order online, remember that the price of Japanese pen cases can be twice or three times higher than regular pen cases. So choose something that's suitable for your lifestyle.
Check out our ZenPop stationery box to get your supply of Japanese stationery delivered to your home!