Do you love snacking on Japanese candies, trying new instant ramen flavors, or collecting cute stationery items? Then you may be interested in subscribing to a Japanese subscription box service. This article will compare two popular Japanese subscription box services - Tokyo Treat and ZenPop. We will take a closer look at the types of subscription boxes they offer, the contents of their packages, and the pricing structure. We will also compare their similarities and differences to help you decide which one to choose. First, let's get to know a little more about these boxes.
Origin
TokyoTreat
Tokyo Treat started in the living room of a gift giver, like many other companies. In 2015, Ayumi used to pack snacks she handpicked alone to send to her friends. Then she gathered a team and created a company to help her make a monthly subscription service that delivers a box of Japanese snacks and treats straight to people's doorstep. TokyoTreat claims to have served millions and is dedicated to has since grown to become one of the most popular Japanese snack subscription services.
ZenPop
ZenPop is a Japanese subscription box service founded in 2016 by ZenMarket. Inc (now ZenGroup Inc.). ZenMarket is a shopping service from ZenGroup where people from all over the world get to shop from real-life Japanese stores at cheap rates that deliver a variety of Japanese goods straight to your doorstep. The success of ZenMarket led to the creation of ZenPop, where people from all over the world get to partake in authentic Japanese snacks, ramen and stationery to discover the country from their homes slowly.
What do they offer?
TokyoTreat

Tokyo Treat offers just one type of subscription box - the TokyoTreat Snack box; however, the company that Ayumi started has sister brands like Sakuraco and YumeTwins that offer entirely different packages at similar prices.
TokyoTreat: The box contains a mix of classic and modern Japanese snacks, candies, and beverages.
SakuraCo: This box is also a snack box, but it concentrates on capturing the Japanese culture more. The boxes have Japanese kitchenware and original snacks made by small businesses in Japan.
YumeTwins: This subscription box is for anime lovers and people that love the Kawai culture. You'll get plushies, stationery, accessories like watches and socks and even some cooking utensils designed in a kawaii way. They are the cutest thing ever with hello kitty characters or sailor moon characters on them.
ZenPop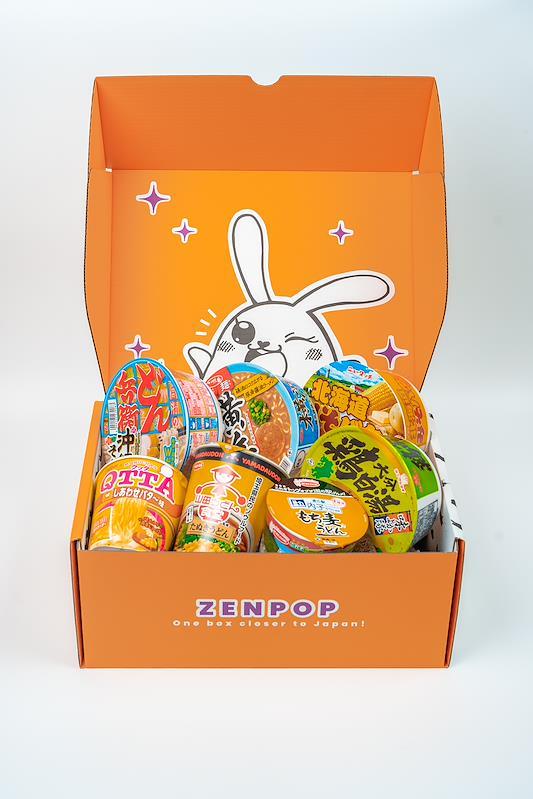 ZenPop, on the other hand, offers four different types of subscription boxes -
Snack Box: This is Zenpop's most popular pack with authentic Japanese snacks. Twenty cookies, wagashi, and rare Japanese sweets are packed in one excellent box.
Ramen Box: Did you know that although noodles are generally referred to as ramen, there are several kinds in Japan? We're talking yakisoba, somen and udon. This pack mixes a range of Japanese noodles in one box for customers.
Stationery Box: Japan makes some of the best stationery in the world. Brands like Muji and KOKUYO all produce amazing stationery. Zenpop allows people to get cute stickers, quality markers, and the famous washi tape for washi tape art projects.
Anime Box: This pack is any anime lover's dream. Figurines, plushies and even rare collectables from anime are included in this pack—anything from the chibi version of characters to tapestries and awesome keychains.

What's in the Box?
TokyoTreat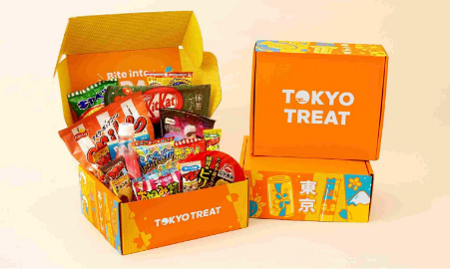 Each Tokyo Treat subscription box includes a variety of 15-20 Japanese snacks, candies, and beverages.
Snacks: Tokyo Treat includes a variety of Japanese snacks in their boxes, including chips, rice crackers, cakes and biscuits. One popular snack in a Tokyo Treat box is Pocky, a thin, crispy biscuit stick coated in chocolate or other flavors.
Candies: Japanese candies are known for being unique and fun, and Tokyo Treat includes a variety of colorful and fun ones in their boxes.
Beverages: Tokyo Treat also includes a drink in each box, which could be a Japanese soda like rare Coke and Fanta flavors.
Ramen: You'll also get some instant ramen in your snack box to practise your Japanese slurping culture.
ZenPop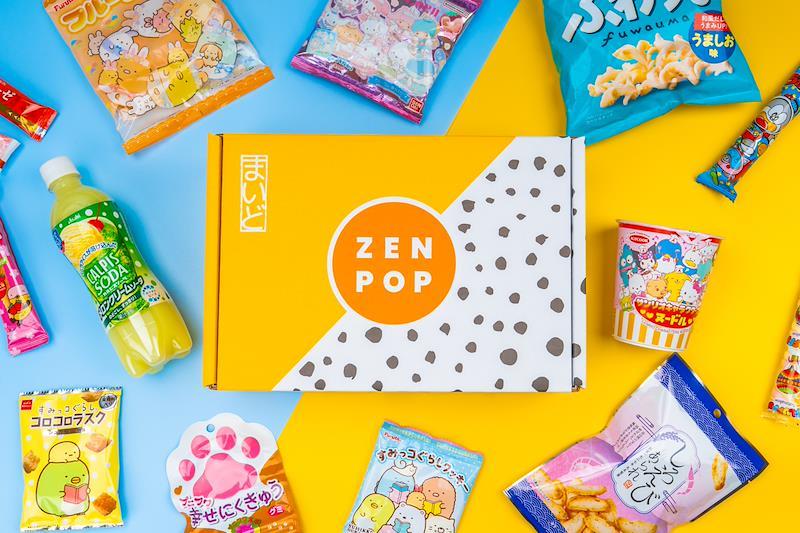 Each ZenPop subscription box includes a variety of at least 20 Japanese goods, depending on the type of box. But for this review, we'll focus on the Snack Box.
Snacks and Candies: For snacks, you'll get gummy and hard candy, chocolate, crackers and even Japanese Dagashi.
Seasonal: Some snacks are sold seasonally in Japan. For instance, pink and cherry blossom-flavored snacks will appear during the Sakura season. Zenpop snack pack will include seasonal snacks in line with the time of the year.
Drinks: Japan has many exclusive drinks you won't find anywhere else in the world. In a Zenpop pack, you'll get one or two of these.
Noodles: Even though it's the snack box, you're going to get one or two instant ramen.
Subscription and cost
Let's get to the money talk; here's how much it's going to cost you to get these snack boxes from Japan.
TokyoTreat Snack Box:
1 month: $37.50
3 months: $35.50 billed $106.50
6 months: $33.50 billed $201
1 year: $32.50 billed $390
ZenPop Snack Box:
1 month: $38.90
3 months: $37.37 billed $112.11
6 months: $35.85 billed $215.1
1 year: $34.32 billed $411.84
Shipping
Let's face it, and it's common for people to get turned off when it comes to shipping prices. Sure, you may be able to afford the good, but if the shipping costs as much as it or even more, it's probably not worth it. Let's examine how much it'll cost to get these awesome boxes delivered.
TokyoTreat
Shipping to around 120 countries, TokyoTreat has categorized its shipping options into two tiers, labeled as one and two. The initial group consists of countries primarily located in Asia, the Pacific islands, and some parts of Africa and the United States of America. The shipping method for this tier is Express Shipping with Tracking, which takes approximately 2 to 14 business days after shipping and has a shipping fee of $10.50. The second tier comprises European countries, the United Kingdom, and South America. The shipping method for this tier is Express Shipping with Tracking, which takes approximately 2 to 14 business days after shipping and has a shipping fee of $12.50.
ZenPop
ZenPop currently ships to over 70 countries. Chances are yours is one of them. For people living in the USA, the shipping is free, but for other countries, it may reach up to $20. There are also several shipping methods that can affect the shipping time and cost. You can choose to use ZenExpress, DHL, UPS, FedEx and Airmail.
Final Comparison
Variety
Tokyo Treat offers just one subscription box, which includes a mix of snacks, candies, and drinks. On the other hand, ZenPop provides four subscription boxes, including the unique Stationery Pack and Anime Pack and the Ramen Pack and SnackPack.
Price
Both services are reasonably priced, but Tokyo Treat is slightly more affordable than ZenPop. However, this is only in comparison with Zenpop snack boxes, boxes like the stationery ones are cheaper.
Product Quality
Both services offer high-quality Japanese products, but ZenPop offers a more specialized service with its other boxes. Tokyo Treat is more focused on snacks and candies.
Conclusion
If you are looking for a Japanese subscription box that offers a wide variety of snacks and candies, these two options may be the best choice for you. However, if you are interested in Japanese ramen or specialized products like stationery or anime products, ZenPop may be a better option. Ultimately, it comes down to personal preference and what you are looking for in a subscription box service.
Both Tokyo Treat and ZenPop offer a unique and enjoyable experience for those who love Japanese products. From snacks and candies to stationery and ramen products, these two subscription services have a lot to offer.
If you find yourself craving Japanese munchies, why don't you order a ZenPop snack pack where you get loads of candies and snacks from Japan? Click here to order yours!
This article was originally written by our freelance writer Umm-Kulthum Abdulkareem and edited by us.