Let's be honest, screens now dominate our lives to the point that notebooks don't have that much allure anymore. Also, people are concerned with the number of trees used to make paper and how much it hurts our planet. However, refillable notebooks solve this problem by offering the traditional note-taking charm and modern sustainability.
Whether you're a student, a professional, or a creative soul, having a reliable refillable notebook can be a game-changer for your productivity and organization. Plus, you'll be saving the planet. In this article, we'll explore the crème de la crème of refillable notebooks that cater to various preferences and needs. Here are the 8 best refillable notebooks:
Traveler's Company Notebook Leather cover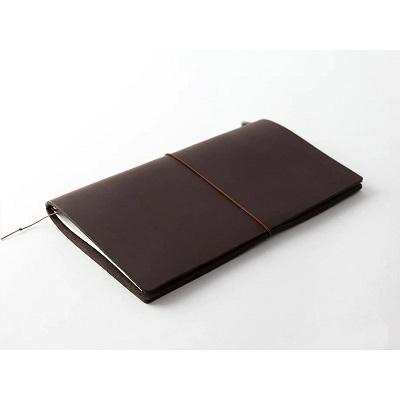 As the name implies, this notebook is perfect for carrying on the go. Travelers and adventurers alike can use this little book as a journal for their everyday experiences. Additionally, the Traveler's Notebook has a rustic charm because it is made from high-quality leather that develops a unique patina over time, reflecting your personal journey. There are different levels to the quality of leather used for these books, with higher quality costing more, but the one thing that is common is that they last a long time and look better as they age.
With a variety of pages available – from plain paper to lined and dotted ones, you can use the elastic bands that come with the cover of the book to insert refills. You also get zipper pockets and card holders with this book, making it an ideal choice for those who value both style and substance.
Kokuyo Jibun Techno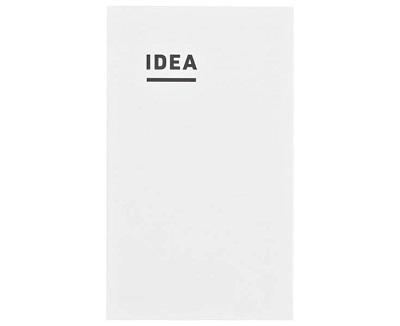 Japanese manufacturers make some of the best notebooks in the industry. Jibun means "myself," and techo means "planner" in Japanese, so the Kokuyo Jibun Techo literally means a personalized planner just for you. It comes in three different versions: life, diary, and idea. The diary is a daily planner with 365 days of the year; the life version has empty layouts for you to fill, almost like a bullet journal, and the idea is a plain book with gridlines.
With Jibun Techo, you can choose to buy a custom cover separately and the refill for any of the three versions. This way, you can always switch versions with the same cover if you feel like you've both the wrong one.
MUJI Loose Leaf Papers & Kraft Cover Binder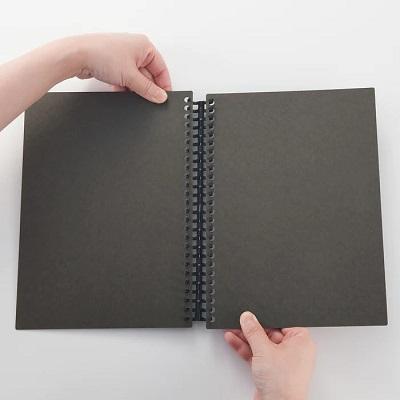 Muji is a Japanese stationery company best known for its simple and easily customizable designs. Unlike other brands, Muji does not imprint its logo on its products, so it is easy to customize how you feel fit. One of their products is the cover binder that is sold separately from loose-leaf papers.
The papers have plain, ruled, and even planner designs, so all you have to do is to choose the perfect cover for just about any type of book.
Rocketbook Everlast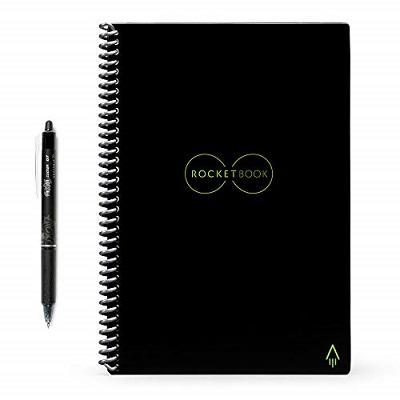 Sustainability meets innovation with the Rocketbook Everlast. It is a mix between a notebook and a digital innovation. What this notebook offers is endless reusability thanks to its special synthetic paper that can be wiped clean with a damp cloth.
Paired with the Rocketbook app, you can scan and send your notes to cloud storage services for safekeeping, erasing the need for physical storage while reducing paper waste. When you take notes, scan it, erase the page, and use it again. Obviously, you can't use one page indefinitely, but it does make books last a lot longer.
Filofax Notebook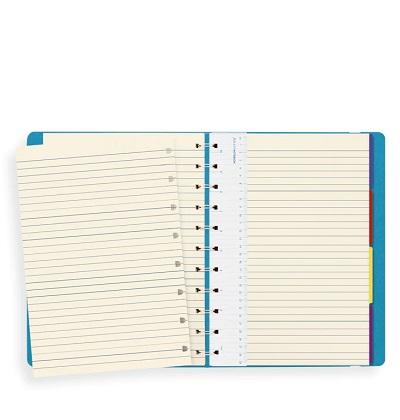 The Filofax Notebook merges tradition with innovation. It offers the convenience of a ring binder, allowing you to customize and reorganize your notes effortlessly. The ability to add and rearrange pages ensures this notebook grows as you do.
When you buy the Filofax high-quality book cover that comes in various designs, you have limitless refill options to choose from. There are password paper refills, wellness checkers, pastel-colored ruled paper, expense trackers, to-do lists, project & goals refills, and activity planner refills. You can make any type of notebook you want by mixing some of these paper refills.

Maruman Cover Note Notebooks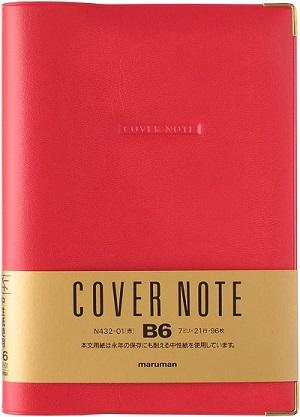 This is another high-quality leatherette cover notebook that is designed to last a long time. Maruman cover is made with textured leather and has classy metal corner protectors that give it a unique finish. With only the words "cover note" embossed on the cover, you can customize it with stickers or drawings as you see fit.
The paper is not too thick and can accommodate regular pens but not fountain pens. It is ruled with extra space at the top for you to use for your header. There are two ribbons for you to use as a bookmark sewn onto the notebook, not the cover. It's a little bit on the pricey side, but you are paying for the durability of the cover that you may use for a long time.
Atoma Notebooks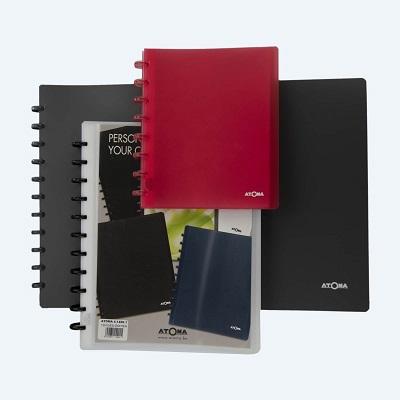 Atoma is a Belgian stationery company that was created in the 1940s. Atoma notebooks are fully customizable books that come in different forms. They have everything from diaries, meeting books, planners, and even phone books.
Atoma sells the full package to make your own book. Covers, rings, punchers, and refills. The covers are made with different materials like cardboard, leather, and felt. The rings are sold in different colors and sizes. All you need to do is set up your cover and refills, then use the Atoma puncher to bind it with the ring. No other company offers this level of customization, and there are many cover and notebook designs you can choose from.
Lihit Lab Smart Fit Cover
This is an A5 notebook with removable page inserts. The cover is made using a durable polyester fabric, and it has pockets for your cards and pens. This book is designed to be functional, so you may not get the prettiest book, but those pockets will protect your cards from spills.
Originally, it comes with only 15 sheets of paper, but you can start buying refills and a puncher if you want to use your own paper. It uses a ring refillable system, so just get the rings open, insert your papers, and start writing.
Refillable notebooks serve as tangible sanctuaries for our thoughts, so choose the perfect companion from these exceptional options, and rediscover the joy of preserving your ideas sustainably and stylishly.
Have you been looking to buy some high-quality Japanese Notebooks? You can check out our ZenPop stationery store for the best deals from Japan.

This article was originally written by our freelance writer Umm-Kulthum Abdulkareem and edited by us.