🎁 It's Christmas season already 🎁
Discover our Christmas packs here:
✍️🎀 Stationery - Merry Craft
🍜🌟 Ramen - Jolly & Tasty
🍬🎶 Sweets - Candy Carols
🍜🎄 Mix - Mistletoe HoHoHo

Shipped worldwide from Japan
Sweets Pack - Candy Carols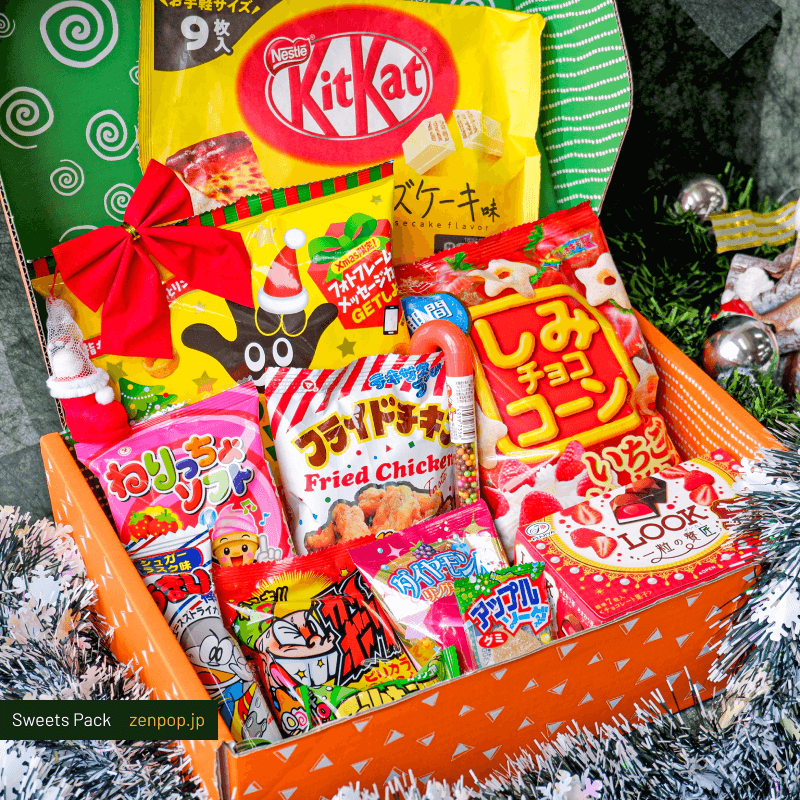 This is it, the most wonderful time of the year has arrived. For your holiday celebrations, we've prepared some of the most heartwarming seasonal treats. It's the perfect pack to gift your loved ones or share with friends and family! Add a Japanese twist to your Holiday celebrations this year with our Candy Carols Sweets Pack:
KitKat Mini Cheesecake Flavor from Nestlé

Shimi Choco Strawberry Shortcake Flavor from Ginbis

Poteko Norishio Flavor (Christmas) from Tohato

Roll Candy from Yaokin

PLUS so many more delicious snacks to discover!
Ramen Pack - Tasty & Jolly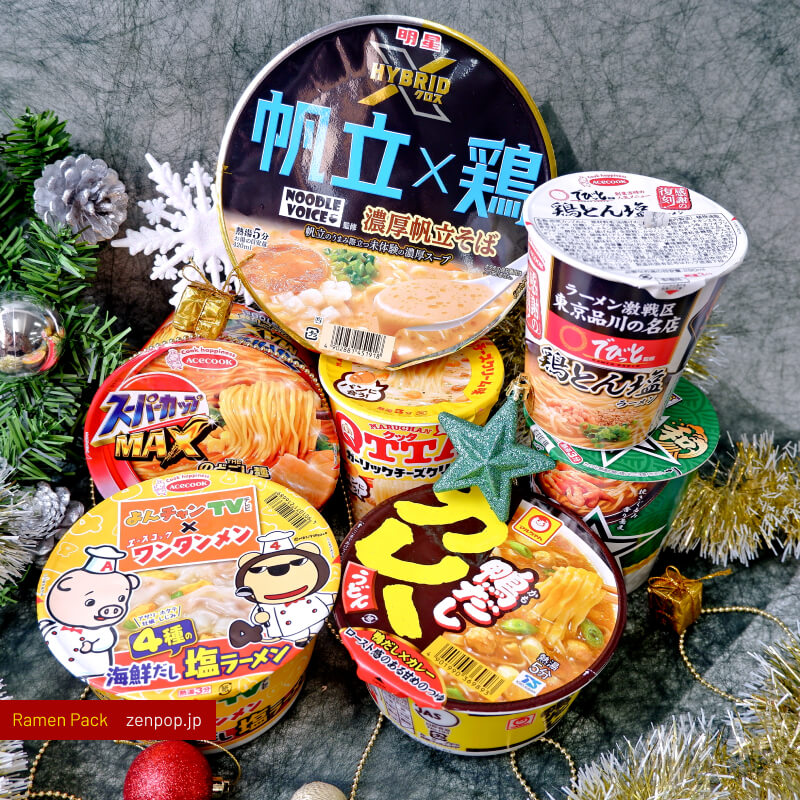 Have you taken out the Christmas decoration yet? We're ready to deliver you the warmest noodles of the year with Jolly & Tasty Ramen Pack. Filled with the flavors of Japanese winter, enjoy every slurp of your yummy broth. Simply the best comfort food you can ask for: quick and easy to prepare, with some cheesy flavors, extra large cups, and delicious curry noodles:
Cup Noodle Big Nazoniku Matsuri from Nissin

Supercup Max Shoyu Ramen from Acecook

QTTA Garlic Cheese Cream Flavor from Maruchan

Kamodashi Curry Udon from Acecook

PLUS 3 more delightful noodle dishes from Japan!
Ramen & Sweets Mix Pack - Mistletoe HoHoHo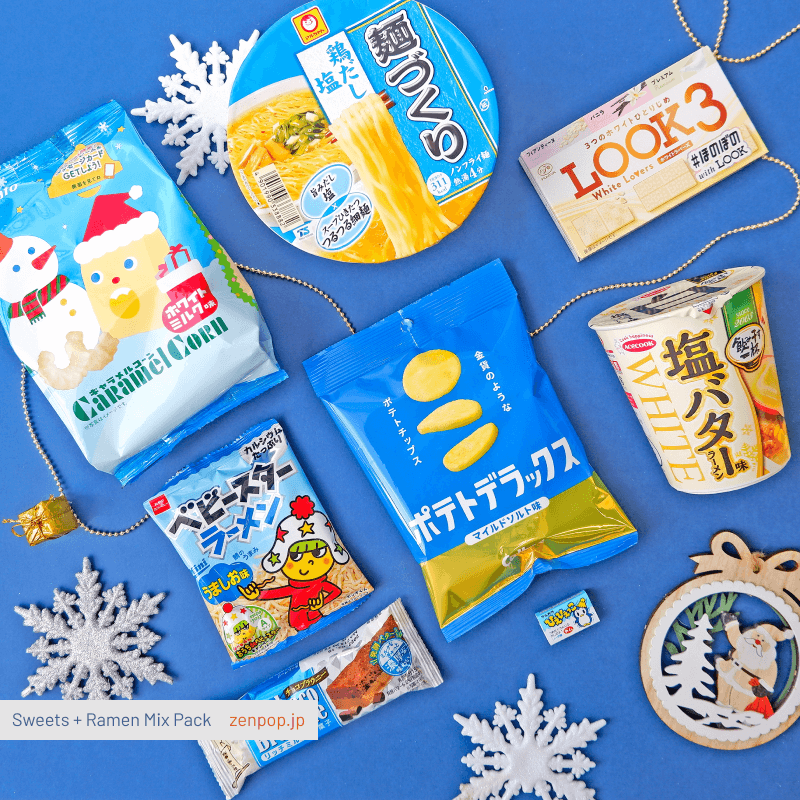 Who's Christmas wishlist will you add a delicious Japanese box to? This Mistletoe HoHoHo Mix Pack is perfect to gift a loved one. Filled with original Japanese winter snacks and heartwarming noodles, you're guaranteed to make someone happy. Or maybe treat yourself to a delicious surprise:
Nomihosu Ippai White Shio Butter Ramen from Acecook

Potato Deluxe Mild Salt Flavor from Calbee

Caramel Corn Whitemilk Flavor from Tohato

Noukou Choco Brownie Rich Milk from Bourbon

PLUS even more delicious snacks and noodles!
Stationery Pack - Merry Craft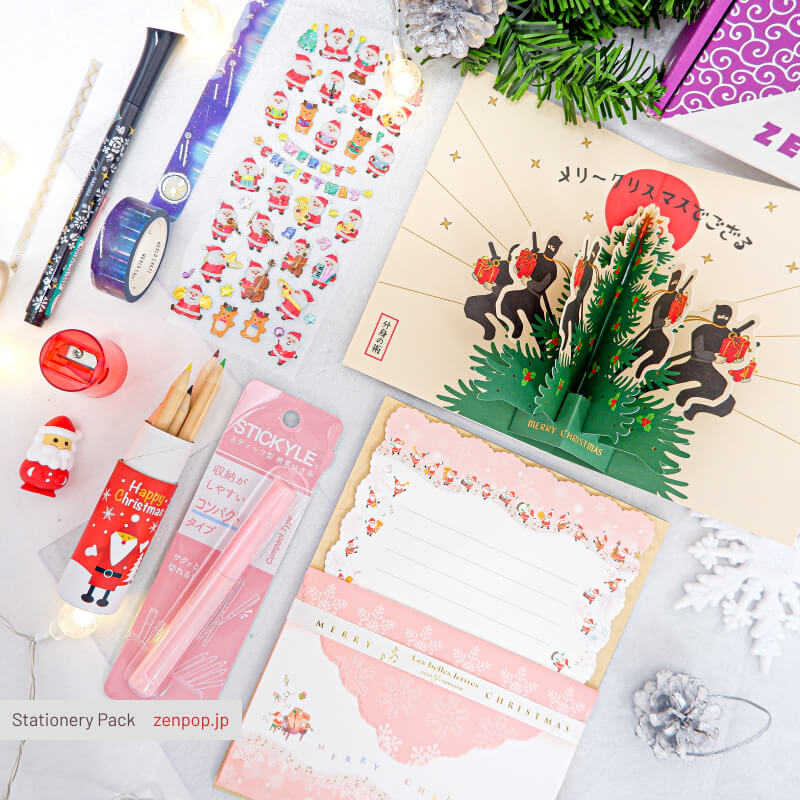 It's time to add some jingle to your bells and let your Christmas decoration Rock with our Merry Craft Stationery Pack. Just in time for the holiday season, we've got you the most beautiful Japanese Christmas stationery item. Make your notebooks and study notes shine like the illuminations brightening your home, or craft some lovely card to show a loved one how much you care about them!
KiraKira Winter Masking Tape from World Craft

Christmas Drop Stickers from Active Cooperation

Christmas Letter set from Create G Cooperation

Christmas Card from Hallmark

PLUS more cute and useful stationery items!
Follow us on Facebook, Instagram, Twitter and Pinterest @zenpopjapan