While many people still use traditional pencils, mechanical ones have become more popular because they last long, and you don't need to sharpen them constantly. Even though there are many manufacturers, when it comes to combining innovation, functionality, and aesthetics, Japanese mechanical pencils stand out.
Japan has a rich tradition of craftsmanship in areas like automobiles, food, and stationery. Japanese pencil manufacturers have perfected the art of creating mechanical pencils that offer amazing writing experiences. In this article, we'll explore the ten best Japanese mechanical pencils that have gained popularity for their precision, design, and overall quality. Here's ourTop 10 Japanese Mechanical Pencils:
Pilot Dr. Grip Mechanical Pencil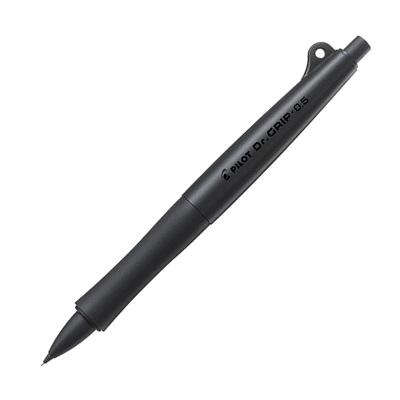 Pilot Dr. Grip Mechanical Pencil was created to solve the problem of strains on the arm and shoulder when writing. This pencil is great for long writing sessions, and it has been commended by the arthritis foundation because of its ease of use. The grip of this pencil is made of rubber around a thick barrel that helps the user to reduce grip pressure.
The pencil also has a stable center of gravity that reduces the weight when writing. Additionally, there are different versions of Dr. Grip, like the Dr. Grip G Spec and Dr. Grip Ace Shaker, with small design altercations. Another cool thing about the pencils is while they have the traditional click buttons, they are also shakers that allow you to extend the lead by shaking.
Uni Kuru Toga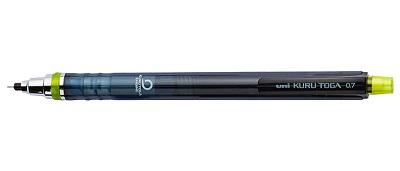 This is one of the coolest Japanese mechanical pencils you will find in the market. The name of this pencil, "kuru toga," literally means something spinning on a sharp point. This pencil has a mechanism that rotates the lead as you write, ensuring a consistently sharp point and reducing uneven wear.
Other pencils will get a slanted edge when you write with it on one angle for a long time, but this pencil will always have a sharp point giving you consistent lines throughout. It also comes in 3 different sizes; the 0.3mm, 0.5mm, and 0.7mm tips give you a range of choices. The only drawback is that the original version of this pencil has n rubber grip to help you write smoothly, but the advanced version has a grip and a thicker barrel.
Pentel Orenz Nero Mechanical Pencil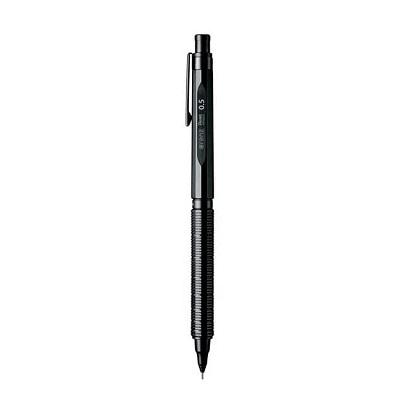 At first glance, the Pentel Orenz Nero may seem like an ordinary mechanical pencil, but don't let its unassuming appearance fool you. It's like a pocket-sized marvel of engineering that has all of Pentel's innovative genius poured into it.
Using an ultra-fine 0.2mm lead, the Orenz Nero is perfect for intricate details and precise work. Even with this thin tip, the lead doesn't break with its innovative "Orenz System." Also, the grip is extra long for balance and the lead automatically extends.
Zebra DelGuard Mechanical Pencil
The uniquely named company ZEBRA was founded in 1914 and is now one of the best stationery companies in Japan. Designed to prevent lead breakage, the DelGuard has a unique mechanism that absorbs pressure, making it almost impossible for the lead to break when using the pencil. It is great for those with heavy hands. The pencil also has other cool features, like a textured grip (without a rubber cover) to prevent slips.
Pentel GraphGear 300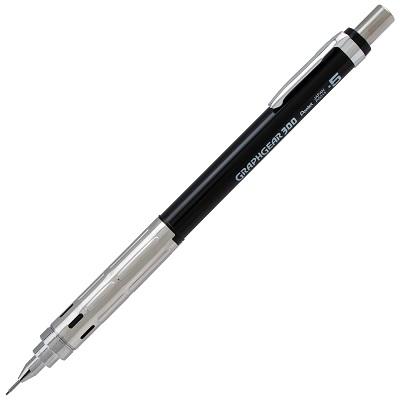 This pencil is one of the cheapest mechanical pencils on the market at just $4.99. It is geared toward artists and engineers that use it for technical or freehand drawing. The GraphGear line from Pentel has 500 and 1000 versions that are more expensive and heavy-duty for extended use.
This pencil also has cool features, like a sturdy metal grip, a retractable tip, and multiple lead sizes for versatility. It is also weighted, so it is well-balanced.
Kokuyo Enpitsu Sharp Mechanical Pencil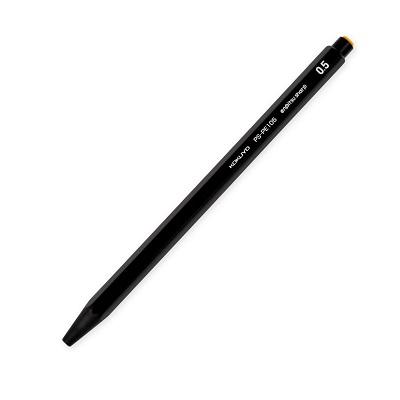 If you are looking for a mechanical pencil that looks like the traditional one then this is the perfect choice for you. Unfortunately, there are no special features like rubber grips, shaking, or rotating mechanisms, but it is simple and perfect for anyone who wants an inconspicuous mechanical pencil from a reliable brand like Kokuyo.
Tombow Mono Graph Shaker Mechanical Pencil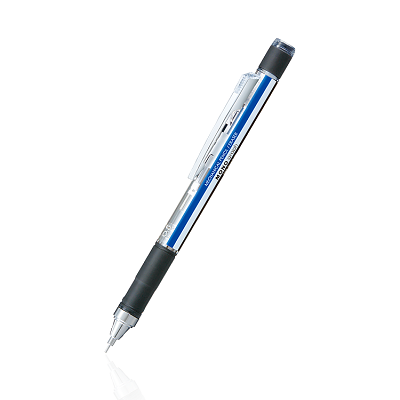 This pencil ticks all of the boxes for mechanical pencils; it has a shaker mechanism, rubber grip, eraser, and shake lock. You can easily extend the lead by shaking the pencil or using the metal clip. If you decide that the shaker mechanism is not for you, just use the shake lock and stick to the clip.
The rubber grip allows you to write for a long time, and the size of the pencil is not too thick or thin, so it can be used by many people. Unlike other pencils, it is also transparent, so you know when you're running out of lead.
Muji Low Gravity Mechanical Pencil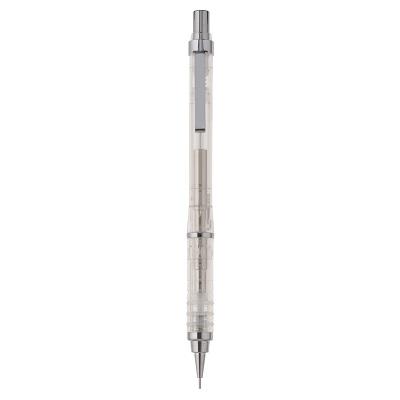 As the name implies, MUJI's Low Center of Gravity Mechanical Pencil has a low center of gravity to allow easy writing. It is also on the affordable side, and the grip area is thicker to reduce the pressure on the arms when writing. All the weight in that area makes it easy to control the pencil.
It is also a clear pencil, and it also has a shaker mechanism that makes the lead extend with a little shaking.
Pentel Sharp Kerry Mechanical Pencil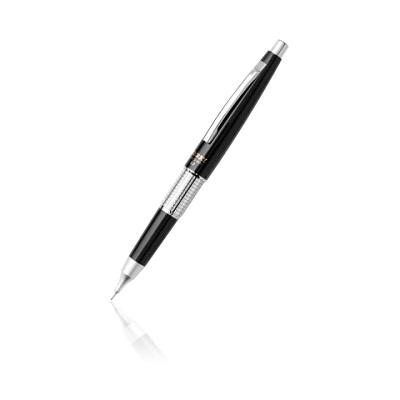 The first thing that catches your eye is the Pentel Sharp Kerry's sleek and timeless design. It is quite pricey at around $24, and it comes in a plastic box, so it is also a great choice to use as gifts. The body's weight and balance are carefully considered, allowing for extended writing sessions without you getting tired. The textured grip also ensures that the pencil stays firmly in your hand, enhancing control and precision. While there are no mindblowing features of this pencil, its craftsmanship is a beautiful work of art.
Uni Alpha Gel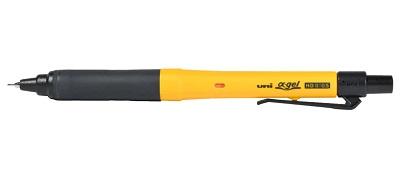 You've already seen the Kuru Toga from Uni with its awesome rotating mechanism. This pencil has the best of both worlds with the Kuru Toga and hold mode. It also has a thick barrel and a rubber grip to make writing as comfortable as possible.
FAQs
Why are Japanese mechanical pencils so highly regarded?
Japanese culture places a strong emphasis on precision and quality, which is reflected in their mechanical pencil manufacturing. Japanese pencils often feature innovative mechanisms, ergonomic designs, and attention to detail, leading to exceptional writing experiences.
What is the significance of the rotating lead mechanism in pencils like Uni Kuru Toga?
The rotating lead mechanism, as seen in pencils like the Uni Kuru Toga, prevents one side of the lead from becoming overly worn, resulting in a consistently sharp point. This mechanism is especially helpful for maintaining uniform line thickness while writing or drawing.
Are these mechanical pencils suitable for both professionals and students?
Absolutely! The range of Japanese mechanical pencils caters to a diverse audience, from students seeking reliability to professionals requiring precision tools for their work.
Japanese mechanical pencils have earned their reputation for excellence due to their unparalleled craftsmanship, innovative features, and dedication to creating the best writing and drawing experiences. With many options available, whether you're a student, professional, artist, or hobbyist, these top ten Japanese mechanical pencils are sure to enhance your writing precision and overall enjoyment.
Have you been looking to buy some high-quality Japanese stationery? You can check out our ZenPop stationery store for the best deals from Japan.
This article was originally written by our freelance writer Umm-Kulthum Abdulkareem and edited by us.