Japanese gel pens are some of the most sought-after writing instruments in the stationery world, due to their high quality, vibrant colors, and incredibly smooth writing experience. What sets Japanese brands apart from others is their attention to detail – every pen is designed to have a comfortable weight-to-balance ratio so that it fits perfectly in your hand.
The ink also flows effortlessly onto the page with minimal effort while giving you beautiful results. Most importantly, they last much longer than regular pens, so you don't need to constantly replace them.
When you use a Japanese gel pen, you can be confident your writing will remain clear and precise without having to worry about blots or messes!
Are you wondering what's the best Japanese gel pen that's suitable for your needs? We've compiled some of the best products for different purposes below:
Overall Best Japanese Gel Pens
1. Zebra Sarasa Clip 0.5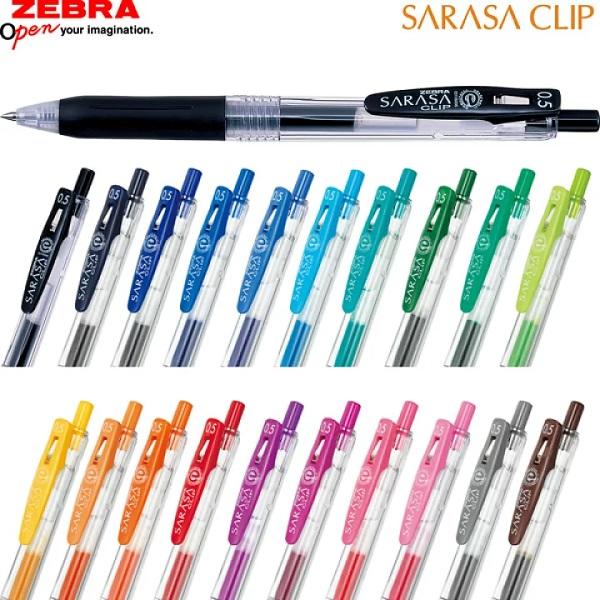 Zebra Sarasa Clip is considered a standout in the pen design scene. It has all the convenient elements you need in a pen. It features an excellently designed body, a comfortable rubber grip for a firm hold, and a big push clip so you can place it in your pocket, notebooks, or books. Its pigmented ink makes it feather, water, and fade-resistant.
2. Pentel EnerGel BLN75-A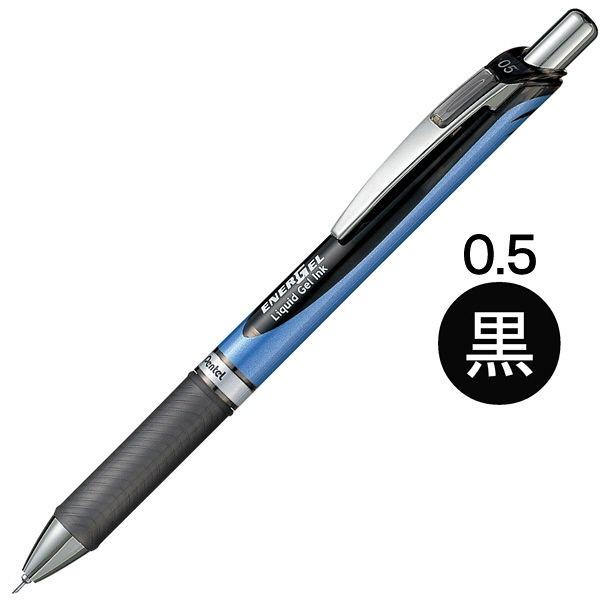 Pentel created the EnerGel pen to achieve smoothness in every aspect. It comes with a vividly-colored and quick-drying ink. Pentel EnerGel BLN75-A features an ergonomic grip on its body. The wavy finish is anti-slip giving users a comfy feel. The smooth and round barrel is ideal even for people who hold pens near the tip.
3. Mitsubishi Uni-ball Signo RT1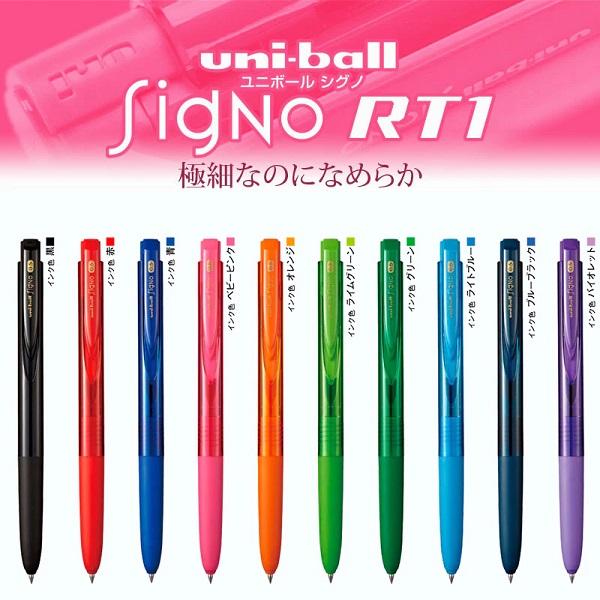 The manufacturer of the Uni-ball Signo RT1 prides itself in creating a friction-resistant gel pen. They achieved this by lessening the nip tip's edges. It features a generous rubber grip to allow users a firm hold. It is made comfy by the uniform shape of the pen. The quick-drying ink flows smoothly as long as you refrain from putting too much pressure.
Which is the best gel pen for fast writing?
Students can benefit a lot from gel pens for fast writing. Since these types of writing instruments use pigments combined with water-based gel, they can dry quickly. Manufacturers also made them friction-resistant to lessen the effort of the hands during writing.

Below are the best gel pens that will help you write fast:
1. Zebra Sarasa Dry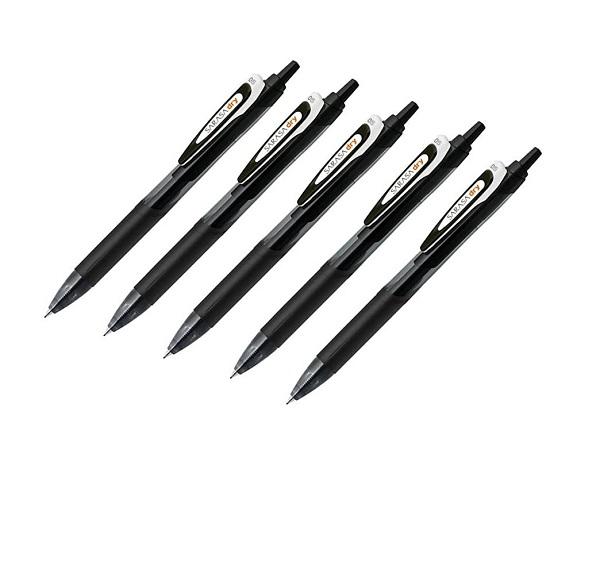 The Zebra Sarasa Dry ink dries 85% faster than typical ink. People also love it for its chic style. If you need to write quickly, ensure that you get either 0.4 or 0.5 mm. These two sizes also reduce the chances of smudging. Larger tips (0.7 and 1.0 mm) are also available.

It has a top button and spring clip, which are part of its retractable design. The Zebra Sarasa Dry has blue, black, and pastel color inks.
2. Muji Smooth Gel Ink Ballpoint Pen Knock Type 0.5 Black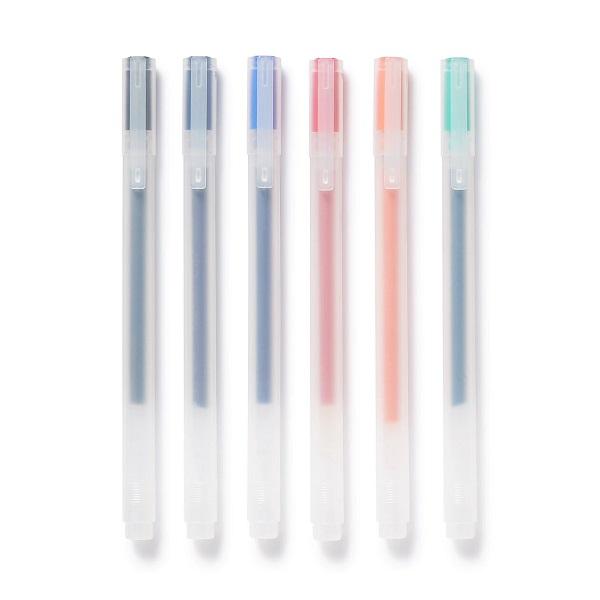 Minimalist yet functional, the Muji Smooth Gel Ink Ballpoint Pen Knock Type 0.5 Black is perfect for writers who take tons of notes and sign a lot of documents. The quick-drying ink flows smoothly. Users can write efficiently as it easily glides on the paper. Japanese gel pens by Muji embody the brand's signature design — the pen's half-transparent tip.
You can never go wrong with this pen because it's durable as well.
3. Pilot Juice Up Gel Pen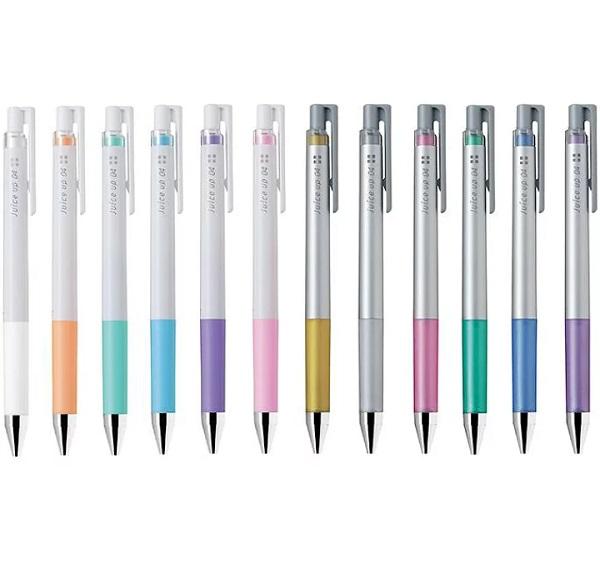 The Pilot Juice Up Gel Pen features a fine point, allowing users to write smoothly. It only comes in thin nibs (0.3 and 0.4 mm). If you write small letters, this is the product for you. The top clicker is designed in such a way that it won't go beyond the top of the pages of your book or notebook.
Users of the Pilot Juice Up Gel Pen stand by the quality of this product. In fact, a number of them mention that this is their only go-to pen.
Best Artist Gel Pen
Gel pens are not just for writing. They can be used for your artwork too! Artists who want to unleash their creativity can sketch with black ink gel pens. And since some pens come in different colors, they can make their drawings even more vibrant. And if you're drawing manga, white gel pens are great as highlights!
Let's take a look at the best gel pens for artists below:
1. Sakura Gelly Roll Gel Pen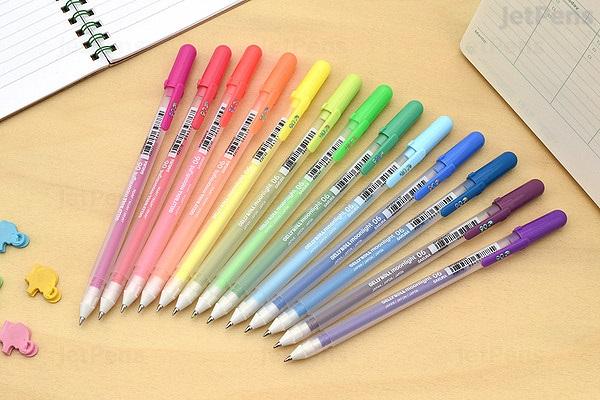 Sakura Gelly Roll Gel Pen is a very popular product among artists. Although it is typically used for dark-colored paper, some manga artists and illustrators use it for adding eye highlights. This is the go-to pen for arts and crafts.
It comes in a range of colors, which include metallic and stardust. Sakura Gelly Roll Gel Pen is also offered in fine and medium points. The flow of the ink is consistent and smooth. It is also fade-resistant and waterproof.
2. Mitsubishi Uni-ball Signo Broad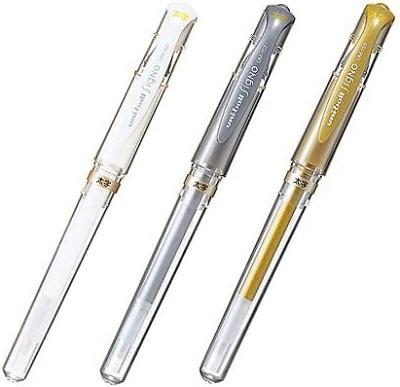 Mitsubishi Uni-ball Signo Broad gel pens are yet another go-to by artists. The designers of this pen achieved such an amazing feat by creating an opaque ink that flows smoothly. Once you try the broad-tip white gel pen, you'll notice that it'll pop up.
The Uni-ball Signo Broad also comes in different colors. In case you need more intricate details, you can opt for the fine version.
3. Muji Gel Ink Ballpoint Pen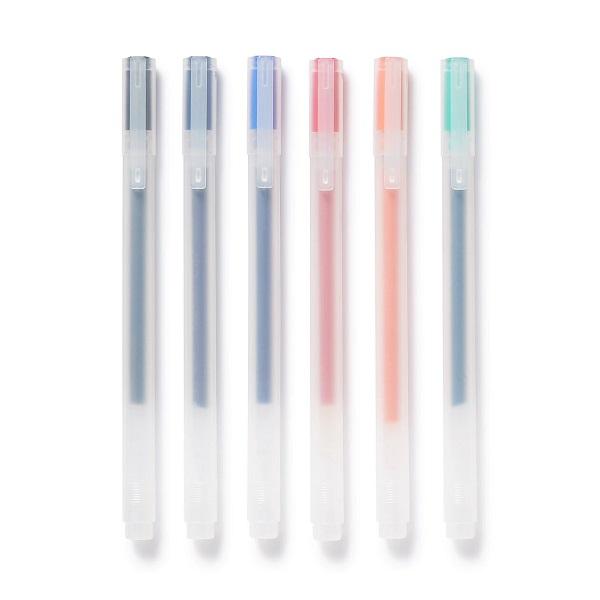 A number of artists love using Muji's Gel Ink Ballpoint Pen for their sketches. Minimalistic and lightweight, it enables you to draw for long periods of time. Muji also offers different colors. Since the brand sells refills, you don't have to purchase a brand-new pen each time the ink runs out.
What is the best brand of gel pens?
Zebra, Mitsubishi, Pilot, and Muji, are just some of the best gel pen brands in Japan. But choosing the best, really, is up to you. Before purchasing one, consider what you'll use the writing instrument for, your preferences, the size of your handwriting, how you write, and many more.
Choosing the Best Gel Pen
Thickness is one of the major considerations when choosing a gel pen. To achieve uniformity when writing notes, choose a thickness you're comfortable with. If you're comfortable using 0.5-millimeter pens, stick to the brand and the size.
But if it's for arts and crafts, feel free to vary your pens to achieve different effects in your creative project.
Ready to get your hands on some Japanese Ballpoint Pens? Checkout our ZenPop Stationery Subscription Box and get some unique stationery delivered to your door from Japan every month!